Kerala: Driver rapes Covid patient in ambulance on way to hospital
喀拉拉邦:新冠患者在送医途中遭救护车司机强奸
THIRUVANANTHAPURAM: In a shocking incident, a 20-year-old Covid-19 patient was raped by an ambulance driver while shifting her to a Covid special hospital in Pandalam on Saturday night. Police have arrested the accused, Noufal V (25) of Kayamkulam, under IPC sections for rape while the private firm operating the Kaniv 108 ambulance service has terminated him from service.
特里凡得琅:一名20岁的新冠肺炎患者在周六晚上转移到潘达拉姆的新冠定点医院的途中被救护车司机强奸,令人震惊。警方以强奸罪逮捕了司机努法尔,同时经营Kaniv 108救护车服务的私营公司已将其解雇。
Pathanamthitta district police chief K G Simon said the woman was being taken from her uncle's residence at Vadakkedathukavu near Adoor to the hospital. "She was picked up from the house around 10pm and dropped at Adoor CFLTC, from where Noufal picked her up along with an elderly woman. He committed the crime at a secluded place near Aranmula after dropping the other woman at Kozhencherry CFLTC," he said.
警察局长西蒙称,这名女子是从她叔叔位于Adoor附近Vadakkedathukavu的住所被接到医院的。她是在晚上10点左右被救护车接走的,然后被送到Adoor CFLTC医院, 在途中司机还接了另一名较年长的妇女。司机在Aranmula附近一个僻静的地方作案,在此之前他先把另一名年长女子送到Kozhencherry CFLTC医院。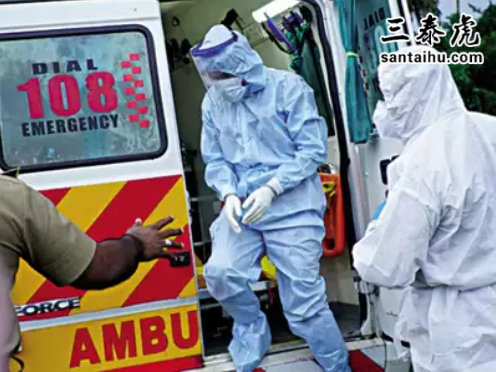 The woman informed the matter to the staff at Pandalam CFLTC where she was taken to. The superintendent of police said the accused, who has been working with the ambulance service for nearly a year, was booked for attempting to commit culpable homicide in an assault case in Alappuzha earlier.
该女子将此事告知了医院工作人员。警方负责人说,这名司机已经在救护车服务部门工作了近一年,此前他在阿拉普扎因谋杀未遂被起诉。
The opposition UDF and BJP have demanded a highlevel probe into the incident. Opposition leader Ramesh Chennithala said lapses on the part of the go nment led to the crime. "The woman was sent alone in an ambulance with the culprit... Police now say he has a criminal background; why was this not considered before he was appointed?" he asked.
反对党UDF和人民党要求对这起事件进行深入调查。反对派领导人拉梅什·辛格塔拉说,政府的失误导致了该案件的发生。"这名女子和罪犯在救护车上独处……警方说他有犯罪前科,为什么在雇佣他之前没有考虑到这一点?"他问道。
BJP state chief K Surendran said the incident highlighted the failure of the go nment. "We demand the resignation of the health minister," he said.
该邦人民党主席苏伦德兰说,这起事件凸显了政府的失职。"我们要求卫生部长辞职,"他说。
Pathanamthitta district medical officer A L Sheeja said go nment nurses accompanied patients in ambulances only if their condition was serious as the service was being managed by a private firm. ''As per regulations, an emergency medical technician (EMT) has to go in the ambulance, but in this case only the driver was present. We do not know why the EMT was absent," she said.
医务官A L Sheeja说,只有在病人病情严重时救护车上才会配护士护送病人,但这两救护车是由一家私营公司运营的。"根据规定,救护车上必须有紧急医疗技术员(EMT)随行,但在该案件中只有司机。我们不知道紧急救护人员为什么缺席,"她说。
Terming the incident as extremely painful, health minister K K Shailaja said strict action would be taken against the accused. She said according to the private firm, Noufal was hired on the basis of his past experience with 108 ambulance service in Alappuzha during 2014-15. The state women's commission has registered a suo motu case and sought a report from the district police chief. The state h an rights commission has also registered a case and sought reports from the state police chief and the health secretary within 15 days.
卫生部长K K Shailaja称这一事件令人非常难过,并表示将对被告采取严厉措施。她说,根据这家私营公司的说法,之所以聘用努法尔,是因为他在2014年至2015年期间曾在阿拉普扎(Alappuzha)提供过108次救护车服务。邦妇女委员会已经登要求地区警察局长提交报告。邦人全委员会要求警察局长和卫生部长在15天内提交报告。
印度时报读者的评论:
译文来源:三泰虎 http://www.santaihu.com/p/50763.html 译者:Jessica.Wu
Elangovan Periasamy
but if happened in BJP ruled states it will become top news for them.
如果发生在人民党执政的邦,该案件将成为头条新闻。
Vinodanan Muthamparambil
What was the need to shift a young girl at the night? Is Covid an emergency? she should have been shifted only next morningIt is high time to have some as relatives or others are not allowed to accompany a covid patient.
为什么要让一个年轻女孩在晚上送医院?应该在第二天早上送的。应该让一名亲属陪同。
Aravindhakshan K PANICKER
NUMBER ONE STATE FOR RAPE
强奸第一大邦
Shivam
Panicker don't panic
不必恐慌
Ravin Padathu
Ruling party recommended Nobal Prize to the Kerala Health Minister for effective Kovid and health management in the state, ambulance also part of the health system. All MPs from Kerala present this issue to the parliament to push it to international level thru diplomatic channels. 100s of rapes are daily happening in Kerala where 99 percent are not reported fearing police and judicial humiliation to the victim.
执政党提议给喀拉拉邦卫生部长颁发诺贝尔奖,以表彰该邦有效的疫情控制和卫生管理。喀拉拉邦的所有议员都向议会提议了,并通过外交渠道推到国际层面。但救护车也是卫生系统的一部分。喀拉拉邦每天都有上百起强奸案发生,99%的人因为害怕警察和司法羞辱而没有报案。
Sanju Mumbai
HERE IN KERALA A WOMAN COVID19 PATIENT WAS RAPED BY A GOVERNMENT OWNED CRIMINAL AMBULANCE DRIVER. THIS IS RIDICULOUS AND SHAME FOR GOD'S OWN COUNTRY.
连新冠患者都遭到强奸,太荒谬了,这是国家的耻辱
mathaia
qppaling state of feku gujju ruled states is even worst feku ka pa4pu
在人民党执政的邦,情况更糟
Sd
The authorities never take responsibility for their mistakes ___ Mistakes committed 1) Ambulance driver appointed without checking his criminal background 2) Relatives not allowed with a female patient 3) A woman patient was alone with the ambulance driver... no nurse or technician was accompanying her 4) Woman patient shifted during night _____ Somebodys life is ruined
当局从不为他们所犯的错误负责:1)没有调查其犯罪背景,就雇佣该救护车司机2)不允许亲属陪同女患者3)一个女患者人和救护车司机独处,没有护士或技术人员陪护4)女患者在晚上送医。这个女子的生活都被毁了。
Pothezhath Rajagopal Gopalakrishan
What an Indian State? An Ambulance driver brutally raped a COVID-19 patient while she was being taken to the Hospital. Rapes are there all over the world, most rapes are in South Africa; but raping a woman in an ambulance is probably first time in the world, not even read in crime-thriller fictions.
这是什么邦?一名新冠肺炎患者在被送往医院的途中被救护车司机残忍强奸。强奸案在世界各地都有发生,大多数发生在南非;但在救护车上强奸女性,这可能是世界首例,犯罪惊悚小说中都没这种情节。
Abigail Sam
Also the First case where the victim has the corona virus. This case is shocking because even the virus can't scare these rapists away. He must be hanged.
这是全球首个新冠患者遭强奸案例,令人震惊,即使病毒也吓不到这个强奸犯。必须绞死他。
Milton Mathews
The incident is very very much deplorable. But in the posts that I've read people are asking why a lone young(?) woman was sent along with a man who has a criminal record? ...but thats another another anomaly, why only a person with a criminal record can do crime?. The whole thing is botched up...and this guy has been doing it all the while and some people in the hierarchy is in collusion with him...need thorough investigation...
太可悲了。为什么让一个单身年轻女人和一个有犯罪记录的男人独处?这个家伙是惯犯,肯定和一些高层人士勾结……需要彻底调查…
Rekha Kumawat
Such a shame.... people are raping covid patient in such crisis... than how normal women is secure in this country in normal scenerio.
太丢人了……在这样的危机中,还有人强奸新冠病人…在正常时期,女性更不安全
Sunil Kumar
Devils own country
恶魔国家
Keysman K
What a farce what a shame
丢人啊
RAMCHANDER
i say the govt itself is responsible for the safety of its operations were the govt officials not paid salary from the taxpayers contributions ????
政府要负责,政府官的工资难道不是从纳税人上缴的税款里出的吗?