Maharashtra: 1 dead, many feared trapped after multi-storey building col pses in Raigad
马哈拉施特拉邦:莱加德一楼房倒塌,造成1人死亡,多人被困
NAVI MUMBAI: As many as 80 people got trapped while one other died when a ground-plus-five-storey building col psed in Kharkan Mohalla of Mahad town in Raigad district on Monday evening.
新孟买:星期一晚,莱加德区马哈德镇哈坎莫哈拉一栋五层楼高的建筑倒塌,致80人被困,1人死亡。
Following the in dent, three NDRF teams from Pune were rushed to the spot to launch search and rescue operation.
事故发生后,来自普纳的三支国家灾害快速反应部队(NDRF)小组赶赴现场展开搜救行动。
The rescue teams have so far managed to extricate around 60 people from the debris.
到目前为止,救援队已成功从废墟中救出约60人。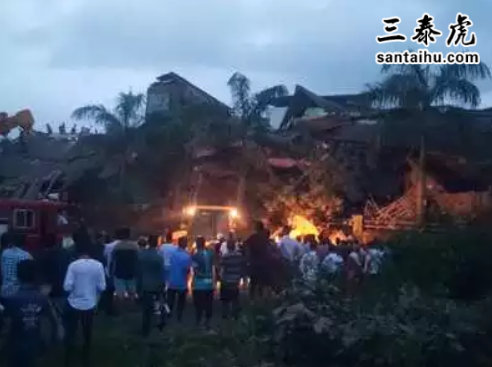 Meanwhile, chief minister Uddhav Thackeray called Mahad MLA Bharat Gogawale and Raigad collector Nidhi Chaudhary to take stock of the situation. He has directed them to expedite the rescue operations.
与此同时,首席部长乌达夫·萨克雷致电给相关评估形势。他已指示他们加快救援行动。
Around 250 people were staying in the building which had 47 flats. The building started trembling at around 6pm and then its pillars col psed. The building was constructed in 2011 and was developed by Kohinoor Developers, Panvel.
这栋大楼有47间公寓,大约有250名住户。下午6点左右,大楼开始震动,然后柱子倒塌。该大楼建于2011年,由Kohinoor开发商Panvel所建。
Mahad sub-divisional officer Vitthal Inamdar said, "Around 25 people managed to come out when the building started shaking."
马哈德分区Vitthal Inamdar说:"大楼开始摇晃时,大约有25人从里面逃出来。"
Raigad SP Anil Paraskar said, "Around 60 people have been extricated from the debris. Of them, over 30 have suffered minor injuries."
莱加德 SP Anil Paraskar说:"已经从废墟中救出约60人。其中30多人受了轻伤。"
Raigad police PRO Suresh Yamgar said, "The injured have been rushed to a local go nment hospital for further treatment."
莱加德警方PRO Suresh Yamgar表示,"伤者已被紧急送往当地公立医院接受进一步治疗。"
Raigad district information officer Manoj Sanap said, "Three teams of NDRF from Pune have joined the rescue operation. Workers, gas cutters, generator sets, excavators and ambulances have been pressed into service. Kee in mind the situation, arrangements for blood transfusion have been done at Mangaon sub-district and Alibag civil hospitals."
莱加德区的信息Manoj Sanap说:"来自普纳的三支NDRF小组已经加入了救援行动。工人、气割机、发电机组、挖掘机和救护车已经到位。考虑到这种情况,已经在Mangaon街道和Alibag地方医院安排了输血。"
Mahad resi nt and former councillor Bi Mhamunkar alleged, "I had compned about the poor quality construction work of the building and had sought a structural audit. The authorities ignored it."
马哈德居民前议员Bi Mhamunkar称,"我投诉过建筑质量差,并要求进行结构审计。但当局对此不予理睬。
以下是印度时报读者的评论:译者:Jessica.Wu
Rajesh Singhal
The main reason behind the frequent col pse of buildings is co ption within the Gt Offices and the greed of the Contractors just because of the fact that there is no punishment for the people who commit such offences.
建筑频繁倒塌背后的主要原因是政府,承包商贪婪,但犯下这些罪行的人没有受到惩罚。
Sushant
6 years old building collapsing. Disgusting... no one will take responsibility now and just see how the buck is passed on. All the culprits will go scot free and this is Democratic India. Jai hind
六年前建成的大楼就倒塌了,但没有人会承担责任,看看他们怎么踢皮球。所有的罪犯都能逍遥法外,这就是的印度。印度必胜!
Raghunath Rajput
A building of only 9 years old col psed. Make accountable builder and architect
and hang them in full public view.
一座只有9年的建筑倒塌了,开发商和建筑师要承担责任,公开绞死他们。
Adonis Singh
Oh stupid why is architect responsible? It's the fault of the go nment authorities who approve these buildings
为什么建筑师要负责?这是批准该建筑的政府机构的过失
Vinod Soni
builder must loose the license and spent rest of life in Jail
必须吊销开发商的执照,让他们在中度过余生
Utpal Kumar Dhar
Who will send him to jail?
谁会把他们送进?
Rampock Remo
Somehow these builders escape with bribery.
开发商会行贿,然后逍遥法外。
Ramesh Sargam
Every monsoon season these types of building col pses happens. Only that time the Mumbai Corporation offi als/staff wakes up to investigate. But no concrete step they take. And slowly they forget the in dent, only to wake up next monsoon season.
每到雨季,就会发生这种类型的倒塌事故。只有在这个时候,才会进行调查,但他们不会采取具体的措施。慢慢地,他们会忘了这些事故,直到下一个雨季。
Maverick Tiranga
Kohinoor developers. Seize all their properties
没收开发商的财产
Ashis Mitra
How can a 6 year old house col pse ?
一栋建成才6年的楼房怎么会倒塌呢?
Rohit
9 year old... not 6 years. constructed in 2011. irrespective not that old that it should col pse...
是9年,不是6年,不管多少年,该倒的还是会倒
Klaranjan Nandi
Its not new ,any example of strict action ?
这不是什么新鲜事,有采取严厉措施的先例吗?
Gaana User
Cor ion kills
是导致的
Raz Patnaik
Another building col pse! Hardly surprising! Each year a least 50 such major accidents happen! How many times have you heard of Building Collapsing in Developed nations? Extremely rarely! In our country, it all boils down to Cor ion through cost-cutting! I really wonder how many Real Estate companies have been severely punished because of such Cor ion. Human lives in Bharat are very, very ch! Everyone knows that!
又一座建筑倒塌了!不足为奇!!每年至少有50起这样的重大事故发生!发达国家的建筑倒塌事故你们听到过几次?非常少!在印度,这一切都是导致的!我真的很想知道,有多少房地产企业因为这样的事故而受到了严惩。在印度,人命非常廉价,这是众所星期知的!
Anik Chowdhury
Sad in dent ,proper enquiry required to find any foul play.May the deceased rest in peace and the injured get well soon
可悲的事件,需要彻查,看看是否有严重的违规行为。愿逝者安息,伤者早日康复
Steffi Wilson
which officers gave certificates of the building's structural integrity?
建筑结构完整性证书是哪些颁发的?
sunilsts56
main questions are: When was this Building completed?,
whether the Builder is absconding ?
Court and police should look into the quality Construction, cost of construction and make Builder pay for residences of the occupant.
主要问题是:这座大楼是什么时候建成的?开发商是否逃走了?
法院和警察应调查建筑质量、造价,并要求开发商赔偿。
HappyTimes User
Disgusting to see such in dents and to see the authorities being callous about them with no action to avoid such accidents
发生这样的事故,有关部门却对这些事故无动于衷,没有采取任何行动来避免这样的事故,令人作呕
Guest
in our country we don't learn lesson from such type of tragedy.. please God save trapped persons
我们没有从这样的悲剧中吸取教训。愿神保佑被困的人
Sanjoy Pandy
Very sad and unfortunate in dent. Who are responsible ?
非常不幸的事件,谁该为此负责?
Khidr Niyazi
Mumbai is a hazard zone. So no surprise.
孟买是一个危险地区,所以没什么好奇怪的