Atmanirbhar Bharat: Rajnath Singh announces import embargo on 101 defence items
"印度自力更生":拉杰纳特· 辛格宣布对101项国防物品实施进口禁运
NEW DELHI: India on Sunday announced a negative arms list, under which imports of 101 wons and platforms will be progressively banned from December 2020 to December 2025, in a bid to bolster the fledgling indigenous defence production sector.
新德里消息:星期日,印度宣布了一份"负面武器清单",根据该清单,从2020年12月到2025年12月,印度将逐步禁止进口101种武器和平台,以支持新兴的本土国防生产部门。
The defence ministry (MoD) said the list will be expanded or updated periodically, without compromising on the operational requirements of the armed forces, to allow lead-time to the domestic industry to prepare itself for any such procurement orders likely to come up subsequent to the indicated embargo.
印度国防部表示,在不影响军队作战需求的情况下,这份清单将会定期扩展或更新,以使国内工业能够提前为可能在禁运后出现的任何此类采购订单做好准备。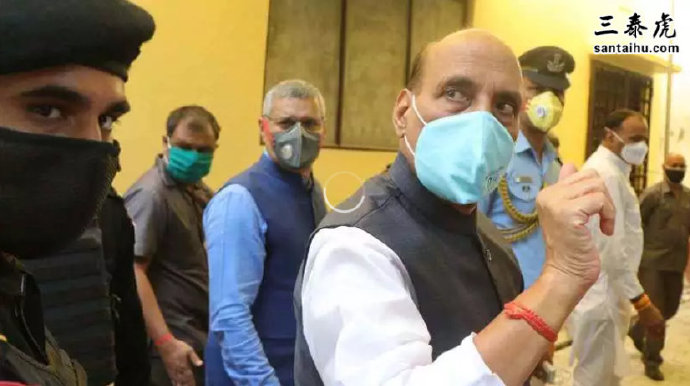 The list of 101 embargoed items ranges from some types of ammunition, sonars and radars to artillery guns, assault rifles, corvettes, transport aircraft and light combat helicopters, among others.
101项禁运物品清单包括某些类型的弹药、声纳和雷达、火炮、突击步枪、小型护卫舰、运输机和轻型战斗直升机等。
Announcing the decision, defence minister Rajnath Singh said the MoD was now ready for a big push to the "Atmanirbhar Bharat" initiative announced by PM Narendra Modi.
国防部长拉杰纳特· 辛格在宣布这一决定时表示,国防部现在已经准备好大力推进莫迪总理宣布的"印度自力更生"倡议。
"The MoD has prepared a list of 101 items for which there would be an embargo on their imports beyond the timelines indicated ag inst them. This is a big step towards self-reliance in defence," he said.
他说:"国防部已经拟定了一份包含101项物品的清单,在规定的时限之外这些物品也将会被禁止进口。这向实现国防自力更生垮了一大步。"
"This decision will offer a great opportunity to the Indian defence industry to manufacture the items in the negative list by using their own design and development capabilities or adopting the technologies designed and developed by DRDO to meet the requirements of the armed forces," he added.
他补充说:"这一决定将为印度国防工业提供一个很好的机会,利用自己的设计和研发能力,或采用印度国防研究与发展组织设计和开发的技术来制造该清单上的物品,以满足军队的需求。"
India, in dentally, has for long languished in the strategically-vulnerable position of being among the top arms importers in the world. In the 2015-2019 timeframe, India was the second-largest buyer of foreign wonry after Saudi Arabia, accounting for 9.2% of the total global arms imports, as was earlier reported by TOI.
作为全球最大的武器进口国之一,印度长期处于战略脆弱地位。据《印度时报》早先报道,2015-2019年,印度是仅次于沙特阿拉伯的第二大外国武器购买国,占全球武器进口总额的9.2%。
The negative list also includes wheeled armoured fighting vehicles with the indicative import embargo date of December 2021, of which the Army is expected to contract around 200 at an appromate cost of over Rs 5,000 crore.
该清单还包括轮式装甲战车,该项目禁止进口的日期截止到2021年12月,预计陆军将以约500亿卢比的价格签订约200辆轮式装甲战车合同。
Similarly, the Navy is likely to place demands for conventional diesel-ric submarines with indicative import embargo date of December 2021, of which it expects to contract about six at an appromate cost of almost Rs 42,000 crore.
同样,该清单还包括常规柴电潜艇,该项目禁止进口的日期截止到2021年12月,预计印度海军将以约4200亿卢比的价格签订约6艘核潜艇合同。
The MoD said the list was prepared after several rounds of consultations with all stakeholders, including the Army, Navy, IAF, DRDO, defence PSUs, Ordnance Factory Board (OFB) and the private industry, to assess current and future capabilities of the Indian industry for manufacturing various ammunition, wons, platforms and equipment within the country.
国防部称,清单是和相关部门经过几轮磋商确定的,包括陆军、海军、空军、印度国防研究与发展组织、国防国企、印度兵工厂委员会(ODB)和私营企业,以评估印度工业当前和未来制造各种弹药、武器、本土平台和设备的能力。
"Almost 260 schemes of such items were contracted by the three Services at an appromate cost of Rs 3.5 lakh crore between April 2015 and August 2020. With the latest embargo on import of 101 items, it is estimated that contracts worth almost Rs 4 lakh crore will be placed upon the domestic industry within the next five to seven years," it said.
国防部称:"2015年4月至2020年8月,三家公司以大约3.5万亿卢比的价格签订了近260个此类项目的合同。随着最近对101种产品实施进口禁运,预计在未来五到七年内,印度国内工业将获得价值近4万亿卢比的合同。"
"Of these, items worth almost Rs 1,30,000 crore each are anticipated for the Army and IAF, while items worth almost Rs 1,40,000 crore are anticipated for the Navy over the same period," it added.
"其中,陆军和印度空军的合同预计各价值约13000亿卢比,而海军的合同预计同约14000亿卢比,"国防部补充到。
The aim behind the promulgation of the list is to apprise the Indian defence industry about the anticipated requirements of the armed forces so that they are better prepared to realize the goal of indigenization, said the MoD.
国防部表示,公布清单的目的是向印度国防工业通报军队的预期需求,以便他们为实现本土化的目标做好更充分的准备。
印度时报读者的评论:
rajesha shet
You hate him or love him. But you cannot ignore him.. Long Live Modi. Jai ho
你可以恨他也可以爱他,但你不能无视他,莫迪万岁,印度必胜!
Debasish
A Very Bold and Strong Step by Modi Jee... Some pseudo seculars will be certainly unhappy, as their own interests suffer.....
莫迪有魄力,迈出了非常大胆的一步…一些伪世俗派肯定会不高兴的,因为他们的利益受到损害……
AP
this is great if it can be successfully implemented. Not only that India should think about attaining self reliance but also selling major wons to other countries. The sale of wons are a good "soft powers" like US, Russia has been doing for many years. it will help India improve diplomatic powers to great levels
如果能成功实施,那就太好了。印度不仅要实现自给自足,还应考虑向其他国家出售主要武器。出售武器是美国的"软实力",多年来俄罗斯也一直在出售武器。这将大幅提高印度的外交实力
Ordinary Indian
Implementation is the biggest issue in India.
在印度,执行力是最大的问题。
Another Fan
Modi ji is the best!!
莫迪是最棒的!!
D P Bhat
Dual benefits, viz - 1) savings of foreign exchange 2) employment opportunities for indians !
双重效益:1)储蓄外汇2)为印度人创造就业机会!
Mokkapati Prabhakara Rao
After ban of Apps, one more good move by the Gt. Though delayed, better that actions were taken now. Much more actions are needed to stop flow of funds to foreign countries and reduce import of gold by the rich INDIANs.
继禁用APP之后,印度又做了一件好事。虽然有些迟,最好现在就采取行动。需要采取更多的行动来阻止资金流向国外,减少印度富人的黄金进口。
Santimay Basu
Go nment has opened up opportunities to the Industries. It is upto them to grab the opportunity by ensuring high quality of their products.
政府为各行各业提供了机会,他们应该确保产品高质量,抓住机遇。
Vk Khurana
It is never too late to allowing private sector to participate. This will bear positive results before too long.
让私营部门参与进来,无论何时都不算晚,而且很快就会产生积极的结果。
Rupesh Mehta
we need to become arms exporter,rather then importer.
我们要成为武器出口国,不要当进口国。
Dinesh
commission agents business goes kaput..
对于吃回扣的代理商来说,生意要萧条了
Vincent Rajkumar
We have BEML to make armoured vehicles, but these idiots do not think beyond and cannot design. Instead they hire people who really do not want to work. Unless we change this, we cannot do much. Change people attitude to change India. Jai ho Modiji, Jai ho India.
BEML公司能造装甲战车,但是他们雇佣的那些白痴消极怠工。要改变印度,先要改变人们的态度。除非我们改变这一点,否则什么也干不成。莫迪必胜,印度必胜。
Revanna Bl
Hats off Modiji. The same amount can come from Local manufacturing and even JV. We get technology , we get jobs, and local economic activity will pick and help boost Defense exports for sure
向莫迪致敬。用买武器的那些钱,我们可以在本土生产,成立合资企业。我们可以获得技术,还有就业机会,促进本土经济的同时还可以推动国防出口
Veer
Super
太棒了
Kumar Dhanapal
We have been making Arjun Tanks for the last 40 years and have we achieved anything considerably in quality and innovation? Since we make everything, quality and cost factors should be parallel to international standards otherwise atmanirbar will be only an empty slogan.
过去40年,我们一直在造阿琼,我们在质量和创新方面取得了什么显著成就吗?。既然一切都要自己造,那质量和成本应该与国际标准平行,否则"自力更生"将只是一句空洞的口号。
Rajesh Singh
73 years after independence India has not been able to make a simple gun for its armed forces. Over 40,000 crores have been spent on the development of Tejas and they are still buying rafale. Smacks of hypocrisy.
独立73年之后,印度还不能为其军队造简单的步枪。在"光辉"战机的研发上已经花费了4000多亿卢比,但他们还购买"阵风"战机,太虚伪了。
Rohit Joseph Deka
Except Jet technology and some few advance radar technology, rest can be build with highest quality on Armies wish can be build In India alone. SURPRICED to see that even t k, artilary guns, hand guns like also import from small nation like Israel. THATS A SHAME IN THE FACE OF 1.35 BILLION PEOPLE.
除了喷气式飞机和一些先进的雷达,其它有望在印度独立建造,质量肯定上乘。目前,印度甚至连、大炮、手枪都是从以色列这样的小国进口的。对于13.5亿人来说,这是耻辱。
C Ramesh
Wonderful initiative if it manages to go the distance.
能坚持下去就太棒了
Bharat Bhushan Gupta
A step. A country can't be global power if it has to depend on imports for its defence requirements. It is an irony that in 73 years of our independence we are not able to manufacture basic assault rifles and the bullets. This was all because we dis not permit private sector to manufature deeence equipments. It may be ned that in USA, private companies like Lockheed Martin, Northrop etc manufacture their frontline aircraft and missiles.
做得对。一个国家如果必须依靠进口来满足国防需求,就不可能成为全球强国。讽刺的是,独立73年了,我们还不会造突击步枪和子弹,这都是因为我们不允许私营部门生产国防装备。值得注意的是,在美国,像洛克希德·马丁公司,诺斯罗普公司等私企可以为部队造战机和导弹。
SDP
no to imports, make everything in India, the best option
不进口,在印度生产是最好的选择
chaichai
Is make in India a failure? What is different between Make In India and Atmanirbhar Bharat.
"印度制造"失败了吗?"印度制造"和"印度自力更生"有什么不同?
Agnelo Dsa
ambani will get most of the contracts. most contracts will go to guju companies and our armed forces will get substandard wons. we will be back to importing wons.
安巴尼将获得大部分合同。大多数合同将会落到古吉拉特人的公司手里,我们的军队将会收到不合格的武器。到时候还是要去进口。
LS rawat
Ambani is not /Pakistani
反正安巴尼不是,也不是巴基斯坦人
(译者:Jessica.Wu)