Jan-March expansion at 40 quarter low of 3.1%, 2019-20 GDP growth at 11-year low of 4.2%
印度1- 3月经济增速为3.1%,为40个季度来新低,2019- 2020财年(2019年4月至2020年3月)GDP增速为4.2%,为11年来新低
NEW DELHI: The country's economic growth in the January-March quarter of 2019-20 expanded at its slowest pace in 40 quarters at 3.1%, dragged down by the manufacturing and construction sectors and some impact of the national lockdown in late March. Only the farm sector and go nment spending stayed firm.
新德里:受制造业和建筑行业的拖累,以及3月底开始在全国范围实施的封城措施的影响,印度1-3月的经济增速为3.1%,为40个季度以来新低,只有农业部门和政府支出保持坚挺。
Data released by the National Statistical Office (NSO) on Friday also showed overall GDP growth in 2019-20 slowing to an 11-year low of 4.2%, lower than the earlier estimate of 5%. Several major economies which had imposed lockdowns earlier have witnessed a contraction in their January-March quarter growth while a handful of countries led by India have managed to post expansion during the period. The NSO said that both the quarterly as well as annual GDP growth numbers are likely to undergo revision as data flow from "economic entities had been impacted."
印度国家统计局周五发布的数据还显示,在2019- 2020财年,GDP增速放缓至4.2%,为11年来低点,低于此前5%的预期。早些时候实行封城的几个主要经济体1 - 3月份的经济增长出现了萎缩,而以印度为首的少数几个国家在这段时间实现了增长。国家统计局表示,由于"经济实体"的数据受到影响,季度和年度GDP增长数据可能进行修正。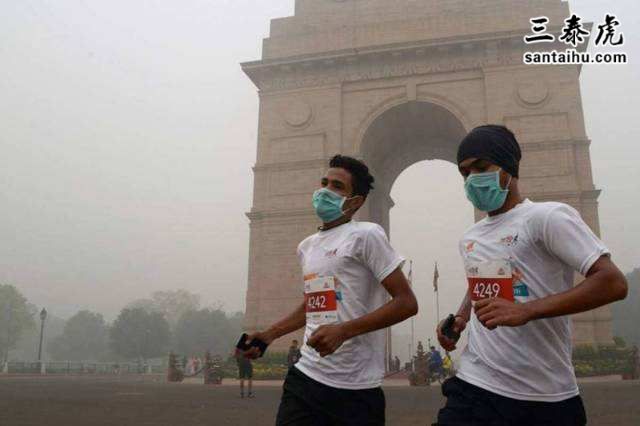 Economists say the lockdown, which has crippled economic activity, will have an impact on growth in the coming quarters with several research houses, investment banks and brokerages estimating a sharp contraction.
经济学家表示,封城措施削弱了经济活动,将对未来几个季度的经济增长产生影响,几家研究机构、投资银行和经纪公司预计经济将出现大幅萎缩。
Several key sectors of the economy such as the services sector, which accounts for nearly 60% of the economy, have suffered due to the lockdown and led to large job losses. The go nment has unveiled a relief package to nurse growth but experts say more needs to be done to help revive growth.
占印度经济近60%的服务业等几个关键行业都受到封城措施的影响,导致大量就业岗位流失。政府公布了一项刺激经济增长的救助计划,但专家表示,还需要采取更多措施来帮助恢复经济增长。
The Reserve Bank of India (RBI) has also cut rates sharply since the lockdown and has unveiled massive liquidity injection to help the economy gather momentum but it has estimated growth to contract in 2020-21 due to the impact of the lockdown in the country as well as across the globe. The IMF expects India and to be the only economies to register growth while other economies around the globe are expected to contract sharply, a view not shared by several other economists who expect the Indian economy to contract.
印度储备银行(RBI)也大幅下调了利率,并公布了大规模的资金注入计划,以推动经济增长,但由于印度及全球范围内的封锁,预计印度经济增长将在2020-21年期间收缩。国际货币基金组织(IMF)预计,印度和将是唯一实现增长的经济体,而全球其它经济体预计将大幅萎缩。预计印度经济将出现萎缩的其他几位经济学家并不认同这一观点。
The manufacturing, construction and services sectors contracted in the March quarter which economists attributed to the impact of the lockdown. The trade, hel and transport and manufacturing sector saw growth drop to the lowest level since 2011-12 in Q4 FY20, according to Care Ratings.
在1-3月,制造业、建筑业和服务业出现萎缩,经济学家将此归因于封城影响。
The farm sector posted a robust near 6% growth in the March quarter while overall expansion was at 4% for 2019-20.The sector is expected to provide some support to overall growth in the quarters ahead as farm production is expected to remain strong.
农业部门在该季度实现了近6%的强劲增长,而在2019- 2020财年期间的总体增速为4%。由于农业生产预计将保持强劲,预计农业部门将为未来几个季度的整体增长提供一些支持。
Economists said they estimate a further deterioration in the health of the economy in the months ahead as the impact of the lockdown becomes more pronounced and some said the prospects for Asia's third largest economy appear to be grim. The chief economic adviser in the finance ministry Krishnamurthy Subrnian expects a V-shaped recovery once the pandemic gets over, relying his projection one the recovery that the economy staged post the Spanish flu in 1918.
经济学家表示,预计未来几个月经济状况将进一步恶化,因为封城的影响将变得更加明显。一些经济学家表示,亚洲第三大经济体印度的前景似乎很黯淡。印度财政部首席经济顾问Krishnamurthy Subrnian预计,基于其对1918年西班牙流感后经济复苏的预测,一旦此次疫情过去,印度经济将呈现V型复苏。
"The further extension of the lockdown till the end of May 2020 amid graded relaxations, and the expectation of substantial delays in getting the full supply chain operational, especially given the likelihood of enduring labour mismatches following the return of migrant workers to their home states, would further dampen economic activity," said Aditi Nayar, principal economist at ratings agency ICRA.
评级机构ICRA的首席经济学家阿迪提·纳亚尔称:"随着封城进一步延长至2020年5月底,并逐步放松,预计整个供应链的运作将会大幅延迟,尤其是考虑到民工返乡后可能会出现劳动力短缺的情况,这将进一步抑制经济活动。"
印度时报读者的评论:
译文来源:三泰虎 http://www.santaihu.com/p/49998.html 译者:Jessica.Wu
Moti Ji
A big country like India cannot afford to have uneducated pm. Bhakt and bjp will destroy this country.
像印度这样的大国不能由一个没文化的总理领导。印度人民党会毁了这个国家的。
aryan kapoor
I just hope India does not become Somalia
我只希望印度不要变成索马里
Ivory
To save our country, throw out these illiterate Morons ASAP. This jumla is the real anti national to bring down a growing economy to its feet.
为了拯救我们的国家,尽快把这些文盲赶下台。人民党是真正的反国家分子,会把经济拖垮的。
Ivory
At this rate, we will soon become a $5 trillion economy.
照这个速度,我们将很快成为5万亿美元经济体。
Syed Bhul
Modi will eat India. We should kick out this illiterate Govt. Otherwise that's it. BHAKTS jaag jao.
莫迪会毁掉印度的,我们应该把他赶下台
Amar No Akbar No Anthony
Isn't Feku ChaCha more dangerous to India than Pakistan & .......he's cancer destroying India from within
对印度而言,莫迪比巴基斯坦和更危险,他正在从内部摧毁印度
Arnab Gobarswami
This is Pre-Corona. Post Corona it will be in Negative.
这个增速是疫情爆发之前的,疫情过后,印度经济增速将是负的
Ivory
Bhakts reasoning: This is all because of the lockdown from 24th - 31st March. Otherwise the GDP for 2019-20 would have been in double digits.
人民党会说,这都是因为3月24日-3月31日实施了封城。否则GDP增速将达到两位数。
Exception
This is what happens when u uneducated PM.. who sells tea
选了一个没文化的卖茶人当总理,这就是后果
Rajeeva Kumar
India is sinking.
印度这艘巨轮正在下沉
BitterTruth
It is interesting to see how the comments logged on articles during early or very late hours are largely critical of Modi but those logged during the middle of the day are highly supporting. It is almost as if the supportive comments are logged during working hours by workers.
有趣的是,那些在凌晨或深夜发布的评论大多是批评莫迪的,而那些在中午发布的评论却是高度支持莫迪的,这些水军在正常上班时间把支持莫迪的评论发布出来。
BitterTruth
I am surprised that we didnt hit negative numbers. The GDP growth looks like it has been adjusted.
我很惊讶居然不是负数,数据似乎经过了调整。
tushar412800
There was only 7 days lockdown in March - the fall can not be blamed to only Corona.
这不能怪封城,毕竟3月份只有7天实施了封城。
Ajithlal Gangadharan
This has nothing to do with corona. It happened because uneducated north indians sed and ed an uneducated pm.
这与疫情无关。这是因为没文化的北印度人选了一个没文化的总理。
AsaMatterOfFact
global recession is the result of pandemic
全球经济都出现衰退,这是疫情导致的
Road Bush
0% is coming and then negative
Then mass unemployment and starvation
之后印度经济增速将降至0,然后是负数
印度将出现大规模失业,饥荒
S
4.2% is an Overestimation, India under Uneducated PM is growing Negativaly. 4.2 % is after inflating figures, current growth rate may be near 1-2% at its mamum.
4.2%都是高估了,在没文化的总理领导下,印度的经济增长率是负数。4.2%是夸大的数据,目前的增长率最多接近1-2%。
Ksvelusamy
we may expect much more worst in future. Normal life is yet to return. business has to survive. please save us
未来会出现更糟糕的情况。正常生活还没恢复。企业必须生存,救救我们吧。
Humanity comes first
Fudged data, our GDP is in negative figures by wrong decisions/policies by mr. feku. Our economy was already facing slowdown corono has send it in coma.
数据是捏造的,由于莫迪的错误政策,我们的GDP增速是负的。我们的经济已经面临放缓,疫情已经让印度经济陷入了衰退
Jagdip Vaishnav
Economy slow down is a Global factor due to Corona Vir s
由于疫情影响,经济增长放缓是全球性的
Narendra Kothapalli
We need ions now, if we are to have any hope of saving the economy.
如果有一丝拯救经济的希望,我们现在就重新选过总理。
Saahil Khan
this is all because of Pakistan, nehru, JNU,congress and yes Mamta didi,
这都怪巴基斯坦,尼赫鲁,国大党和玛玛塔。
Sambappa Kalv
We are going through most testing period after independence for the first time
我们正在经历独立后最艰难的时期啊
外文:https://timesofindia.indiatimes.com/business/india-business/jan-march-expansion-at-40-quarter-low-of-3-1-2019-20-gdp-growth-at-11-year-low-of-4-2/articleshow/76100528.cms