At least 57 dead as Pakistan plane crashes in resi ntial area in Karachi
巴基斯坦一架客机在卡拉奇居民区坠毁,造成至少57人死亡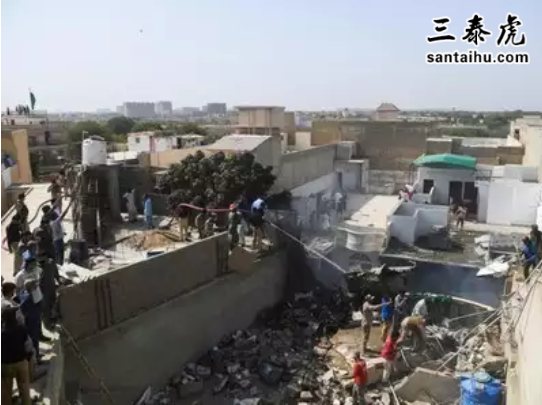 KARACHI: At least 57 people were killed when a Pakistan International Airlines plane with 99 people on board crashed into a densely populated resi ntial area near the nah International Airport here on Friday, offi als said, nearly a week after the Covid-19-induced air travel restrictions were lifted by the go nment.
卡拉奇:巴基斯坦表示,星期五,巴基斯坦国际航空公司一架载有99人的客机在真纳国际机场附近一个人口密集的居民区坠毁,造成至少57人死亡。
Flight PK-8303 from Lahore was about to land in Karachi when it crashed at the nah Garden area near Model Colony in Malir, minutes before its landing, they said.
这架从拉合尔起飞的PK-8303航班原本要在卡拉奇着陆,但在着陆前几分钟,在马尔里尔Model Colony附近的真纳花园坠毁。
The PIA Airbus A320 carrying 91 passengers and eight crew members has crash- landed into the nah Housing Society located near the airport, a spokesperson of the national carrier said.
该国有航空公司的发言人表示,这架空客A320载有91名乘客和8名机组人员,在机场附近的真纳社区坠毁。
Thick black smoke rose from the accident scene of devastation in the Model Colony area.
事故现场冒起浓浓的黑烟。
Earlier, a PIA spokesperson and many media reports said that there were 107 people on board the aircraft.
早些时候,巴基斯坦国际航空公司发言人和许多媒体报道称,飞机上有107人。
Sindh Health Minister Azra Pechuho and rescue offi als confirmed that 57 dead bodies have been recovered so far from the site of the crash.
信德省卫生部长Azra Pechuho和救援证实,到目前为止,已经在坠机地点发现了57具尸体。
"But we are still to determine whether these 57 people were all on board the flight or include area resi nts as a number of houses have been badly dged by the aircraft when it crashed," she said.
她表示:"但我们仍在确定这57人是否都是飞机上乘客,还是包括该地区的居民,因为飞机坠毁时,许多房屋已经严重受损。"
The minister said there are three survivors including Presi nt of the Bank of Punjab Zafar Masood. He called up his mother to inform her of his well-being.
该部长表示,有三名幸存者,包括旁遮普省扎法·马苏德银行行长。他给母亲打了个电话,告诉她自己没事。
Faisal Edhi of the Edhi Welfare Trust said that around 25 to 30 resi nts whose houses were dged by the plane have also been taken to the hospital, mostly with burn wounds.
艾德希福利信托基金会的费萨尔·艾德希称,大约25-30名房屋被飞机损毁的居民也被送往了医院,大部分人都有烧伤。
The aircraft wings during the crash landing hit the houses in the resi ntial colony before crashing down.
坠毁之前,机翼在迫降过程中撞到了居民区的房屋。
"At least 25 houses have been dged in this in dent," Edhi said.
艾德希说:"至少有25栋房屋在此次事故中受损。"
"The first priority is to rescue the people. The main hurdle is narrow streets and presence of ordinary people who gathered at the place after the crash but they have been dispersed," the minister said.
卫生部长表示:"首要任务是救民。主要障碍是狭窄的街道和在事故发生后聚集在这里的民众,但是已将他们驱散了。"
According to a PIA offi al, the captain informed the air traffic control that he was having problems with the landing gear before the aircraft disappeared from the radar.
据巴基斯坦国际航空公司一名称,在飞机从雷达上消失之前机长通知了空中交通管制,飞机的起落架出了问题。
Television footage showed rescue crews combing through debris strewn across the streets of the district - 3 km north-east of the airport - where a number of houses have been dest yed.
电视上播出的画面显示,救援人员正在清理散落在街道上的残骸,该地区位于机场东北方向3公里处,许多房屋被毁。
The cause of the crash is yet to be confirmed. PIA chief executive Air Vice Marshal Arshad Malik said the pilot had told traffic control that the plane was experiencing "technical difficulties".
飞机坠毁的原因还有待确认。巴基斯坦国际航空公司CEO空军少将艾尔沙德·马利克称,飞行员已通知交通管制,飞机遇到了"技术困难"。
Malik rejected reports that the plane had problems even before flying. Talking to the media, he said the aircraft was completely safe and sound.
马利克否认了飞机在起飞前就出现问题的报道。在接受媒体采访时,他表示飞机是完全安全可靠的。
The plane with 99 people on board came for landing but just before landing the pilot said he was going for a go-around. While coming for a second landing, it developed some problems and crashed.
在着陆前,飞行员说要复飞,但在第二次着陆时,飞机出现了一些问题并坠毁。
"The real cause of the mishap will be known after inquiry, which will be free and fair and it will be provided with media," he said.
马利克称:"事故的真正原因将在调查后得知,调查将是公正的,并将向媒体公布调查结果。"
He said some houses were dged but none of them col psed. There was no death on the ground so far.
他说,一些房屋受损,但没有倒塌。到目前为止没有发现地面人员死亡。
Malik said that the entire operation will take two to three days to complete.
马利克说,整个调查过程将需要两到三天时间才能完成。
Friday's accident occurred on a day when the interior ministry announced Eid holidays from May 22 to May 27, even as the country was facing a spike in the coronavir s cases.
星期五的事故发生时,巴基斯坦部宣布开斋节假日从5月22日至5月27日,该国正面临新冠病例激增的局面。
The Covid-19 cases in the country have crossed the 50,000-mark after a record 2,603 more patients were diagnosed on Thursday. The death toll stands at 1,067.
星期四,巴基斯坦新增确诊病例2603例,确诊总数突破5万大关,死亡人数为1067人。
印度时报读者的评论:译者:Jessica.Wu
BLUE SKY
so sad to hear that!
听到这个消息真难过!
Parthasarathi DasGupta
Indian Airlines and Private air lines please do a thorough checking of the aircrafts. All were grounded for long. Please give proper trials before allowing to take off. If a machine ( any machine ) is not tried for long then trust me it will give initial trouble.
印度所有航空公司,请在起飞前对飞机进行全面检查,停飞这么长时间了,很容易出问题的。
Vishal Khattry
May the Souls Rest in Peace... Guys be it Pakistan our enemy but death like this is sad!! This 2020 is proving to be the most pathetic year
愿逝者安息,虽然巴基斯坦是我们的敌人,但死了这么多人真的是很惨!!
事实证明,2020年将是最悲惨的一年!
Ram Kumar
Pakistan is not our enemy. Re gion is humanity's greatest enemy.
巴基斯坦不是我们的敌人。才是人类最大的敌人。
Ekdes
Looking at the pitch dark smoke, the flight was running on kerosene and water instead of aviation fuel.
那么黑的浓烟,这飞机烧的是煤油吧,不是正常的航空燃料。
Mu pig
Please do not blame modiji for this crashes !! RIP
请不要把此次坠机事故归咎于莫迪!安息吧
Raj
People should celebrate this good news hopefully many dead Pakistanis.
大家庆祝起来
Rocky Sen
Indian are not like Pakistani Jihadi who can celebrate on such a sad in dent. We Hindus believe in humanity
印度人不像巴基斯坦分子把自己的快乐建立在别人的痛苦之上,我们印度人比较有人性
A N
Wow , This is very popular news, 66 comments in 10 minutes ..
哇,这条新闻,10分钟内就有66条评论。
Anup Choudhari
Rip, it's really sad some people's absurd comments . Look indians have problem with te rort and agencies who sponsor them, not with general Pakistan public.
愿逝者安息。有些人的评论真的很荒谬。印度人对分子及其资助者有意见,但不针对巴基斯坦民众。
Tompasand Andrade
So sad. Deepest condolences to the Pakistani Gt and the bereaved family.
很难过。向巴基斯坦政府及遇难者家属致以最深切的哀悼。
Murugadas Kannan
When the aircraft was standstill for long time, it should be inspected before flying. Especially the engines.
飞机长时间停飞后,起飞前应进行彻底检查,特别是发动机。
Akshay Sawant
Please accept our heartfelt Condolences for the tragic event & at the same time, please accept our sincere apologies for some negative comments posted here by my fellow countrymen.
请接受我们对这一悲剧的诚挚哀悼。看到我国同胞在这里发表了一些负面评论,请接受我们的真诚道歉。
Skr Ruthless
pak army launch missile in training, it hit plane
巴基斯坦军队在训练中发射了导弹,击中了自己的飞机
Murugavel Km
Year 2020 is really a b**ch
2020年真的是一团糟
Amit Sharma
Condolences to the bereaved families. For us, whole world is one big family.
向遇难者家属表示哀悼。整个世界就是一个大家庭。
ATUL DESHPANDE
Just let them be there, 72 of our people have been killed in cyclone in West Bengal ,not even 1 Pakistani has been sad about our 72 victims
不要管他们,印度西孟加拉邦有72人在飓风中丧生,没有一个巴基斯坦人对这72名死者感到难过。
Sunil Kumar
First worry about cyclone in india...
还是先担心如何躲过在印度刮的飓风吧……
RAKESHKUMARGUPTA
please dont see po itics in tragedies
请不要将这场悲剧扯上
Guest
awesome some good news in the time of covid
疫情期间总算有个好消息
Joe Kool
Karma.
报应
Soumya Pattanayak
these pilots r well trained to crash into building but this time thy crashed into their own ..
这些飞行员就是训练好来撞大楼的,这次他们撞到了自家房子。