26 migrant workers killed, 36 injured in UP accident
北方邦事故造成26名民工死亡,36人受伤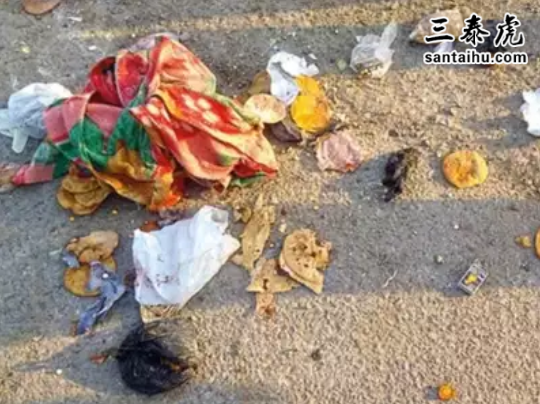 KANPUR: Yet another desperate journey has ended in tragedy on the side of a highway. Twenty-six more migrant labourers fleeing joblessness and hunger will never see home again. They died when a trailer truck carrying sacks of lime and 50 people drove into the back of a stationary DCM truck carrying another 20 people on National Highway 19 in Auraiya district, Uttar Pradesh, around 3.15am on Saturday. Thirty-six were injured.
坎普尔:绝望的旅程在高速公路边以悲剧告终,26名饥肠辘辘的失业民工将永远无法回家。周六凌晨3点15分左右,在北方邦奥莱亚区的19号国道上,一辆载有数袋石灰和50人的拖车撞向一辆载有20人的DCM卡车的后部,导致26人死亡,36人受伤。
The DCM truck, carrying migrant workers from Ghaziabad, had stopped at a roadside eatery near Chirhauli village. The trailer truck driver didn't see the stationary vehicle. He appeared to have fallen asleep, ASP Kamlesh Kumar Dikshit told TOI. The majority of the victims were those on the trailer truck.
这辆卡车从加济阿巴德出发,车上载了民工,停在吉拉瓦里村附近的路边餐馆。拖车司机没有发现停在路边的卡车,可能是睡着了,大多数死者是拖车上的民工。
Reports said that around 50 migrants on the trailer truck were from Bihar, Jharkhand, West Bengal and UP and had been travelling from Rajasthan. The DCM truck, carrying 20 migrant labourers, had been heading towards Sagar district of Madhya Pradesh.
报道称,拖车上大约有50名民工,来自比哈尔邦、恰尔肯德邦、西孟加拉邦及以上地区,是从拉贾斯坦邦出来的。卡车载着20名民工,正驶往中央邦的萨加尔地区。
Of the 36 injured, 20 were shifted to Saifai Medical University in Etawah as their condition was stated to be critical, while 16 were admitted to the district hospital in Auraiya.
在36名伤者中,有20名伤势危急的已被转移到位于埃塔瓦的塞菲医院,16人被送至奥莱亚当地医院。
On Friday, at least 15 migrant workers had been killed in three separate in dents in UP, Madhya Pradesh and Bihar. The UP go nment had announced on Friday that district authorities must ensure that migrant workers do not walk or cycle home and are provided transport.
截止周五,在北方邦、中央邦和比哈尔邦总共发生三起事故中,至少有15名民工丧生。北方邦政府周五宣布,地方当局不能让民工步行或骑行回家,必须为他们提供车辆。
Prime Minister Narendra Modi, Adityanath and leaders of several opposition parties expressed grief over the loss of life. The CM has announced an ex gratia of Rs 2 lakh for the families of the deceased and Rs 50,000 for the injured.
总理纳伦德拉·莫迪、阿迪亚纳特和几个反对党的领导人对人员伤亡表示悲痛。印度中央政府宣布为死者家属提供20万卢比抚恤金,为伤者提供5万卢比补偿。
"The trailer truck collided with the DCM from behind. The impact was so severe that both vehicles ove urned and fell into a roadside ditch. Nearly 42 labourers sitting on the trailer and 20 on the DCM truck were injured. Of them, 26 died before reaching hospital," Dikshit added.
拖车从后面撞上了卡车,撞击非常剧烈,两辆车都翻倒在路边的沟里。42名坐在拖车上的工人和20名坐在DCM卡车上的工人受伤。其中26人在送达医院前死亡。
IGP Mohit Agarwal said the police would investigate why so many people were travelling on just two vehicles.
IGP Mohit Agarwal表示,警方将调查为什么两辆车载了这么多人。
The accident spot was littered with backpacks and belongings of the dead and the injured. A senior police officer said many labourers were crushed to death under sacks of lime. The bodies have been sent for post-mortem and efforts are on to contact their family members.
事故现场散落着死者和伤者的背包和物品。一名高级警官说,好些民工被石灰袋压死。遗体已被送去尸检,目前正努力与他们的家人取得联系。
Auraiya DM Abhishek Singh said investigations were on to establish the exact cause of the accident. "As of now we have been able to ascertain the identities of 18 victims. The identities of seven others are yet to be ascertained," Singh added.
奥莱亚DM阿布舍克·辛格表示,目前正在调查事故的确切原因,"到目前为止,我们已经确定了18名死者的身份,另外7人的身份还有待确认。"
An offi al said the 26 deceased included 12 migrant labourers from Jharkhand. "The death toll is likely to go up," he said.
一名官员表示,26名死者中包括12名来自恰尔肯德邦的民工,死亡人数可能还会上升。
The CM directed senior offi als to visit the site. "The chief minister has also directed that all the injured be provided medical care immediately and the commissioner and IG Kanpur visit the site and immediately file a report on the cause of the accident," said UP additional chief secretary (home) Awanish Awasthi.
北方邦首席部长已指示高级官员赶赴现场。北方邦秘书阿瓦尼什·阿瓦西说:"首席部长还指示立即为所有伤者提供救治,指示专员和坎普尔IG赶赴现场,并要求立即就事故原因提交报告。"
印度时报读者的评论:译者:Jessica.Wu
Bharatwasi
Hope Priyanka, Mayawati Akhilesh will give at least 5 lacs each to the dead and 3 lacs to the injured.
希望普里扬卡、玛雅瓦蒂和艾克雷什·亚达夫每人至少给5名死者发50万卢比,给伤者发30万卢比
Fero
Media now will say Pakistan hand behind it.
媒体会说巴基斯坦是幕后黑手。
Dr. Rajendra L. Banerjee
Nobody, not even God can save such reckless and illegal people from such accidents.
没有人能救这些人,甚至连神也救不了这些不顾后果的人,是他们自己违反封城规定回家的。
Gunasekaran
may their souls rest in peace.
愿他们的灵魂安息
Faisal
High time that public should come to streets and ask this fas-ists govt to step down else all poor workers will be murdered by this Govt
印度民众是时候走上街头,要求莫迪下台了,否则所有贫穷的民工都会被害死
Vasu Nambiar
Idiots can keep blaming govt 4 everything.
白痴可以继续把所有事情都归咎于印度政府。
Foxpro
I feel depressed. To be a poor is a curse.
我感到沮丧,贫穷是一种诅咒啊。
Raihan Alam
Where are the proponents of Modi govt ? Not a single comment from them over this news.
莫迪政府的支持者在哪里?他们对这条新闻没有发表任何评论。
Umesh Chandra Sharma
Modiji and Yoguki this is truth and not what you blabber on TV... these deaths are on you, on your mis management and negligence and incompetence
莫迪,这些死亡都是你造成的,是你的管理失误、疏忽和无能造成的
Lalit Gulati
When people will learn how and where to park vehicle?
什么时候人们才能学会规范停车啊?
truth prevail
This fatalities will be higher than vir s
这类事故的死亡人数将高于新冠肺炎死亡人数
Roushan S
The Central Gov has released a mobile app to provide food and support to poor and hungry migrant walking on the highway. Please immediately install it in your smart phone....YES! India is the first country to save its people...
印度中央政府发布了一款手机应用,为在高速公路上徒步的饥饿的贫穷民工提供支持。请立即在你手机上安装这款APP…!
印度是第一个拯救自己人民的国家…
Anantha Prasanna
Very sad, No one is bothered about poor migrants. They are left in the open to fend themselves. Either they die of hunger, or accidents, or covid. Some one needs to answer the issue of migrants. Who will do this?
非常可悲,没有人关心贫穷的民工,他们露宿在外,自生自灭。他们要么饿死,要么死于意外事故,要么感染病毒病死。需要有人出面解决他们的问题,谁来呢?
JAC Chira
A Go nment which cares Least about its Subjects. Failure in all disciplines including Finance and economy.
印度政府对国民漠不关心,方方面面都失败了,财政和经济都不行。
Ike David
How can you be a super power if you can't look after your own citizens ? The poor and downtrodden who truly depend on the go nment .
如果连自己的国民都照顾不好,印度怎么能成为超级大国呢?
穷人真的需要政府的帮助啊。
rajat arora
Fake condolences of Mr modi. If he had courage he should had opened up public transport for 5 days, made it absolutely free ,allow everyone to reach their places.that is real relief package. But he doesn't. Nobody cares for poor. The life of poor is ch in the country and especially under the modi govt.
莫迪的哀悼是虚情假意。如果他有魄力,应该开放公共交通5天,而且要完全免费,让每个人都能回家。这才是真正的救助计划,但他不会这么做。没人关心穷人。在这个国家,穷人的命如草贱,尤其是在莫迪的统治下。
K Mohan Twincities
Migrants have been battered in this Covid 19 lock down beyond words
封城期间,民工受到的影响尤其严重,无法用语言表达
Mahesh S
It is not the f***ing covid but indian roads will kill more!
印度公路上事故致死的人比死于新冠肺炎的人更多!
Raj Patel
another master stroke by our Modiji !!
这又是莫迪的杰作!
ES Shine
I am wondering how many of these unfortunate labourers had ved for this heartless brainless fraudster in 2019.
这些不幸的劳工中,有多少人在2019年投票支持了莫迪这个没良心没头脑的骗子。
Mockery
almost 99% of them ved for bjp.It is punishment time for them
其中99%的人都把票投给了人民党,这就是对他们的惩罚
Tom Diwan
Shame on the Modi Govt,how it ignored the millions of Indian migrants,shame.
莫迪真可耻,忽视了数百万民工啊。