Te rorts step up attacks: 3 CRPF men, teenager killed in Handwara village
分子连续发动袭击:3名中央后备警察部队士兵、一名少年被杀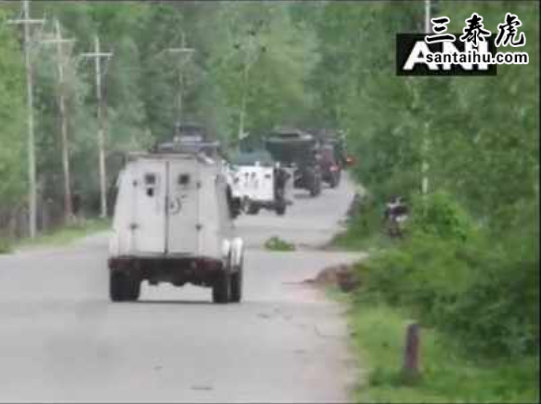 SRINAGAR: Four people — three CRPF jawans and a physically challenged boy of 14 years — were killed when several te rorts attacked a group of CRPF personnel in Handwara tehsil's Wangam village on Monday evening, barely a day after four Army soldiers, including a colonel and a major, and a police SI were killed fighting te rorts in the same tehsil.
斯利那加:周一晚间在印度Handwara地区的Wangam村,几名分子袭击了一队中央后备警察部队(CRPF)士兵,造成4人死亡,其中包括3名CRPF士兵和1名14岁的残疾男孩。就在一天前,四名陆军在同一地区与分子作战时牺牲,其中包括一名上校、一名少校和一名警察。
The band of te rorts managed to escape under cover of darkness and a search operation was underway at the time this report was filed.
这伙分子在夜幕的掩护下成功逃脱,目前搜索行动正在进行中。
Separately, te rorts threw a hand grenade towards the CISF bunker at the power grid at Wagoora, in Budgam district of central Kashmir, on Monday evening. One CISF jawan was injured when the te rorts opened fire. The injured CISF jawan was identified as Constable Akash Kumar, sources said.
此外,周一晚间,分子向位于克什米尔中部布达姆地区瓦古拉的CISF掩体投掷了一枚手榴弹。其中一名CISF士兵(印度中央工业安全部队)被分子击伤。消息人士称,受伤士兵为巡警阿卡什·库马尔。
Intelligence reports suggest that there are te rorts on the prowl in Srinagar city as well, sources said.
消息人士称,情报显示,斯利那加市也有分子出没。
The CRPF men were attacked at about 5.32 pm while they were hel the Jammu and Kashmir police enforce the Covid-19 lockdown in Wangam village, Handwara. The sn jawans were identified as Constables Santosh Mishra, Chandra Shekhar and Ashwani Kumar Yadav of the CRPF's 92 Battalion.
大约在下午5时32分,在协助查谟和克什米尔警方在汉瓦拉旺加姆村执行封城令时,CRPF士兵遭到袭击。被杀的士兵是巡警Santosh Mishra, Chandra Shekhar和CRPF 92营的Ashwani Kumar Yadav。
Two CRPF men were killed on the spot. "Three jawans attained martyrdom in the terror attack in the evening. Two of them died on the spot and a third succumbed to his injuries on the way to hospital," CRPF PRO Pankaj Singh said.
两名CRPF人员当场身亡。在晚间的袭击中,三名印度士兵牺牲,其中两人当场身亡,另一人在送往医院的途中因伤势过重身亡。"
The teenage boy killed was identified as Hazmi Shafi Bhat, a shepherd boy who was out grazing his flock, along with other boys. Being physically challenged, he was unable to get away quickly enough, CRPF Assistant Commandant Junaid Khan said.
身亡少年为Hazmi Shafi Bhat,他是一名牧童,当时和其他男孩一起放羊。CRPF助理指挥官Junaid Khan说,该少年身体残疾,无法迅速逃离。
When the attack began, the paramilitary personnel retaliated and the initial exchange of fire lasted about five minutes. When the guns fell silent, one more body was spotted near the shootout site; it turned out to be that of the physically challenged teenager.
分子发动袭击后,CRPF也开枪还击,最初的交火持续了大约五分钟。当枪声停止时,在枪战地点附近又发现了一具尸体,结果发现是残疾少年。
Soon after the attack, additional reinforcement from the Army, Special Operations Group (J&K police), and CRPF launched a massive search operation to hunt down the te rorts responsible for the killings.
袭击发生后不久,来自陆队、特别行动小组(查谟和克什米尔警方)和CRPF的增援部队发动了大规模的搜索行动,以追捕制造杀戮事件的分子。
印度时报读者的评论:
译文来源:三泰虎 http://www.santaihu.com/49823.html 译者:Jessica.Wu
Rajesh Kumar
Military needs to take serious action ag inst those fostering te rort and trace all links and take them out.
印度军方应该对那些资助分子的人采取严厉行动,追踪他们之间的联系,将他们一网打尽。
Gaana User
kill all militant associates after gathering all possible information.
收集情报,消灭武装分子的所有同伙。
Saidesh Kumar
Breaking Pakistan is the only solution.
打败巴基斯坦是唯一的解决办法。
Shinto James
Congress would be celebrating! When Indian soldiers kill te rorts congress wants proof.
这下国大党会庆祝了!
而印度士兵击毙分子后,国大党却要求提供证据。
Kunwar Rana Pratap Singh
Once and for all finish this rogue nation called Pakistan.
一劳永逸的办法就是干掉巴基斯坦这个国家。
Lallan
When will Modi decimate Pakistan?
莫迪什么时候能打击巴基斯坦?
srini
He can't.
他做不到的
Prithvi Chauhan
BURN the te rorts bodies at a public space ON EACH FRIDAY......
每周五在公共场所焚烧分子的尸体
Honey Nod
How much more blood India will be shedding .
印度还要牺牲多少人?
aaaa bbbb
No Te rorts Activities can be possible without support from the local people this is the main problem.
没有当地人的支持,任何活动都不可能进行,这才是关键问题。
Ravi Kumar Kasturi
true..they do all this with local support
没错. .有当地人的支持,他们才能发动袭击
Asok Datta
Soldiers are dying from te rort bullets, people are drinking alcohol and the go nment is counting money; what a country India is !!
士兵死于分子的枪下,人们喝着酒,政府在数钱,印度是一个多么伟大的国家啊!
pram
Corrupt and inefficient go nment, police and army are sacrificing our soldiers. More soldiers die than te rorts! Is it a joke? What training you are giving them?
印度政府、警方和军队腐败低效,我们的士兵白白牺牲。死的士兵比分子还多!
这是个笑话吧?
这些士兵接受了什么样的培训啊?
Anantha Prasanna
If te rorts can kill military at will, why cant military kill te rorts at will. Why wait for attack to happen before retaliation.
既然分子可以随意射杀印度士兵,为什么印度士兵不能随意射杀分子?
为什么要等到遇袭后才还击呢?
Anonymous
CRPF is a useless force of sitting ducks. They get easily targeted by both and Is mi te rorts. No seriousness by the leadership.
印度中央后备警察部队太没用了,只会坐以待毙。他们很容易成为分子的目标。
PARIKSHIT BHANDARI
Live free die well - Scorpion King.... a salut for our fallen friends who die so we may live
死得其所,向我们逝去的朋友致敬,正因为他们的牺牲,我们才能活着
Guest
go nment must act decisively ag inst Pakistan..
has their fullest support with separatists,to instigate locals ag inst security forces.
印度政府务必果断对巴基斯坦采取行动。
Bhoopesh Shishodia
Need surgical strike
我们应该发动外科手术式打击
Michaelalok
HOW MUCH MORE BLOOD HINDUSTAN WILL BE SHEDDING IN THESE WAY??
照这样下去,印度还要牺牲多少人啊?
jana2504
KILL THEM DON'T ARREST.
不用逮捕,看到分子就直接击毙
George Hindustani
Enough is Enough just wipe out bloody paki from the map.
受够了,把巴基斯坦从世界地图上抹去吧。
外文:https://timesofindia.indiatimes.com/india/te rorts-step-up-attacks-3-crpf-men-teenager-killed-in-handwara-village/articleshow/75542112.cms