Covid-19: At 3.3%, India's fatality rate almost as low as South Korea's
印度的新冠肺炎病死率为3.3%,几乎和韩国一样低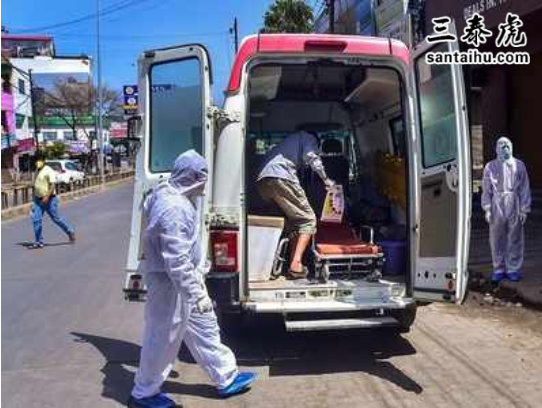 NEW DELHI: India's fatality rate of 3.3% of total confirmed coronavir s cases and deaths of 0.09 people per one lakh population compares well with some other countries, including South Korea, which is seen as a top performer in containing the disease, and that resorted to measures like mass quarantine to limit the pandemic.
新德里:印度新冠肺炎的病死率为3.3%,每10万人仅死亡0.09人。与其他国家相比,印度的情况还不错,韩国在控制疫情方面的表现最佳,而则采取了大规模隔离措施来限制疫情的蔓延。
Among the early countries to have been infected with the outbreak of Covid-19, South Korea has done well by confining its total count to 10,780 cases and deaths at 250. Its case-fatality rate is among the lowest at 2.3% while deaths per lakh of population have been at 0.48, higher than at 0.33 and India's 0.09, which is the lowest among all major countries, according to trends captured at the Coronavir s Resource Centre, Johns Hopkins University.
在较早受到Covid-19疫情影响的国家中,韩国做得很好,将总病例数控制在10780例,死亡病例控制在250例。根据约翰霍普金斯大学冠状病毒资源中心记录的趋势,韩国的病死率是最低的,为2.3%,每十万人口死亡0.48人,高于的0.33和印度的0.09,印度的病死率在所有大国中是最低的。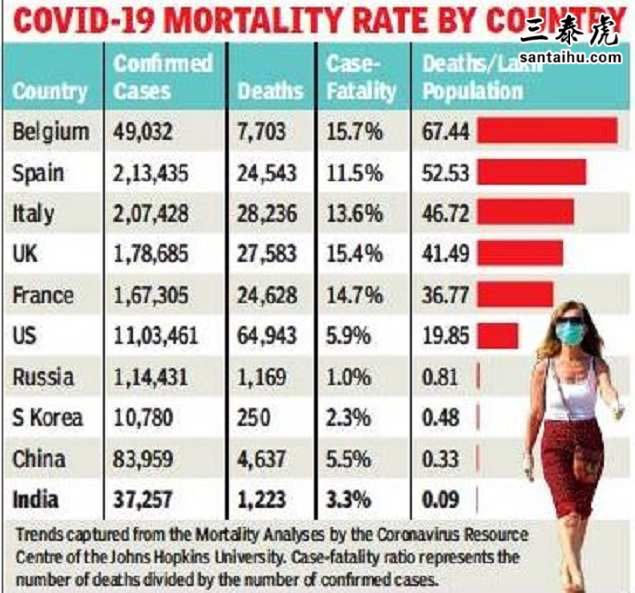 , with 83,959 cases and 4,637 deaths reported so far, has a case-fatality rate of 5.5%. So far India has 37,257 total cases and 1,223 deaths.
迄今为止,确诊83959例,死亡4637例,病死率为5.5%,印度确诊37257例,死亡1223例。
The situation is very grim in some European countries and the US. Deaths per lakh of population has been the highest in Belgium at 67.44, followed by Spain, Italy, UK, France and US at 53, 47, 42, 37 and 20 respectively.
欧洲一些国家和美国的情况非常严峻。比利时每十万人口死亡人数最高,为67.44人,其次是西班牙、意大利、英国、法国和美国,分别为53人、47人、42人、37人和20人。
The case-fatality ratio, that is total deaths out of total Covid-19 cases, in these countries is also high, ranging between 12% to 16%, except in US where it is 6% with 65,000 deaths reported so far out of 11 lakh confirmed cases.
除了美国外,上述国家的病死率也很高,在12%到16%之间。美国确诊110万例,死亡65000例,病死率为6%,。
According to the mortality analyses of the university, the data could represent a different picture if more people are tested.
根据约翰霍普金斯大学的死亡率分析,如果接受检测的人更多,情况或有所不同。
印度时报读者的评论:
译文来源:三泰虎 http://www.santaihu.com/49812.html 译者:Jessica.Wu
Dilip Ghosh
Narendra Modi is not only an inspiration for honest, hardworking, patriotic Indians. All the world leaders and people hold him in great respect. His great vision saved India from a huge disaster. He deserves the Nobel Prize for Peace.
莫迪激励着诚实、勤劳、爱国的印度人,世界各国的领导人和人民都非常尊敬莫迪。他深谋远虑,成功让印度避免了一场巨大的灾难,我们应该为他颁发诺贝尔和平奖。
Bchandran Nair V
In fact if we had not done timely lock down the deaths could have been in crores
如果印度没有及时封城,死亡人数可能达到上千万了。
VPN PATHAK
Please stop comparing south Korea. Their overall graph has come down where as corona is still going high in most part of our country.
不要和韩国比了。韩国的总确诊人数下降了,而在印度大部分地区,确诊人数仍然很高。
Adrian Roy
But India is rank no.1 in suppressing actual data no one can beat us not even .
在隐瞒真实数据方面,印度无人能及,在这方面,就连也比不过我们啊。
Sameer S
The Coronavir s death rate for 80 years olds is 14.8%. Patients ages 70 to 79 years have a death rate of 8% and those ages 60 to 69 have a death rate of 3.6%. (Younger age groups have lower death rates; 1.3% for those 50 to 59; 0.4% for the age group 40 to 49; and just 0.2% for people ages 10 to 39.)
80岁以上患者的新冠病死率为14.8%。70 - 79岁患者的病死率为8%,60 - 69岁患者的病死率为3.6%。较年轻年龄组的病死率较低:50-59岁为1.3%,40-49岁为0.4%,10-39岁仅为0.2%。
Bchandran Nair V
India could contain the spread of the infection in a better manner because of the timely lock down
多亏了及时封城,印度才能够更好地控制疫情的蔓延
SAVE ANDHRA FROM TUGLAQ
Korea didnt shutdown
韩国没有封城
Lakshmi Narayanan
Can't compare. See the population of both the countries.
印度和韩国不能比,看看两个国家的人口差距。
abhishek
Clearly undertested. Please dont be misled by this data
不要被这些数据误导了,印度的检测人数显然太少了
NAGABHUSHAN JOSHI
Testing rate in India is so low compared to south Korea, it's like we close our eyes and think the world is black
印度的检测率比韩国低得多,闭上眼睛就以为世界漆黑一片
deepak saini
Why indian gt not deploying Army on red zones ..people are not serious...there should be proper lockdown to contain the vir s...otherwise we will continue to extend the lockdown and our economy will severly suffer..
人们并不重视,有些人不遵守封城规定,为什么印度政府不在疫情重灾区部署军队,看来封城还要继续延长,我们的经济将损失惨重。
Mudi Ji
With testing barely being done per million obviously such great results will be there. South Korea has one of the highest testing in world.
韩国是检测人数最多的国家之一。印度没做多少检测,病死率当然低咯
Gobardhan Feku PM
Korean has provided sry for 6 months to all those who have lost their jobs and tax break to business who have been impacted. Korean go nment has passed a law that no tenants can be evicted for 6 months due to non payment of rent.
韩国为所有失业者发放6个月的工资,并为受到影响的企业提供了税收减免。韩国政府通过了一项法律,规定不得驱赶在6个月内未支付租金的租户。
Aam Aadmi
It might be even low if we have not the episode of TABLIGI JAMAT !
如果没有发生新德里那次大型集会,印度的病死率会更低。
Tarunkumar Mishra
India has already won the war.
印度已经打赢了这场战役。
Mahesh Iyer
Compare the testing % too
也应该比较一下检测率
Shankarnarayan Sarma
Shortly say our Prime Minister's action in direction, we have saved so many precious lives from the mouth of death. Considering our population the mortality rate is so meager.
简而言之,我们的总理采取了正确的行动,从死亡边缘拯救了很多宝贵的生命。考虑到印度庞大的人口规模,病死率算非常低了。
Ramesh T M
How long will we be able to maintain this rate & at what cost? Once there is relaxation of lockdown things may change.
这种水平的病死率,我们还能维持多久?一旦封锁放松,情况可能会改变。。
Krishan Kumar Totlani
It is all because of efforts by Team India led by PM Modi & able health minister Dr Harshvardhan & not to forget the states who has made it possible. Keep it up Team India---We will win over COVID-19.
这都多亏了莫迪总理和卫生部长领导的团队的努力,各邦携手让这一切成为可能。印度继续加油,我们会战胜新冠病毒的。
Kishore Kacker
it is diverting attention from the facts that cases are increasing every day in terms of percentage on day to day basis.lot more has to be done
印度的确诊数量每天都激增,这种新闻是为了转移人们的注意力。我们还有很多事情要做。
Ashis Mitra
This comparison makes no sense.South Korea did not do a lockdown but have done huge number of testing.India is in complete lockdown from the begng & has so far only tested 0.07% of the population.Moreover India has only 6% of the population above 60 whereas Italy has 25% & Japan 40% & this disease affects the geriatric population most.Some comparison can be made when the lockdown is lifted & India tests atleast 1% of the population.
这种比较毫无意义。韩国没有封城,而且进行了大量检测。印度从一开始就全国封城,而且到目前为止只检测了0.07%的人口。此外,印度只有6%的人口超过60岁,而意大利有25%,日本40%,这种病对老年人的影响最大。印度不妨在解封后,对至少1%的人口进行检测,然后再进行比较。
Pradeep
Unfortunately there are many people in this country who still feel that the coronavir s outbreak is an over-hyped happening.
不幸的是,印度仍有很多人认为新冠疫情被过度炒作了。
Anne Small
It is not the best thing to compare India with South Korea geographically size wise and population wise.
印度和韩国的国土面积,人口规模差距太大,不适合作比较
Pradeep Kumar C K
All because of the actions taken by GOI at time and equally people supported. This is being the reason for low fatality.
印度政府适时采取了正确的行动,人民积极配合,这就是印度病死率低的原因所在。
Tl Chaudhuri
South Korea with a population of 5.1 crores tested 5.63 lacs people. Jndia tested 9.76 lacs ag inst a population of 135 crores. If you do mot test you do not know who is infected. Hence the comparion is incorrect.
韩国人口5100万,检测人数56.3万,印度人口13.5亿,检测人数97.6万。如果不做检测,就不知道谁被感染了,拿印度和韩国比是不妥的。
外文:https://timesofindia.indiatimes.com/india/covid-19-at-3-3-indias-fatality-rate-almost-as-low-as-s-koreas/articleshow/75513184.cms