Death toll due to Covid-19 now at 1,008, cases climb to 31,787: Health ministry
印度卫生部:印度新冠确诊病例增至31787例,死亡1008例,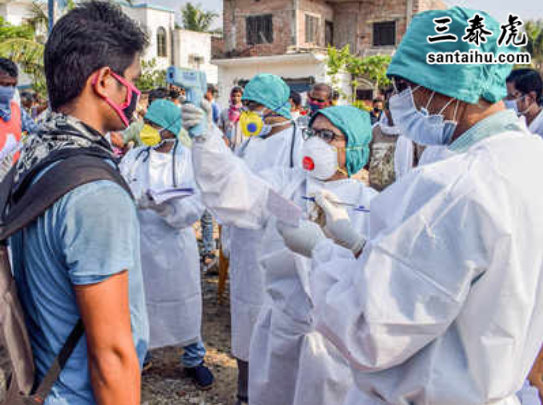 NEW DELHI: Death toll due to Covid-19 rose to 1,008 and the number of cases climbed to 31,787 in the country on Wednesday, registering a record jump of 71 deaths in the last 24 hours, according to the Union health ministry.
新德里:据印度联邦卫生部的数据,周三印度新冠死亡病例增至1008例,确诊病例攀升至31787例,在过去24小时内,新增死亡病例71例,创单日新高。
There has been a spike of 1,813 cases since Tuesday evening.
自周二晚间以来,确诊病例激增了1813例。
The number of active Covid-19 cases stand at 22,982, while 7,796 people have recovered, and one patient has migrated, the ministry said.
卫生部表示,现存确诊病例为22982例,7796例已康复,1名患者已转移。
"Thus, around 24.52 per cent of the patients have recovered so far," a Health Ministry offi al said.
卫生部一名官员表示:"到目前为止,大约24.52%的患者已经康复。"
The total number of cases include 111 foreign nationals.
确诊病例包括111名外国公民。
A total of 71 deaths were reported since Tuesday evening of which 31 fatalities were from Maharashtra, 19 from Gujarat, six from Madhya Pradesh, five each from Rajasthan and Uttar Pradesh, two from West Bengal and one each from Jammu and Kashmir, Punjab and Tamil Nadu.
自周二晚间以来,新增71例死亡,其中马哈拉施特拉邦31例,古吉拉特邦31例,中央邦6例,拉贾斯坦邦和北方邦各5例,西孟加拉邦2例,查谟和克什米尔、旁遮普邦和泰米尔纳德邦各1例。
Of the 1,008 deaths, Maharashtra tops the tally with 400 fatalities, followed by Gujarat at 181, Madhya Pradesh at 119, Delhi at 54, Rajasthan at 51, Uttar Pradesh at 36 and Andhra Pradesh at 31.
在1008例死亡病例中,马哈拉施特拉邦以400例位居榜首,其次是古吉拉特邦(181例)、中央邦(119例)、德里(54例)、拉贾斯坦邦(51例)、北方邦(36例)、安得拉邦(31例)。
印度时报读者的评论:
译文来源:三泰虎 http://www.santaihu.com/49795.html 译者:Jessica.Wu
Fully awake
Open up the lock down, restart the economy and allow people to travel. It was a HOAX and a global SCAM. Go nments, media and people got fooled.
解除封锁,重启经济,允许人们外出工作。这是一个骗局,一个全球骗局。印度政府、媒体和民众都被骗了。
Sudhir
Man has to bow down. Ego kills.
大家必须服从封城规定,否则就是找死
PARIKSHIT BHANDARI
The way this govt has dest yed the livelihood of millions .... i dont think they intend to open the economy.... they dont have t guts!!!
这届印度政府破坏了数百万人的生计…印度政府没有魄力,不打算重启经济!!
Goath Krishna
You are surely a non indian!
你肯定不是印度人!
Rv
stupid everyday we are getting over 1500 cases on being in lockdown imagince what would have happened if there was no lockdow,and you are still cribbing about economy
封城期间,每天新增1500多例,想象一下如果没有封城,后果会怎样?你还在为经济问题发牢骚
B Srinivasan
6K deaths in IRAN while INDIA only lost 1K shows our success.With effective VACCINE we can SURVIVE&save ECONOMY too.
伊朗有6000例死亡,而印度只有1000例死亡,这说明在控制疫情方面我们还是很成功的。有效疫苗上市后,我们就能腾出手来拯救经济。
Godfather Senior
If the lock down is lifted and the train services started immediately, just in 48 hours Mumbai will see 1000 or even more times of infections and death. That is the real condition. Just because of the lock down, it is simply put to hold from spread and once lock down lifted, God only can Mumbai & Maharashtra. There is hardly any space to maintain social distance, the train travel surely is a nightmare for every commuter
如果解封,火车立即开通,不出48小时,孟买的确诊和死亡病例就会翻1000倍。封城遏制了疫情的蔓延,一旦解封,只有神才能拯救孟买和马哈拉施特拉邦。在火车上,人与人之间几乎无法保持距离,火车出行无疑是每个上班族的噩梦。
Neeraj Gupta
40% increase in cases in last 10 days despite lock down. Clearly, people are not still not ready to comply. Govt. should impose national emergency, Put complete country in 100% strict lock down for next 1 month at-least. Anyone found violating rules, administration should declare shoot at sight orders. The pandemic danger is very worse by each day.
尽管实施了封城,但在过去10天里病例增加了40%。显然,还有人不服从规定。政府应该宣布进入紧急状态,至少未来1个月在全国实施严格封锁。任何违反规定的人,立即射杀。疫情一天比一天严重。
Lavin Vincent
The 40% did not increase in the last 10 days. It had spread rapidly all over India even before the lockdown, only now the numbers are coming up..
这40%不是过去10天增加的,在封城之前,病毒就已经迅速蔓延到整个印度了,只不过是现在确诊出来了
Rai Saheb
All over the world Corona is confined to some areas. How come it spread all over the country in India?
在世界范围内,疫情只局限于某些地区。为什么疫情会蔓延至全印度呢?
Hindustani
Until fundamentalists are not forced to adhere to go nment guidelines all the efforts are futile
除非大家都能严格遵守政府的指导方针,否则所有的努力都是徒劳的
Smart Indian
The lockdown was to buy time to prepare. Now next week they will experiment by removing the lockdown. There will be a spike. So those who are forced to go out for work will be in trouble. Those who can afford to Stay at home should not venture out now
封城是为了争取时间做准备。下周政府将尝试解封,到时会出现病例峰值。那些被迫出门工作的人恐怕会染上,那些有条件呆在家里的人现在最好别出门
Deviprasad Nayak
Start some economic activities,how long we continue this lock down.Corona will remain for next four to five years.We have to live together for next 5 years
重启经济活动吧,我们还能撑多久?
新冠肺炎在未来四到五年内会继续存在,我们不得不和这种病毒共存5年啊
Omar Ayar
Lockdown is just a pause button and is not the solution. It's reality that the lockdown has slowed the spread of the vir s but it hasn't put the end on its spread and once the lockdown is relaxed, things will get worse again as despite of having strict lockdown, new cases are emerging everyday. The go nment should come up with strong strategy to restart the economy as well as kee a vigilant check on the spread of the vir s
封城只是权宜之计,并不是解决方案。事实上,封城已经减缓了病毒的传播,但并不能终结病毒的传播。在严格封城期间,每天都有新增病例,一旦放宽下来,情况会变得更糟。印度政府应该制定战略重启经济,同时严格疫情。
Nitin
Both Economy & Poor-Labors would have Saved Today !! If and Only if Great Govt. could have done Strict Quarantine of Any incomers in Feb & March??
如果政府能在2月或3月严格限制外来人员入境,现在就不用封城了,经济不会受到影响,穷苦劳工也能维持生计
Known Unknwon
Modi has blue eyes. He is eight pack. He once defeated a trio of Bruce Lee, Cassius Clay, and Mike Tyson alone. He wre the program code of the world's first Solar-powered plane. He can speak 2500 languages and read and write 250 languages. Modi has IQ of 250. One can buy 200 US dollar for a rupee.
莫迪的眼睛是蓝色的。他有八块腹肌,曾经打败了李小龙、卡修斯·克莱和迈克·泰森。他编写了世界上第一架太阳能飞机的程序代码。他能说2500种语言,能读写250种语言。莫迪的智商是250。一卢比可以兑200美元。
Eeuro Maritime Academy
Now india is running in lockdown so obey the govt. rules.and prepare for next .......
目前印度处于封锁状态,要遵守政府的规定,为封城再次延期做好准备吧
Gopal B
They should stop counting deaths. It is depressing news.
不要再统计死亡人数,太让人郁闷了。
Deepak Vohra
vvvvv good news. corona is killing all meat eating de ls.
好消息,新冠病毒正在吞噬所有肉食恶魔。
vijay
Polit and doctors are vulnerable govt has to take care of them
警察和医生很容易感染,政府务必确保他们的安全。
Sanju Mumbai
THE GOVERNMENT OF INDIA AND THE HEALTH MINISTRY HAS TO CONCENTRATE FULLY ON THE TOP SIX STATES AND CURB THE WUHAN VIRUS , IF THEY ARE STOPPED FROM SPREADING TO NEW AREAS , THEN INDIA WILL BOUNCE BACK TO NORMAL LIFE FASTER THAN ANY OTHER COUNTRY.
印度政府和卫生部务必重点关注确诊病例排名前6的邦,遏制住这6个邦的疫情,如果疫情不蔓延至其他地区,那印度将比任何国家都更快恢复正常。
PARIKSHIT BHANDARI
Other countries r also getting out of lockdown..... there is no other option. Vaccine could take years.
其他国家也逐步解封了,别无选择,可能要再过几年疫苗才能上市。
Lavin Vincent
Shame on BJP who has ruined this state..
人民党毁了这个国家…
Saurabh Bandyopadhyay
Lock down enforced a pause button so far on the number of infections and the Go nment is in dilemma about the crowding out of livelihood with lives
从目前来看,封城降低了感染人数。在维持生计与拯救生命之间,印度政府陷入了两难的困境
Varinder Singh
covid is fening as it wreaks havoc in certain countries and also its speed of transmission . Further asymptomatic covid patient is another disturbing feature. Lockdown in hotspots should be strict.
新冠病毒非常可怕,在某些国家造成了严重破坏,而且传播速度也很快。还有一些无症状感染者,这又是一大隐患。在疫情重灾区应执行严格封城措施。
Subhra Majumder
Is there going to be an extension of the lockdown?
封城会再次延期吗?
外文:https://timesofindia.indiatimes.com/india/death-toll-due-to-covid-19-now-at-1008-cases-climb-to-31787-health-ministry/articleshow/75452106.cms