Mumbai to Prayagraj: Man uses onion passport to cross lockown barriers
从孟买到普拉亚格拉吉:印度男子靠洋葱通过封锁关卡
PRAYAGRAJ: Stranded in Mumbai's Dharavi slum due to lockdown, a Prayagraj native found a unique way to get past travel restrictions and reach his hometown — carrying a truckload of onion. He got the permit to travel as onion is an essential commodity and its shipment is not banned.
普拉亚格拉吉:由于孟买达拉维贫民窟被封锁,一名普拉亚格拉吉男子困于此地,他想出了一种可以通过封锁关卡的独特方式,成功回到了自己的家乡。他载着一车洋葱,获得了通行许可,因为洋葱是一种必需品,没有被禁运。
Prem Murti Pandey, 56, works at Mumbai's Chhatrapati Shivaji Maharaj International Airport and had been stranded in the city ever since the lockdown was announced in the wake of the novel coronavir s pandemic on March 23. Pandey lives in Dharavi, touted as Asia's biggest slum, and now a hot spot of coronavir s.
56岁的潘迪在孟买的Chhatrapati Shivaji Maharaj国际机场工作,自从3月23日新冠疫情爆发后,机场宣布关闭,他就一直被困在孟买。潘迪住在号称亚洲最大贫民窟的达拉维,目前达拉维是疫情热点区。
"When I noticed that Covid-19 cases were rising at an rming rate in Dharavi, it became difficult for me to stay there any longer. Hence, I decided to go back to my native town in Prayagraj," said Pandey.
潘迪说:"当我注意到达拉维的新冠病例正以惊人的速度增长时,我不敢再呆下去了。所以我决定返乡"
"I wouldn't have been able to go back because of the travel restrictions. However, I realised that I would be allowed to enter the city if I was a vegetable or fruit trader," he added.
"由于出行限制,我本来回不去的。但我想,如果我是一名蔬菜或水果商贩,应该就能进城。"他补充道。
The Union go nment has not imposed any curbs on transportation of vegetables and fruits, as they come under essential commodities category.
联邦政府没有对蔬菜和水果运输施加任何限制,这些属于生活必需品类别。
On April 16, Pandey went to Pimpalgaon in Nashik and purchased watermelons worth Rs 10,000. He came back and sold them in Mumbai the next day just to test waters. Setting his plan into motion, next he he bought 25.2 tonne of onion worth Rs 2.3 lakh from Nashik and hired a truck for Rs 77,500 the following day. He set out for Prayagraj with truckload of onions the same day.
为了试水,4月16日,潘迪去纳西克批发了1万卢比的西瓜。第二天,他回到孟买,把西瓜卖了。然后,他花23万卢比批发了25.2吨价洋葱,第二天花77500卢比租了一辆卡车。当天,他载着一卡车洋葱启程奔赴普拉亚格拉吉。
"I thought, I would sell it off in Prayagraj and would get my investment of appromately 3 lakh back," he says.
他说:"我想我应该能在普拉亚格拉吉把洋葱卖掉,拿回本钱。"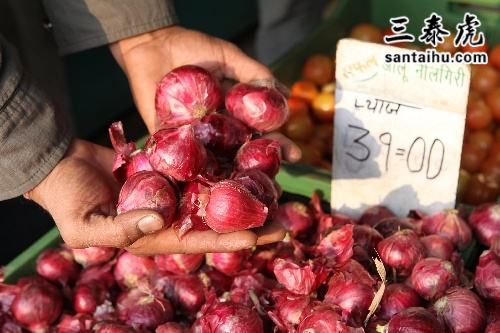 资料图
Pandey reached Prayagraj on the Thursday night and went straight to Mundera Mandi to sell the onions. However, when he failed to strike a deal for the consignment, he went back to his home in Kotwa Mubarakpur area of the city. Pandey said that he was planning to sell it to smaller traders.
潘迪在星期四晚上抵达普拉亚格拉吉,然后直接去了蒙德拉大市场卖洋葱,但是没卖出去,他便返回位于Kotwa Mubarakpur区的家中。潘迪说,他打算把这些洋葱卖给小贩。
Sub-inspector and in charge of TP Nagar police outpost Arvind Singh said, "When police received information that a man had arrived from Mumbai, a health department team went to his house and conducted thermal screening on Thursday. He was asked to quarantine himself at home and his swab sample was collected on Saturday. He was later shifted to a quarantine centre in Kareli on Saturday."
当地警局副巡视员Arvind Singh说:"当警方收到一名男子从孟买返乡的消息时,卫生部门的一个小组于星期四前往其住所进行了体温检测,并要求他在家中隔离。其拭子样本于星期六采集,当天他被转移到位于卡雷利的隔离中心。"
Pandey is unapologetic and says he didn't do anything wrong. "My entire family including aged parents are here, while I work in Mumbai. I have responsibilities towards my family and I believe that I chose a perfectly lawful way to return."
潘迪不愿认错,并说他没有做错任何事。"我在孟买工作,我的家人,包括年迈的父母都在老家。我有责任照顾家人,我认为我的返乡途径完全合法。"
印度时报读者的评论:
译文来源:三泰虎 http://www.santaihu.com/49788.html 译者:Jessica.Wu
Vk Khurana
If state go nments can take back their people in buses, a man who has travelled more safely should not be harrassed.
如果邦政府能派大巴把他们接回家,他就不必出此下策了。他这么做也挺安全的,不应惩罚他。
Mohini Madhukar
yes, but he could have, if he is so conscious , turned himself in for quarantine. if he was positive, he could have infected many in his attempt to sell onions.
如果他有安全意识的话,应该自行隔离。如果他的检测结果呈阳性,那在卖洋葱的过程中可能感染了很多人。
Syam Mohan
Smart man with cool idea.
是个聪明人,这主意很赞
Sameer S
Dharavi and all other slums should be nuked.
应该把达拉维和其他贫民窟全部夷为平地。
Purav Parekh
Why dont you kill youeself.
你为什么不去自杀呢?
Suvas Desai
ch. Why he was living in a slum. if he can afford big transactions.
他能做这么大的买卖,为什么在孟买要住在贫民窟?
Ramesh Joshi
It is difficult for day laborers to find an economical place in your neighborhood. Please go and find many people there in the slums and they are hard working honest people.
对于日薪工来说,在孟买很难找到便宜的房子。很多住在贫民窟里的都是努力工作的老实人。
Citizen
If he is testes postive ,then make sure he is gonna be charged
如果他的检测结果呈阳性,那就一定要起诉他
jitendra kumar
FIR should be lodged ag inst feku for his mismanagement.
莫迪管理不善,应该对莫迪立案调查
Bi
This man deserves my appreciation he put three lakhs on risk to meet his parents now many people know this idea but none will attempt it.
这个人值得我钦佩,为了回到父母身边,他不惜花几十万卢比,这些钱有可能打水漂的。现在很多人都知道这个办法了,但没有人会去尝试的。
Rajeev Paliwal
There are always many loop holes in any law or restrictions.
So being street smart person used his brain for logical conclusion.
任何法律或限制都有很多漏洞。聪明人会钻空子的。
Chalu Pande
he went straight to Mandi ..and possibly infected 100s more .
返乡后他直接去了菜市场,他可能感染了100多个人。
Thomas Cheenath
the man should be applauded for his novel idea
他的做法很有创意,值得赞赏
Abu Musa
Not an example to be followed.
such people incite and invite others also to break the law.As had been cases one person was able to infect 400 people. You have a duty towards other fellow Indian not to infect others.What if he had been positive and infected his entire family
不应效仿这种做法。这种人煽动别人违反法律。之前有个病例感染了400人。作为印度人,你有义务不感染他人。如果他的检测结果呈阳性,他全家都可能被感染了。
Tvkon
He ex ted a strategic plan!
他执行了一个战略计划!
Garg Sanjay
Hope he was able to sell of his 25 tonnes of onion otherwise he will incur huge losses.
希望他能卖掉这25吨洋葱,否则他将蒙受巨大损失。
Sambappa Kalv
You can enter AP border crossing Telangana with whiskey bottle
带上威士忌就能进入特伦甘纳邦
Maverick
These stories should shame CM of Bihar and UP. They should follow steps so that their states should give employment to natives and not just become labour generation factories.
比哈尔邦和北方邦的首席部长应该感到羞耻。他们应该采取措施,为本邦人民提供就业机会,而不是让整个邦成为输送劳动力的基地。
Kabir
why just UP & Bihar ? why not the whole of india and also the useless opposition !!! and btw, these migrant workers have put their sweat and blood in making Bombay, what it is !!
为什么只是北方邦和比哈尔邦?
为什么不是整个印度!!
顺便说一句,这些外来工为建设孟买付出了血汗!!
Arjun Bachani
a genuine man, worried about his family.....going all out from Mumbai to Aurangabad, taking so many risks.....should be let off......Salute.....my friend....
一个真正的男人,担心自己的家人…冒着这么大的风险回家,向你致敬,我的朋友....
Jagdish Madan
Very innovative and sensible idea! Hope his truck load of onions got sold and his money recovered!
非常有创意!希望他能卖掉这车洋葱,拿回本钱!
Navin Shah
superb idea did business and got his work done. hats off to him
太棒了,既回到了家又做了一笔生意,向他致敬!
Achou Shamjetshabam
Awesome Solutions , very inspiring indeed .
太棒了,非常励志。
R C SOOD
Great Escape.
这是大逃亡啊
Sdhan Jadhav
Afterall he reached to his intended destn...no unlawful way he followed ....ok.gud sense of moral duties bt hope he is ok
他回到了家里,也没有违法…他有很强的责任感,希望他一切都好
Amrutlal Tank
yes, it's legal way to follow,
bravo.. his investment worth..
是的,这是合法的途径,
他的投资物有所值啊。
jitendra kumar
Feku should have stopped international flight in the month of february - first week but he failed.
He should have given 3 days time to workers during holi to move at own place and then lockdown but here also he failed.
莫迪本应在2月份叫停国际航班,但他没有。他应该给工人3天时间返乡,然后再下令封城,但他也没这样做。
外文:https://timesofindia.indiatimes.com/india/mumbai-to-prayagraj-man-uses-onion-passport-to-cross-lockown-barriers/articleshow/75397348.cms