Economists propose ending lockdowns by releasing the young first
经济学家建议先让年轻人复工,结束封锁
As global go nments grapple with how to unlock economies without triggering another round of coronavirus infections, some economists are recommending that age should be used to determine who returns to work first.
在全球各国政府设法在不引发新一轮感染的情况下重启经济之际,一些经济学家建议,应该按年龄来决定让哪些人先复工。
While the freezing of activity from Mumbai to Chicago is credited with saving lives, the downsides are evident in the International Monetary Fund's warning of the worst global recession in almost a century.
从孟买到芝加哥,经济活动停滞,尽管这样做被认为挽救了很多人的生命,但负面影响也是显而易见的。国际货币基金组织警告称,全球经济将出现近一个世纪以来最严重的衰退。
How to balance lives and livelihoods is drawing the attention of economists, and a growing cohort propose authorities should first remove restrictions on those deemed at lowest risk of death or hospital admittance from the infection.
如何权衡生命和生计正引起经济学家的关注,越来越多的人建议,政府应首先取消对那些死亡风险最低或感染后入院风险最低的人的限制。
Age Risk
年龄风险
That means the youngest are activated first, while more venerable groups remain sheltered until either a vaccine can be administered or the rest of the population develops sufficient immunity. One calculation of fatalities from the disease by Imperial College in London is for 0.03% of those in their 20s, compared to over 5% among the over 70s.
这意味着最年轻的群体将首先复工,而更体弱的群体将继续居家,等疫苗上市或已经有足够多的群体获得了免疫力。伦敦帝国理工学院的一项统计显示,20多岁年轻人的病死率为0.03%,而70岁以上人群的病死率超过5%。
"Age- and morbidity-related restrictions would allow a rapid return of economic activity," according to David Mackie, chief European economist at JPMorgan Chase & Co in London. "If mixing between the elderly and the less vulnerable younger populations can be sufficiently reduced, the economy and society can get back to work quickly."
摩根大通驻伦敦首席欧洲经济学家戴维•麦凯表示:" 如果老年人和年轻人之间的接触能充分减少,经济活动和社会生活就能迅速恢复正常。
His research suggests go nments could ease restrictions on those under 60 and without additional risk factors, yet still limit deaths and pressure on health systems.
他的研究表明,政府可以在不增加风险的情况下放宽对60岁以下人群的限制,仍可以控制死亡人数,减少对卫生系统的压力。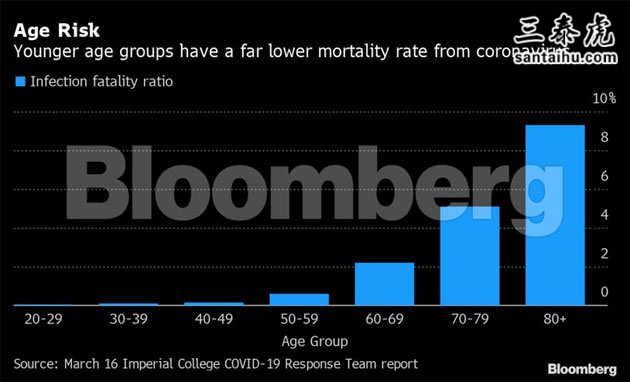 Economists from Warwick University argue that releasing the more than 4 million British residents in their 20s who do not live with their parents could have "substantial economic and societal benefits without enormous health costs." They propose the idea could then be applied to other countries.
华威大学的经济学家认为,让那些20多岁、不和父母住在一起的400多万英国居民复工,可能会带来"巨大的经济和社会效益,而且不会产生沉重的医疗成本"。他们建议这个想法可以应用到其他国家。
However, focusing on young workers is not without risks, aside from the potential threat to their health.
然而,年轻职工并非没有风险,他们的健康也面临潜在威胁。
Many countries have already eased restrictions on education and some businesses in an effort to gradually reopen economies. One strategy proposed by University College London suggests a staggered release of the U.K. lockdown over six weeks with strict social distancing, compulsory masks on public transport and varying business opening hours to avoid rush hour crowding.
许多国家已经放松了对教育行业和一些商业的限制,努力逐步重启经济。伦敦大学学院提出的一项策略是,在6个星期内逐步解封,保持严格的社交距离,坐公交车强制戴口罩,并更改营业时间以避免高峰时段人员拥挤。
Ultimately however, any proposal by economists is ultimately about devising the optimal stopgap that maximizes growth with the fewest possible deaths until a solution to the virus is found.
然而,在找到解决方案之前,经济学家提出的任何建议都是权宜之计,是为了在尽可能减少人员死亡的情况下,实现经济增长的最大化。
A vaccine would be one such a solution. At least three projects for that are now in human testing, according to the World Health Organization. Yet even in a best-case scenario, developing a safe and effective inoculation may take at least a year.
疫苗就是一种解决方案。据世界卫生组织称,目前至少有三个疫苗项目正在进行人体测试。然而,即使在最好的情况下,研制一种安全有效的疫苗也可能需要至少一年的时间。
印度经济时报读者的评论:
译文来源:三泰虎 http://www.santaihu.com/49773.html 译者:Jessica.Wu
Ramesh Shah
THE GOVERNMENT NOT CLEAR NOR STATES READY TO GRADUAL EASING OF THE OPENING OF INDUSTRIES N REGULAR BUSINESSES ..... THEY HAVE IDENTIFIED RED ZONES BUT NO SPECIAL TREATMENT..... EVEN THE INDUSTRY N WORKERS MAY B IN THE RED ZONE....
印度中央政府还没决定,邦政府也没准备好逐步放宽对各行各业的限制。他们已经确定了重灾区,但没有采取特别措施
VVSViswanath
Why no govt in the world ever gets the bright idea of exposing all these pseudo economists to the dreaded VIRUS first then see how do they cope up before taking a further decision.
先让这些伪经济学家染上这种病毒,看看他们要怎么办。
Magesh Vel
In India it is the younger group that is most effected! According to Statista, the age group between 21 to 30 and 31 to 40 years old were most infected age group. This indicates, they will be more likely to spread virus.
在印度,年轻人的感染人数最多!
据统计,21 - 30岁和31 - 40岁是感染人数最多的年龄组。这表明,年轻人更有可能传播病毒。
Guest
Govt. thinks that by shutting. down country, you can save lives which is foolish idea. You cannot permanently stay at home and escape death. You have to go out and face the nature and try to live as long it allows you to live on earth.
政府认为封锁整个国家可以拯救生命,这是一个愚蠢的想法。大家不可能永远足不出户。必须走出去,面对大自然,能活多久活多久。
Mukesh Gupta
Yes you are v v right. It's better not to die with hunger or poverty which is visible due to lockdown
是的,你说得对。封城期间更有可能饿死,穷死。
Vikas
How can India use age based criteria when Old and Young are all living in the same house ? Wont the Young come and infect the elders in their home ? This is not some rich country where young are independent and staying separate from families.
在印度,很多都是大家庭,老年人和年轻人住一起,怎么能按年龄来复工呢?
复工的年轻人会不会传染给老年人呢?
印度不是一个富裕的国家,只有在富裕国家,年轻人经济独立,自立门户。
rahul
The writer of this article should be send first to work. The western theories are not going to work in India sir.
西方的理论在印度行不通的,先生。先让这篇文章的作者出门工作。
Jagdip Vaishnav
Extension of Lockdown beyond 30-40 days exposes inefficiency of the state Govt
封城延长30-40天,这显示了印度政府的低效无能
Deepak Chadha
release this author for work first
先让这篇文章的作者复工
Lalit Kumar Das
all recommended precautions should be taken. The least vulnerable, stronger immunity should be out first.
采取所有预防措施。最不易感染的,免疫力更强的人先复工。
Rahul
INDIA Constitution gives fre m to move and work without fear. Now decision must be taken by India Citizen. If an INDIAN want to see his family and elders healthy then he she must maintain social distancing and proper sanitization. Bcos of INDIA Constitution govt or any govt agency can't stop you. Its upto you. WHAT YOU WANT HEALTHY FAMILY OR HOSPITAL WITH ISOLATION. PICK WISELY
印度宪法赋予人们行动和工作的自游。现在应该由印度公民自行决定。如果一个人想要家人和长辈健康,那他外出就得保持社交距离、保持个人卫生。
印度宪法,以及任何政府机构都不能阻止你出门工作。是否出门取决于你想要什么,是家人的健康还是在医院隔离?请做出明智的选择。
VVSViswanath
Well said.
说得好
Sapan Therval
in India maximum senior citizens are roaming around in lockdown without any reason
封城期间,很多印度老人没事也出门闲逛
Ar K
fear will linger around,till the time vaccine is found
恐惧会一直存在,等疫苗问世后,这种恐惧才会消除
Hemant Pisat
Before opening make sure India has enough medicine stocks across the country at reasonable prices, masks have also become costlier than bottle of Rum
解封之前,确保印度有足够的药品库存,价格合理。现在的口罩比朗姆酒还贵,
suraj singh
Young will bring viruses and give to oldest this will happen . so older people must isolate themselves from younger in home.
年轻人会把病毒传给老年人,在家里老年人必须和年轻人隔离开。
Nachiket Katha
You are right. In fact in unless you stay in 3-4 bedroom houses its not even feasible in joint family its not even possible.
你说得对。除非你住在有3-4间卧室的大房子里,否则在一个大家庭里,做不到保持距离
Kumarapuram Sadasivan
India should follow this startegy.But instead of waiting for a Vaccine,which experts say is NOT possible against this Virus,Interferon Alpha 2 B should be used to treat thew patients.Blood Plasma Therapy for the critically ill can be followed as successfully demonstrated in Delhi.In the USA 5 have been saved by Blood Plasma Therapy.
印度应该效仿这种策略。与其等待疫苗,不如用干扰素Alpha 2 B来治疗患者。在德里,针对危重症患者,血浆疗法已经成功了。在美国,血浆疗法救了5个人。
akash thakare
Don't worry Modi listens to nobody
别担心,莫迪不会听任何人的建议的
外文: https://economictimes.indiatimes.com/news/international/business/economists-propose-ending-lockdowns-by-releasing-the-young-first/articleshow/75383265.cms