Covid-19: A 'herd immunity' strategy could actually work in youthful India
"群体免疫"策略或在人口年轻化的印度有效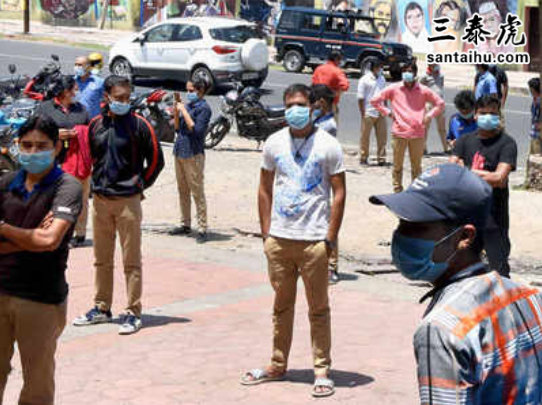 NEW DELHI: Controversial given the high risk of deaths, a coronavir s strategy discarded by the UK is being touted as the solution for young countries like India.
新德里:虽然死亡风险高且具有争议,英国放弃的"群体免疫"策略正被吹捧为印度等人口年轻国家的解决方案。
The herd immunity strategy, which would allow a majority of the population to gain resistance to the vir s by becoming infected and then recovering, could result in less economic devastation and human suffering than restrictive lockdowns designed to stop the vir s's spread, a number of experts have begun to argue in the nation of 1.3 billion people.
群体免疫策略,先让大多数人口感染、康复、之后获得免疫力。与旨在阻止病毒传播的限制性封城措施相比,群体免疫导致的经济损失更少,给人类造成的痛苦也更少。在印度这个拥有13亿人口的国家,一些专家已经开始就此展开争论。
"No country can afford a prolonged period of lockdowns, and least of all a country like India," said Jayaprakash Muliyil, a prominent Indian epidemiologist. "You may be able to reach a point of herd immunity without infection really catching up with the elderly. And when the herd immunity reaches a sufficient number the outbreak will stop, and the elderly are also safe."
著名的印度流行病学家贾亚普拉卡什·穆利伊尔称:"没有哪个国家能够承受长时间的封锁,尤其是印度这样的国家。当群体免疫达到足够数量时,疫情就会停止,老年人也就安全了。"
A team of researchers at Princeton University and the Center for Disease Dynamics, Economics and Policy, a public health advocacy group based in New Delhi and Washington, has identified India as a place where this strategy could be successful because its disproportionately young population would face less risk of hospitalization and death.
普林斯顿大学和疾病动态学、经济和政策中心的一组研究人员认为,由于印度较大比例的年轻人口面临的住院和死亡风险较低,在印度这一策略或能成功。
They said allowing the vir s to be unleashed in a controlled way for the next seven months would give 60% of the country's people immunity by November, and thus halt the disease.
他们表示,在未来7个月内让病毒可控地持续传播,该国60%人口将在11月前获得免疫力。到11月,将使全国60%的人获得免疫力,从而阻止疾病的蔓延。
Mortality could be limited as the vir s spreads compared to European nations like Italy given that 93.5% of the Indian population is younger than 65, they said, though no death toll projections were released.
他们说,与意大利等欧洲国家相比,印度的死亡人数可能有限,这归功于印度有93.5%的人口年龄在65岁以下,不过他们并没有公布死亡人数的预测。
The radical proposal underscores the challenges that poorer develo countries — including nations like Indonesia and some in sub-Saharan Africa — face in curbing the epidemic using the lockdown measures that have been adopted by advanced economies.
这一激进的提议突显了较贫穷的发展家——包括印度尼西亚和一些撒哈拉以南非洲国家——在采用发达经济体采取的封锁措施遏制疫情时所面临的挑战。
The impossibility of social distancing in crowded living conditions like in many cities and villages in India, the lack of testing kits to detect infections and the human suffering that occurs in lockdowns suggests a different path may be needed in these places.
很多印度城市和农村的生活空间拥挤,保持社交距离是个难题。印度缺乏检测设备,在封城期间人们苦不堪言,这些都表明,印度可能需要走一条不同的道路。
To do this, the Princeton and CDDEP team recommends lifting India's strict lockdown — which has been extended to May 3 — and letting most of the population younger than 60 return to normal life, though social distancing still would be encouraged, masks would be required and large gatherings would be banned. The reopening would be accompanied by an effort to test as many people as possible and isolate confirmed and suspected cases.
为此,普林斯顿和CDDEP团队建议印度解除已经延至5月3日的严格封锁,并让大多数60岁以下的人回归正常生活,保持社交距离,佩戴口罩、禁止大型集会。在重新开放的同时,对尽可能多的人进行检测,并隔离确诊及疑似病例。
The go nment of Prime Minister Narendra Modi has given no indication it plans to adopt such a strategy.
莫迪政府并未表示计划采取这种策略。
Yet the go nment has d out criteria that effectively rations coronavir s tests, limiting them to the very sick or most at risk. Critics who suspect the disease has spread much more widely than the offi al numbers suggest say the go nment's restrictive criteria amounts to allowing the disease to spread.
不过印度政府已经制定了新冠病毒检测的限制性标准,将着重检测病情严重或有较高患病风险的人群。怀疑疫情传播范围比官方数据所显示的要广得多的批评者表示,政府的限制性标准等于允许疾病蔓延。
印度时报读者的评论:
译文来源:三泰虎 http://www.santaihu.com/49753.html 译者:Jessica.Wu
Rajiv Bhargava
The idea is totally ridiculous. Essentially it proposes survival of the fittest
这个想法太荒谬了。从本质上讲,就是提倡适者生存,优胜劣汰。
Surinder Nagi
Eventually corona will infect everyone.
最终所有人都会感染新冠肺炎的。
Muralidhar M S
This is not a ridiculous idea. This is the thing that India needs. You will be less scared if you understand the difference between Case fatality rate and Infection fatality rate. You look like a Senior Citizen. Start doing some Aerobic exercises or Yoga everyday, along with Pranay and Meditation. You will be safe, Coronavir s or whatever Vir s will come in future.
这想法并不荒谬。这正是印度需要的。
如果你能理解病死率和感染率之间的区别,你就不会那么害怕了。
开始每天做一些有氧运动或瑜伽,同时进行调息和冥想,你会没事的,无论是新冠病毒还是其他未来会出现的病毒都感染不了你。
Bhartiya
This is complete blah blah with little or no medical research at the back of it. I would like to place all those advocating herd immunity strategy at the forefront of contagion hotspots and let them volunteer to die. Because that is what they are advocating - that a large % dies for the common good. Nonsense.
为了共同利益牺牲很大一部分人,无稽之谈,几乎没有医学研究支持。让所有倡导群体免疫策略的人去疫情重灾区,让他们自愿赴死,因为这就是他们所倡导的。
Hiten Indie
Buddy, heard immunity is well tested strategy and it always works. Just ask yourself, did you ever take any vaccine for influenza? Did you ever take any vaccine for common flu / cold? Nope. Did you die till now? NO. How did you get immune? Heard immunity will provide essential plasma for the treatment of those who cannot fight COVID-19. There is no option in hand but to open lockdown strategically. If people dont get immune, more and more will die.
伙计,群体免疫是一种久经考验的策略,通常都是有效的。
问问你自己,你打过流感疫苗吗?你打过普通感冒疫苗吗?
没打过吧,到现在你不也没死吗?
你是怎么获得免疫力的?
获得群体免疫后,可以为那些不能抵抗新冠病毒的人提供必要的血浆。
除了有策略地解除封锁外,我们别无选择。如果人们无法获得免疫,越来越多的人将会死去。
Sarah
How can they even think of herd immunity in a country like India where majority of the people live with their old parents. Tons of people are malnourished & below poverty line. Why can't they also release the number of projected deaths alongwith this article?
在印度这样的国家,大多数人都和上了年纪的父母住在一起,他们怎么能想到群体免疫这个点子呢?
很多印度人营养不良,生活在贫困线以下。
为什么他们不在发布这篇文章的同时公布预计的死亡人数呢?
Faisal
Herd immunity starts working when more than 50% of the people are infected with vir s which effectively means more than 650 million people in country like India will need to infected. Even at half of current fatality rate of 3%, approx 10 million people will die.
当50%以上的人感染病毒时,群体免疫才开始起作用,这意味着印度这样的国家需要6.5亿人感染。目前的致死率是3%,即使是3%的一半,也将有约1000万人死亡。
samcv
herd immunity is best strategy for resource limited country like india.
对印度这样资源有限的国家来说,群体免疫是上上策。
Vicas Rajvanshi
It is shocking that a responsible media house like Times propgating such a theory which has no proven base.
让人震惊的是,《印度时报》这样一家负责任的媒体机构居然宣传这样一个没有经过考验的策略。
posh
Supported by specialists.. who counsel the Gt.. so don't blame media friend
给政府提建议的专家支持这种策略,不要责怪媒体。
Bharat premi
First let them try IN USA and , then preach it to others
先让美国和尝试一下这个策略,再向其他人宣传。
Amit
Herd immunity is achieved by vaccination, not by letting millions die ..
群体免疫是通过接种疫苗实现的,不是让数百万人去死来实现的。
Murthy PN
Infect all po iticians and corrupt go nment offi als and remove their headcount from population. India will be fine then
让所有政客和的政府先感染,让他们去死,到时候印度就没事了。
Rv
most stupid idea no one know who will recover and who will not? seriously work on vaccine and have it ready asap.....
这是最愚蠢的想法,没人知道谁能康复,谁不能。还是认真研发疫苗吧
A Shaw
People suggesting this should start the experiment with their own children first.
建议这样做的人应该先拿自己的孩子做下实验。
Ashutosh Varma
Herd immunity would mean 75 crores to be infected, 15 crores to be treated may in ICU and 1.5 crores deaths.
群体免疫意味让着7.5亿人感染,1.5亿人进入ICU接受治疗,1.5亿人死亡。
Anand Arora Arora
Is it Papua's idea
这是拉胡尔的主意吗?
Ram Manohar
The biggest problem with this approach is that all old people and some middle level people with some disease like sugar will die. Can we afford that?
这种方法最大的问题是,所有老年人和一些患有糖尿病病的中年人都将死去。我们承受得起吗?
pal pal
it is better way of saying mass killing
这相当于大,只不过说法好听点
Vikas Sharma
What a rubbish article, without knowing any facts and ground reality.
真是一篇垃圾文章,没有任何事实依据。
外文:https://timesofindia.indiatimes.com/india/covid-19-a-herd-immunity-strategy-could-actually-work-in-youthful-india/articleshow/75287811.cms