Congress attacks Modi, says woes of migrant workers not addressed
印度国大党抨击莫迪,称其没有解决农民工的问题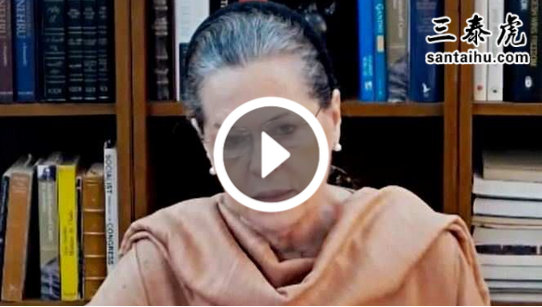 NEW DELHI: Taking exception to the Prime Minister's address to the nation, Congress Tuesday lamented that Narendra Modi spoke in detail about what he expects from the people but chose silence on what the go nment was doing for citizens, especially about migrant workers, mass testing, job security and food distress. It alleged the go nment has dropped the issue of livelihoods of the poor from its priority list.
新德里:星期二,国大党对莫迪总理的全国讲话表示反对,称莫迪详细阐述了他对人民的期望,但对于政府为公民做了什么却只字未提,尤其是农民工问题、大规模检测、就业保障和粮食危机。国大党声称政府已经将穷人的生计问题从其优先事项列表中删除。
In a video message, Congress presi nt Sonia Gandhi thanked the people for leading the fight ag inst corona despite shortages and difficulties, calling it a high act of patriotism.
在一段视频讲话中,国大党主席索尼娅·甘地感谢人民不顾物资短缺和困难,称这是高度爱国主义行为。
Addressing a press conference, Congress spokesman Manish Tewari said, "The PM did not talk about the most horrifying images that emerged during lockdown- migrant workers marching to their homes. They were quarantined at the borders and have completed their mandatory quarantine period. Will travel to their homes be facilitated by the go nment?"
国大党发言人特瓦里在新闻发布会上表示:"总理并没有提及封城期间出现的最的情景——农民工徒步回家。政府会为他们回家提供便利吗?"
He said jobs for most vulnerable sections was a key issue and the problem was evident from the fact that MGNREGA jobs in April have come down to 1% of March. "Would the go nment give full wages to people who have active job cards under the scheme, which is essential for them to keep their body and soul together," he asked. He also asked about the action on Congress suggestion that free ration be distributed to the poor till September.
他说,最弱势群体的就业是一个关键问题,从3月份到4月份农村MGNREGA就业率降至1%这一事实可以明显看出这个问题。他问道:"根据MGNREGA计划,政府将为拥有工作卡的人发放全额工资,这对他们维持生计至关重要。"
他还询问了国大党提出的关于在9月份之前向穷人免费发放配给的建议是否得到考虑。
Tewari s mmed retrenchment of workers in various industries which he said was ag inst the directives of labour ministry and the PM's own comments.
特瓦里猛烈抨击了各行各业的裁员,他说这违反了劳工部的指示,也有违总理自己的言论。
He said mass testing and prective gear for health workers were key issues in the coming stage of fight ag inst coronavir s and the PM should have spoken about the strategy on this front.
他说,对卫生工作者进行大规模检测,并为他们提供防护装备是下一阶段抗击疫情的关键,总理本应谈谈这方面的战略。
Congress regretted the Centre was still silent on the harvesting of standing rabi crop and its procurement procedures, and on how it proposed to restore the supply chain which has choked.
国大党称,很遗憾中央仍未提及如何恢复已经中断的供应链
Asked if the PM's was about taking credit for the fight ag inst coronavir s, Tewari said, "Was such a appropriate in the present situation? There will be a time for dissection of this . But at present, we don't want to rake up these questions."
当被问及总理的演讲是否是在邀功时,特瓦里说:"在目前的情况下,发表这样的演讲合适吗?有时间的话可以分析这篇演讲。但目前,我们不想把这些问题翻出来。"
Rahul Gandhi tweeted, "India delayed the purchase of testing kits & is now critically short of them. With just 149 tests per million Indians, we are now in the company of Laos (157), Niger (182) & Honduras (162). Mass testing is the key to fighting the vir s. At present, we are nowhere in the game."
拉胡尔·甘地在推特上写道:"印度拖延了检测试剂盒的采购,现在印度极度缺乏试剂盒。每百万印度人中只有149人接受检测,我们现在与老挝(157人)、尼日尔(182人)和洪都拉斯(162人)处于同一水平。大规模检测是对抗病毒的关键。目前,我们在这场竞赛中处于劣势。"
印度时报读者的评论:
译文来源:三泰虎 http://www.santaihu.com/49716.html 译者:Jessica.Wu
Top Comment
What the heck your gt doing in maharashtra? Just blame modi for everything, you know only looting and blaming bjp. Atleast change your mindset in difficult situations...
你们国大党政府在马哈拉施特拉邦干了什么?什么都怪莫迪,怪人民党。在这种困难时期,改变一下你们的心态吧……
Helsinki Tokyo
The Gandhi family ruined India and now they want to create divide by criticizing the go nment efforts to save and rebuild this country. Majority of the citizens are not fools and won't be fooled (other than the libtards, anti-nationals, paki-trolls and numbnuts who will dislike this comment). We resist Congress and they will be no more soon.
甘地家族毁了印度,现在他们想通过抨击本届印度政府来制造。大多数印度人不是傻瓜,也不会被他们愚弄(除了那些自由主义者、反国家分子、巴基斯坦喷子和傻瓜)。我们抵制国大党,他们很快将不复存在。
Gino Smith
Beach! Please leave India and head to your Motherland along with all your relatives - take Sidhu, Mta, Owaisi and Manmohan Singh too.
索尼娅,请离开印度,带上你所有的亲戚一起回去你的祖国吧——顺便也带上西杜、玛玛塔、欧瓦西和曼莫汉·辛格。
K Mohan Hyderabad city
And what is the Congress contribution in this crisis. Nothing but criticism
在这场危机中,国大党做了什么贡献?
除了抨击政府外什么也没做。
hindustani
Kya khandan hai ??? at this time where everyone need to stand united in fight ag inst Vir s this vir s call con-gress didn't forgot to play their dirty game
在这个时候,大家要团结一致对抗病毒。疫情期间,国大党也没忘记使坏。
LetsLive
These gandhis are the most shameless creatures .
这些伪甘地是最无耻的。
Neo The One
Somebody pls get a COVID infected person to spit on the face of this wwhoooree
找个感染了新冠病毒的人往这个女的脸上吐口唾沫
Vinod Kumar
It's a Global cmity so stops criticising. Try to be part of solution rather than part of problem.
这是一场全球性的灾难,不要再一味批评印度政府了。想想解决方案吧,不要再添麻烦了。
Dharminder
Why is this barmaid so much worried about Indian migrants?
为什么索尼娅这么担心印度农民工?
K Mohan Hyderabad city
Some people would not cooperate and instead be a hindrance and that iis position of Congress
有些人不愿配合政府的工作,这下反而帮了国大党的忙。
Pijush Ghosh
This Italian lady has to be taught to keep mum during crisis time even though go nment goes wrong somewhere. This is a trying time for all, so what we need is cooperation and not critisism...
这位意大利女士必须学会在危机时刻保持沉默,即使政府在某些方面犯了错。对所有人来说,现在是艰难时刻,我们需要的是合作,不是批评……
Ramesh T M
Vadra congress doesn't understand saving lives of people & prevention of spread top the list to be addressed. If they are concerned about livelihood what they have done in the states ruled by them. Lip sympathy helps only them & not anyone else.
国大党不明白拯救生命和预防传播是当务之急。如果他们关心生计,就管好他们执政的邦。口头上的同情对人们没有帮助,只能博取大家对他们的好感。
N Ramesh Chanderr
The nation is challenging congress for the woes of poor who remained poor despite 55 years of Congress governance.
The congress does not have moral to comment on poor which is nothing but shedding croc tears despite poverty due to its mis governance failing to improve the living of poor people.
尽管国大党执政了55年,印度穷人仍然很穷。国大党没有权利对穷人的问题发表评论,因为国大党之前也未能改善穷人的生活,除了假惺惺外,他们什么也没干。
Kirnbir Singh Grewal
Usless congress corrupt , what is your soultion just bunch of losers
无能的国大党,你们有什么解决办法?一群失败者
bishnu Agrawal
When the country is in trouble this family is creating problems by irresponsible statement after statements.
当国家陷入困境时,这个家族总是发表不负责任的声明来挑起事端。
Sudhir
It's your go nment in Maharashtra. What the hell you are doing. Don't keep blaming Modi for everything. RG under development of brain also is Modi problem??
马哈拉施特拉邦是国大党政府执政,那里的疫情最严重的,你们干了什么?别把所有事情都归咎于莫迪。拉胡尔智商低也是莫迪造成的吗?
GRACE
donate some of your stolen money in Italian banks n Rajiv Gandhi Foundation
把你们存在意大利银行和拉吉夫甘地基金会的黑钱捐一些出来吧
Nalini Krishna
When this Italian lady will learn the culture of Hindustan ?
这位意大利女士什么时候能了解印度斯坦文化?
Siva Kumar
This italian woman is a migrant worker. Mr. PM should have promised that her woes would be taken care.
这位意大利妇女就是一名外来工啊,总理先生应该承诺会解决她的问题。
Chandrasekhar J
If we attach the illegal wealth accumulated of these fake Gandhis, the woes of mivrant labourers across the country can be solved
如果把这些伪甘地积累的非法财富拿出来,全国各地农民工的问题都能迎刃而解
Sandeep Garg
Please stop po itics, dont provoke migrant workers for rioting. If riot broke in any part of country , Congress will be responsible.
别玩游戏了,不要煽动农民工。任何地方发生暴乱,国大党都要对此负责。
devendra sharma
I ask any contribution of congress in this trying time
在这个艰难时刻,我要求国大党做点贡献呢
Vijay Kumar
I only want Indian Po iticians not to play po itics during this time. One can see Italy and USA's situation. When ruling is unable to control death rate. That's our country is trying to do, controlling the infection and death rate
希望印度政客在疫情期间不要玩弄。看看意大利和美国的情况,那里的执政党控制不住死亡率,而我们国家正在努力控制感染率和死亡率
外文:https://timesofindia.indiatimes.com/india/congress-attacks-modi-says-woes-of-migrant-workers-not-addressed/articleshow/75149989.cms