Coronavir s: No evidence of community transmission yet, repeats go nment
印度政府重申,目前尚无证据表明印度出现社区传播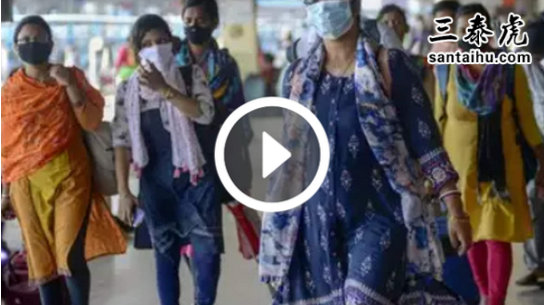 NEW DELHI: The go nment on Friday once again reiterated that it has found no evidence yet of any community transmission in India and that the rate of infection remains low with just 2% of 16,002 samples tested on Thursday testing positive.
新德里:星期五,印度政府再次重申,目前还没有发现印度出现社区传播的证据,印度的感染率仍然很低,星期四检测的16002份样本中只有2%呈阳性。
It also, once again, gave an assurance that the public would be informed if the coronavir s outbreak reached Stage 3 spread.
政府也再次保证,如果疫情进入第3阶段,公众将得到通知。
Responding to media reports that a study by the go nment-controlled ICMR based on random sampling tests conducted on patients with Severe Acute Respiratory Illnesses (SARI) indicated community transmission, Lav Agarwal, joint secretary in the health ministry, said that the report dealt with studies conducted in areas where prevalence of the disease was detected and not in new areas and that the positive rate revealed by the report was 1.8%.
据媒体报道,ICMR(印度医学研究委员会)对严重急性呼吸系统疾病(SARI)患者进行的随机抽样测试,表明出现了社区传播,对此,卫生部联合秘书拉夫·阿加瓦尔回应称:"该报告涉及在流行地区进行的研究,而非新增地区,报告显示的阳性率为1.8%。"
'Infection rate not high, yet dynamic'
"感染率不高,但一直在变动"
At least 16,002 samples were tested on Thursday, of which only 320, or 2%, tested positive for Covid-19. Based on the samples collected, we can say that the infection rate is not high, although it is dynamic," Lav Agarwal, joint secretary in the health ministry, said even as he emphasised the need for social distancing.
卫生部联合秘书拉夫•阿加瓦尔表示:"星期四,至少检测了16002份样本,其中只有320份(2%)呈阳性。根据收集的样本,我们可以说感染率不高,尽管一直在变动。"他也强调了保持社交距离的必要性。
Referring to the ICMR study that shows 40% of SARI cases had not reported travel or contact history, Agrawal said the conclusions cannot be inferred as community transmission because the tests were conducted in areas where there were Covid-19 cases and people are often not able to recall exact events. "This needs further investigation," he said.
ICMR的研究显示,40%的病例没有旅行史或接触史,阿加瓦尔表示该结论不能推断出现了社区传播,因为这些检测是在发现病例的地区进行的,人们回忆不起旅行史或接触史,需要做进一步的调查。
Go nment experts said even a higher in dence of the disease in an area or clusters does not necessarily add up to community transmission. Several clusters in an area or a city with rapidly multiplying cases and transmission between them amount to community transmission at stage 3.
政府专家表示,即使该疾病在一个地区或集群的发病率较高,也不一定说明出现了社区传播。在一个地区或一个城市的几个集群中,病例迅速增加,并且在它们之间互相传播,这才相当于第三阶段的社区传播。
Offi als said the go nment is closely mon oring trends of serious cases of flu and respiratory diseases, sale of drugs relating to these conditions, and admissions in ICUs. They said a rising in dence of the disease cannot be hidden as patients with tell-tale symptoms will begin cro- wding clinics and hospitals.
表示,政府正在密切监测患严重流感和呼吸道疾病的病例、以及相关的药物销售和重症监护病房的入院趋势。他们说,随着有明显症状的病人开始挤满诊所和医院,发病率上升是无法隐瞒的。
"Today, the challenge is not local or community transmission, but whether we are following all the precautionary and containment measures. There is no community transmission in the country yet, but we need to remain aware and alert," he said.
阿加瓦尔表示:"目前,我们面临的挑战不是局部或社区传播,而是我们是否遵循预防措施。印度还没有出现社区传播,但是我们需要保持警惕。"
印度时报读者的评论:
译文来源:三泰虎 http://www.santaihu.com/49680.html 译者:Jessica.Wu
nbrahamin
Joke...No travel history and no community spreading...that is contradictory isn't it? dont lie here please ...the deaths and rise in cases everyday tells the sorry state of affairs....the cases are rising even under lock- down...Height of faking
笑话……出现无旅行史的病例,还没进入社区传播阶段?
这不是自相矛盾吗?
别撒谎了吧……
确诊病例和死亡病例每天都在上升,这说明了事态的严重性。即使在封城期间,病例数量仍在上升。政府太虚伪了。
Sajid Patel
Go nment giving less number world should not believe this go nment
政府公布的数据比实际的更少,不能信
selvarajc
Why to fool and confuse people? Then how they will belive and obey gt instructions?
为什么要愚弄公众?大家怎么能相信印度政府,怎么服从政府的指示呢?
Quhesobi
When Feku and his stooges still want to pretend to be asleep, it's very hard to wake them up. This mindset of denial also expns why India has wasted precious two months to prepare for the coronavir s.
莫迪和他的手下还在装睡,很难把他们叫醒。这种一味否认的心态也正好说明为什么印度会浪费两个月的宝贵时间,本来可以做好准备应对疫情的。
Luminary
Live in fools paradise.. This gt is fooling the people. First Modi said in 21 days I'll flatten the curve by lockdown. Nothing happened. Now extending the lockdown by 15 more days.. And this will continue indefinitely for an year.. People be prepared.. Don't be fooled by this fool. At the end of this, mire people die if starvation than coronavir s did.
我们活在傻子的天堂,政府在愚弄人民。莫迪先前说,封城21天后能控制住疫情,现在没有效果。如今封城要延长15天,甚至可能持续一年。人们要做好准备. .别被这个傻瓜骗了。到最后,饿死人将比死于冠状病毒还要多。
Sane Voice
Don't blabber
别瞎扯了
selvarajc
Make a search in google for most intelligent prime minister of the world and most stupidest prime minister of the world. It will give you the answer.
用谷歌分别搜索世界上最聪明的总理和最愚蠢的总理,你就知道答案了。
Vishal Pradhan
U guys are fools if u dont believe that community transmission hasnt started yet . It started 2 weeks ago u fools when the lockdown was announced , live in a fools paradise foreover .
如果你们相信社区传播还没有开始,那你们就是傻瓜。两星期前就开始了,当时就宣布封城了,你们这些傻瓜,活在一个傻瓜的天堂里。
Mahesh Kakliya
Brushing under the carpet? The facts are out there. Country has entered in community transmission zone. Need to go for 100% lock down and need to test at the least 2 million people a day. We are short of testing kits, but still meed to prioritsise testing and to reach rhe objective of 2million testing per say within a week or 10daya.
还在掩盖真相?事实摆在面前了。印度已进入社区传播阶段。需要实施全面封锁,每天至少检测200万人。我们缺少检测工具,需按病情轻重进行测试,力争在一星期或10天内检测200万次。
Trump
Gt is filled with uneducated monkeys
印度政府里满是没受过教育的猴子
Murali Mohan
monkeys like you only ved them to power.
就是你这样的猴子会给他们投票。
D Rudy
Gt is trying to keep uneducated people calm. That's why even state gts are not declaring community transmission.
政府想让那些没什么文化的人保持冷静,所以宣布印度还没进入社区传播阶段。
Tushar
Many people who are testing positive have no travel history abroad or came in direct contact with a covid person. This means their Source of Infection cannot be detected.. Still go nment is saying we haven't reached stage 3. Are they in denial mode?
很多检测呈阳性的人没有出国旅行史,也没有直接接触史。这意味着没找到他们的感染源。现在政府说印度还没有进入第三阶段,他们想一直否认吗?
Namona Bhakt
Why does everybody lie in this go nment ?
为什么政府里的每个人都撒谎?
Von Hippel Lindau
There are 50 cases in Delhi whose source is yet to be identified.
Gt is lying to our face. The situation is much worse.Trump gt too denied spread at begng
德里有50个病例的感染源尚未确定。政府公然撒谎。事态比我们想象的更糟糕。特朗普政府一开始也否认美国出现社区传播。
D Rudy
Authorities are trying to keep people calm. Most educated People who follow news everyday are aware that community transmission started atleast 2 weeks ago but are kee quiet because uneducated people will wreak havoc and cause trouble.
当局努力让人们保持冷静。大多数每天关注新闻的文化人都知道,社区传播至少在两星期前就开始了,但没有公布,担心没文化的人知道后会闹事,造成大混乱。
Anjan Kesh
Modiji has vast experience in covering up his through lies
在撒谎掩盖真相方面,莫迪经验丰富。
Rational Indian
COVID-19 swee India. Prepare for worst. No point blaming current Go nment..
COVID-19病毒正在席卷印度。做好最坏的准备吧,指责这届政府是毫无意义的…
rahul ahuja
Narrenderrr Modi is biggest Bad Luck in India.....Narrenderrr must be sent to Jail for endangering Human Life
莫迪是印度最大的祸害…他置公众的生命于险境,把他送进吧
Gaana User
It is fine that go nment wants to hide the information of community transmission to avoid further chaos but then it should do much more to stop the spread.
政府隐瞒社区传播的消息以避免造成混乱是可以理解的,但是政府也应该采取更多措施,努力阻止病毒传播啊。
Von Hippel Lindau
A professor from PGI Chandigarh, has given an unoffi al report to Punjab PM. He said the peak of infection will be reached in September. 57 percent of Indians will be affected.
一位来自昌迪加尔的教授向旁遮普首席部长递交一份非官方报告。他说,确诊人数将在9月份达到峰值,57%的印度人将被感染。
JAC Chira
COMMUNITY TRANSMISSION IN MAHARASHTRA, MADHYAPRADESH, UP, TN, CANNOT BE RULED OUT.
马哈拉施特拉邦、中央邦和北方邦肯定出现了社区传播。
Jackhunts
Then why afraid.... Lift lockdown partially on 15th...
那为什么要害怕……从15号开始逐步解除封锁吧…
Michaelalok
FALSE AND TREACHEROUS GOVT
虚伪奸诈的印度政府
外文:https://timesofindia.indiatimes.com/india/no-evidence-of-community-transmission-yet-repeats-go nment/articleshow/75089422.cms