Wear homemade masks to keep coronavir s at bay, says govt
印度政府建议戴自制口罩预防冠状病毒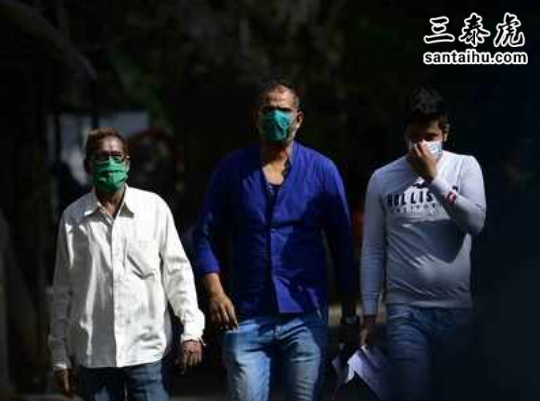 NEW DELHI: Amid rising scare about Covid-19, the health ministry on Saturday issued an advisory on the use of homemade prective cover for the face and mouth, asking people to wear such homemade masks particularly when they step out of their houses.
新德里:随着对新冠病毒的恐慌不断加剧,周六印度卫生部发布了一份关于使用自制口罩的公告,要求人们戴上自制口罩,尤其是外出时。
"We are aware that social distancing and personal hygiene are keys to prevent Covid-19 infections. Certain countries have cmed benefits of homemade face cover for the general public. Such homemade face cover is a good method for maintaining personal hygiene. Such usage certainly will help in maintaining overall hygienic health conditions," the advisory said.
公告称:"我们意识到,保持社交距离和个人卫生是预防感染的关键。一些国家称民众可以戴自制口罩,这是保持个人卫生的好做法,有助于保持民众卫生健康状况。"
The advisory came in the wake of a manual released by the principal scientific adviser to the PM suggesting homemade masks as a strategy to prevent the spread of Covid-19.
在此之前,印度总理的首席科学顾问发布了一份手册,建议把佩戴自制口罩作为防止covid19病毒传播的策略。
In the US, Presi nt Donald Trump has asked all citizens to voluntary use non-medical masks as an additional public health measure to fight the deadly coronavir s while kee medical-grade masks available for health workers.
在美国,唐纳德·特朗普总统要求公民自愿戴非医用口罩,以避免感染,保障医护人员的医用口罩供应。
The US Centre for Disease Control and Prevention (CDC) has recommended that Americans wear basic cloth or fabric masks that can be either purchased online or simply made at home.
美国疾病控制与预防中心(CDC)建议美国人戴上基础的布料或织物做成的口罩,这些口罩可以在网上购买,也可以在家自制。
The health ministry's advisory underlined that use of homemade masks would certainly help in maintaining overall hygiene while cautioning that the face cover was not recommended for either health workers or those working with or in contact with Covid-19 patients or patients themselves as these categories of people were required to wear specified prective gear.
卫生部公告强调,佩戴自制的口罩肯定有助于保持个人健康,同时警告称,不建议医护人员、确诊患者或与患者有接触的人佩戴自制口罩,这类人应该佩戴指定的防护装备。
"It is suggested that people who are not suffering from medical conditions or having breathing difficulties may use the handmade reusable face cover, particularly when they step out of their house. This will help in precting the community at large," it said.
公告称:"建议那些没有患病或没有呼吸困难的人可以佩戴自制的可重复使用的口罩,尤其是外出的时候,这样做有助于保护整个社区。"
The advisory also prohibited sharing of such face covers and advised that two sets of such face covers be made so that one could be washed while the other was used. "Hand washing would still remain essential criteria and hand should be washed before wearing the face cover. Such face covers should also not be thrown anywhere but kept safely, washed properly with soap and hot water and dried properly before they are used," it said.
该公告称禁止共用口罩,并建议制作两个口罩,以便换洗。"洗手仍然是基本的,在戴口罩之前应该洗手。不可随意丢弃口罩,要妥善保管,用肥皂和热水清洗口罩,并在佩戴前晾干。"
印度时报读者的评论:
译文来源:三泰虎 http://www.santaihu.com/49642.html 译者:Jessica.Wu
Aam Aadmi
Person with cough and cold should not be allowed to come in open !
有咳嗽和感冒症状的人不得出门!
Subbu India
True, if all people listen to your oion the country would have been diferent now.
是的,如果所有人都听从你的意见,那印度现在的疫情就截然不同了。
Rajeev Paliwal
Absolutely advice to all citizens whether Americans, Africans or Indians.
这个建议适用于所有人,不管是美国人、非洲人还是印度人。
Prateek Singh
That's ridiculous. How can go nment even expect us to make proper masks when 95% of us don't even know how to wear them properly.
太荒唐了,95%的人都不知道如何正确佩戴口罩,政府怎么能指望我们能自制出合格的口罩呢?
Ayub Khan
Home made mask will prevent asymptomatic covid19 carrier from spreading vir s therefore will help control of covid19. All people going out should wear home made mask specially in closed environment like super markets, airconditioned area etc
自制口罩可以防止无症状患者传播病毒,有助于控制病毒的传播。外出时应戴上自制口罩,特别是在超市、空调区域等封闭环境下
Indra Prabha
Wearing masks outside the house is necessary.
外出必须要戴口罩啊。
Blacky Paki
now wearing will be mandatory for at least a year of more...
强制戴口罩,这个规定至少应维持一年多…
rajesh kumar
Coronavir s pandemic is not a natural cmity It is a man made bio won
冠状病毒大流行并不是自然灾害,而是人为的,
Abby Saxena
We should be more carefull nowdays
我们现在应该更加小心啊
Ganesh Kumar
Looks like Indian go nment is mirroring orders from US Center for Disease Control. Hope India also does tests as widespread as in US.
看起来印度政府正在照搬美国疾病控制中心的做法啊。希望印度也能像美国一样对民众广泛进行检测。
Arun Choudhary
this can easaly available ,,,& will be ch for poors ,,effortability .,,,well advice given ,,,
这种口罩很好做,成本很低,适合穷人,建议很好
Melman const
Even our medical staff do not have enough PPE.
就连我们的医护人员也没有足够的防护服穿啊。
Asok Datta
after so many years of independence India is still dependent on other countries for every essential item for its survival- drugs, wons, kits to counter an epidemic AND our leaders are busy in building statues, temples, and mo es - a pathetic appraisal indeed
独立这么多年了,印度仍然依赖其他国家供应基本生存物资——药品、武器以及用来应对流行病的防护装备。
而我们的领导人正忙着建雕像、庙宇啊。真是可悲啊。
Saurabh Rai
Proper advertisement in all regional languages should be done by goverment along with "HOW TO MAKEHOMEMADE Masks" for proper implementation.
印度政府应该用各种方言做宣传,告诉大家"如何自制口罩"。
Makdxb
Continue wear face masks will cause to other medical issues.But if you don't wear face mask, then you will be affected by Corona Vir s. So please take care of yourselves. There is no need of wear mask always but to keep yourself safe better to have face mask wherever you feel there will be more people in contact.
长期戴口罩会引起其他健康问题。但是如果不戴口罩,就可能会感染新冠肺炎啊。
所以请照顾好自己,没有必要一直戴口罩,不过为了保证自己的安全,在人多的地方最好戴上口罩。
Amit Kishore
Studies show if 80%people wear masks, transmission of pathogen can be stopped. Its as simple as that. No controversies on this one
研究表明,如果80%的人戴口罩,就可以阻止病毒的传播。就这么简单,在这一点上没有争议。
Mithilesh Kumar
This is very good opportunity to make mask in the homes and earn money by selling it..
这是一个很好的赚钱机会,可以在家里做口罩卖啊。
Whereisindiaheading
And then Modi will cm he has given employment opportunities even during this difficult times!!!
然后莫迪会宣称,即使在这个困难时期,他也为大家提供了就业机会!!
Avi Sharma
Face covering is recommended but not mandatory
Homemade masks are not a substitute for social distancing and staying in
建议戴面罩,但不是强制性的
不是说戴了自制口罩,就可以不用保持社距离、不用待在家里
A K Sharma
Face masks and sanitizers are an essential part of today's lives, and should not be avoided by anyone.
口罩和消毒剂是当今生活的重要组成部分,对任何人而言都是必不可少的。
Abu Ammaar Syed
They sold at good price to serbia
可以自制口罩啊,然后高价卖给塞尔维亚
Babu
Almost all tie double layered handkerchief on face to cover mouth& nose theses days in outdoor. Whether homemade masks are effective to prevent vir s transmission and act as a conventional surgical mask is the real question.
在户外,几乎所有人都用双层手帕来遮掩口鼻。自制口罩是否能有效预防病毒传播,是否能代替传统外科口罩,这是关键的问题。
guest
The efficiency of home made masks to filter vir ses and bacterias are almost zero compare to surgical mask.Since u.s said these copy/paste nations are following iit blindly.
与外科口罩相比,自制口罩的病毒细菌过滤率几乎为零。自从美国建议公众戴自制口罩后,有些国家就盲目跟风。
Balbhadra Dhagat
People are littering pavements/surroundings with used disposable masks which pose health-risk..Use of homemade mask would obviate above problem.
人们随处乱丢用过的一次性口罩,会对大家的健康构成威胁。使用自制口罩可以避免这个问题。
外文:https://timesofindia.indiatimes.com/india/wear-homemade-masks-to-keep-vir s-at-bay-says-govt/articleshow/74988335.cms