India's budget under strain on day one of new fiscal year
在新财年的第一天印度预算就面临压力
NEW DELHI: India kicks off its fiscal year with revenues under severe strain. A prolonged slowdown in the economy depressed tax collections in the financial year that ended Tuesday, latest offi al data show. As India now conducts the world's biggest lockdown, Budget pressures are set to worsen.
新德里:印度新财年伊始,财政收入便面临严重压力。最新官方数据显示,在星期二结束的上一财年中,经济持续放缓导致税收减少。由于印度目前正在实施全球最大规模的封锁,预算压力势必会进一步加大。
Finance minister Nirm Sitharn has already outlined a vir s relief package of Rs 1.7 lakh crore ($22.5 billion) and may be planning more support. That could push up the go nment's fiscal deficit target to as high as 6.2% of gross domestic product (GDP) in the current year, according to Fitch Solutions, compared with the go nment's target of 3.5%. Others, like DBS Group and Nirmal Bang Institutional Equities Pvt, see a deficit of 4.5%.
印度财政部长西塔拉曼已经制定了1.7万亿卢比(225亿美元)的疫情救助计划,并计划提供更大力度的财政支持。惠誉公司的数据显示,此举或将政府的财政赤字目标推高至本年GDP的6.2%,而印度政府设定的目标是3.5%。星展集团和Nirmal Bang Institutional Equities Pvt等其他银行预计印度的财政赤字将达到其GDP的4.5%。
"All the Budget maths will go haywire," said Kunal Kundu, economist with Societe Generale GSC Pvt in Bengaluru. "There will surely have to be some restructuring in expenditure profile and the fiscal deficit would indeed have to rise, not just because of higher expenditure but also because of weaker growth."
法国兴业银行驻班加罗尔的经济学家库纳尔•昆都表示:"所有预算将陷入混乱。支出结构肯定会有一些调整,财政赤字肯定会上升,这不仅是因为支出增加,也因为增长放缓。"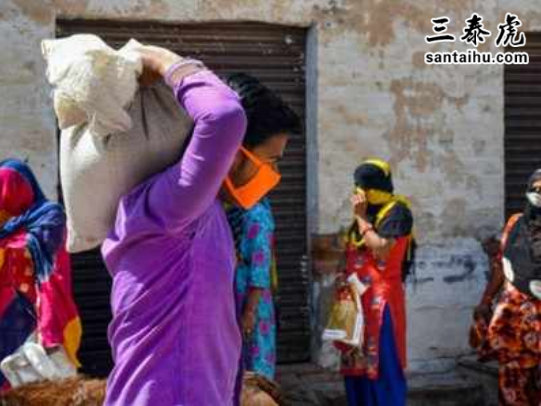 Even before the vir s, Asia's third-largest economy was on track for its weakest expansion in more than a decade of 5% in the fiscal year that just ended.
甚至在疫情爆发之前,这个亚洲第三大经济体在刚刚结束的财政年度中也创下了10多年来最弱的增长,增长率仅为5%。
With Prime Minister Narendra Modi imposing a three-week lockdown on India's 1.3 billion people from March 25 to contain the spread of the vir s, non-essential consumption and production in the economy is now at a standstill.
为了遏制疫情的蔓延,印度总理纳伦德拉·莫迪从3月25日开始对印度13亿人口实施为期三星期的封城措施,印度经济的非必要消费和生产目前处于停滞状态。
Revenue sources
收入来源
The go nment had expected to fund its Rs 30 lakh crore spending plan in the new fiscal year from the following sources: Rs 20 lakh crore from taxes, fees and dividends; Rs 2.1 lakh crore from asset sales; and the remaining Rs 7.8 lakh crore from market borrowings.
在新财年政府曾预计通过以下渠道为30万亿卢比的支出计划筹集资金:2万亿卢比来自税费和股息,2.1万亿卢比来自资产出售,剩下的7.8万亿卢比来自市场融资。
But offi al data released on Tuesday show it's falling far behind on its tax targets. Net tax revenue in the 11 months of the last fiscal year was 74.1% of the budgeted estimate, according to figures from the Controller General of Accounts. To meet its full-year target, the go nment would need to have collected Rs 3.9 lakh crore in taxes in March.
然而,星期二公布的官方数据显示远远未达到税收目标。根据总审计长公布的数据,上一财年11个月的净税收收入为预估的74.1%。为了实现全年目标,政府需要在3月份征收3.9万亿卢比的税款。
Revenue from asset sales also look unlikely.
来自资产出售的收入也不太乐观。
The go nment had hoped to raise a record amount by selling national icons such as flag carrier Air India Ltd, refiner Bharat Petroleum Corp and listing Life Insurance Corp of India on the stock exchange. It's now facing record losses in aviation, plunging oil prices, and the worst quarterly drop in local stocks since 1992, making an IPO difficult.
政府原本希望通过出售印度航空、炼油商巴拉特石油公司以及印度人寿保险公司等国有企业来筹集资金。如今却面临航空业创纪录的亏损,油价暴跌,以及自1992年以来本土股市最严重的季度下跌,这些都令IPO难上加难。
印度时报读者的评论:
译文来源:三泰虎 http://www.santaihu.com/49636.html 译者:Jessica.Wu
RDVERMA
Modi do not believe in doing home work and at the same time he refuses to listen to others while declaring major and very vital decisions affecting whole nation . This arrogant attitude and timidness of ministers in checking his wrong steps is playing havoc to Indian economy. COVID-19 situation has been disproportionately overblown . He made India and economy halt completely for long period.
莫迪不事先做好准备,不听别人的意见,就草率宣布会影响整个国家的重大决定。这种傲慢的态度对印度经济造成了严重冲击。疫情被过分夸大了。莫迪的决定会让印度经济停滞很长一段时间。
Jagdish Madan
Would you prefer the corrupt to the core Italian and her retarded brat remely controlling the Indian economy - yet again?
你会更喜欢让的意大利人和她那智障孩子来操控印度经济吗?
Anirban Chatterjee
you live in a fool's paradise if you think COVID 19 is overblown
如果你认为新冠疫情被夸大了,那你怕是生活在傻子的天堂里吧
AMITABHA BANERJEE
We Indian's, have to make the best of the bad situation. No use blaming Go nment for COVID-19 situation - which country in the world is uneffected ? 'Financially, India is a better placed than most countries.
把新冠危机归咎于政府是于事无补的——哪个国家没有受疫情影响?在财务方面,印度比大多数国家都更有优势。
Jagdish Madan
That's the most positive way to look at the situation!
看待形势就得这么乐观!
Patriot
Slow down in economy is going to be common with all the nation of world not alone India because less production and restrictions on movement of goods until vir s is gone.
不仅印度经济将放缓,经济放缓也将成为全球普遍现象。只要疫情没有结束,印度就会减少生产并限制商品流通。
Ananta Charan Rout
Gt. is doing an Exlnt Job. Let us help our Gt.
政府做得非常好,大家都来支持政府吧。
Chandrasekaran Krishnamurthy
Go nment of India has to control the expenditure during the present fiscal year
印度政府不得不在本财年控制支出啊
Naga Raja
not there also by it all going to be paid by the evry one here
还得老百姓买单
Jagdish Madan
Understandable under the circumstances! Things are bound to improve with time!
碰上这种情况,是可以理解的!
情况会逐渐好转的啊
Jagdip Vaishnav
With central gt hard work, Public, Corporate support we shall soon overcome this situation
中央政府在努力、民众和企业也在提供支持,很快我们将走出困境
Viji Cheri User
Can we come out of this phase ? Only time will tell
我们能撑过去吗?只有时间能证明
selva
103% growth in oral bonds (Read ADR report), Going greece way. Chances of recovering at 2%.
债券的收益率达到103%,效仿希腊的方式,印度说不定可以达到2%的增长率。
Agnel Dsilva
This the fault of Nehru & Pakistan & not by our Fekhu Ghody !
这都要怪尼赫鲁和巴基斯坦,不是我们莫迪的错
Vik Singh
Modi has blundered yet again . There was no need for such a massive lockdown that has disrupted the economy. I don't know who are his advisors but clearly he doesn't know what he is doing.
莫迪又犯了大错,没有必要进行大规模的封锁,否则会扰乱经济发展的。不知道是谁在担任莫迪的顾问,显然他不知道自己在做什么。
Ramesh Sargam
Entire Indians health under strain for the past couple of weeks after corona vir s set in India. Is this time to talk about India's budget and India's economy? First let the vir s go, let people come out and engage in their respective work. Then the economy will slowly gain momentum. When such rich nations like USA are struggling with the vir s and with their economy, India is no exception.
在疫情爆发后的几星期内,印度人的健康都受到威胁。现在是讨论印度预算和经济的时候吗?
首先消病毒,让人们可以回到各自的工作岗位,然后在解决经济方面的问题。美国这样的富裕国家也在与病毒作斗争啊,美国经济也不乐观啊,印度也不例外。
Gopkrishnan T.s
Our de acy institutions like Assemblies and parliament should avoid meetings
我们的机构,比如议会,应该少开会,省点钱。
Nutz Nutz
I am sure there is more than enough room for recovering this considering the crude is at a 20 year low of 20 dollars and the retail price is as if crude is at 75 dollar a barrel. go nment is saving billions in just crude imports every month.
考虑到目前原油价格处于20年低点,20美元每桶,而零售价格大约是75美元每桶,反弹的空间是足够大的。仅在原油进口上,印度政府每个月就能节省数十亿美元资金啊。
RDVERMA
petrol and diesel consumption now a days has gone down to only 10% of average ,where is gain on this count.
目前每天的汽油和柴油消耗量已经下降到了平均水平的10%,照这么算怎么省钱。
MOhammed Ansar
It's down by 90%
汽油和柴油消耗量下降了90%
R K
There are several po iticians who have enough black money overseas to ease the fiscal strain. Gt needs to get that money back fast!! Extraordinary situation demands ruthless action ag inst these criminals
有些印度政客在海外存的黑钱,拿出来用的话,足够缓解财政压力的。印度政府应该尽快把这些钱追回来!!
情况特殊,对这些罪犯不要手下留情。
Nayyar Arvind
Meeting the targets forFY2019-20and2020-21is almost impossible now
现在看来,印度几乎不可能实现2019- 2020财年和2020-2021财年的目标啦
外文:https://timesofindia.indiatimes.com/business/india-business/indias-budget-under-strain-on-day-one-of-new-fiscal-year/articleshow/74933329.cms