Coronavir s: 7 more deaths take toll to 20; cases cross 700 in India
新冠疫情:印度确诊逾700例,死亡20例,新增7例死亡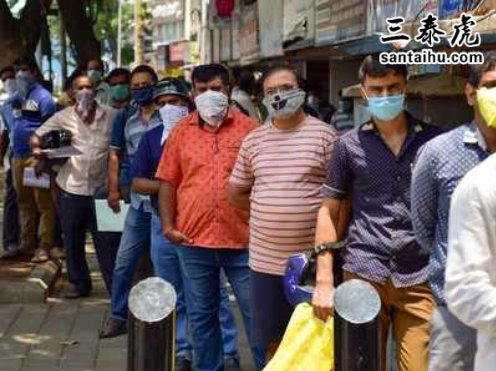 NEW DELHI: Seven deaths from Covid-19 infections were reported from across the country on Thursday, the highest single-day count so far, taking the toll from the disease to 20, even as states registered 71 new cases, including four in Delhi. The total number of coronavir s cases thus far in India crossed the 700 mark, ending the day at 727, according to reports from states.
新德里:星期四,印度各地报告7例死亡,这是迄今为止单日死亡人数最多的一天,全国死亡病例共计20例。与此同时,各邦新增71例,其中包括德里4例。根据各邦的报告,迄今为止,印度的确诊病例总数已突破700例,截止星期四总数为727例。
Two deaths were reported from Mumbai, both 65-year-old women with no travel history.
据报道,孟买有两例死亡病例,均为65岁的女性,无旅行史。
Most deaths have taken place in the elderly and those with co-morbidities. In J&K, a 65-year-old trader and preacher from Sopore became the Valley's first Covid-19 casualty. Another death was reported from Rajasthan, where a 73-year-old resi nt of vir shit Bhilwara succumbed to Covid-19 on Thursday. "The patient was suffering from diabetes, chronic kidney disease and stroke," state health minister Raghu Sharma said.
大多数死亡病例为老年人,这些人同时患其他疾病。在查谟克什米尔,一名65岁的商人兼传教士为该地区首个死亡病例。星期四,拉贾斯坦邦也报告了一例死亡病例,一名73岁的布尔瓦拉居民死于新冠肺炎。邦卫生部长拉古·沙玛称:"这名患者患糖尿病、慢性肾病、还有中风症状。"
Madhya Pradesh also reported its second death. A 35-year-old man, with no history of foreign travel who was hospitalised with fever, cough and breathing difficulty and later tested positive for Covid-19, died during treatment in Indore. Earlier, a 65-year-old woman from the state, who had tested positive for Covid-19, had succumbed to the illness. Gujarat recorded the death of a 70-year-old man and five new positive cases on Thursday, taking the total number of positives to 44. Covid-19 has cmed three lives in the state.
中央邦报告了第二例死亡病例。一名无国外旅行史的35岁男子因发烧、咳嗽和呼吸困难住院,后来经检测为covid19阳性,他在印多尔接受治疗期间死亡。早些时候,该邦一名65岁的妇女的Covid-19检测呈阳性,最终死于该病。星期四,古吉拉特邦一名70岁男子死于该病,并新增5例阳性病例,该邦确诊总数达到44例,死亡3例。
The latest victim, a resi nt of Bhavnagar, had recently travelled to Delhi. He was also suffering from cancer, diabetes and heart disease, local authorities said. There have been no Covid-19 deaths in Ker so far, although the state reported the highest number of new cases, 19, on Thursday. Maharashtra, the other Covid-19 hotspot, reported eight new cases. Ker has had 137 Covid-19 patients so far, the highest in the country, followed by Maharashtra (130), Karanataka (55), Telangana (45) and Gujarat (44). Total four new cases of Covid-19 were confirmed from Delhi on Thursday, taking the total count to 39.
最近一名死亡病例为巴夫纳加尔居民,最近去了德里。当地表示,他还患有癌症、糖尿病和心脏病。尽管喀拉拉邦星期四报告的新增病例数量最高,19例,但迄今为止,该邦还没有出现死亡病例。另一个热点地区马哈拉施特拉邦报告了8个新增病例。到目前为止,喀拉拉邦共有137名患者,居全国首位,其次是马哈拉施特拉邦(130例)、卡拉纳塔卡邦(55例)、特伦甘纳邦(45例)和古吉拉特邦(44例)。星期四,德里确证4例新增病例,总病例数达到39例。
Lav Aggarwal, joint secretary in the health ministry, said while the number of COVID-19 cases was increasing, there appears to be relatively a stable trend or even little bit reduction in the rate at which they are increasing. "This however does not establish a clear trend and in no way are we relaxed about anything at this point," he added.
卫生部联合秘书拉夫·阿加瓦尔表示,尽管病例数量在增加,但趋势似乎相对稳定,增速甚至略有下降。"然而并没有形成一个明确的趋势,我们对任何事情都不会放松。"他补充道。
Agarwal said the ministry is hopeful of containing the spread of the coronavir s by the social-distancing policy, conducting a proper contact tracing of positive cases and by ensuring that all people at home quarantine are mon ored. He urged people to support the lockdown announced by the prime minister, saying social distancing can be an effective intervention to break the chain of transmission and all the efforts will go into waste even if one person does not follow the policy for containment of the disease.
阿加瓦尔称,卫生部表示有望通过社交隔离政策、对阳性病例的接触者进行适当追以及确保对所有居家隔离人员进行观察来遏制病毒的传播。他敦促人们支持总理宣布的封锁措施。他说,保持社交距离是一种有效的干预手段,可以打破传播链,即使有一个人不遵守政策,所有努力都会付诸东流。
印度时报读者的评论:
译文来源:三泰虎 http://www.santaihu.com/49588.html 译者:Jessica.Wu
Jitendra Jain
Spain has crossed 's tally death rates and its 2nd on list of high death rates italy is 1st plz stay back @ home !!
西班牙目前的死亡率已经超过了,在高死亡率名单上位列第二的是意大利,请大家务必待在家里!!
Jitendra Jain
Its very important to stay back at home or else we shall have to pay a price which is priceless !!!
待在家里,不要出门,否则我们将不得不付出代价,而这个代价是无价的!!
Hridoy Baruah
Gt. is trying it's best to prevent spread of the disease but our Indian public are so idiots that due to their foolishness the disease will continue to spread and thousands of such fools and lacs of innocent lives will be lost.
印度政府正在尽最大努力防止这种疾病的传播,但由于印度公众太无知,这种疾病将继续传播,成千上万的傻瓜和无辜者将失去生命。
Jitendra Jain
Can not imagine whats happening in italy, spain , france and usa # plz my fellow indians pull back completley at home !!!
无法想象意大利、西班牙、法国和美国的情况,印度同胞赶紧撤回来吧。
Krishnan Narasimhan
Fellow Indians, please support our PM and all state Go nments in enforcing this 21 days lockdown. It is important for the future of our great nation. We will come out of this......just a few days of sacrifice and patience will help us all WIN. Jai Hind
印度同胞们,请支持总理和所有邦政府执行这21天的封城措施。这对我们国家的未来很重要。只要有耐心熬过这几天,我们就能走出困境,赢得胜利。印度必胜!
Sameer S
All the people who died of Coronavir s in India were elderly or they had pre esting health conditions
在印度,死于新冠肺炎的人要么是老年人,要么是健康状况不佳者
Name Surname
Stop group nz ASAP
大家以后别聚会了
Emperor CE
I think many state are not recording the cases except Ker and Maharashtra like here in UP, I knew a person whose report is positive, but hospital authorities refused to take her in and now she in house quarantine , don't know what will happen to her . Here in UP authorities are ignoring and hiding in fact and no media is covering it . I request to media please try to investigate
我想除了喀拉拉邦和马哈拉施特拉邦以外,很多邦都没有记录病例,就像北方邦,我认识一个人,她的检测结果是阳性,但是医院拒绝收治,现在她在居家隔离,不知道她的结果会怎样。在北方邦,当局掩盖事实,媒体也不报道。我请求媒体调查此事。
Satyendra Patel
Stay home and stay safe, this is the only time.
待在家里,安全第一
Jitendra Jain
It seems we are going to face endless pain if we wont islolate ourselves # humanity in danger !!
如果不做好隔离措施,我们将面临无尽的痛苦,人类岌岌可危!!
Deviprasad Nayak
Airports must have been lock down first but irresponsible Gt did this at last when whole nation was lock down.Now innocent people have to suffer.
首先要封锁机场,但是政府最后才封锁机场,这太不负责任了,现在全国都封锁了,无辜者遭殃了。
Indian
people are still not following gt...roaming here n there
人们还是不服从政府的指示啊,到处走动
Bharatwasi
Imagine what would have happened if Pappu was PM.
想象一下,如果是拉胡尔当总理,情况会怎样。
Pradeep
Please do not get carried away by seeing the smaller numbers of cases and deaths in India. This is only the begng of a long war ag inst the vir s.
不要一看到病例和死亡人数较少就忘乎所以,对抗病毒的持久战才刚刚开始。
sanjeeb kumar
This seems world War 3, fight under invisible wons by ..
这就像第三次世界大战,用隐形武器作战。
Kamginvaiphei Vaiphei
People are not observing Lockdown seriously. The Republic showed pictures of Maharashtra, Punjab, UP and Delhi and people are not following Lockdown. this is deadly. They thrash police. AIMIM MLAs attack hospital staff in Malegaon. IRON HAND is the need of the hour
人们没有严格遵守封城令。摄于马哈拉施特拉邦、旁遮普邦、北方邦和德里的照片显示,人们没有遵守封城令,他们殴打警察,必须实行铁腕政策
Sangram
Last 3 days statistics...reported infection per day 96 -> 88 -> 74. See the fall of total number. Isn't that a good indication? Trust on God. It's going to be al.
看看最近三天的统计的新增病例:96 > 88 > 74,呈下降趋势。这不是一个好迹象吗?
相信神,一切都会好起来的。
Chalu • Earth
This data is not correct.. if rest of world is getting higher data of infection than why not india ?? we don't have enough testing done .. criteria for testing is so limited to only people with travel history..
数据不对。如果其他国家的新增病例都是越来越多,为什么印度反而在下降呢?
我们没有做足够的检测,检测仅限于有旅行史的人。
Malviya • Mumbai
India should come together to boycott products .. be it cellphone, tv, any stuff of the world and go nment need to pit end any business tie and diplomatic rekations with .. this is invisible world war 3 ....
印度人要一起抵制产品,不管是手机、电视,还是其他东西,我们应该终止与的商业联系和外交往来。这是一场看不见硝烟的第三次世界大战…
Rohit Malviya
by the way , u might br posting this message via some phone
顺便说一句,你可能是用手机发布这条评论的吧
Gaana User
If the central go nment has stopped all the inbound flights to India from 1st Mar'20 onwards then lockdown is not necessary in the current situation and everything will be normal today.
如果中央政府从3月1日起暂停所有飞往印度的航班入境,那现在就没必要实行全国封城了,一切都可以照常进行。
外文:https://timesofindia.indiatimes.com/india/coronavir s-7-more-deaths-take-toll-to-20-cases-cross-700-in-india/articleshow/74838046.cms