Coronavir s: 2 more deaths as new cases surge by 99; total now 498
印度新冠疫情:新增确诊99例,新增死亡2例,目前共498例
NEW DELHI: Covid-19 infections continued to spike across the country, with 99 fresh cases reported from states on Monday — by far the highest for a single day —even as two more Covid-19 patients succumbed to the disease, taking the coronavir s death toll to nine so far.
新德里:印度各地的新冠病毒感染病例继续激增,星期一各邦报告了99例新增病例,这是迄今为止单日最高增幅,同时新增2名死亡病例,至此死亡人数已升至9人。
The count of coronavir s cases in the country stood close to 500, with 498 cases reported so far by the states. As many as 246 cases have surfaced in the past three days, accounting for nearly half of all cases reported since January 30. The health ministry confirmed 468 cases, of which 40 are foreigners.
印度的新冠患者总数接近500例,迄今为止各邦共报告了498例。在过去三天里,新增病例多达246例,占1月30日以来报告病例的近一半。印度卫生部确认了468例,其中40人是外国人。
On the ber side, 35 patients have so far recovered and have been discharged, health ministry offi als said. The two Covid-19 deaths were reported from West Bengal and Himachal Pradesh, even as Ker (28) and Maharashtra (23) continued to register the highest number of fresh cases.
印度卫生部表示,好消息是,目前已有35名患者康复出院。喀拉拉邦(28例)和马哈拉施特拉邦(23例)的新增病例数量仍然最高,西孟加拉邦和喜马偕尔邦共报告了2例死亡病例。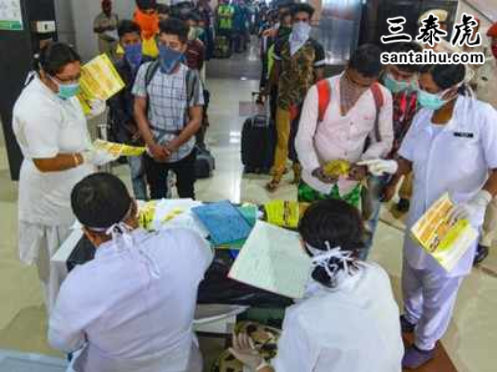 Gujarat, with 12 new cases, was another hotspot. In all, 15 states/ UTs reported new cases on Monday, with Himachal Pradesh entering the list with three cases and one death. Meanwhile, the Indian Council of Medical Research, which has been conducting mathematical modelling of Covid-19 cases, said strictly implemented steps for social distancing would reduce the expected number of coronavir s cases by 62% and the peak number of cases by 89%.
古吉拉特邦出现12个新病例,是另一个热点地区。星期一,印度总共有15个邦报告了新病例,喜马偕尔邦新增确诊3例,死亡1例。与此同时,印度医学研究委员会一直在对新冠病毒感染病例进行数学建模,该机构表示,严格执行保持社交距离的措施将使预计的感染病例减少62%,病例峰值减少89%。
"That's why we are focussing so much on lockdown to stop the chain of transmission. People can help us by simply staying at home," said an ICMR expert.
印度医学研究委员会一位专家表示:" 我们主要通过封锁来阻止传播。人们只要呆在家里就算做贡献了。"
Bengal's first Covid-19 death was a 55-year-old railway employee, who was admitted to Kolkata's AMRI Hospital with severe respiratory distress, cough and fever on March 16. He had been confirmed positive for the vir s two days ago. The patient died due to cardiac arrest at 3.35pm after two failed attempts to put him on ECM (extra-corporeal membrane oxygenation) support.
孟加拉邦的第一例死亡病例是一名55岁的铁路工人,他于3月16日因严重呼吸窘迫、咳嗽和发烧而住进了加尔各答的阿姆里医院。两天前他被证实感染了新冠病毒。患者于下午3点35分死于心脏骤停
印度时报读者的评论:
译文来源:三泰虎 http://www.santaihu.com/49570.html 译者:Jessica.Wu
Kunal Dutt • 8 hours ago
Stay home.. Don't roam like idiots
呆在家里. .不要像傻瓜一样四处闲逛
Kunal Dutt • 4 hours ago
Yes. But the only problem now our population has is getting essential goods (food and medicine).
没错,现在我们面临的唯一问题是保证民生需求,比如食品和医药
Only Facts • 8 hours ago
There is no need to panic,just stay home and see what happens
没有必要惊慌,呆在家里静观其变就好了
sam mm• 3 hours ago
This attitude will kill everyone,u should worry, stay at home , be cautious , don't be casual
这种态度会害死所有人,你应该保持警惕,呆在家里,不要大意
Hermes Innovator• 3 hours ago
What else we can do ? Luckily controlled it by lockdown. Italy, spain and france ignored that and suffering hugely.
除了待在家里,我们还能做什么?
好在通过封城控制住了疫情。意大利、西班牙和法国忽视了这一点,损失惨重啊。
Pavan Kumar • 8 hours ago
People has to stay back at home. Once it starts spreading there is no stop. Understand the situation and restrict yourself to your home.
大家一定要呆在家里啊。一旦病毒开始蔓延,就无法遏制。要了解形势,待在家里。
Election Beast• 3 hours ago
It's too late now...feeku woke up late
现在才开始这么做,太晚了……莫迪反应太慢了
Subhas Basu • India • 8 hours ago
Don't be the enemy of the nation. Stay at home and maintain basic hygiene. You will save others' lives.
不要与国家为敌。呆在家里,保持个人卫生。这也是为了别人的好
vasaml • 8 hours ago
Instead of learning from what happened in Italy and , people actually gave it a warm welcome by being on streets and not following offi al orders. India deserves pappu.
印度人并没有从意大利和的疫情中吸取教训,还是走上街头,不遵守官方的指令。
Mumbaikar • 5 hours ago
The vir s doesn't move, people move it. We stop moving, the vir s stops moving, the vir s dies, It's that simple."
Pls stay home
病毒不会走动,但人会走动。我们不动,病毒就传不开,就会自然消亡,就这么简单。请大家呆在家里
Sudip • 5 hours ago
i appeal to all idiots who are taking it lightly please stay indoors and save yourself and others
大家别掉以轻心了,好好呆在家里吧,为了自己的好,也是为了他人的好。
Ninja • 4 hours ago
Guys, time to stay united and follow both center and state gt. No time to think about po itics, re gions etc. It's a huge HUGE threat and this vir s can lead to mayhem on streets if we don't follow gt advices. Even the most powerful countries have bowed down completely such as US, Italy, Switzerland etc .....
伙计们,是时候团结起来,听从印度中央政府和邦政府的命令了,没时间考虑、等问题了。疫情是一个巨大的威胁,如果我们不听从政府的建议,这种病毒会导致社会不稳定。在病毒面前,就连最强大的国家,如美国、意大利、瑞士等,也败下阵来了。
N • 4 hours ago
It is understood that some people arriving from abroad in order to escape quarantine ate taking paracetamol and relayed medicine.
This helps them thermal scanning.
Fools don't realize that their own family are put to very high risk.
据了解,一些从国外回来的人为了逃避隔离,服用扑热息痛,为的是能通过体温检测。这些傻瓜没有意识到这会导致家人处于非常危险的境地啊。
Padmanaban • Hyderabad • 5 hours ago
Biggest mistake by the Go nment is allowing International passengers into the country, when there is no temperature and other symptoms. Such passengers when allowed out of Airport after advising them as home quarantine, they never followed. Instead they mingled with public. Later on they developed symptoms, meanwhile they transmitted Coronavir s to other innocent people. Now we are entering in to community spreading, which is now imminent.
印度政府最大的错误在于允许没有发热及其他症状的旅客入境。在告知需要居家隔离后便允许这些乘客离开机场,但他们从未遵守隔离要求。相反,他们混迹人群,后来出现了症状,同时也把病毒传染给其他无辜的人。现在我们正在进入社区传播阶段。
Munish Anand • 4 hours ago
Staying at home is the best solution & maintain hygiene.
最好的解决办法就是待在家里,保持卫生。
Kochar Bi • 4 hours ago
The huge spurt in Italy and New York is due to people not following social distancing and violating lock down restrictions. South Korea and Japan have demonstrated that vir s can be kept in control by every citizen behaving responsibly
在意大利和纽约,病例激增是由于人们没有保持社交距离,也没有遵守居家指令。韩国和日本已经证明,只要每个公民负起责任,病毒就能得到控制
Sudharsan • 5 hours ago
India needs to build 1000 bedded corona hospital in each and every district...like did...before worse sweeps in.
在形势恶化之前,印度应该在每个区建立配备1000个床位的定点医院,就像一样……
Ninja • 4 hours ago
Please talk to whomsoever you can and tell them to stay at home. If people don't stay home then MILLIONS might die all over India. That's a fact.
请告诉你认识的每个人,呆在家里。如果不呆在家里,那么印度各地可能会有数百万人染病而亡。这是事实。
N • 4 hours ago
Come on RaGa, come out with some comments.
We need your entertainment at this distressed hour.
来吧,拉胡尔,说说你的看法。
在这个困难时刻,我们需要你出来娱乐一下。
Dinesh Kumar • 4 hours ago
We will fight and defeat coronavir s. Modiji
莫迪,我们将战胜新冠病毒
Truth Is • 3 hours ago
We have three options. stay at home, stay in hospital or stay in photo frame. So, have some sense and opt the one you want...
我们有三个选择:呆在家里,呆在医院,或者遗照出现在相框里。
大家想清楚哦,选择你想要的……
Kayvee • 3 hours ago
I don't understand why the rich and mighty go to foreign countries for honeymoon and sight seeing. There are many places in India which are far more beautiful and culturally rich than these foreign sites.
我不明白为什么有钱有势的人要到国外去度蜜月和观光。印度有许多地方比外国景点更美,文化更丰富。
Victork • 4 hours ago
Please go and drop Sonia in Itlay. They are not treating anyone ovee 60.
把索尼娅扔到意大利,他们不治疗60岁以上的患者
Dutta • Pune • 4 hours ago
god's way of controlling population and pollution
这是上天控制人口和减少污染的方式
Human • 5 hours ago
India is in Better postion . Just obey ORDERS from GOVERMENT . In USA in One Day 100 died and 6000 Case increase in ONE DAY
印度的情况好多了,只要服从政府的命令就行。在美国,一天就新增6000例,死亡100例。
外文:https://timesofindia.indiatimes.com/india/coronavir s-2-more-deaths-as-new-cases-surge-by-99-total-now-498/articleshow/74783732.cms