Coronavir s: Mumbai prepares to quarantine 26k Indians coming from Gulf
新冠疫情:孟买准备隔离从海湾地区返回的2.6万名印度人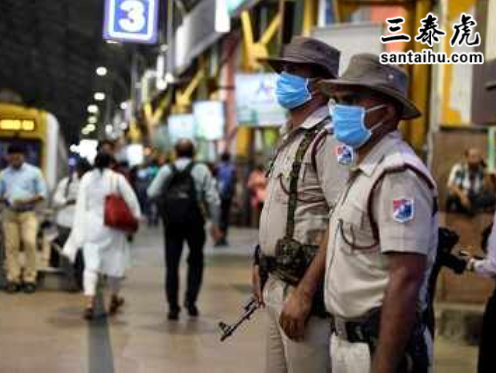 MUMBAI: As the total number of coronavir s cases in India went up to 170 and Maharashtra, with four more patients testing positive on Wednesday, continued to lead the list at 45 (by a wide margin), the Mumbai civic body prepared to welcome around 26,000 Indians expected to land in the city between Thursday and March 31 from Covid-19-hit Gulf nations such as the UAE, Kuwait, Qatar and Oman.
孟买:印度冠状病毒病例总数上升至170例,星期三马哈拉施特拉邦又有四名患者检测呈阳性——该邦继续以45例高居榜首。孟买将迎来约2.6万名从阿联酋、科威特、卡塔尔和阿曼等海湾国家回国的印度人。预计这些人将在星期四至3月31日期间抵达孟买。
The BMC's estimate of nearly 26,000 comes from arrivals at the city's airport and information about travellers obtained from the Centre; 23 flights come to Mumbai from these countries every day. According to the Centre's guidelines, all arrivals from the UAE, Kuwait, Qatar and Oman are to be mandatorily quarantined for 14 days starting March 18 (Wednesday).
根据从孟买机场获得的旅客信息,孟买市政公司估计有近2.6万人将从海湾国家返回印度。每天有23趟航班从这些国家飞往孟买。根据中央政府的指导方针,从3月18日(星期三)开始,来自阿联酋、科威特、卡塔尔和阿曼的所有入境旅客将被强制隔离14天。
Since 15 people from Maharashtra who earlier arrived from Dubai (which is in the UAE) have tested positive, the BMC has converted one of its newly constructed training centres for its engineers in Powai into a quarantine facility for the anticipated arrivals, apart from the isolation facility at SevenHills hospital in Marol. The Powai facility has several conference rooms where a few hundred beds are already in place and more will be added, civic offi als said.
由于早先从迪拜(阿联酋)返回的15名马哈拉施特拉邦人检测呈阳性,除了位于Marol的SevenHills医院的隔离场所外,孟买市政公司已将位于博瓦伊新建的一个工程师培训中心改造成隔离场所,以供预期抵达的人员隔离使用。市政称,位于博瓦伊的场所有几个会议室,里面已经有几百张床位,而且还将增加。

Most Indians expected to land by month-end are employed as blue-collared workers in Middle East, according to offi als. They would be broken up into distinct categories. Those who are healthy and have their homes in Mumbai will be allowed to go home, where they will have to self-isolate for 14 days.
们表示,预计将在月底回国的印度人,大多数是在中东的蓝领工人。他们将被分成不同的类别。身体健康并在孟买有住所的人将被允许回家,但必须自行居家隔离14天。
Those who show symptoms would be sent for tests and those deemed vulnerable, such as senior citizens, would be placed in quarantine immediately.
出现症状者将被送去检测,而易受感染者,如老年人,将被立即隔离。
印度时报读者的评论:译者:Jessica.Wu
Cherag M Gandhi • Mumbai • 7 hours ago
It will be the biggest mistake to allow these people in to India. Disaster looms large if this goes on. They need to stay where they are for now. Big mistake Modiji!!!
允许这些人回国将是大错特错。如果让他们回来,无异于一场灾难。他们应该呆在原地。莫迪,这是在犯大错 ! !
D Rudy • 7 hours ago
Don't know how many among these will slip away from quarantine and spread the infection. Why would they quarantine so many in a densely populated city? Whose idea was it?
不知道这些人中有多少人会从隔离场所逃走,然后把病毒传给其他人。为什么要在人口稠密的城市隔离这么多人呢?这是谁的主意?
Ashwani Kumar• 1 hour ago
Why should we cast our doubt on anyone or go nment. Hopefully, go nment will take all necessary steps.
为什么要怀疑别人或政府呢?
政府将会采取一切必要措施的
Muskan Mirza • 8 hours ago
Mammoth task is ahead for the governent to quatantine 26k indians.
隔离2.6万印度人,对政府而言这是项艰巨的任务。
AjayM • 7 hours ago
hey, wait. do u know that carona can spread before showing symptoms, do u think they stay at quarantine centers?
在出现症状之前,冠状病毒就有传染性,你以为他们会呆在隔离中心吗?
Pradeep • Hyderabad • 7 hours ago
No doubt, Modiji is doing great job. He is leading the movement from the front. His responses and Planning is perfect.
Lucky to have such a Prime Minister for the Country
毫无疑问,莫迪姬做得很好。他亲自领导对抗病毒的行动,他反应迅速,计划星期全。有这样一位总理,印度真是幸运
Rupesh Bonth • Chennai • 7 hours ago
Dear Gt, It is very risky move to allow people of nearby places to go home (even if they are low risk). Probably they could be accommodated at a low risk ward. please understand you are asking a common man (not military man) to stay at home. How can you expect they follow the rules. Please think with common sense
允许他们居家隔离是非常危险的(即使他们受感染的风险很低)。要求一个普通人(非军人)呆在家里隔离,怎么能指望他们遵守规则呢?有点常识的人都知道
Ramesh • New Delhi • 7 hours ago
Why such large numbers of pentially infected people are being allowed to come and create problems for us?
为什么允许这么多潜在感染者入境,给我们制造麻烦?
Paadi Pantalu • 7 hours ago
Look like these are filthy rich celebs, let them pay for all the expenses.
看来这些都是有钱人,让他们自行承担所有费用。
Vijay Bhatia • 7 hours ago
Don't allow anyone to enter Mumbai for next weeks.
接下来的几星期不要让任何人进入孟买
Sai Narayan • 7 hours ago
26000 is this a joke no country is allowing these large numbers to come back close down the airports immediately india and mumbai caNT AFFORD THIS
笑话,2.6万人,没有一个国家允许这么多的人回来,立即关闭机场,孟买承受不起这种风险
Ashwin • 7 hours ago
Adequate security should be provided to secure these ppl...they are of high risk...
应该采取措施,隔离这些人,他们感染的风险很高…
Jack Saunders • 7 hours ago
Why are they even being allowed into the country
为什么允许他们入境?
Savio Sebastian Gomes • 7 hours ago
Such persons should not be allowed in India
不该让这些人回到印度啊
Saki Baba • 7 hours ago
Might be a good idea to quarantine them at a military base in Kashmir. Maybe then it will be too toc for any te rort or even the Pakis.
把他们隔离在克什米尔的军事基地也许是个好主意。也许对分子甚至巴基斯坦人来说,这都太可怕了。
Abhijit • Hyderabad • 6 hours ago
Please make them pay for this. While they mint money and flaunted their wealth from gulf they didn't pay taxes. Now don't use Indian tax payers money to treat this influx of people from deserts.
请让他们自己承担费用。他们去海湾国家赚钱,炫耀财富,又不纳税,不要用印度纳税人的钱来为他们的治疗费用买单。
Newsreader • 3 hours ago
So they work overseas, pay no tax or pass any benefit to India, when it comes to get help they coming back. Why can'y they just stay where they earn big bucks and get treatment? Why add pressure to India?
他们在海外工作,不纳税,没为国家做什么贡献,还有脸回来求助。
为什么他们不能呆在他们赚大钱的地方接受治疗呢?
为什么要给国家增加压力?
Guest
Stop them from coming to Mumbai otherwise whole city will be infected by the vir s. Don't be foolish India.
不准他们回孟买,否则整个城市都会感染的。在这件事上不能犯傻啊,印度。
Jagdish Madan • Vancouver BC
26000 is a huge number and unless these people cooperate fully, India is staring at a monumental disaster.
2.6万是一个巨大的数字,除非这些人完全配合,否则印度将面临一场巨大的灾难。
Ramesh
This is going to be the biggest blunder by India. Home quarantine is useless. It's never perfect and the most dangerous method which leads to infection to family and their friends and thus whole society. All incoming travellers should be quarantined at Mumbai or ask them not to come to India. Pls think twice and take wise decision.
这将是印度犯的最大错误。居家隔离是没用的,也是最危险的方法,会导致家人和朋友的感染,从而扩散到整个社会。孟买应该对所有入境旅客进行隔离,或者要求他们不要来印度。请三思而后行,请想清楚再进行决定。
Kvs Sarma• 2 hours ago
home quarantine is not quarantine.
居家隔离不算隔离
WAM VS • 3 hours ago
Modi should realize now that all the borders if not sealed now will cause a major disaster in coming days.
莫迪现在应该意识到,如果现在不封锁边境,未来几天会出现重大灾难。
vikrantl • Location • 7 hours ago
Instead of locking entire country, t gt should have locked just the travellers from jan 2020
印度政府不应该封锁整个国家,本该从2020年1月就开始禁止旅客入境。
PakisareHomosandSuck • 5 hours ago
Let the gulf countries also handle the workers working for them. To deport them in times of crisis is BS and callous!!!!
让海湾国家来照顾为他们卖命的印度工人吧,在危机时刻驱逐他们,也太了!!
Gobardhan It • 7 hours ago
Feku is panvati and a curse for India. India going downhill since 2014 in every sector including economy and health.
自2014年以来,在包括经济和卫生在内的各个领域,印度都在走下坡路。
Sandeep Kumar • 4 hours ago
It will be disaster to allow so many people to Mumbai !! Please do not do it !! Its quite obvious many of these peoples would not like to be quarantined and will spread to all !!
允许这么多人进入孟买将导致一场灾难!!
请不要这样做!!
很明显,这些人中许多人不愿意被隔离,他们会把病毒传播给所有人的!!
外文:https://timesofindia.indiatimes.com/india/mumbai-prepares-to-quarantine-26k-indians-coming-from-gulf/articleshow/74701638.cms