PM Modi calls for innovative ideas to check corona
莫迪总理呼吁人们分享创新理念来遏制新冠病毒的传播
NEW DELHI: Prime Minister Narendra Modi on Monday launched a social media campaign seeking technology-driven innovative ideas from people to contain spread of Covid-19, saying selected ideas adopted for implementation will be duly rewarded.
新德里:印度总理纳伦德拉·莫迪周一在社交媒体上发起了一场运动,旨在集思广益,寻求技术驱动的创新想法,以遏制covid19的传播,并表示被选中的创意将获得适当的奖励。
"In order to involve the community in the fight against the virus, we would want you to share your solutions to help fight coronavirus. Submitted solutions will be evaluated for adoption and those selected will be suitable rewarded. Be a part of the mission against coronavirus," the Prime Minister said urging people to share their ideas on the go nment portal.
莫迪总理敦促人们在政府门户网站上分享他们的想法:"为了让大家参与到对抗病毒的战斗中来,我们希望你们能分享方案来帮助对抗冠状病毒。提交的方案将经过评估,以供采纳,被选中的方案将获得适当的奖励。参与到抗击冠状病毒的使命中来吧。"
The Prime Minister said public participation in the campaign against spread of the virus has played a huge role in making the campaign successful.
总理表示,公众的参与对抗击病毒传播的成功能起到巨大的作用。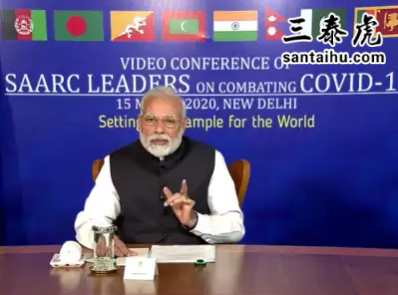 "Harnessing innovation for a healthier planet. A lot of people have been sharing technology-driven solutions for Covid-19," Modi tweeted, adding, "I would urge them to share them on@mygovindia. These efforts can help many." He said, "The go nment is taking all necessary steps to ensure that we are prepared well to face the challenge and threat posed by the growing pandemic of Covid-19 – the coronavirus. With active support of the people of India, we have been able to contain the spread of the virus in our country."
莫迪在推特上说:"利用创新打造一个更宜居的地球。很多人都在分享Covid-19的技术驱动方案,我敦促他们在政府门户网站上分享这些方案。"
这些努力可以帮助很多人。政府正在采取一切必要的措施,做好充分准备,应对日益严重的疫情所带来的挑战和威胁。在印度人民的积极支持下,我们已经能够控制病毒在国内的传播。"
He said the most important factor in preventing the spread of the virus is to empower citizens with the right information and taking precautions as per the advisories being issued by the health ministry.
莫迪表示,防止病毒传播最重要的是向公民提供正确的信息,并根据卫生部发布的警告采取预防措施。
"Further, we are also getting inputs with regard to individuals and companies who have developed technologies and innovative solutions, Bioinformatics, datasets, apps for diagnosis etc that can be leveraged for strengthening the fight against coronavirus," the Prime Minister said.
莫迪总理称:"此外,我们也获取了来自个人和公司的信息,他们已经开发了技术、创新方案、生物信息学、数据集、诊断应用程序等,这些都有助于抗击新冠病毒。"
印度时报读者的评论:
译文来源:三泰虎 http://www.santaihu.com/49521.html 译者:Jessica.Wu
srini • hyd • 3 hours ago
It is not a school kids competition for selecting and giving prizes. Let competent doctors work on it.
这不是学校里的儿童选拔和颁奖比赛,让有能力的医生上吧。
Harichandan Mishra • 1 hour ago
Don't use AC.
At least 2 hours in sunlight per day.
Avoid all types of nonveg.
Use tulsi leaf (7) juice and one spoon honey to keep individual away from caugh and cold.
Spray cow dung water in front of your house.
不要使用空调。
每天至少晒太阳2小时。
不吃非素食。
喝罗勒叶汁配一勺蜂蜜,防感冒。
在屋前喷洒牛粪水。
Angraj Mishra • New Delhi • 2 hours ago
Now Modi will say that apart from being an astrophysicist, he's also an MBBS degree holder.
现在莫迪会说,他不仅是天体物理学家,还持有医学士学位。
Common Man • India • 3 hours ago
Modiji is sad. No vacation.
莫迪真可怜,没有假期
KVH• 2 hours ago
But you can take. Rome, Iran Turkey, and the best of all China. Please dont miss.
你可以去度假,罗马,伊朗,土耳其,最好是去中国,不要错过啊。
Common Man • India • 3 hours ago
Bhkt will open gounutra swimming pool.
印度人将开放牛尿泳池
Sukumar • 3 hours ago
complete shutdown for 4 years till your time is over
下令歇业4年,直至你的任期结束
Jagdip Vaishnav • Mumbai • 2 hours ago
Innovative idea is,Improve Health care system
创新理念就是完善医疗体系
S • Others • 2 hours ago
This is plan implementation phase, idea seeking phase got over 2-3 months ago...
2-3个月前就该让大家出谋划策了,现在该是实施阶段了
Nation First • New Delhi • 3 hours ago
First tell the people to not move out of their homes unnecessarily. No one will die if you don't shop or roam about in malls and complexes for a few weeks.
Indians somehow living in a delusion that they wont get Covid 19.
首先告诉人们,没有必要的话不要出门。几周不购物或者不去购物中心逛,不会死的。印度人总有一种错觉,以为自己不会感染新冠肺炎。
Jack Saunders • Mum Bhai • 3 hours ago
Why is he not disclosing the antidote for the virus. Gaumutra when consumed makes the body immune to the virus. Video available of program launched to fight the virus
莫迪为什么不公布这种病毒的解药,喝牛尿可以获得免疫力啊。
Paadi Pantalu • 3 hours ago
Mr.PM, Your PMO office is a piece of junk, most of the critical suggestions sent to them go to dustbin or file.
总理先生,寄去你办公室的大部分建议不是被扔进了垃圾箱,就是被封存在档案里了
Vikrant Sharma • 1 hour ago
Maybe its due to his own travel ban.
也许是因为他自己出不了国了。
Shakcrazy1 • 1 hour ago
very simple Modiji....drink gau mutr n apply gau gobar on whole body...aur isse Acha innovative idea kya Hona..
莫迪,方法很简单,喝牛尿或者把牛尿涂满全身,这就是一个创新想法。
Shaukat Pervez • 2 hours ago
modi and his hindu rss thugs lock down Kashmir and nobody said nothing, now GOD lock down the whole world. is this a warning to hindu rss thugs from GOD?
莫迪和他的印度教右翼暴徒封锁了克什米尔,没人说什么,现在上天封锁了全世界,这是神对印度教右翼暴徒的警告吗?
Arvind • 2 hours ago
Stop completely inbound air traffic.Corona has come in India thr incoming people by air. Become wreckless and completely seal the country and stop in coming traffic and flights. This is the only way to keep under check the corona.
全面停飞国际航班。新冠病毒是航班携带到印度来的。完全封锁整个国家,暂停入境交通。这是印度控制新冠病毒的唯一方法。
Alien on a trip here • Solar System • 3 hours ago
Sanitize and disinfect all slum and dense areas thoroughly and frequently. Thats a hot spot for virus to multiply and spread fast.
对所有贫民窟和人口稠密地区频繁进行彻底清洁和消毒,这些地方是病毒快速繁殖和传播的热点地区。
Ajay Gupta • 3 hours ago
White bright LED bulbs of over 25W inside home and over 500W outside in public places can eradicate Covid19 Corona virus.
室内25瓦以上、室外500瓦以上的明亮LED灯泡,可灭Covid19病毒???
Anthony Dinozzo Jr • 21 mins ago
By this, it shows that his first priority is nation and its people. Given the current scenario, I hope for the best.
由此可见,莫迪优先考虑的是国家和人民。考虑到目前的情况,我希望一切顺利。
king • chennai • 1 hour ago
when did you listen to common people
你什么时候听过老百姓的建议?
Indian
medicines will have to be invented but what till then. Prevention is the only right way. Also note medicines are not without side effects
我们赶紧研制治疗新冠肺炎的药物,没有研发出来之前,预防是唯一的方法。还要注意的是,药物都有副作用啊
Kapil
PM Modi has no innovative ideas for reviving economy that was ruined before Corona Virus outbreak. Now he is trying to show himself a innovative leader which he is not.
疫情爆发之前,印度经济就已经被毁了。莫迪总理现在没有办法恢复经济。
现在他正努力向世人展示他是一个有创新精神的领导人,实际上他不是。
Dilbag Rai • Chandigarh
Every country should think about the innovative ideas ro control the spread of corona
每个国家都应该想想如何才能更好地控制新冠病毒传播
Indra Prabha • faridabad
We are all aware by now what would help control the desease.All gatherings;from marriges to mourings mus thbe stopped completely.
现在我们已经知道怎样做才能控制疫情了。所有的聚会,从结婚到葬礼,都不能办
Dean • traveller
crush parijaat ( Jasmine ) leaves and extract the juice. mix it with honey and adminster it upon patients.
nb take equal amounts of honey and parijaat juice.feed only a teaspoon of the mixture at a time. twice a day.
this is a Desi medicine which adivasis use.and it works against all types of influenza. even upon malaria.
捣碎茉莉叶、榨汁,和蜂蜜混合,涂在病人身上。将等量的蜂蜜和茉莉叶汁混合,一次喝一茶匙,一天两次。这种药对所有类型的流感都有效,甚至对疟疾都有效
Rakesh
Sir i appreciate your appeal to public but such work can be done only through research and education.
先生,你呼吁民众出谋划策抗击疫情,这点我很欣赏,但是这要靠研究啊。
Tutu • patna
Gau mutr and panch gavya.. I had already shared. This idea is worth trying all over the world. I m sure it will work. Then we can make patent of it and can make money through export
喝牛尿,这个创意值得全世界去尝试。我相信会成功的。然后我们可以申请专利,通过出口牛尿赚钱
King_maker69 • India • 35 mins ago
Your favorite drink Gau mutram......
你最爱的饮料-牛尿
Hammer • 37 mins ago
Why not search for medicines in Vedas and Upanishads to cure Coronavirus
为什么不从《吠陀经》和《奥义书》中寻找治疗冠状病毒的药物呢?
Brahmadathan Kootallur • 54 mins ago
Treatment is going to be extremely difficyult and expensive. So prvention is better than cure.
新冠肺炎很难治,费用也非常昂贵。预防胜于治疗。
Hitesh • 1 hour ago
Creating a vaccine from infected patients is something can be thought of
从受感染的病人身上突破,研制疫苗,应该可以一试
外文:https://timesofindia.indiatimes.com/india/pm-modi-calls-for-innovative-ideas-to-check-corona/articleshow/74665096.cms