Thinking of giving up social media accounts this Sunday: PM Modi
莫迪总理:考虑于本周日放弃社交媒体账号
NEW DELHI: Prime Minister Narendra Modi on Monday tweeted that he is thinking of giving up all his social media accounts this Sunday, but stopped short of providing any further details.
新德里:周一,印度总理纳伦德拉·莫迪在推特上表示,他正在考虑于本周日放弃所有社交媒体账号,不过他未谈到更多细节。
"This Sunday, thinking of giving up my social media accounts on Facebook, Twitter, Instagram & YouTube. Will keep you all posted," he tweeted from his offi al handle.
他在推特上写道:"我考虑于本周日放弃我在Facebook、Twitter、Instagram和YouTube上的社交媒体账户。"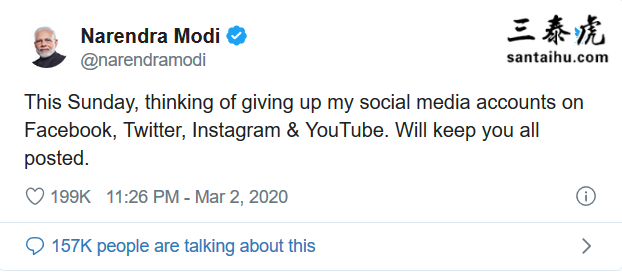 When contacted, sources refused to divulge any details and said that future plan of action will be disclosed in the next few days.
消息人士拒绝透露任何细节,他表示将在未来几天透露行动计划。
Within minutes of the tweet, #NoSir started trending on the microblogging website.
这条推文发布几分钟后,#No Sir(不要啊,先生)就开始在推特上流行起来。
The tweet led to a host of questions on social media. While many users wanted to know the reason behind the announcement, some wondered how he will keep them posted if he quits social media.
这条推文在社交媒体上引发了一系列疑问。许多用户想知道这一声明背后的原因,也有一些人想知道,如果他退出社交媒体,怎么能看到他发的帖子。
Prime Minister Modi is among the most popular and active global leaders on social media, with close to 53.3 million followers on Twitter.
莫迪总理是社交媒体上最受欢迎、最活跃的全球领导人之一,在Twitter上有近5330万粉丝。
He is also the world's most followed or liked world leader on two other social media platforms — Facebook and Instagram.
他也是其他两个社交媒体平台——Facebook和Instagram上最受关注或最受喜爱的领导人。
In a list of 50 most followed active world leaders on Facebook, PM Modi tops the list as his offi al page is liked by over 44 million people, more than that of US Presi nt Donald Trump. On Instagram, PM Modi is followed by over 35 million people.
在Facebook上最受关注的50位活跃世界领导人名单中,莫迪总理名列榜首,为他的官方页面点赞人数超过4400万人,超过了美国总统唐纳德·特朗普。在Instagram上,莫迪总理的粉丝超过3500万。
From his famous "Main bhi Chowkidar" campaign in the run up to the Lok Sabha ions last year to ro in celebrities and famous personalities to prome voting, PM Modi has actively used social media during his tenure.
从著名的"Main bhi Chowkidar"竞选活动到去年的人民院选举,再到通过拉拢名人来拉票,莫迪总理在任期间一直积极活跃在社交媒体上。
印度时报读者的评论:
译文来源:三泰虎 http://www.santaihu.com/49448.html 译者:Jessica.Wu
Top Comment
I will also give up. I am willing walk any distance with my leader of India.
我愿意紧跟印度领袖,我以后也不上社交媒体了。
Mohanraj • coimbatore • 3 days ago
Please start a desi version of twitter, facebook, instagram and
Whattsapp, Mr Namo. Let us get rid of corrupt western influences.
莫迪,开始用印度版的twitter、facebook、instagram和Whattsapp吧,带领我们摆脱西方的影响。
Vicky Rajput• 3 days ago
so you want indians to be copy cat .. not innovative...
看来你想让印度人去山寨,而不是创新啊
Advaiti • 3 days ago
not a good thing. you must keep it.
这样不好,莫迪,你应该继续玩社交媒体
Pehle • 3 days ago
BJP IT Cell coolies also bound to loose their jobs
印度人民党的水军要失业了
Renuka • Mumbai • 3 days ago
excellent idea.....con trate on work ahead
好主意.....这样你可以专心工作
Droid• 3 days ago
like he was distracted by social media lol ....
他被社交媒体分散了注意力,哈哈…
Parvez
You need to also give up Prime Minister position as well.
你还应放弃总理职位。
Sameer Koul
Great idea. Atleast you will stop talking and start working after that.
好主意。至少不玩社交媒体后,你就不会喋喋不休了,就会专心工作了。
Kk Arora
He works for 18 hours in a day since last 6 years of power. He has no personal objectives. His brother is a labourer and mother living in a simple house. You tell when you will start working for the betterment of the society mr. converted fool.
上台6年来,他每天工作18个小时。他这么努力工作,不是为了自己,他的弟弟是个工人,母亲住在一所简陋的房子里。
Tahir Manjeshwar• 3 days ago
He wants to be pm forever....no one else from bjp will be pm candidate until he's aive... he's an attention seeker...big time feku
他想当总理一直当下去……只有莫迪最适合当总理了,人民党就没有其他合适候选人…他总能博取关注。
Sasi • India • 3 days ago
Modi,
Thank you so very much. There will be lesser hate in the world.
莫迪,
非常感谢。这么一来,这个世界上的仇恨将会减少。
Jagdish Madan • Vancouver BC • 3 days ago
Wonder what could have prompted such a decision by the PM. His presence on social media is inspiring and has a substantial following. Hope he changes his mind!
想知道是什么促使总理做出这样的决定。他在社交媒体上拥有大量粉丝,能鼓舞人心。希望他能回心转意!
Lavin Vincent • India • 3 days ago
Modi should also give up on ruling India as he is no longer able to deliver on his promise, destroying the nation
莫迪也应该放弃对印度的统治,因为他没有兑现自己的承诺,他正在毁掉这个国家。
Shiv • Mumbai, Maharashtra • 3 days ago
Modi ji is a man without any personal agenda, he will do only things which are good for country & all Indians.
莫迪是一个没有任何私心的人,他一心为国家,为人民,鞠躬尽瘁死而后已。
Mohammed Hussain • 3 days ago
The only sensible thing he did after becoming a PM
以后不玩社交面媒体,是他当上印度总理后所做的唯一明智的决定
Vincent John • Bangalore, India • 3 days ago
This will be a great move. More of us should quit social media. We have lived for ages without social media. Digital world is no good. Let's live in a real and better world.
太好了。我们也应该远离社交媒体。没有社交媒体,我们也生活了很多年。数字世界不好,让我们回到美好的现实世界吧。
thil sundaramurthi• 3 days ago
infact social medias will have to be blocked.. they are e l that we need to get rid off!
事实上,我们应该封杀社交媒体,社交媒体是不良媒体,我们应该远离
Smart Indian • 3 days ago
Now all his followers will also have to quit social media.
现在,他的所有追随者也将退出社交媒体。
Mohan • 3 days ago
PM Modi don't need any social media support.Definitely he will come back 2024 ion also.
莫迪总理不需要任何社交媒体的支持。毫无疑问,他会在2024年的大选中获胜。
Pure • 3 days ago
please think of giving up your PM post as you and your has ruined India
请考虑放弃总理职位吧,你和你的政党已经毁了印度。
Bllog Suri • NA • 3 days ago
Nothing useful has ever come out of your social media postings.
你在社交媒体上发布的帖子没有任何价值。
Ashweej NR • 3 days ago
Whether u are there or not in any social media platforms, the love of majority of Indians and people across the world will always be there for u....
无论你是否玩社交媒体,大多数印度人乃至全世界人民将永远爱戴你……
Sushil • 3 days ago
it can lead to constipation!!!
不玩社交媒体,会便秘的!!
Hussain Ahmed • 3 days ago
Better give up ur PM seat..
最好放弃总理一职
D Bhat • India • 3 days ago
Probably Modiji is sick and tired of irresponsible media spreading fake news.
莫迪可能厌倦了不负责任的媒体,这些媒体总是传播假新闻。
Dhairya • 3 days ago
that announcement comes on social media only
这一声明只在社交媒体上发布
Nikhil H • Traveler • 3 days ago
Good...time to make your action speak rather than tweets
很好…是时候好好做事,别老是在那发推文了
ILIYAS KHAN• 3 days ago
Give up hatred instead.
还是放弃仇恨吧。
Indian • India • 3 days ago
pls keep social media accounts. but give up the post u are holding
社交账号你留着,放弃总理一职吧
外文:https://timesofindia.indiatimes.com/india/thinking-of-giving-up-social-media-accounts-this-sunday-pm-modi/articleshow/74445600.cms