Coronavirus: 29 positive cases in India, states join hands to step up efforts
冠状病毒:印度29例确诊,各邦携手努力抗疫
NEW DELHI: The novel coronavirus scare in India took a serious turn on Wednesday, with the health ministry confirming as many as 23 new cases — all in Delhi, Agra and Jaipur — taking the total number of people who have so far been infected to 29.
新德里:周三,印度卫生部证实印度新增病例多达23例,全部在德里、阿格拉和斋浦尔,迄今为止感染的总人数达到29人。
A 26-year-old Paytm employee, a resident of Pankha Road in Janakpuri, became the second Delhi resident to contract Covid-19. He had recently returned from a vacation in Italy, a coronavirus hotspot.
一名26岁的Paytm雇员是第二位确诊的德里居民,他最近刚从意大利度假回来,而意大利是冠状病毒的爆发区。
A majority of the new cases were among a party of Italian tourists, with 15 more testing positive for the virus, including the wife of the 69-year-old man, currently being treated in Jaipur, who had possibly carried the infection from Italy.
大多数新病例来自一群意大利游客,其中15人的病毒检测呈阳性,包括目前在斋浦尔接受治疗的69岁男子的妻子,她可能在意大利感染了病毒。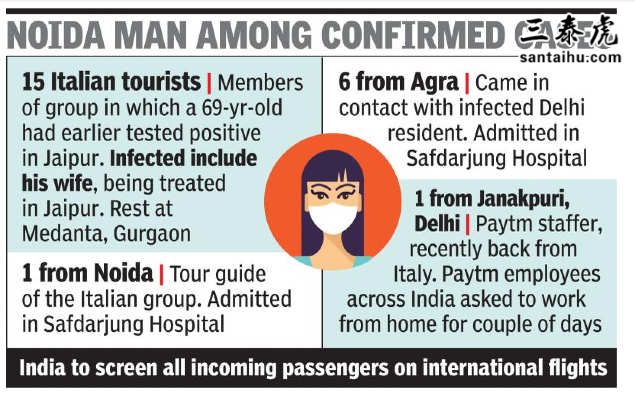 Others included six relatives from Agra of the Delhi resident who had earlier tested positive for the infection.
其他病例包括德里居民的6名亲属,他们来自阿格拉,检测呈阳性。
The Paytm employee worked at the company's Gurgaon office, which has been shut for 15 days. The company's employees in Noida and other offices across India have been advised to work from home for the next two days. Paytm has also advised all team members who were in contact with the patient to get tested. The firm has nearly 3,000 employees, and the majority work out of its offices in Noida and Gurgaon.
Paytm雇员在该公司的古尔冈办公室工作,该办公室已经关闭了15天。该公司在诺伊达和印度各地其他办公室的员工被建议未来两天在家办公。Paytm还建议对与患者有过接触的所有团队成员进行检测。该公司有近3000名员工,大多数人在诺伊达和古尔冈的办公室工作。
Govts join hands to step up efforts
政府携手努力
Health officials in Delhi, Haryana, Uttar Pradesh and Rajasthan – where the Covid-19 patients have been travelling – face a massive task of tracing and testing everyone who may have come in contact with the infected people. The number of such persons is estimated to be over 100.
德里、哈里亚纳邦、北方邦和拉贾斯坦邦的卫生官面临一项艰巨的任务,即追踪和检测所有可能与感染者有过接触的人。这些人的人数估计超过100人。
"The Italian nationals who tested positive for Covid-19 had been travelling across Rajasthan, Agra in Uttar Pradesh and parts of Delhi, before being put under isolation. The Delhi resident, too, came in contact with more than 60 individuals including his family members from the time he returned from Italy – where he is suspected to have caught the infection – to the time when he was finally tested positive for the novel coronavirus infection," said a source.
消息称:"这些在新冠病毒检测中呈阳性的意大利人在被隔离之前,去过拉贾斯坦邦、北方邦的阿格拉和德里部分地区。那位德里居民被怀疑在意大利感染,从意大利回来后直到他最终确诊期间,也接触了60多个人,包括他的家人在内。"
Meanwhile, Paytm announced a slew of precautions after one of its employees tested positive.
Paytm一名员工检测呈阳性后,公司宣布了一系列预防措施
A company spokesperson said, "One of our colleagues who recently returned from Italy has sadly been tested positive for coronavirus. He is receiving treatment (at Safdarjung hospital) and we are extending complete support to his family. As a precautionary measure, we have suggested his team members to get health tests done immediately. We have also advised all our colleagues to work from home for a couple of days while we get our offices sanitised. However, there will not be any impact on our daily operations and Paytm services will continue as usual."
公司的一位发言人表示:"我们的一位同事最近刚从意大利回来,遗憾的是他的冠状病毒检测呈阳性。他正在(萨夫达荣医院)接受治疗,我们将全力支持他的家人。作为预防措施,我们建议他的团队成员立即进行检测。我们还建议所有同事在家办公几天,以便对办公室进行消毒。不过,我们的日常运作不会受到任何影响,Paytm服务亦会照常提供。"
印度时报读者的评论:
译文来源:三泰虎 http://www.santaihu.com/49442.html 译者:Jessica.Wu
Vmcx • 5 hours ago
why are they not testing Pappu? he returned from Italy recently and met people in Delhi .......
为什么他们不让拉胡尔去做检测?他最近刚从意大利回来,在德里会见了一些人
Arun Choudhary • 3 hours ago
These ITLY tourist they have must be relative of Soniya
这些意大利游客一定是索尼娅的亲戚
Madan Mohan Siddhanthi • Mumbai • 3 hours ago
This vorus is less dangerous to the people and nation than the Italian and nehru dynasty virus
新冠病毒对人民和国家的危害比尼赫鲁王朝的要小
Truthfulnessreflects • 5 hours ago
16 Italians were spreading Virus from last 10 days in all Rajasthan.... I am dead sure the count is more than thousand... incubent period is 14 days and one man can affect at least 10 more...
过去10天里,这16名意大利人在拉贾斯坦邦传播病毒。我敢肯定有一千多人感染……潜伏期为14天,一个人至少可以感染10个以上…
murthy krishna • 2 hours ago
It is proved onceagain that anything connected to Italy including Italian lady is dangerous and bad for India ......
事实再次证明,任何与意大利有关的东西,对印度都是危险有害的,包括那个意大利女人索尼娅
Guest • 2 hours ago
Coming from Italy
从意大利输入的?
Krishna • 2 hours ago
Virus from Italy! Again?
又是从意大利传过来的病毒?
Swapnil Rao • 2 hours ago
Killing Eating Animals is a Sin. Had World Adopted Sanatan Dharma Hinduism Buddhism Jainism Nonviolence way of life such a catastrophy wouldn't have happened. Now rigorous hygiene handwashing , Mask extremely necessary. Remember, Namaskar No Handshake
杀动物、吃动物是罪过。如果全世界都信佛,都选择非暴丽的生活方式,这样的灾难就不会发生了。现在号召大家讲究卫生,勤洗手,戴口罩极为必要。记住,不要握手
Please Let Me Speak • 3 hours ago
This virus is deadly, govenment and people should take proper measures ..
这种病毒是致命的,印度政府应该采取适当的预防措施。
Cometotom• 2 hours ago
People also should take precaution , wash your hands regularly ,n avoid heavily croweded places
人们也应该采取预防措施,勤洗手,避免去人多拥挤的地方
Gaana • 1 hour ago
where is CAA. NOW CORONA VIRUS WILL SPREAD TO PEOPLE WHO PROTEST ON LARGE GEATHERING.
NOW GO OUT AND PROTEST AND ENJOY
冠状病毒会传播到那些扎堆抗议的人身上,出去抗议吧
New • dd • 1 hour ago
travelling should be minimum and work from home is a better option ............................
少出门,在家办公是更好的选择
HappyTimes User • 3 hours ago
Dont worry. Corona virus kill only to terrorist rapist and criminals. If you are none of this dont afraid.
不要担心。冠状病毒只会感染恐怖分子、强奸犯和罪犯。如果你不是,就不要害怕。
Rajkumar • 4 hours ago
the immunity level in indivisual has to be increased. drink AMLA juice. eat raw garlic.more.
我们应当提高自身的免疫力,印度醋栗汁喝起来,多吃生大蒜。
Sejalkumar Mohanbhai Patel • SURAT • 54 mins ago
mass gathering activities should be strictly reduced
减少大型集会活动吧
Chandrasekaran Krishnamurthy • 1 hour ago
Time for action in a war footing. Tourists may be denied visa indefinitely till normalcy is restored.
是时候采取紧急行动了,在恢复正常之前,游客可能会被无限期拒签。
Alishablan • 9 mins ago
I want to ask a question. why airport authority did not check them? when they were alighting at airport. Airport authority should have checked them. then Allow to enter in to enter into the states.
now they infected person are spreading out virus
我有个问题。为什么机场没有对这些游客进行检测?他们下飞机时,机场应该检查的,然后才能允许入境。现在被他们感染的人正在传播病毒
Maya • Pune • 1 hour ago
Hygiene, cleanliness is our only means to combat this virus. Not panic but being sensible is our only recourse.
保持卫生和清洁是我们对抗新冠病毒的唯一手段。不要恐慌,要保持理智。
New • dd • 1 hour ago
use face mask and minimize travel unless it is necessary .........................................
戴口罩,如非必要尽量少出门
Kumar • Jai Hind • Bangalore • 56 mins ago
How many hospitals has Modi built since 2014?
2014年以来,莫迪建了多少所医院?
devanna bn • 1 hour ago
We never expected that Sonia ghandi will use Italy for spreading virus in India
我们从没想过索尼娅·甘地居然玩这么一出,病毒居然从意大利传播到印度了
Sambhu • raipur • 1 hour ago
how come the tourists are allowed to roam around freely,
为什么允许这些游客到处逛?
Deepak • delhi • 4 hours ago
media Cry. the virus has less than 2% fatalities. lesser than infkuenza , SARS,. more people die from road accidents and malaria every day..media must play a construction role instead of spreading panic
媒体大惊小怪。这种病毒的致死率不到2%。比流感、SARS低。每天死于交通事故和疟疾的人都更多。媒体不要散播恐慌
SRINIVASA BABU.R • BALRAMNAGAR • 4 hours ago
People should not get panicked.
人们不应该惊慌失措。
Narendra Laxman• 4 hours ago
People need to stay home, calm, eat good food, and maintain hygiene to not attract any virus
人们应该呆在家里,保持冷静,该吃吃该喝喝,保持卫生,以免感染任何病毒
Dreet • Edison NJ • 4 hours ago
Italy has confirmed that it will shut all schools from Thursday for 10 days as it battles to contain the coronavirus outbreak.
意大利已经确认从周四开始,所有学校将停课10天,以控制疫情的蔓延。
Ems 11• 4 hours ago
It is time that we Harshly confront people who sneeze without covering their faces or blow their noses using barehands and spit in public.
是时候对那些打喷嚏不遮脸或在公共场所用双手擤鼻涕、吐痰的人采取严厉措施了。
Dreet • Edison NJ • 5 hours ago
Emulate Italy and shut down all schools and colleges and tution centres in the Delhi NCR region immediately
效仿意大利,立即让德里NCR地区的所有院校和辅导中心停课
外文:https://timesofindia.indiatimes.com/india/coronavirus-29-positive-cases-in-india-states-join-hands-to-step-up-efforts/articleshow/74483745.cms