Since more and more Chinese villages are deserted and peasants are becoming city residents, will Chinese traditional culture disappear?
随着越来越多的中国乡村被遗弃,农民变成城市居民,中国的传统文化会消失吗?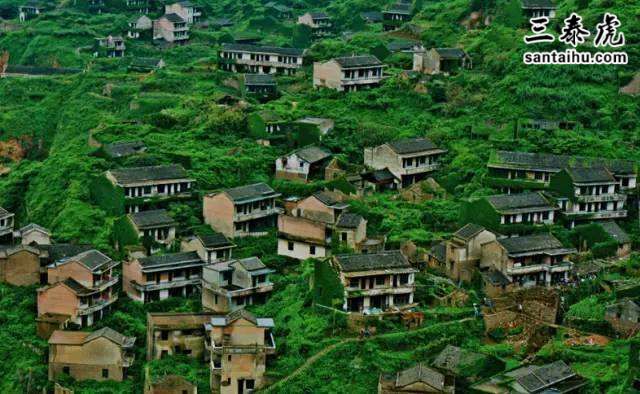 以下是Quora读者的评论:
Justin McCandless, Programmer and traveler
In the US, many people young and old live in the country in small towns and are very proud of that fact. You could offer them a wall street penthouse and they wouldn't take it.
In China, I got the feeling that there was less of this sentiment right now, and people were overly attracted to the promise of the booming cities. Even in the countryside, I saw several tiny agricultural villages with a big new apartment building being built right next door to old brick courtyards, in what seemed like an out of place attempt to imitate the city.
在美国,许多年轻人和老年人都住在小城镇里,并为此感到非常自豪。你如果给他们一套华尔街的顶层公寓,他们也不愿接受。
在中国,我感觉现在有这种想法的人比较少,人们被蓬勃发展的城市所吸引。即使在农村,我也看到了几个小型农村里,新的公寓大楼就建在老砖房庭院的旁边,这似乎是一种格格不入的效仿城市的尝试。
When this gold rush to the big cities has died off a bit, I think that some people will be attracted to a more traditional lifestyle over continuing the metropolitan rat race. Yes culture is always changing, but I think that from here, there can only be more people interested in living China's traditional rural lifestyle, not less.
As a disclaimer, these are the impressions of an American that worked in Beijing briefly and made the occasional excursion into the countryside, which is barely enough experience to make a guess at a big question like this. I'd love to hear the opinion of anyone else with exposure to this kind of shift in China or elsewhere
当这股涌向大城市的淘金热逐渐消退时,我想会有人被更传统的生活方式所吸引,不愿在大城市里你争我夺。是的,文化一直在变化,但我认为,从现在开始,只会有更多的人对中国传统的农村生活方式感兴趣。
免责声明,以上是一个美国人的印象,他在北京工作过一段时间,偶尔会去乡下走走,要让一个人对这样的大问题做出判断,这些经历其实很不够。我也很期待其他在中国或其他地方经历过这种转变的人谈谈自己的看法。
Patricia Collins, Very diverse interests and academic background
Any culture changes as the environment changes and as the people in the culture migrate. In China there have been go nments that have required their citizens to change their cultural ways (rapidly; not evolutionarily).
Similarly in the U.S., Native Americans were forced to change many of their cultural traditions and are now working hard to restore them. This has meant finding artifacts that help them learn their native language, a language they were forbidden to speak for 3-4 generations. They are also relearning their cultural foods, dress, and dances. But few Native Americans would deny that their traditional culture has nearly "disappeared"-- as they are stuck on barren reservations with extremely high unemployment and limited ability to carry out their traditional ways of food gathering and, in some cases, migrating. They have cell phones, high-def television, and WiFi.
所有文化都是随着环境的变化和文化中的人的变化而变化的。在中国,有些政府要求公民迅速改变他们的文化习惯,而不是慢慢改变。
美国也是如此。在美国,印第安人被迫改变了他们的许多文化传统,现在他们正努力恢复这些传统。这意味着要帮助他们学习母语,在这之前已经被禁用了3-4代时间了。他们也重新学习他们的文化食物,服装和舞蹈。但几乎没有印第安人会否认,他们的传统文化几乎已经"消失"——因为他们被困在贫瘠的保留地,失业率极高,实施传统的食物采集方式,甚至在某些情况下的迁徙,能力有限。他们已经拥有了手机、高清电视和WiFi。
What rural Chinese cultures (there have to be many, given the size of the country!) almost surely cannot retain all the traditional ways, they have the advantage of being able to write down the revered elements of their culture and their "ways" of living. This would do a lot to keep those cultures from disappearing soon. And some young people will want to return to a rural, traditional Chinese culture. The key will be weather than can bring a kind of work that makes an adequate income without spoiling the rural cultural region.
中国农村文化(考虑到国家的大小,肯定很丰富)几乎肯定无法保留所有的传统,他们的优势在于能够写下他们的文化和生活方式中令人敬畏的元素。这有助于防止这些文化很快消失。一些年轻人想要回归中国传统的乡村文化。关键就在于能不能在不破坏农村文化区域的前提下,提供收入充足的工作。
译文来源:三泰虎 http://www.santaihu.com/49395.html 译者:Joyceliu
Nancy Parker, former Retired Small Business Owner
I doubt it will disappear, but it will change. Look at the nomads in Mongolia--the famous horseback riders. Or indigenous people in South America. The only constant is change-said by somebody whose name I don't remember.
文化会不会消失,我不确定,但肯定会改变。看看蒙古的游牧民族—出了名的马背上的民族。或者南美洲的土著人。唯一不变的就是变化本身——我不记得是谁说的了。
Swagato Barman Roy
Maybe. A lot of traditional cultures are waning across the globe as it becomes more homogenised. And cities are melting pots of cultures, ethnicities where some aspects of some culture thrive, some others disappear. It may make some people happy, some people sad.
But I hardly see that as a cause of serious concern
也许吧。随着世界越来越同质化,全球许多传统文化正在衰败。城市是文化和种族的大熔炉,有些文化繁荣,有些文化消失。它可能使一些人快乐,一些人悲伤。
但我并不认为这是一个值得严重关切的原因。
Alex Leigh
Old traditions gradually fade away. New traditions grow day by day. Nothing need to be worried about. Traditions are always changing from time to time.
老传统逐渐消失。新传统日益发展。没什么好担心的。传统总是在不断地变化。
Craig Jackson, former Medical Transcriptionist (1980-1998)
Certain local and regional cultures (customs, dialects, cuisines, dress, etc.) will probably die out eventually, although some features may persist in the general culture. As the population concentrates in cities, the culture will become more and more homogeneous. However I think there will always be remote or isolated places where the old traditions will survive, as long as enough people continue to live there
某些本土和区域的文化(风俗、方言、烹饪、服装等)可能最终会消失,尽管某些特征可能会在整体文化中保留下来。随着人口集中在城市,文化会变得越来越同质化。然而,我认为只要有足够多的人继续生活在偏远或与世隔绝的地方,古老的传统将永远存在。
Mark Doldon, I came, I saw, I told you
What exactly do you think traditional culture is? No Chinese live as they did 5000 years ago, so when exactly did this traditional culture start?
People change, society changes, culture changes. It is frankly preposterous to think that it would ever be static. Or that anyone would even WANT it to remain static
你认为传统文化到底是什么?没有中国人会像5000年前那样生活,那么这种传统文化到底是从什么时候开始的呢?
人变了,社会变了,文化就变了。坦率地说,认为传统会保持静态的想法是荒谬的。任何希望它保持静态的人也是荒谬的。
Mingze Chen
I agree in the past we lost a lot Chinese traditional culture. But now quite a lot people working on it to help the situation.
Firstly, it is true some cultures are disappearing as the living way changed. Now with all society seeking high efficiency, quite a lot traditional houses and activities were abandoned. In Zhejiang province, a lot people make a great banquet to sacrifice their ancestors. This usually content 9 dishes, include beansprouts, fish and a lot other dim sums. Because its complexity, more and more people stop doing that.
我同意,过去我们失去了很多中国传统文化。但是现在很多人都在努力解决这个问题。
首先,随着生活方式的改变,一些文化的确正在消失。现在全社会都在追求高效率,很多传统的房屋和活动都被抛弃了。在浙江省,很多人举行盛大的宴会来祭祖。通常会有9道菜,包括豆芽,鱼和许多其他点心。因为它的复杂性,越来越多的人都终止了这个做法。
But on the contrary, less affluent area in China, like Guizhou Province, culture still well kept ,especially now most of these areas use their unique culture to attract tourists.
There was an interesting story, in a small tribe in northwest, people make a kind of special cloth with fish-skin,a father trying to pass the this technique to his son, but his son refused, for he think that will not make living. But when more people trying to buy this handcraft with great price, the son begged his father teach him as soon as possible.
The go nment do a lot jobs to tackle the problem by adding more traditional festivals into official holidays and recently they even did some promotions this year(2018) to help the recovery of traditional clothes-Hanfu.
In conclusion, Chinese cultures disappear a lot in the past. But with now both go nment and people realize this problem, it may see a revival.
但在另一方面,在中国不太富裕的地区,比如贵州省,文化仍然保存得很好,现在这些地区大多利用自己独特的文化来吸引游客。
有一个有趣的故事,在西北的一个小村落里,人们用鱼皮做一种特殊的布,一个父亲试图把这种技术传给他的儿子,但他的儿子拒绝了,因为他认为这个手艺没法养家糊口。但当越来越多的人想花高价购买这一工艺品时,儿子主动恳求父亲尽快把手艺传给他。
为了解决这个问题,政府做了很多工作,在法定假日中增加了更多的传统节日,他们甚至在2018年做了一些宣传,帮助恢复传统的汉服服装。
总之,中国文化在过去消失了很多。但现在政府和人民都意识到这个问题,我们也许能看到中国传统文化的复兴。
Jessica Lin, Fearless
Here's an example. Now more and more Chinese people move to the states, but they probably only choose to live in the communities where most Chinese are living. They don't speak English; they don't eat western food; they don't let they kids date the white or black; they prefer Chinese New Year than Christmas. The fact is most Chinese people specially the older ones willl not change their life styles and moral standards that they already get used to even they are in another country. So traditions can be saved in this way
我来举个例子。现在越来越多的中国人搬到美国,但他们可能只选择住在中国人聚居的社区。他们不会说英语;他们不吃西餐;他们不让孩子和白人或黑人约会;他们喜欢中国新年胜过圣诞节。事实上,大多数中国人,尤其是年长者,即使身处另一个国家,也不会改变他们已经习惯的生活方式和道德标准。所以传统可以通过这种方式保存。
Shijia Wei, lived in China
Did traditional European culture disappear because more and more peasants became workers in the course of industrialization? You could expect similar things to happen in China.
And saying these villages are the epicenter of Chinese culture is a bit far-fetched. I'm pretty sure most are happy with the comforts of apartment buildings and prefer it over the old brick houses. (I mean, you see it in the video, if you were to choose, which one would you prefer?) It's just the docu wouldn't put emphasis on that, or else the message they plan to convey would be diluted.
欧洲传统文化的消失是因为越来越多的农民在工业化进程中成为了工人吗?中国也会发生同样的情况。
说这些村庄是中国文化的中心,有点牵强。我敢肯定,大多数人对公寓楼的舒适感到满意,相较于老式的砖房更喜欢公寓楼。
The villages don't disappear. There will be more and more modernized villages, having water, electricity and Internet connection, but with some distinct Chinese characteristics in architecture.
The problem is not that villages are changing. It's that villagers not always get enough compensation and economic benefits in the course of change.
村庄并没有消失。现代化村庄会越来越多,有水,有电,有网络,但在建筑上保留一些鲜明的中国特色。
问题不在于乡村正在发生变化。而是村民在变迁过程中往往得不到足够的补偿和经济利益。
Deco Tang, a curious guy
Can not say it disappears, but in reality we are changing.
不能说它消失了,但事实上我们正在改变。
Some example.
举一些例子吧
-1- During our traditional new year, in the past people visit the neighbors and relatives obligedly, nowadays in urban area people do not pay much time visiting neighbors (we don't know at all who our neighbors are) or relatives, of course we value the festival greatly but more people prefer to stay by the small family themselves.
1 -过去我们在传统的新年期间,人们会拜访亲戚、邻居,如今在城市地区,人们不会花很多时间拜访邻居(我们压根不知道邻居是谁)或亲戚,当然我们很重视节日,但是人们喜欢呆在自己的小家里。
-2- Big family and small family. In the past people have a lot of relatives, because parents gave birth to several children and the relationship are complex because our traditional culture emphasized so much on the order of "father and son, old and young". Now big families still exists, but in cities, there are more and more small families just comprising parents and one or two kids, the relationship with relatives becomes less complex.
-2-大家庭和小家庭。过去,人们有很多亲戚,因为父母会生好几个孩子,关系很复杂,因为我们的传统文化非常强调"父子老幼"的辈分。现在大家庭仍然存在,但在城市地区,越来越多的小家庭只有父母和一两个孩子,亲戚之间的关系也没那么复杂了。
I still remember when I was young I was always blamed by my parents for I failed to remember the righteous title respecting to the elders. For example, my grandfather had several brothers and sisters, each of them have a different status in the family and we must call their right title (not exactly title but something like "uncle" but in chinese tradition there were so many different vocabulary for guys like that).
However now my son need not to concern all this stuff, he just need to know there are uncle (my brother), aunti (my sister), grandfather and grandmother, his two cousins, that's all.
There is a lot of things about Chinese tradition are relating to family order, now that our families become smaller, certainly the tradition face challenges.
我还记得,我年轻的时候总是被父母批评,因为我记不住对长辈的正确称呼。例如,我的祖父有几个兄弟姐妹,他们在家庭中的身份不同,我们必须用准确的名号称呼他们 (不是那种"头衔",但类似于"叔叔",但在中国的传统中,有很多不同的词汇来称呼他们)。
但是现在我的儿子不需要操心这些事情了,他只需要知道有叔叔(我的兄弟),阿姨(我的妹妹),爷爷和奶奶,他的两个堂兄弟,就这些。
中国传统有很多东西都与家庭秩序有关,现在我们的家庭变小了,当然传统也面临挑战。
-3- Regarding the family order, I would share with you guys a story back to three decades ago, the story of my uncle. My father have three younger brothers and three younger sisters, the hero of this story was the youngest one of them. In the old days, the young people must show respect to the old people in every aspect of daily life, for example during dinner. The youngest one was obliged to refill the elders' bowl with steamed rice (our tradition staple food). So imagine that every evening my grandparents, my mother and father and his brothers and sisters, totally ten people having dinner, my youngest uncle was busy with refilling everyone else's bowl, he did not even have enough time to have a taste on his own, and one day he burst into tears and cried why everyone of you eat so fast that I could not sit down at all! You guess what is others' reaction? They blamed him for being disobeying.
As a result, when my grandparents died, the uncle abovementioned, did not shed a single drop of tear.
说到家庭秩序,我想和你们分享一个30年前的故事,我叔叔的故事。我的父亲有三个弟弟和三个妹妹,这个故事的主人公是他们中最小的一个。在过去,年轻人必须在日常生活的方方面面都尊重老人,例如在吃饭的时候。年纪最小的人必须帮年长者添饭(我们的传统主食)。想象一下每天晚上我祖父母、我父母亲和他的兄弟姐妹,十个人一起吃饭的场景,我最小的叔叔不停地帮其他人添饭,他自己都没有足够的时间好好吃口饭。有一天他突然哭了起来,哭诉为什么你们都吃得那么快,我完全没办法坐下来吃个饭!你猜别人是什么反应?他们责备他不听话。
因此,当我的祖父母去世时,上文提到的那位叔叔没有流一滴眼泪。
-4- In the tradition chinese culture context, children should be thankful to parents' raising unconditionally and must take care of their parents even if the parents were assholes. Now at least for those educated people such a thought looks absurd.
-4-在中国传统文化中,孩子应该无条件地感谢父母的养育,即使父母是混蛋,也得照顾好父母。至少对那些受过教育的人来说,这样的想法十分荒谬。