The little girl turning into stone: Seven-year-old suffers from incurable skin condition that makes her life 'a living hell'
女孩逐渐变成石头:七岁的她患有无法治愈的皮肤疾病,令她的生活变成"人间地狱"
A young girl is facing 'living hell' because of a rare disorder which makes her skin appear like stone.
一个小女孩正面临着"人间地狱",因为她患有一种罕见的疾病,使得她的皮肤看起来像石头一样。
Seven-year-old Rajeshwari, who lives in the Indian state of Chhattisgarh, suffers from an incurable condition called ichthyosis which causes her skin to become scaly.
7岁的拉杰什瓦里住在印度恰蒂斯加尔邦,患有一种叫鱼鳞病的不治之症,导致她的皮肤呈现出鳞状。
The rough blisters have covered her arms, legs and most of her back and make it painful for her to walk or even sit.
粗糙的水泡覆盖了她的胳膊、腿和大部分背部,让她走路甚至连坐着都痛苦不堪。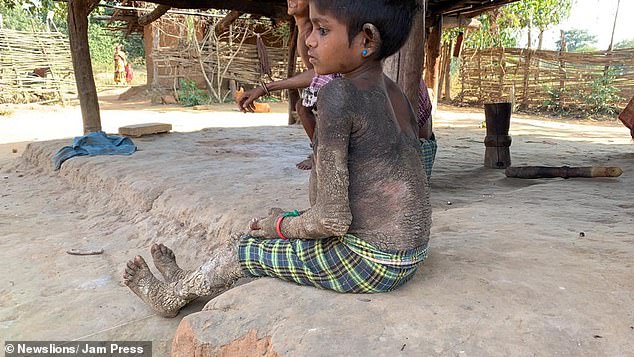 The seven-year-old lives in a tribal district in Dantewada and travelling to a nearby city for medical appointments is an additional burden.
这名7岁的儿童住在丹特瓦达的一个部落地区,前往附近的城市看病对她的家庭而言是个额外的负担。
Video footage shows Rajeshwari walking slowly and painfully into an enclosure with the scaly skin covering most of her body.
视频显示,拉杰什瓦里缓慢而痛苦地走进一个围栏,她的身体大部分都被鳞状皮肤覆盖着。
Her legs and arms are almost completely covered in blisters, including her hands and feet, with her stomach and most of her back also affected.
她的腿和胳膊上几乎全是水泡,手和脚也一样,她的腹部和大部分背部也受到了影响。
There is little health care available in the young girl's district, meaning she has to travel into the city for medical attention.
这个小女孩所在的地区几乎没有医疗服务,这意味着她必须到城里就医。
Dr Yash Upender, a dermatologist from Dantewada Hospital, specified the condition as 'epidermolytic ichthyosis'.
来自丹特瓦达医院的皮肤科医生Yash Upender博士将这种情况定义为"表皮松解性鱼鳞病"。
Ichthyosis is not usually life-threatening, but there is no cure and patients are likely to show the symptoms for life.
鱼鳞病通常不会危及生命,但目前还没有治愈的方法,患者可能需要终生忍受这种症状。
Medics say ichthyosis patients are also liable to suffer from overheating because of a reduced ability to sweat.
医务人员说,鱼鳞病患者也容易因为出汗能力下降而出现体温过热。
They are also vulnerable to infections because of cracks in their skin and may have impaired vision or hearing if skin builds up over their ears and eyes.
他们也很容易受到感染,因为他们的皮肤有裂缝,如果皮肤覆盖在他们的耳朵和眼睛上,他们的视力或听力可能会受损。
The condition is usually inherited from one's parents, but can also be acquired in connection with other health problems.
这种疾病通常是遗传自父母,但也可能与其他健康问题有关。
If a baby has inherited the condition, their skin will gradually become dry, rough and scaly - with symptoms showing before the age of one.
如果婴儿遗传了这种疾病,他们的皮肤会逐渐变得干燥、粗糙和鳞化——在一岁之前就会出现症状。
People with the condition may need to spend several hours a day caring for their skin, experts say.
专家说,有这种症状的人可能需要每天花几个小时护理他们的皮肤。
Vitamin A tablets can help to improve the skin's appearance, but do not improve the underlying inflammation.
维生素A片可以帮助改善皮肤的外观,但无法根治。
Doctors in India say there have been few cases in the country which would assist research into Rajeshwari's condition.
印度医生表示,该国很少有病例能有助于研究拉杰什瓦里的病情。
'There has not been any major breakthrough in terms of research. Currently, science has no cure for this ailment,' said Dr Satyaki Ganguly of the All India Institute of Medical Science in Raipur.
"在研究方面没有任何重大突破。目前,科学还没有治愈这种疾病的方法,"位于赖布尔的全印度医学科学研究所的Satyaki Ganguly博士说。
以下是英国每日邮报读者的评论:
译文来源:三泰虎 http://www.santaihu.com/49318.html 译者:Joyceliu
Blackrockgirl, Blackrock, Ireland
How do you donate money to help this poor child?
怎么捐款来帮助这个可怜的孩子?
Annasaki Champion, geneva, Switzerland
Poor girl ,hope she gets special help .
可怜的女孩,希望她得到特别的帮助。
TalkSense, Distant Lands, United Kingdom
These are people who deserve help
这些人值得帮助。
Dolf1n, Woking
Cant somebody do something for her.
谁能为她做点什么吗。
C Unit, South West, United Kingdom
Looks really painful, hopefully this story will highlight her condition and help.
看起来真的很痛苦,希望这个报道能让大家知道她的情况,伸出援手。
C Unit, South West, United Kingdom
So young feel for her, hope they find a cure or something to treatment to help with the condition.
她太年轻了,希望他们能找到缓解病症或治疗的手段来帮助她。
adrishaun, Fallbrook, United Kingdom
Poor angel
可怜的小天使!
KR, Alexander
Oh that poor baby!! ... God love her! Praying for healing mercies. Wish I could help more.
噢,可怜的孩子!!…神爱她!希望能幸运地治愈。希望我能多帮上点忙。
Hamster cheeks, Sheffield, United Kingdom
That poor child. A dreadful condition in a country will good medical care. So much worse in her situation
这可怜的孩子。这在有良好医疗条件的国家里都很可怕。她的情况太可怜了。
bb8r2d2, Metro City, United Kingdom
That's so so sad, surely in the day something can be done to give her the chance in life that she deserves, totally heart breaking.
这太让人伤心了,总有一天我们能做点什么,让她享受该有的生活,真叫人心碎。
Constantian, London, United Kingdom
Very very sad - poor little girl.
非常非常可怜的小女孩。
RonsGirl, Notts
Are we crowd funding for this poor little mite ?
我们是在为这个可怜的小家伙募捐吗?
Chigley1, Herts, United Kingdom
Poor little love, she looks in such pain.
可怜的小可爱,她看起来太痛苦了。
Muschle, Durham, United Kingdom
This poor girl needs some cream, oil, moisture. What ever. I'm sure there's lots of dermatologist reading this article who could help her. I'm sure most people would give a couple of quid to help this girls recovery cos I certainly will xxx
这个可怜的女孩需要一些乳霜、油和保湿乳之类的东西。我相信很多读到这篇文章的皮肤科医生可以帮帮她。我相信大多数人愿意捐出几英镑,帮助这个女孩获得康复,因为我肯定会这么做的。
Sentinell, Brisbane, Australia
Surely in this day and age something can be done for her
在这个时代,我们一定可以为她做些什么。
Vintage rose, Manchester, United Kingdom
Bless her
祝福她。
CrescentCity, California, United States
Poor child to be given such a horrible fate. I hope doctors works wide will meet the challenge of hel her.
可怜的孩子竟遭到如此可怕的命运。我希望全科医生能够迎接帮助她的挑战。
Honeymonster, Copenhagen, Denmark
Poor thing, you can tell that shes in pain just by sitting there.. Heartbreaking. Please get her some help
可怜的小东西,你看她坐在那里就知道她很痛苦。请给她一些帮助。
sugarplum67, stafordshire, United Kingdom
My heart goes out to you my little darling if anyone knows how to crowdfund like Alan I will put money in god bless.xxx
我很同情你,我的小甜心,如果有人知道如何像艾伦一样众筹,我也愿意参加,神保佑她。
Nicubrie, Annapolis, United States
There is a foundation for Ichthyosis and those of us who are a part of it would like to help. She needs care and she would be so much more comfortable. How do we help this sweet girl?
鱼鳞病是有基金会组织的,我们当中有鱼鳞病的人愿意帮忙。她需要护理,这样会舒服得多。我们如何帮助这个可爱的女孩?
submar, Edinburgh, United Kingdom
Surely, from one of the developed countries in the world someone can help with this.
当然,来自世界发达国家的人可以在这方面提供帮助。
Clarew, Tamworth, United Kingdom
Can someone try and help this little darling. She so pretty.
谁能帮帮这个小宝贝?她是这么漂亮。
ve33, London, United Kingdom
Someone please help her
谁来帮帮她。
dai2000, London, United Kingdom
Surely, something can help lessen the irritation. Poor thing.
当然,有些东西有助于减轻这种刺痛感。可怜的小家伙。
Womenlie, Somewhere, United States
Good bless.
祝福。
love_laughter89, lancashire, United Kingdom
Poor baby ...is there anything that can be done to help relieve her symptoms / pain and just help give her a better quality of life? I hope some help come her way
可怜的孩子……有没有什么方法可以减轻她的症状/痛苦,让她过上更好的生活?我希望她能得到帮助。
celladwella, North Wales, United Kingdom
This is awful my heart goes out to her poor little thing x
这太可怕了,我的心揪着,真同情她,可怜的小姑娘。
Scope, Anytown, United States
How about having Kim Kardashian pay for her operation.
让金·卡戴珊为她的手术买单怎么样?
billygate, Billingsgate, United Kingdom
This is where our international aid should be going to ease the suffering of people like this innocent child
我们的国际援助就应该用于缓解诸如这个无辜孩子一样的痛苦。
GoArmyBeatNavy01432, Ayer, United States
Poor little thing. She's so adorable that I just want to hug her! It's just Not Fair That She Suffers Like This!!
可怜的小东西。她太可爱了,我真想抱抱她!她要遭受这样的痛苦,太不公平了!!
Nini1028, Reading, United States
Oh this is so sad! Poor little girl!
哦,这太惨了!可怜的小女孩!
Nemesis, London, United Kingdom
Poor child. I hope that she can receive some help.
可怜的孩子。我希望她能得到一些帮助。
Me.Me.Me., London, United Kingdom
How can we help this girl????
我们怎样才能帮助这个女孩??
外文链接:https://www.dailymail.co.uk/news/article-7973289/The-little-girl-turning-stone-rare-skin-condition.html