When even a rich city like Mumbai is starved of funds
即使是像孟买这样的富裕城市也缺乏资金
Acute fiscal stress is building in India's states and municipalities, including the urban authority that manages the richest city, Mumbai. This matters. Local bodies hold the key to lasting solutions for a broader crisis of financial resources.
印度各邦和市政当局面临的严重的财政压力正在积聚,这其中就包括了管理最富裕城市孟买的市政当局。地方机构掌握着持久解决更广泛的财政资源危机的关键。
The federal go nment's chronic deficits dominate discussions about India's precarious public finances. It's time to flip this New Delhi-centric approach. State go nment accounts deserve scrutiny because they collectively spend 36% more than the federal administration. Yet their fundraising abilities are limited. Of the Rs 24 lakh crore ($340 billion) that Prime Minister Narendra Modi's team hopes to pull in via taxes in the coming fiscal year, less than a third is intended for the states. A 20% jump looks impressive only because this year's transfer saw a 14% squeeze from the previous.
联邦政府的长期赤字主导了关于印度公共财政岌岌可危的讨论。是时候改变这种以新德里为中心的方法了。邦政府的账目值得仔细审查,因为它们的总支出比联邦政府多36%。然而,他们的筹款能力有限。印度总理纳伦德拉·莫迪的团队希望在下一财年通过税收筹集24万亿卢比(合3400亿美元),其中不到三分之一是拨给各邦政府的。20%的增长之所以令人印象深刻,只是因为今年的拨备比去年减少了14%。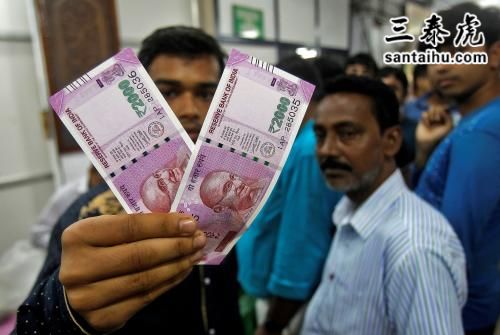 Formerly known as Bombay, the capital of the western state of Maharashtra faces a further crunch. Centered on seven Arabian Sea islands that Portuguese colonizers handed to the British in 1662, modern Mumbai has expanded into independent India's pulsating trading and financial center, a cosmopolitan agglomeration of 26 million people — twice as populous as business hubs like and Singapore combined.
印度西部马哈拉施特拉邦首府孟买面临着更大的危机。1662年,葡萄牙殖民者将七座阿拉伯海岛屿割让给英国,如今的孟买已发展成为印度独立后的贸易和金融中心,拥有2600万人口,是和新加坡等商业中心人口总和的两倍。
The birthplace of Bollywood boasts the country's priciest real estate, but the property market is toast, in part because a shadow-banking meltdown choked developers' access to finance. With unsold homes piling up, Mumbai can't earn much from homeowners or builders. Up to 34% of the municipality's recently announced 334 billion-rupee annual budget will rely on compensation. This was offered in 2017 by the federal go nment to get state and municipalities to agree to scrap inefficient indirect taxes — in Mumbai's case, a levy on merchandise entering the city for sale — in favor of a nationwide goods and services tax.
这个宝莱坞的诞生地拥有全国最昂贵的房地产,但房地产市场却陷入困境,部分原因是影子银行危机阻碍了开发商获得融资的渠道。由于未能售出的房屋积压过多,孟买无法从房主或建筑商那里赚到多少钱。市政府最近公布的3340亿卢比年度预算中,高达34%的预算将依赖于补偿。联邦政府在2017年提议取消低效的间接税——以孟买为例,就是对进入该市出售的商品征收的税——转而征收全国性的商品和服务税。
GST was a major reform, but awkwardly designed and poorly implemented. As Mumbai real-estate analyst Vishal Bhargava nes, the city's compensation deal ends in 2022. Its revenue will fall to what it was a decade ago, only facing higher costs. The authority is already dip into reserves to meet pension obligations; a further income shock will be a disaster.
消费税是一项重大改革,但设计拙劣,实施不力。正如孟买房地产分析师巴加瓦指出的,该市的补偿协议将于2022年到期。收入将降到十年前的水平,面临更高的成本。当局已经动用储备金来支付养老金;进一步的收入冲击将会是一场灾难。
Every year, Mumbai's creaking infrastructure faces a huge risk from flash floods. Yet such are the funding constraints that a city of tycoons, bankers and movie stars — who live alongside masses huddled in shantytowns — can allocate only 9 billion rupees of capital expenditure on storm drains, a fifth of what the civic body will spend on employee pensions.
每年,孟买岌岌可危的基础设施都面临着山洪暴发的巨大风险。然而,由于资金紧张,一个由巨富大亨、银行家和电影明星组成的城市——他们与群众一起挤在棚户里——只能拨出90亿卢比的支出用于修缮排水系统,这只是市政机构员工养老金总额的五分之一。
India's richest metropolis opens a window on the crippling lack of basic services in smaller cities, towns and villages where 1.3 billion people live. New Delhi, the capital, is at least contained in a mini-state, which gives the city access to a more diversified resource pool, such as taxes on petroleum products. But New Delhi's air quality is foul. Chennai, the capital of Tamil Nadu, is running out of water. Software powerhouse Bangalore, which has lost its entire greenery to urbanization, punishes commuters with the worst traffic congestion in the world.
印度最富裕的大都市为我们打开了一扇窗,让我们得以一窥13亿人口居住的小城市、乡镇和乡村的基础设施严重缺乏的程度。印度首都新德里处在一个"迷你邦"内,这让新德里能够获得更多样化的资源,比如石油产品税。但是新德里的空气质量很糟糕。泰米尔纳德邦首府金奈正面临缺水问题。印度软件业重镇班加罗尔因城市化而失去了所有的绿色植物,这里的交通拥堵是世界上最严重的。
At 70% of GDP, India's overall go nment de t — at all levels — is too high for an investment-grade sovereign. Without bum up local capital spending, people's incomes and their ability to pay taxes and fees won't rise fast enough to reduce national de t.
印度政府债务占GDP的70%,对于一个投资级别的主权国家来说,这一比例太高了。如果不增加地方资本支出,人们的收入和支付税费的能力无法迅速提高,无法减少国家债务。
Weak national finances will leave India unprepared to deal with climate change and epidemics. The coronavir s isn't a big headache for India, at least not yet. It's the next outbreak that planners must worry about. Setting aside more money for drains, sewage management and hospitals will better prect citizens and economic assets. The money circulating in the economy because of municipal-level spending will ease India's fiscal crisis.
薄弱的国家财政使印度无法妥善应对气候变化和流行病。冠状病毒对印度来说不是什么大问题,至少目前还不是。这是规划者必须担心的下一个爆发。为下水道、污水处理和医院留出更多资金,将更好地保护公民和经济资产。由于地方支出而在经济中流通的资金将缓解印度的财政危机。
Will it happen? Take Mumbai again. Shiv Sena, the homegrown -wing in control of the municipal corporation since 1985, was a long-time ally of Modi's Bharatiya Janata Party until it broke ranks last year. It now leads a coalition controlling the entire state. The Shiv Sena leader, Uddhav Thackeray, has hinted at pulling the plug on a Japanese-funded high-speed train link between Mumbai and Ahmedabad in Modi's home state, Gujarat.
会发生吗,重新夺回孟买。1985年以来一直控制着市政公司的本土右翼政党湿婆神军党,一直是莫迪的印度人民党的长期盟友,去年崩裂了。现在它领导着一个控制整个邦的联盟。湿婆神军党领导人乌德哈夫•萨克雷暗示,将停止在莫迪家乡古吉拉特邦修建连接孟买和艾哈迈达巴德的高铁线路。
For India's fiscal bnce to regain its footing, the economics of public spending will have to become more local.
为了让印度的财政平衡重新站稳脚跟,公共支出的经济学将不得不更加本土化。
以下是《印度经济时报》网站读者评论:
译文来源:三泰虎 http://www.santaihu.com/49314.html 译者:Joyceliu
SUNDARARAMAN SRINIVASAN
Center and the States' po itical rule.. are vying with each other to grab fund-streams..? Center is playing big-brother.. by way of over 100 schemes - many didn't clinch - uniform scheme for all states is not healthy - as each state is unique in problems & pentials..? Wish the central rule - respects federal co-op spirit better.
中央和各邦的统治…互相竞争以获取资金流?中央扮演老大哥角色。100多个方案-许多没有敲定-对所有邦统一行动是不合理的-因为每个邦都有各自的问题和潜力。希望中央政府更好地尊重联邦合作精神。
Padamnoor Pradeep
Cor ion is the biggest problem for everyone in India as it robs all of basic civic facilities. But, as far as funding is concerned, corporates/self employed (as it's tax deductible!) have to bear higher share of local taxes such as property, water and Sewerage as resi nts in gated communities bear. Whoever has income tax deduction has to pay higher share of local taxes!
是每个印度人最大的问题,因为它夺走了所有基本的公共设施。但是,就资金而言,企业/个体经营者(因为这是可以减税的!)必须承担更高的地方税份额,如物业税、水税和污水税,就像封闭式社区的居民所承担的那样。任何有所得税减免的人都必须缴纳更高比例的地方税!
DM Bhanap
Mumbai has been a cauldron of people from all states and union territories of India that came here in hoards to seek ever-growing opportunitiesin business , finance, education, art music show business, etc. they not only contributed to its development but also thrived here to realizetheir dreams and eventually became Mumbaikars. It is indeed sad that it is starved of funds because of po iticians. mr.Manmohansing wanted it to be like Shanghai but could not save it from its woes. Mumbaikars have known to survive ag inst many crises successfully in the past and hopefully this crisis will blow- over soon by detemination and resolve of mumbaikars
孟买是来自所有国家和联盟领地的人的大熔炉,大家来到这里,希望在经商、金融、教育、艺术音乐演艺事业寻找机会。他们不仅为孟买的发展做出了贡献,而且在这里实现自己的梦想,最终成为孟买人。由于政客的缘故,它的资金匮乏确实令人悲哀。曼莫汉辛希望孟买能像上海一样,但无法将其从困境中拯救出来。在过去,孟买人成功地在许多危机中生存下来,希望这场危机能伴随孟买人的决心很快度过。
Melman Const
Po iticians and gt employees are interested in kick back. They are not interested in city development. This is Indian mentality.
政客和政府雇员都想拿回扣。他们对城市的发展不感兴趣。这就是印度人的心态。
Mumbai Casino
Start casinos in mumbai
在孟买开设赌场。
Superman Cid
In all these Ker is the worst.
在所有这些地方,喀拉拉邦是最糟糕的。
Virgin Rampal
taxes should go up for a global city like Mumbai.
像孟买这样的全球城市应该提高税收。
Ban Nude Leggings
Article is misleading. Mumbai was actually run by ruthless killer mafias like Dawood Ibrahim and others as testified by many. Now corporations need money as they are not mafias, so maybe they can sell municipality bonds and construct shops, offices, houses for the poor at low to negligeable rent.
这篇文章是误导读者的。据许多人证实,孟买实际上是由达乌德·易卜拉欣等残忍的杀手黑手党和其他人控制的。现在公司需要钱,如果他们不是黑手党,也许他们可以出售市政债券,为穷人建造商店、办公室和房子,把租金大幅降低。
Yopdia
All the cities have bad roads, long commute times, no water, garbage problem, air pollution.
所有的城市都有糟糕的道路,漫长的通勤时间,缺水问题,垃圾问题,空气污染。
Omprakash Singh
Reform needed urgently in case of po iticians first, who,barring a few, are mastering exponentially the culture of greed and co ption. Out of 20 paisa taken as loan in every 100 paisa, 18 paisa are spent on de t servicing. Correct if wrongly understood this year budget.
首先,家们急需改革,因为除了少数人之外,他们都肆无忌惮地掌握了贪婪和的文化。每100派萨中,就有20派萨用作贷款,18派萨用于偿还债务。如果我对今年的预算理解有误,请指正。
Jumbo
Appears To be Very confused fellows with horrific hallucinations are writing articles! Fit for a ToILet paper.
这个家伙似乎很困惑,用可怕的幻觉写文章!这篇文章就如一张厕纸。
Lionel Rodrigues
we need to ask the go nment to start cost cutting..... enough of blaming the tax payers of non compliance.....
我们必须要求政府开始削减成本…他们总是指责纳税人,让人忍无可忍了…
Anonymous
At 70 % of de t to GDP ratio when combine all center state municipal ant other go nment organisation / companies it is about time we start thinking of cutting down the cost
所有中央、邦、市政府和其他政府机构/公司的债务总额占到GDP的70%时,必须开始考虑降低成本了。
Atharva Botre
Cor ion is the disease and no is untouchable. People coming from different parties joining bjp for the same reason.
是一种病,没有哪个政党是可以独善其身的。来自不同政党的人因为同样的原因加入人民党。
Sachin Mali
please take writings from Bloomberg with a ch of salt. They always badmouth India.
请对彭博社的文章持保留态度。他们总说印度的坏话。
Kishore Shivani
SHIV SENT WAS BORN ON AND BY CORRUPTION. AND HAVE CORRUPTION IN THEIR DNA .
湿婆神军党是天生的分子。他们的DNA里就刻着。
Kishore Shivani
BBC HAS UNSPENT AMOUNT OF RS 20000 CRORES FROM THIS YEAR'S BUDGET AS PER RTI WHERE IS THIS MONEY.
根据印度报业托拉斯的数据,BBC今年的预算中有2万卢比的未支出,这笔钱在哪里?
Kavin Sangoi
has freaking de t to GDP of more than 360%.....we still have some big room for that
债务占GDP的比例已经超过了360%……我们还有很大的空间。
God
Two word, greed and co ption. Those are the things that is kee this city from glory. And with po iticians banding together to keep the loot up, the future of India is grim at best. Shame on us.
两个词,贪婪和。正是这些东西让这座城市远离荣耀之巅。随着政客们联手继续掠夺,印度的未来往好了说也依然十分严峻,真是个耻辱。
外文链接:https://economictimes.indiatimes.com/news/economy/policy/when-even-a-rich-city-like-mumbai-is-starved-of-funds/articleshow/74023908.cms