Mumbai, India's richest municipality, wants to tax garbage to boost revenue
印度最富有的城市孟买想对垃圾征税,增加收入
Mumbai, India's financial hub and the nation's richest municipality, is exploring new ways to boost revenue as a slowing economy hurts earnings from real estate.
因为经济放缓影响了房地产行业的收入,印度金融中心、全国最富裕的城市孟买正在探索增加收入的新途径。
This includes tax on garbage collection and additional levies on services such as issuing birth certificates. The Municipal Corporation of Greater Mumbai, which covers half the area of the city of New York but houses 50% more people, sees revenue drop 5% from its previous target to 238.5 billion rupees ($3.4 billion) in the year through March 31.
这些途径包括垃圾回收税,以及对签发出生证明等服务的额外征税。大孟买市政公司的面积为纽约市的一半,但人口却比纽约市多了50%以上。该公司预计,在截至3月31日的财年里,其收入将较之前的目标下降5%,仅为2385亿卢比(合34亿美元)。
Deteriorating finances in Mumbai -- whose budget is bigger than several Indian states -- bodes ill for India's economic revival because local expenditure has a bigger impact than that by Prime Minister Narendra Modi's administration. Every 1 rupee spent by states yields 1.07 rupees in extra output versus 0.4 for the federal go nment, according to a working paper published by the Reserve Bank of India.
孟买的财政状况不断恶化,这对印度经济复苏来说是个坏兆头,因为地方支出的影响比印度总理纳伦德拉莫迪政府的影响更大。根据印度储备银行发布的一份工作报告,邦政府每支出1卢比,就会产生1.07卢比的额外产出,而联邦政府为0.4卢比。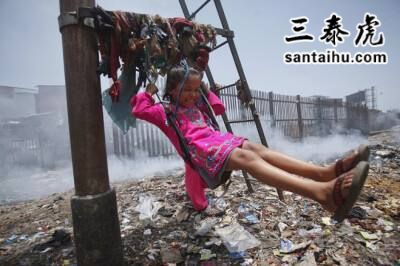 For now, Mumbai plans to increase spending by almost 9% in the year starting April 1, including on better storm-water drains to prevent flooding during the city's annual monsoon, and an ambitious and controversial coastal road that will hug the city's shoreline from Marine Lines — called the Queen's Necklace — in the south to the crowded northern suburbs.
目前,孟买计划在4月1日开始的一年中增加近9%的开支,包括改善雨水排放以防止每年雨季期间的洪水,以及一条雄心勃勃且颇具争议的沿海公路,这条公路将从南部的海岸线(被称为女王项链)延伸至拥挤的海岸线北郊。
It's unclear though how it will achieve that goal given tax collections on the sale of apartments and offices in India's priciest property market missed the current-year's target by 12%.
目前还不清楚孟买要如何实现这一目标,因为印度最昂贵的房地产市场上公寓和写字楼的销售税收比今年的目标少了12%。
Faced with a fall in revenues from the major sources of income, "the corporation plans to adopt innovative measures for resource mobilization," Care Ratings economists, including Madan Sabnavis, wre in a report. These include "measures to recover outstanding dues of property tax and water tax by way of issuance of notices to defaulters, disconnection of water connections, attachments and auction of properties," they wre.
包括Madan Sabnavis在内的Care评级经济学家在一份报告中写道,对弥补来自主要收入来源的收入下降,"公司计划采取创新措施来盘活资源"。他们写道,这些措施包括"通过向欠税者发出通知、切断供水、扣押和拍卖房产等方式,追讨欠缴的物业税和水税"。
Mumbai's municipal body expects income on its 786.7 billion rupees of investments to drop 11% due to lower bank interest rates in the next financial year. It also doesn't see any additional increase in compensation from the federal go nment. Until 2017, Mumbai earned a third of its income through octroi, or an entry levy, which was replaced with a nationwide goods and services tax after Modi promised to compensate for a portion of the reduction.
孟买市政机构预计,由于下一财年银行利率下降,其7,867亿卢比投资的收入将下降11%。联邦政府的补偿也没有增加。直到2017年,孟买三分之一的收入都是通过货物入市税获得的,在莫迪承诺补偿部分减少的收入后,这项税收被全国性的商品和服务税取代。
India's economic slowdown means the federal go nment hasn't been able to transfer the funds beyond September. The remainder will be issued in two tranches, junior finance minister Anurag Thakur told parliament Feb. 3.
印度经济放缓意味着,联邦政府无法在9月份之后转移资金。财政副部长塔库尔于 2月3日对议会说,余数部分将分两批发放。
以下是《印度经济时报》网友评论:
译文来源:三泰虎 http://www.santaihu.com/49308.html 译者:Joyceliu
Gopal Rao
if the municipality start controlling the pilferage of resources , they can save a lot, in all they inflate the bills and swindle the money,we the public at the mercy, if any one question, immediately they are been targeted by other dept
如果市政当局开始控制资源的盗窃,他们可以省下很多钱,总之,他们虚增账单和诈骗钱财,我们公众无能为力,如果有人提出质疑,立即就会成为别人的目标。
Ban Nude Leggings
Now morning garbage collectors will become slumdog millionair
现在早上收垃圾的人将成为《贫民窟的百万富翁》。
Ashish Dhupkar
A simple question...how much of bmc revenues go to sries?
我有个一个简单的问题…有多少收入用于工资?
BMKCT
Yes. BMC will colect a lot of taxes on garbage because THERE IS A WHOLE LOT OF GARBAGE IN MUMBAI - LIVING AND NON LIVING THINGS. GO AND TAX THEM SO THEY GO BACK TO WHERE THEY CAME FROM - GO BACK TO YOUR OWN KONTRI.
是的。布巴内斯瓦尔市政公司能征收到很多垃圾税,因为孟买有很多垃圾——有生命的,也有无生命的。去对他们征税吧,让他们滚回他们来的地方——回到你自己的地方。
Indian Citizen
It is surprising that within a few months of the current go nment being sworn in, the cost of milk (basic necessity for a common man) has been hiked not once but twice. And no one has even opened spoken about it. This shows, no one pays for their own and that they are taken care of. Under such circumstances, tang garbage comes as no surprise. Very soon, they will charge for breathing. Mumbai has reached its dead-end, in all respects.
令人惊讶的是,在现任政府宣誓就职的几个月内,牛奶(一个普通人的基本必需品)的价格上涨了不止一次,而是两次。可是居然没有人公开谈论这个问题。这表明,没有人为自己买单,他们有人关照。在这种情况下,对垃圾征税就不足为奇了。很快,他们还将开征呼吸税。孟买在各个方面都已经走到山穷水尽的境地了。
Parab DV
BMC should clear and clean and keep free all footpaths in Mumbai to walk free. There are hindrances/ encroachments and blockages everywhere at Main road, streets and near every railway stations. These hawkers zones should be shifted at open spaces or at chowpatty area
布巴内斯瓦尔市政公司应该清理干净,让孟买所有的人行道都畅通无阻。主干道、街道和火车站附近到处都是障碍物。这些小贩专区应移至空地或乔佩蒂区。
JRP
It's a pity. Soon we will be selling dead bodies also to survive in this country. Total mismanagement of finance.
真遗憾。很快,我们还得出售尸体,才能在这个国家生存下去。这绝对就是金融管理不善。
Ravi Ganavi
It is nothing but funding the luxurious living of our Corporators. They want a new air-conditioned car every year, and the offi al car is also used for personal use also, all expenses funded by tax payers.
这于事无补,只会给我们的市政提供奢侈生活所需的资金。他们每年都想要新的空调车,公务车也会被个人私用,所有的费用都由纳税人支付。
India First
Wow !! Another tool devised to squeeze money from the helpless citizen.
哇!!这又是一个从无辜百姓身上榨取钱财的工具。
Sameer
All because of the mismanagement of the previous BJP Go nment
这都是因为前印度人民党政府的管理不善。
Ravi Ganavi
BMC is being run by Shiv Sena for last 10 years.
布巴内斯瓦尔市政公司由湿婆神军党经营了10年。
Anand V
Mumbai is the world's largest polluter which throw 90% untreated sewage into sea,all money spent on treatment plant is eaten away by the corrupt municipality employees .
孟买是世界上最大的污染者,它把90%未经处理的污水排入大海,所有花在污水处理厂的钱都被的市政吃掉了。
Anand V
First throw out 85% of corrupt municipal employees
首先要处理掉85%的的市政雇员。
Avi
Mumbai is ruined by Shiv Sena.
孟买被湿婆神军党毁了。
Praful Patel
They are gangsters and they know how to get family richer and richer.there was only one but now even son and uncle joins in.
他们是黑帮,他们知道如何让自己的小家庭越来越富有。原来只有一个人,现在连儿子和叔叔也加入了进来。
Deepak H
One of the most corrupt municipalities in the world. The problem is co ption, co ption and nothing else. Openly and accepted. This won't change anytime soon nor the fortunes of the city will.
世界上最的城市之一。问题就在于,,没有别的。这是百姓们都知道的事。这个情况无法很快改变,这座城市的命运也不会改变。
Indra Goswami
Tang for garbage is good, even if city has surplus money. I have seen rich people too in Bangalore do not want to spend 50 Rs to dispose huge pile of thermocol or their old bed.
即使城市有钱,对垃圾征税也是好事。我也看到过班加罗尔的富人不想花费50卢比处理一大堆废弃物或他们的旧床。
Sanjay Shembekar
With daily budget of nearly Rs. 100 crore, still short of money? its the purest form of co ption!!
每天的预算接近10亿卢比,还会缺钱?除了百分百的,还会是什么!!
God
Instead of cutting back on their own expenses (cough bribez cough), they want to increase taxes on regular tax paying citizens to make sure that their revenue does not fall. Shabbas India, you never disappoint.
他们没有削减自己的开支(咳嗽,,咳嗽),反而希望对普通纳税人增收税金,以确保他们的收入不会下降。印度,你永远不会让人失望。
Kl Jain
This has to happen after GST ! GST has sucked budgetary revenue from states and municipal corporations !
这在商品服务税实施后注定会发生!商品服务税从邦政府和市政公司那里吸走了预算收入!
Sachin
High time to rename BMC to BCC ( biggest corrupt corporation )..They need to show accountability for the blood ( taxes ) they have oozed out from the citizens b4 thinking of any new taxes.
是时候把BMC布巴内斯瓦尔市政公司改名为BCC(最大的公司)了。他们需要对他们考虑从公民身上征收新税、榨取血汗负责。
Karan Sood
worst and most corrupt municipal corporation in the whole world. eats up the money for no reason. and then troubles the citizens. the potholed roads filled with filthy slums are testimony to this. BMC takes lot of illegal money from slums and service contractors responsible for the potholed roads. Still they want to trouble and tax honest and poor citizens who work hard and honest.
世界上最糟糕和最的市政公司。无缘无故地把钱都拜光了。然后就想给市民找麻烦。坑坑洼洼的道路和肮脏的贫民窟就是明证。布巴内斯瓦尔市政公司从贫民窟和对坑坑洼洼的道路负责的服务承包商那里拿走了大量非法资金。依然想给诚实努力工作的穷人制造麻烦并征税。
JRP
No amount of money is sufficient in this country to manage things because of the greediness.
在这个国家,因为贪婪,再多的钱也不够花。
True Indian
people should encourage to reduce garbage...this is good from the point of this
应该鼓励人们减少垃圾丢弃……从这点来看,是好事。
Abhijit
It is time that the people are taxed for services.
现在是时候对民众提供的服务征税了。
Prem Prakash
Please edit the city name NewYork...it seems text are edited from some other source. Be original. Thanks
请编辑城市名称纽约…这篇文章似乎是改编自其他来源的。请注意原创。谢谢。
Lynchian
What an idiotic idea? People will start dum garbage wherever they can instead of channelling thru to Municipal corporation. Then the BMC will have to firefight with infections and epidemics, provision more staff for cleaning the city. Penny wise, pound foolish.
这是多么愚蠢的想法啊?人们会开始随处倾倒垃圾,不再通过市政公司。然后布巴内斯瓦尔市政公司将不得不与传染病和流行病作斗争,派出更多的工作人员来清洁城市。小事聪明,大事糊涂。
Joseph Anandaraj
Tang citizens to BOOST TAX REVENUE is not the policy in a Democratic Republic Independent country. Instead, re-assess the short falls and take corrective measures. Demand the GST share first, as Tax collected cannot be retained or allocated for any other purposes. Only after exhausting all available revenue sources tapped, tang public can be considered. BOTTOM LESS BUCKET CANNOT HOLD WATER. JAI HIND.
在一个共和国独立的国家,对公民征税以增加税收不是正确的政策。相反,重新评估亏空,并采取纠正措施才是对的。首先要求商品服务税的份额,因为所征收的税款不能保留或分配给任何其他目的。只有在所有可用的收入来源都试过后,才可以考虑对公众征税。没底的桶存不住水。印度必胜。
Pankaj Gupta
Are you aware the property tax in Mumbai is Rs 22000/- per year for a flat of small two bedroom unit.Property Tax for the same size of flat in Gurgaon is Rs 600/- per year. Still Gurgaon is clean and Mumbai is the worst. BMC is responsible as well as the corporators.
你知道孟买的房产税是每年22000卢比吗?古尔加翁相同面积公寓的房产税每年才600卢比。而且古尔加翁很干净,孟买是最脏的。布巴内斯瓦尔市政公司和市政都有责任。
Kishore Shivani
THIS YEARS BUDGET THEY HAVE ALMOST 20000 CRORES UNSPENT WHY THEY WANT TO COLLECT MORE FUNDS APPARENTLY TO SURREPTITIOUSLY FILL THEIR POCKETS BLOODY ROGUES CROOKS CHEATS OPPORTUNISTS.
他们今年的预算有近2万卢比没花完,为什么还想要筹集更多的资金,显然是为了偷偷地填满自己的口袋,血腥的恶棍,骗子和机会主义者。
外文链接:https://economictimes.indiatimes.com/industry/banking/finance/mumbai-indias-richest-municipality-wants-to-tax-garbage-to-boost-revenue/articleshow/74000118.cms