Coming Soon: A Rs 45,000 crore fund to push electronics manufacturing
印度即将推出4500亿卢比的基金用于推动电子制造业
New Delhi: The Centre is readying a Rs 45,000-crore fund in an aggressive push to ensure big firms such as Apple, Samsung, Huawei, Oppo and Vivo, besides contract manufacturers like Foxconn and Wistron, bring their global supply chains to India and make the country an electronics manufacturing hub in the next five years.
"An inter-ministerial note (on this) has been floated," a senior go nment official told ET.
Out of the Rs 45,000-crore fund, about Rs 41,000 crore would be disbursed to companies based on production-linked incentive (PLI) criteria, while the remaining Rs 4,000 crore would be offered under a proposed capital subsidy, or reimbursement, scheme. The proposed scheme will replace the popular Modified Special Incentive Package Scheme (M-SIPS).
"The go nment expects the PLI scheme to generate over 200,000 jobs, exports of over Rs 5 lakh crore and direct tax revenue of close to Rs 5,000 crore over five years," the official said.
新德里:印度中央政府正在积极筹备一个规模为4500亿卢比的基金,以确保苹果、三星、华为、Oppo和Vivo等大企业,以及像富士康和纬创资通这样的承包制造商把他们的全球供应链引入印度,助力该国在未来五年成为电子产品制造中心。
一位高级政府官*员告诉《经济时报》:"(针对这件事)部级之间已经进行了照会。"
在4500亿卢比的基金中,大约4100亿卢比将根据与生产相关的激励(PLI)标准发放给企业,其余的400亿卢比将根据一项拟议的资本补贴计划进行发放。该在议计划将取代现行的经修订特别奖励计划(M-SIPS)。
这位官*员表示:"政府预计,PLI计划将创造逾20万个就业岗位,出口逾5万亿卢比,未来5年的直接税收收入将接近500亿卢比。"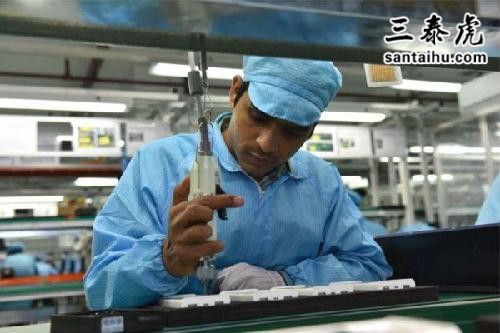 Tough Qualification Criteria Likely
The disbursement mechanism of the PLI scheme would be firmed up during interministerial consultations, officials said. It would likely be similar to the duty credit scrip scheme under the current Merchandise Exports from India Scheme (MEIS), which is being wound down by March 31, they said.
Duty credit scrip is a certificate with certain monetary value that can be utilised for payment of customs duty.
Government officials are trying to ensure the new policy is compliant with World Trade Organization guidelines and the support is not directly linked to exports. New Delhi, however, wants to put in tough qualification criteria to ensure the funds are not used by those who manufacture devices only for the local market.
可能会有严格的资质审核标准
官*员们表示,PLI计划的支付机制将在部际磋商后敲定。他们表示,这可能类似于目前印度商品出口计划(MEIS)下的关税抵免券计划,该计划将在3月31日前结束。
税单是一种有一定货币价值的凭证,可以用来支付关税。
印度政府官*员正努力确保新政策符合世界贸易组织的指导方针,而且这种支持与出口没有直接联系。然而,印度政府希望制定严格的资格标准,以确保资金不会被那些只为本地市场生产设备的企业使用。
The likes of Foxconn — the world's largest contract manufacturer that also operates the biggest such facility for smartphones in India — as well as Samsung, Huawei, Vivo and Oppo together account for more than 80% of the $500-billion global mobile phone market.
On Saturday, finance minister Nirmala Sitharaman announced that the go nment was working on a scheme to boost local electronics production, but said details would be unveiled later. The draft proposals have been sent to the secretaries of revenue, expenditure, economic affairs, commerce, Department for Promotion of Industry and Internal Trade, Ministry of Electronics & Information Technology (MeitY), Niti Aayog CEO and the Directorate General of Foreign Trade (DGFT) for comments.
富士康是全球最大的代工制造商,同时也是印度最大的智能手机生产基地。三星、华为、Vivo和Oppo等公司占据了全球5000亿美元手机市场80%以上的份额。
周六,财政部长西萨拉曼宣布政府正在制定一项计划来推动当地的电子产品制造业,但具体细节将稍后公布。提案草案已送交财政、支出、经济事务、商务、工业和国内贸易促进司、电子和信息技术部(MeitY)、Niti Aayog首席执行官和外贸总局(DGFT)等秘书处征求意见。
Eligibility criteria
Eligibility of companies would be subject to thresholds of incremental employment generation, incremental investment and incremental sales of manufactured goods, in order to maximise exports and value addition in India.
"The (PLI) scheme will open for a period of three months initially, inviting applications. However, the disbursement of incentives for the approved applicants would continue for a period of five years, based on the response from the industry," another official said.
An empowered committee comprising secretaries of revenue, expenditure, economic affairs, DPIIT, MeitY and DGFT will monitor the implementation and allotment of funds. Also, a project management agency will assist the empowered committee.
The second official said the second scheme — to replace M-SIPS — will be open for application for three years.
资格标准
公司的资格将取决于增加就业、增加投资和增加制成品销售的门槛,以最大化地提高印度的出口和增值。
发言人说:"'公共服务电子化'计划的初期阶段为三个月,现正接受申请。然而,根据该行业的反应,对获批申请人的奖励发放将持续5年,"另一位官*员表示。
一个由财政部、财政部、经济事务部、新闻部、教育部和财政部部长组成的授权委员会将监督资金的执行和分配。此外,一个项目管理机构将协助受权的委员会。
第二名官*员表示,替代M-SIPS的第二套方案将开放申请三年。
"This will have an incentive of 25% on capital investments on plant, machinery and equipment and will be provided to industrial units making investment for manufacturing of electronic components and sub-assemblies in specified categories," the official added. Currently, M-SIPs offer 20% and 25% reimbursements, depending on whether the plant is located in an SEZ or not.
Last month, the prime minister had met smartphone manufacturers including representatives from Apple, Samsung and Lava, and sought suggestions on how to make India an electronics manufacturing and export hub. Following this, go nment officials fast-tracked work on the modalities of the incentives that need to be doled out to attract big-ticket investments. The go nment has set an ambitious target to increase smartphone exports to $110 billion by 2025 from $3 billion now, and become a net exporter of electronics goods.
这名官*员补充称:"这将为工厂、机械和设备的资本投资提供25%的奖励,并将提供给投资于特定类别的电子元器件和零部件制造的工业单位。"目前,M-SIPs提供20%和25%的补偿,具体比例取决于工厂是否位于经济特区。
上个月,莫迪总理会见了包括苹果、三星和Lava代表在内的智能手机制造商,并就如何使印度成为电子产品制造和出口中心征求了建议。在此之后,政府官*员迅速制定了吸引大额投资所需的激励措施。政府制定了一个雄心勃勃的目标,到2025年智能手机出口额将从目前的30亿美元增加到1100亿美元,并成为电子产品的净出口国。
印度经济时报网友评论:
译文来源:三泰虎 http://www.santaihu.com/49286.html 译者:Joyceliu
Kavi Tanna
Unprecedented move by Govt. This is a game changer.
这是政府出台的前所未有的政策,改变了游戏规则。
SRI
Read sree iyer books to know what happened in the UPA period. Why demonetization and why change of all the currency notes including small 10 and five rupee notes were changed in design................................IT IS NOT EASY TO RULE AND REVERSE ALL THE CRIMES OF 70 YEAR ANARCHY........................WAIT AND SEE
阅读斯里·艾耶的书,了解一下团结进步联盟执政时期发生了什么。为什么要出台废钞令,为什么所有的货币,包括10卢比和5卢比的纸币的设计都进行了调整……要统治和逆转70年无政府状态的所有罪行并不容易,等着瞧……
Palabatalla Rakesh
good opportunity to get export industry
这是发展出口产业的好机会。
SRI
As CONGRESS virus is getting eradicated the country is becoming healthy. If we can achieve in software why not in Hardware...THE EARLIER GOVTS WERE NOT INTERESTED IN ANYTHING EXCEPT LOOTING THE NATION WE COULD NOT ACHIEVE ANYTHING THRU GOVT..............SOFTWARE ACHEIVENMENT WAS ENTIERLY THRU PRIVATE SECTOR...
随着国大党余孽的铲除,这个国家正变得越来越健康。如果我们能在软件有所作为,硬件为何做不到?早期的政府除了掠夺国家之外,对其他任何事情都不感兴趣,软件行业的成就全靠私营企业。
Realdeshbhakt
one mistake -software success was in congress era which you hate so much
有个错误哦——软件领域的成就是在你如此厌恶的国大党时代取得的。
Subbu India
We should take present opportunity to stop all imports from China.
我们应该抓住现在的机会停止从中国的一切进口。
Vikram Aditya
Frankly speaking absolutely fantastic idea for India in current situation but should be implemented in TIME.
坦白地说,这对印度的现状绝对是好主意,但应该及时实施,并为当地民众提供就业机会。
Arun Mehra
Wow! No other go nment did this kind of investment to boost electronics manufacturing before.
哇!在此之前,没有其他政府做过这样的投资来促进电子制造业的发展。
Realdeshbhakt
mehra,every govt tried n failed.You are not educated enough to understand why it failed.Wait n watch this failing.The main reason is indians lack talent-skills,have no infra,have no marketing muscle.We dont even have a silicon refinery in india ,no chip designers,nothing.
每个政府都尝试过,但都失败了。你读书太少了,没法理解这为什么会失败。等着瞧吧,这次一样注定失败。主要原因就是:印度人缺乏人才技能,没有基础设施,没有营销能力。我们印度连硅精炼厂都没有,也没有芯片设计师,什么都没有。
Srinivasan G Kailasam
We had a fantastic Electronics manufacturing eco system in and around Delhi in the 70s when China was nowhere in the picture. We lost the initiative then as the GOI never had the vision to see the employment prospects of this industry.Anyway, it still not late. Better late then never.
上世纪70年代,我们在德里及其周边地区有一个非常棒的电子制造生态系统,当时中国连影儿都没有。可是我们失去了主动权,因为政府从来没有预见到这个行业的就业前景。不管怎样,现在还为时不晚。起步晚总比不做好。
Suresh Kumar
SPENDING 41,000 CRORE AND GETTING TAX OF ONLY 5000 CRORE INITIALLY. MAY BE GOOD IN THE LONG TERM.
一开始支出4100亿,才能回收500亿税金。从长远来看可能是好的。
Asif MA
its not money can bring everything. It should be cultivated within us. floor level climate for electronic industry. Stable policy bluffing in election rallies abusive speech all these r fear for foreign companies. we have to remember that 5years back garments from Bangladesh was rejected by EU saying it is made of sl very and poorly compensated staff. so we have to bridge the gap between our own citizens of various caste creed religion etc.put more intellectual think tanks in education and grow culture within students
金钱不是万能的。我们心里要明白这一点。电子工业尚未形成气候。选举集会上一贯的吹嘘蒙骗,侮辱性的言论,所有这些都给外国公司带去恐惧。我们必须记住,5年前,来自孟加拉国的服装被欧盟拒绝,理由是服装是由奴役和薪酬微薄的员工加工的。因此,我们必须弥合我们本国不同种姓、不同信仰、不同宗教的公民之间的差距。
Biswa Mohan
nothing is going to happen until IIT educated quality engineers develops sense off responsibility and duty to the country. Anybody considered old fashioned but fact is India need to stop brain drain and it can't stop until those in line develop call of duty. it's not money but it's the call of motherland that matters. India has created that example in space science. it's more effort and not money.
除非受过教育的质量工程师培养出对国家的责任感和责任感,否则什么事也不会发生。印度需要停止人才流失。重要的不是钱,而是祖国的召唤。印度在空间科学方面树立了这样的榜样。努力更为重要,而非金钱。
PAWAN KUMAR POTLURI
It will happen eventually when jobs in western countries come down.It is happening. They are pricing themselves out of the market, happened with China becoming a manufacturing power house.
当西方国家的就业机会减少时,这种情况终将发生。它正在发生。随着中国成为制造业大国,他们就能自主定价。
Gopalakrishnan T.S
Good. We would wait and seeT81
很好。我们会等待观望的。
Pippil Shistachar
By the time the scheme is implemented next budget will come & Nirmala will be replaced by K V Kamat
等该方案真的实施的时候,又该出台下一个预算了,莫迪也会被K V 卡马特取代了。
Ganesh Pisal
Very good move. Set timelines for same and provide periodic updates to people of this country.
很好的举措。设定时间期限,并定期向本国人民提供最新情况。
Ajinkya Taware
There is no easy way, cut red tape, decrease taxes, divert money from food subsidy,. ayushman bharat, fertilizer subsidy towards infrastructure on a war footing. Decrease regulations, fire Bureaucrats, we don't need them. Simplify labour laws, ban labour unions, allow 100% FDI in manufacturing, we need to create a talent pool in India. Sadly, politicians take a short cut and come up with such schemes like these, which are very shady and mostly end up in the bank accounts of corporates and politicians and bureaucrats.
没有简单的方法,就是要减少繁文缛节,降低税收,从食品补贴中转移资金,进行战时基础设施肥料补贴。减少规章制度,罢免官*员,我们不需要他们。简化劳动法,取缔工会,允许外商100%直接投资于制造业,我们需要在印度建立人才库。可悲的是,政客们抄了近路,提出了这样的计划,这些计划非常可疑,钱最终大多流入企业、政客和官僚的银行账户。
I AM SSK
good move
很不错的举措。
Raja R
remove BJP bring Manmohan then economy will change
印度人民党下台,经济就会改变。
Raja R
not possible in BJP time as their priorities are different
在人民党执政期间是不可能的,因为他们的优先事项不同。
Jayeshkumar Panchal
Economy's over reliance on Everything that is Digital is going to be Short Lived or a Fad. India should stop catching up with the world on Digital and Electronics including EVs and Embark on what is the Future -An Analog world with Perfection in Concept, Design, Geometry and Engineering (of a Musical Instrument!). It is surprising to see India chasing other's success stories, rather than creating its very own (like the IT).
经济过度依赖数字化是短命的,一时的。印度应该停止在数字和电子产品(包括电动汽车)方面追赶世界,开始开创未来—一个在概念、设计、几何和工程(设备)方面都非常完美的模拟世界。令人惊讶的是,印度追逐着其他国家的成功,而不是创造自己的成功。
Citizen Indian
Too little too late! When will we ever wake up? Bur there are no Indian manufacturer/entrepreneur/industrialist who is interested in manufacturing mobile phones. It's the Chinese who rule the market. And that will not stop there....it will happen in all sectors including TVs, fridges, washing machines, air conditioners etc. Again, when will we wake up?
太少也太迟了!我们什么时候才能真正醒来?没有印度的制造商/企业家/实业家对制造手机感兴趣。中国人统治了市场。这还没完……这将发生在所有行业,包括电视、冰箱、洗衣机、空调等。再说一次,我们什么时候才能觉醒?
Devendra Ghosh
BAN china maal asap.
尽快禁止中国制造。
Ajinkya Taware
Why? Why waste money? China cut taxes , cut red tape, cracked down on labour unions and developed infrastructure. They took the HARD WAY and now they are enjoying the fruits. But New Delhi wants to raise taxes, pander to labour unions, Increase regulations and use infrastructure money for farm loan waivers, food subsidy, ayushman Bharat etc etc.
为什么?为什么要浪费钱?中国削减了税收,减少了繁文缛节,打击了工会,发展了基础设施。他们开始吃了很多苦,现在正在享受胜利的果实。但印度政府希望提高税收,迎合工会,增加监管,将基础设施资金用于农业贷款减免、食品补贴、阿尤什曼•巴拉特等。
Yuv1959 A
Excellent. It will give more jobs and improve skills set of the people. Youth energy will be utilized andCountry can grow and reduce the trade imbalance.
太好了。这能提供更多的工作岗位,提高人们的技能。青年的活力将得到利用,国家可以发展和减少贸易不平衡。
Realdeshbhakt
i agree.The UPA1 govt was also trying but failed.Indian electronics can not scale up fast.The nation needs to build entire ecosystem within span of a year and offer low prices with highest quality.That will never happen here
我同意。团结进步联盟政府也曾尝试,但失败了。印度的电子产品无法快速阔张。国家需要在一年内建立起完整的生态系统,并提供物美价廉的产品。但在印度永远不会发生。
Realdeshbhakt
we have seen what happens to modi's plans -noteband,smart cities,make in india,GST,jumlas after jumlas. MOdi govt should focus on making pakodas and just import from taiwan-korea-thailand and china
我们已经看到莫迪的计划是什么结果——废钞令,智能城市,印度制造,商品服务税,一个又一个的空谈。莫迪政府应该专注于烹制帕可达,只从台湾地区、韩国、泰国和中国进口。
S K Mandal
Plan seems good, but its success will depend on efficient and impartial execution. Let's hope for the best
计划似乎不错,但能否成功取决于有效和公正的执行。让我们往好处想吧。
Rahul
Good
很好。
外文链接:https://economictimes.indiatimes.com/industry/cons-products/electronics/coming-soon-a-rs-45000-crore-fund-to-push-electronics-manufacturing/articleshow/73922513.cms