Wealth of India's richest 1% more than 4-times of total for 70% poorest: Oxfam
乐施会:印度最富有的1%人口拥有的财富是最穷的70%人口的4倍还多
India's richest 1 per cent hold more than four-times the wealth held by 953 million people who make up for the bottom 70 per cent of the country's population, while the total wealth of all Indian billionaires is more than the full-year budget, a new study said on Monday.
星期一公布的一项新研究显示,印度最富有的1%人口所拥有的财富是9.53亿人的四倍以上,而这些人正是印度最贫穷的70%人口,而印度所有亿万富翁的总财富超过了印度的全年预算。
Releasing the study 'Time to Care' ahead of the 50th Annual Meeting of the World Economic Forum (WEF), s group Oxfam also said the world's 2,153 billionaires have more wealth than the 4.6 billion people who make up 60 per cent of the planet's population.
在世界经济论坛第50届年会召开之前,乐施会发布了这份名为《该引起重视了》的研究报告。乐施会还表示,全球2153名亿万富翁的财富超过占全球60%人口的46亿人。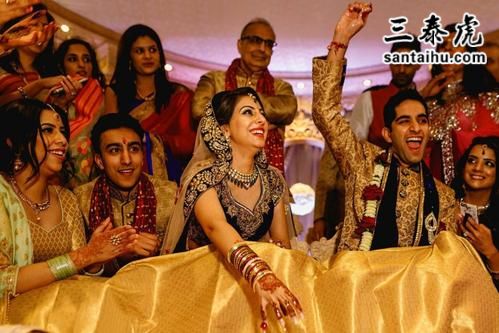 The report flagged that global inequality is shockingly entrenched and vast and the number of billionaires has doubled in the last decade, despite their combined wealth having declined in the last year.
该报告指出,全球不平等现象根深蒂固,规模巨大,过去10年亿万富翁的数量翻了一番,但他们的财富总额在去年有所下降。
"The gap between rich and poor can't be resolved without deliberate inequality-busting policies, and too few go nments are committed to these," said Oxfam India CEO Amitabh Behar, who is here to represent the Oxfam confederation this year.
印度乐施会首席执行官Amitabh Behar表示:"如果没有深思熟虑的消除不平等的政策,就无法消除贫富差距,而致力于这些政策的政府太少了。"
The issues of income and gender inequality are expected to figure prominently in discussions at the five-day summit of the WEF, starting Monday. The WEF's annual Global Risks Report has also warned that the downward pressure on the global economy from macroeconomic fragilities and financial inequality continued to intensify in 2019.
世界经济论坛将于下星期一召开为期五天的峰会,预计收入和性别不平等问题将成为讨论的重点。世界经济论坛的年度全球风险报告还警告称,宏观经济脆弱性和金融不平等对全球经济的下行压力在2019年继续加剧。
Concern about inequality underlies recent social unrest in almost every continent, although it may be sparked by different tip points such as co ption, constitutional breaches, or the rise in prices for basic goods and services, as per the WEF report.
根据世界经济论坛的报告,对不平等的担忧构成了最近几乎每一个社会动荡的基础,尽管它可能是由不同的引爆点引发的,如、违反宪法或基本商品和服务价格上涨。
Although global inequality has declined over the past three decades, domestic income inequality has risen in many countries, particularly in advanced economies and reached historic highs in some, the Global Risks Report flagged last week.
《全球风险报告》。上星期指出,尽管过去30年全球不平等程度有所下降,但许多国家(尤其是发达经济体)的国内收入不平等程度有所加剧,一些国家甚至达到了历史高点。
The Oxfam report further said "sest" economies are fuelling the inequality crisis by enabling a wealthy elite to accumulate vast fortunes at the expense of ordinary people and particularly poor women and girls.
牛津饥荒救济委员会的报告进一步指出,"性别歧视"经济正在加剧不平等危机,因为它使富裕的精英阶层能够以普通人,尤其是贫穷的妇女和女孩为代价积累巨额财富。
Regarding India, Oxfam said the combined total wealth of 63 Indian billionaires is higher than the total Union Budget of India for the fiscal year 2018-19 which was at Rs 24,42,200 crore.
关于印度,牛津饥荒救济委员会称,印度63位亿万富翁的总财富比印度2018- 2019财年的总预算2442.22亿卢比还高。
As per the report, it would take a female domestic worker 22,277 years to earn what a top CEO of a technology company makes in one year.
根据这份报告,一名女性家政工人需要22,277年才能挣到一家科技公司首席执行官一年的工资。
It further said women and girls put in 3.26 billion hours of unpaid care work each and every day -- a contribution to the Indian economy of at least Rs 19 lakh crore a year, which is 20 times the entire education budget of India in 2019 (Rs 93,000 crore).
报告还说,妇女和女童每天无偿劳动32.6亿小时,这每年至少为印度经济贡献190万亿卢比,是印度2019年教育预算的20倍(9.3万亿卢比)。
Behar said women and girls are among those who benefit the least from today's economic sy em.
Behar说,妇女和女孩是当今经济体中受益最少的群体之一。
"They spend billions of hours cooking, cleaning and caring for children and the elderly. Unpaid care work is the 'hidden engine' that keeps the wheels of our economies, businesses and societies moving.
"他们花费数十亿小时做饭、打扫、照顾孩子和老人。无偿护理工作是推动经济、商业和社会发展的"隐形引擎"。
Oxfam said go nments are massively under-tang the wealthiest individuals and corporations and failing to collect revenues that could help lift the responsibility of care from women and tackle poverty and inequality.
乐施会说,各国政府对最富有的个人和公司的征税严重不足,而且没能征收到有助于减轻妇女照料责任、解决贫困和不平等问题的收入。
Besides, the go nments are also underfunding vital public services and infrastructure that could help reduce women and girls' workload, the report said.
此外,报告还指出,各国政府还缺乏必要的公共服务和基础设施的资金,而这些服务和基础设施可以帮助减少妇女和女童的工作量。
As per the global survey, the 22 richest men in the world have more wealth than all the women in Africa.
根据全球调查,世界上最富有的22位男性拥有的财富超过了非洲所有女性。
Oxfam said its calculations are based on the latest data sources available, including from the Credit Suisse Research Institute's Global Wealth Databook 2019 and Forbes' 2019 Billionaires List.
乐施会表示,其计算基于最新的数据来源,包括瑞士信贷研究所的2019年全球财富数据库和福布斯2019年亿万富翁名单。
以下是《印度经济时报》读者的评论:
译文来源:三泰虎 http://www.santaihu.com/49252.html 译者:Joyceliu
Dilip
Add agriculture, education, infrastructure, housing & healthcare in big size budget. This can improve economy, generate jobs and silence critics.
将农业、教育、基础设施、住房和医疗纳入巨额预算。这可以改善经济,创造就业,让批评人士闭嘴。
Dilip
India should go for bigger budgets by improving infrastructure, Education,housing & healthcare.
印度应该改善基础设施、教育、住房和医疗,增加预算。
Okman
The finest first generation leaders without any capital have been created by RSS in India in form of Atalji, Modiji, Amit Shah Ji, Gadkari JI, Sushma ji. Poor families in India must send their kids to RSS shakhas to raise them to full pential
RSS在印度创造了没有任何资本的最优秀的第一代领导人,他们有Atalji, Modiji, Amit Shah Ji, Gadkari Ji, Sushma Ji。印度的贫困家庭必须把他们的孩子送到RSS shakhas来充分发挥他们的潜力。
Okman
As much as education I have , the world was never equitable to start with. The wealth distribution is always skewed. The people at top who run businesses have created jobs. The people at bottom cannot become equals by any stretch of imagination. Only the inheritance laws above 20 crores must be tweaked to allow 50% death tax as in west, so that super rich are not a perennially one sided dynasty.
尽管我受过很多教育,但这个世界从一开始就不公平。财富分配总会倾斜。企业创造了就业机会。底层人民不可能仅凭空想就成为平等的人。超过2亿卢比的继承法必须进行调整,允许征收50%的遗产税,就像西方那样,这样超级富豪就不会永远是王朝。
Sundarv
Very distressing state of affairs.
这是非常恼人的局势。
Shaleen Nath Tripathi
The Gt may put a skills cess on the superrich... and provide unskilled skills based on the industry demand and supply only accordingly...
政府可能会对超级富豪进行技能培训……并根据行业需求和供给提供相应的非熟练技能。
Dilip
India has most uneven distribution of wealth.Cause is the mismanagement.
印度的财富分配是最不均。原因在于管理不善。
Okman
No . You are wrong. From the times of Kings it has been the same . De acy only allows us to see the facts. What next , above 20 crores of wealth a death tax of 50% should be payable by successor, so that the concept super rich does not turn into dynasty thing. Ditto for po iticians on even higher priority.
不。你错了。自古以来都是如此。只是让我们看清事实而已。其次,超过2亿的财富,50%的死亡税应该由继承人支付,这样超级富豪就不会变成王朝。同样,对家们应该采取更高的措施。
Jagdish Chandra
Oxfam said its calculations are based on the latest data sources available, including from the Credit Suisse Research Institute's Global Wealth Databook 2019 and Forbes' 2019 Billionaires List. Masses of India well-aware this financial skewing tilt toward 1% populace than to 99% of general populace, is suffering under the grind poverty since post-fre m, but unfortunate is that successive Gt which sponsored by this elite club is observing silence.
乐施会表示,其计算基于最新的数据来源,包括瑞士信贷研究所的2019年全球财富数据库和福布斯2019年亿万富翁名单。印度大众很清楚这种财富倾向于1%的民口,而不是99%的普通民众,自从后自由时代以来就饱受贫困之苦,但不幸的是,这个精英俱乐部赞助的历届政府都保持沉默。
Julie Andrews
What happens if we focus on a better question - how to help bridge the gap between billionaires and our most vulnerable? We can't assume all billionaires have the same mindset of kee all their wealth. Look at POP962.org and the work they are doing for the ultra high net worth CEOs and humanity... Or Bill and his foundation.
如果我们关注一个更好的问题——如何助力弥合亿万富翁和我们最弱势群体之间的差距——会发生什么?我们不能假设所有的亿万富翁都有相同的心态来维持他们所有的财富。看看他们为超高净值CEO和人类所做的事……或者比尔和他的基金会。
Shaleen Nath Tripathi
Unskilled workers have been in large supply which has depressed productivity and real wages... Provide more skills could increase productivity and wages... Though, over supply of skilled in sectors like medical and engineering could also lower demand of such professionals relative to supply...
大量非熟练工人的出现降低了生产率和实际工资。更多的技能可以提高生产率和工资…不过,医疗和工程等行业的技术人才供过于求,相对于供应而言,对这些专业人才的需求也会下降……
Shaleen Nath Tripathi
Providing more skills...
提供更多的技能……
Ban Bollywood Movies
Because of the present sy em RICH ARE GROWING RICHER, POOR ARE STAYING POORER. HUMAN SOCIETY HAS BIFURCATED. ONCE THE MIDDLE CLASS IS FINISHED SOON, IT WILL BE SOON OPEN BATTLE BETWEEN RICH VERSUS POOR.
因为现在的印度体,富人越来越富,穷人越来越穷。人类社会已经了。一旦中产阶级很快消失,富人和穷人之间的战争也将很快打响。
SAURABH KUMAR
Time to think about wealth tax for the uber rich...Already present in most of the countries in the world...But the limit should be significantly high enough to encourage people to become rich...
是时候考虑对超级富豪征收财富税了……世界上大多数国家都已经这么做了…但起征点应该明显高到足以鼓励人们首先富有起来……
Amalesh Bhattacharya
this growth is rapidly growing at high percentages,the rich are sending their sons and daughter to elite law colleges in US,AUSTRALIA specializing in GST ARBITRATION,starting sries in six figures,in supreme courts.
这种增长正以很高的比例迅速增长,富人把他们的儿子和女儿送到美国、澳大利亚的精英法学院,专门研究GST仲裁,在最高法院的起薪是六位数。
Ramesh Shah
ITS NOT THE QUESTION HOW BUT THEIR RESPONSIBILITY TOWARDS THE REMAINING COUNTRY MEN....... WHICH BY LARGE THEY. DON'T BOTHER EXCEPT THE TATAS.....
问题不在于怎么做,而在于他们对剩下的同胞所担负的责任。不用麻烦了,除了塔塔…
Krishnasami Venkatesan
Luck must be with the poor to become very rich
穷人只有走运才能变得非常富有。
Krishnasami Venkatesan
India's richest people have not become overnight.Their predecessors have suffered a lot in their early life.Tatas' or Ambani's became rich due to sheet hard work and dedication to their business
印度最富有的人并不是一夜暴富的。他们的前辈在早期生活中也吃了很多苦头。塔塔斯和安巴尼的财富也源于辛勤的工作和对事业的奉献。
Ban Bollywood Movies
Their predecessors were refugees or migrants in those days. Now when everyone were tilling their farm they got head start then. That cannot be possible now.
他们的前辈是当时的难民或移民。现在,当每个人都在耕种他们的农场时,他们遥遥领先了。那种情况现在是不可能了。
Vikas
This just shows giving tax breaks to corporates doesnt mean the benefits will be passed down to common man.
这只是表明,给企业减税并不意味着福利会传递给普通人。
Ashim
so de acy is not hel poor Indians. NaMo is failing . He is only tomtoming abt development . but whose development ? po iticians and industrialists are making billions. income disparity is there all over the world . but India is at the top . Here rules are for fools . 99 percent population is fooled by 1 percent .
所以对贫穷的印度人并无助益。莫迪失败了。他只考虑发展问题。但考虑的是谁的发展呢?家和实业家赚了数十亿。世界各地都存在收入差距。但印度的贫富差距是最严重的。这里的规则是为傻瓜制定的。99%的人被1%的人愚弄了。
Sharmishtha
Only when NaMo is ed u see failure in de acy ? Iam not pro-BJP or anti-congress. but this attitude also doesnt provide any solution. just compning when everyone knows the roots of such problems lies in sy em developed over years and when those roots are shaken again blame the gt. everyone needs to chg, freeloaders most of all , and change for positive growth not negative chg liek everyone coming on streets to fight.
莫迪当选时你才看到的失败吗?我不支持人民党,也不反对国大党。但这种态度也不能提供任何解决办法。每个人都知道这些问题的根源在于多年积弊的体。每个人都需要改变,尤其是那些吃白食的人,要转变为积极的增长,而不是消极的增长。
Idiotic News
DID ANY ONE PREVENT ANY ONE ESLE FROM BECOMING WEALTHY. NO ONE BECOMES RICH BY EXISTING ON SUBSIDIES. Only 1.5% pay income tax and another 2.5% file return to cm refund and rest cry black money.
有谁阻止过别人富有吗?没人能靠补贴变富。只有1.5%的人缴纳所得税,另外2.5%的人申请退税,其余的为黑钱哭嚷。
The Other Angle
What if money had and expiry date. What if every Rupee printed had an expiry date of 10 years from the time it has been printed?
如果钱有有效期会怎样?如果印出来的每一卢比都有10年的有效期,那该怎么办?
Sharmishtha
My dear Other Angle , rich will just dump such 'about to expire' money on poor again. this is not a feasible solution. But i like ur attitude since everyone here is compning instead of providing solution. you at least my fellow bhartiya are on track of creative thinking!
我亲爱的,富人会再次把这些"即将到期"的钱扔给穷人。这不是一个可行的解决方案。但我喜欢你的态度,因为这里的每个人都在抱怨,而不是提供解决方案。你至少是我的印度同胞,有创造性思维!
The Other Angle
Does any go nment have the will to really try to remove income inequality? There is a steady upward spiral of money from the bottom of the pyramid to the top. The wealthy have perfected the art of taking a little bit of money, a very small sum of money from the poor in small portions. So small that the poor do not even realise that they are making the already rich, richer. Small sachets are a case in point. The very rich manufacture these and the very poor purchase these. But the worst part is in the guise of free economy, the rich also take away the opportunities from the poor. I am not a co unist but the sy em is being taken advantage of. The go nment should remove income tax. It should implement GST on every thing, including sale of property, shares and any asset by individuals too. Luxury items should be taxed more and basics should be taxed less. Property below a certain threshold should be taxed less and above, more. This might take care of the problem to a small extent. This will reduce income inequality
有哪个政府愿意真正消除收入不平等?从金字塔的底部到顶端有一个稳定的上升螺旋。富人已经掌握了从穷人手里赚钱的艺术。这些钱太少,穷人们根本没有意识到,他们正在让本已富有的人变得更富有。小香囊就是一个很好的例子。富人制造,穷人购买。但最糟糕的是在自由经济的伪装下,富人也夺走了穷人的机会。政府应该取消所得税。对商品实施消费税,包括出售房产、股票和所有的个人资产。奢侈品应该多征税,基本用品应该少征税。低于一定门槛的房产应该少征点税,高于一定门槛的应该多征点税。这可能在一定程度上解决了这个问题。减少收入不平等。
DarthVader
stupid oxfam wasting money!!! is this something new??? Universal Truth from the ages
愚蠢的乐施会浪费钱!!这算什么新鲜事?自古以来都是如此。
Nirmal Zaveri
nobody will give credit to Rahul Gandhi for his scheme to give minimum income to every family below poverty line.he had discussed with top economists about viability of such scheme.BJP can atleast consider such a scheme without giving any credit to Rahul
没有人会因为拉胡尔•甘地提出的为每一个生活在贫困线以下的家庭提供最低收入的计划而称赞他。他曾与顶级经济学家讨论过这种方案的可行性。印度人民党至少可以考虑这样一个计划,而不必相信拉胡尔。
Utsav
Have a look at the gini coefficient of other countries that will give you a better perspective of the actual situation.
看看其他国家的基尼系数,你就能更好地了解实际情况。
Kishore Shivani
IN OUR COUNTRY VIDE RESERVATIONS AND QUOTAS AND FREEBIES AND SUBSIDIES AND DOLES AND ALMS WE HAVEV CREATED A COUNTRY OF BEGGARS LAZY PARASITES WHO DO NOT WANT TO WORK FOR THEIR LIVING .90% POPULATION OF OUR COUNTRY BELONGS TO THIS CATEGORY.
我们国家有预留制、有配额、有赠品、有补贴、有救济、有施舍,我们创造了一个乞丐的国家,懒惰的寄生虫不想为了生活而努力工作,我国90%的人口都属于这一类。
Kishore Shivani
THE SAME SITUATION EXISTS ALL OVER THE WORLD SO WHAT IS THE MOTIVE BEHIND SINGLING OUT INDIA.
同样的情况在世界各地都存在,那么把印度单独挑出来的动机是什么呢?
外文链接:https://economictimes.indiatimes.com/news/economy/indicators/wealth-of-indias-richest-1-more-than-4-times-of-total-for-70-poorest-oxfam/articleshow/73416122.cms