India deploys aircraft carrier INS Vikrditya in Arabian Sea, even as -Pakistan conduct major exercise
印度在阿拉伯海部署"维克拉玛蒂亚"号航母,尽管和巴基斯坦正在进行大规模演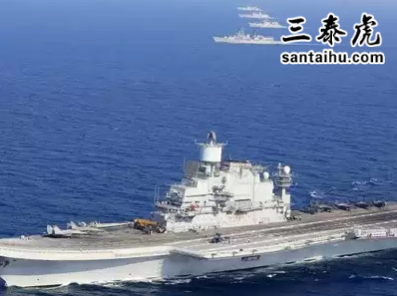 NEW DELHI: With Pakistan and conducting a major joint naval exercise in the northern Arabian Sea, India too has deployed its aircraft carrier INS Vikrditya on its western seaboard to send a clear strategic signal to its neighbours about its operational readiness and combat capability in the maritime domain.
新德里:巴基斯坦和在阿拉伯海北部举行大型联合海军演,印度也在本国西部沿海部署"维克拉马蒂蒂亚"号航母,向邻国发出明确的战略信号,表明其在海上领域的战备状态和作战能力。
Navy deputy chief vice admiral M S Pawar personally reviewed the "intense air and sea operations" from on board the 44,400-tonne INS Vikrditya, which operates the supersonic MiG-29K fighters from its deck, in the Arabian Sea. "Admiral Pawar expressed the confidence that INS Vikrditya will live up to its name and remain victorious in battle always," said an officer.
印度海军副司令海军中将帕瓦尔在阿拉伯海的甲板上亲自检阅了排水量44400吨的"维克拉马蒂亚"号航母,米格- 29k超音速战机在航母上起降。一名军官称:"帕瓦尔上将表示,他相信维克拉玛蒂亚号不会辜负自己的名声,将永远在战斗中获胜。"
The Navy, of course, is kee a close watch on the nine-day "Sea Guardians 2020" exercise between the Pakistani and warships and submarines, which kicked off on Monday to "further consolidate their all-weather strategic partnership".
此外,印度海军也正在密切关注为期9天的中巴军舰和潜艇"海洋卫士2020"演。此次演于星期一开始,目的是"进一步巩固中巴全天候战略伙伴关系"。
While the Pakistani Navy is not a worry for the Indian Navy, New Delhi remains concerned about 's expanding strategic footprint in the Indian Ocean Region. Navy chief Admiral Karambir Singh just last month had said that seven to eight warships are present in the IOR at any given time, while also confirming that Indian warships had driven away a oceanic research vessel indulging in suspicious activity near the strategically-located Andn and Nicobar archipelago in September.
尽管巴基斯坦海军并不令印度海军担忧,但新德里仍对在印度洋地区不断扩大的战略足迹感到担忧。海军上将卡拉姆比尔·辛格就在上个月曾表示,任何时候都有7到8艘军舰在印度洋游弋,同时也证实印度军舰在9月份赶走了一艘在安达曼和尼科巴群岛附近从事可疑活动的科考船。
印度时报读者的评论:
译文来源:三泰虎 http://www.santaihu.com/49142.html
Sathasivan Nagarajan • 20 hours ago
The nation is under the custody of a brave and efficient PM and not a puppet and coward of earlier PM dancing at the hands of a Italian family.
管理这个国家的是一位勇敢而高效的总理,而不是先前那位由意大利人遥控的傀儡和懦夫。
rajesh rameshan• 20 hours ago
Please stop all these .. Army, Navy and Airforce are always efficient no matter who the PM is ..
别说这些了,无论谁当总理,印度陆军、海军和空军都很强。
sa steels• 10 hours ago
How come lakhs of illegal migrants crossed the borders in these years ..We would not need caa and nrc if the borders were checked strictly
为什么这些年有成千上万的非法移民跨越边境?
如果严格检查,我们就不需要出台公民身份修正案了
R• 21 hours ago
Pakistan is broke. Pakistan's economy is col psed beyond repair. is a strategic challenge to the USA. The US won't tolerate any country supporting and challenging its predominance. In a war situation India can destroy Gwadar Port to smithereens, very easley. And there goes logistics and investments in smoke.
巴基斯坦破产了。巴基斯坦的经济已经到无法恢复的地步。对美国构成战略挑战。美国不会容忍任何国家支持,挑战其主导地位。在战时,印度可以轻而易举地摧毁瓜达尔港。的物流和投资将化为乌有。
Zuby Assani • 14 hours ago
is a SuperPOWER and india a superCOWer.
Do no compare apples with oranges or a Mighty Dragon with a lame cow.
是超级大国,印度是超级懦夫。
不可拿苹果与橘子比较,也不要拿强大的龙与瘸腿的牛比。
R• 14 hours ago
Even the constantly say they are yet to catch up to the West and USA. How many Aircraft careers do have. Far, far less then even Russia, may be two and others in the making. Let alone USA. You sound like a super pig from bikari Pukistan.
也常说他们还没有赶上西方和美国。有多少航母?可能有2艘,还有一艘在建,比俄罗斯少得多,更别提美国了。听口气,你来自巴基斯坦吧。
Hunter Naruto• 14 hours ago
Yes is really holds Superior army.
军队确实更胜一筹
Pradip Sen • 19 hours ago
India fast need 2 more Aircraft carrier and at least 2 more nuclear submarines in its fleet to counter any advances in Indian Occean ! The under preparation Aircraft carrier should be completed within 2020 instead of 2021 !
印度急需2艘航母,至少2艘核潜艇来对抗!
正在造的航母应该在2020年建成,不要拖到2021年!
Dravidian Nationalist• 19 hours ago
u go and build those if u are literate
有能耐,你去造啊
Raghu Muthigi• 19 hours ago
Thumbs up to our brave soldiers
为我们勇敢的战士点赞!
HappyTimes User • 18 hours ago
Nice move
干得好
Dravidian Nationalist• 20 hours ago
pork and cow meat are the best meats.
猪肉和牛肉是最好吃的肉。
Bonny Moraes • 20 hours ago
Will it be served on INS Vikrditya?
会在"维克拉马蒂蒂亚"号航母上供应吗?
chanakya • Mumbai • 19 hours ago
Any exercise by any country with pakistan is a waste of time. Pakistan is a beggar country. It doesn't have the pential to do anything by itself
任何国家与巴基斯坦进行演都是浪费时间。巴基斯坦是一个乞丐国家,没有独立做事的能力
Dravidian • Toronto • 20 hours ago
the ship should be renamed after Warren Hastings, the first governer general of British Indian.
这艘航母应该以英属印度第一任总督沃伦·黑斯廷斯的名字命名。
Rambo• 19 hours ago
Brave move... proud to be an Indian...!
有种,我为自己是印度人而自豪!
Sunil U• 20 hours ago
We trust on our Forces as they are capable of precting nation.
我们相信我们的军队,他们有能力保护国家。
Sameer • Mumbai • 18 hours ago
India should build 20 more such beasts
印度应该再造20艘这样的航母
qtips65 • Mumbai • 19 hours ago
Pakistan and are holding joint naval exercises? What does Pakistan have to contribute for the event? A row boat?
巴基斯坦和举行联合海军演?
巴基斯坦对这次演有什么贡献?派出一艘划艇吗?
Sunil Mohite • Bangalore • 19 hours ago
Indian Navy should have similar exeecise with Vietnam, Japan, South Korea in the South sea
印度海军应该与越南、日本、韩国在进行类似的演
外文:https://timesofindia.indiatimes.com/india/india-deploys-aircraft-carrier-in-arabian-sea-even-as--pakistan-conduct-major-exercise/articleshow/73191796.cms