2010-2019 was India's hottest decade, past year 7th warmest
2010年-2019年是印度最热的十年,去年排第七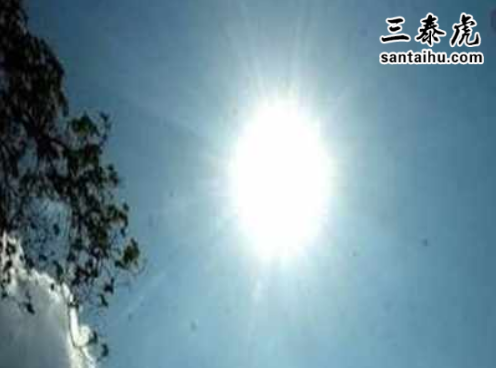 NEW DELHI: Heat from rising global temperatures is also singeing India, which experienced its warmest decade (2010-2019) on record, with temperatures in the country 0.36°C higher than average, the India Meteorological Department (IMD) said.
新德里: 印度气象部门(IMD)表示,导致全球气温上升的热浪,也在炙烤印度,印度经历了有记录以来最热的10年(2010-2019年),气温比平均水平高出0.36摄氏度。
The past year was also the seventh warmest on record and was the 22nd straight year of higher-than-average annual temperatures across the country, IMD's statement on climate of India during 2019, released on Monday, said.
印度气象部门周一发布的2019年印度气候报告称,去年也是有记录以来气温第七高的一年,也是气温连续第22年高于平均水平。
In a sign that India was warming in pace with the accelerated rate of global warming in recent years, the average temperature during 2010-2019 was significantly higher than the 0.23°C warming recorded in the previous decade.
有迹象表明,印度的变暖速度与近年来全球变暖的速度同步,2010-2019年的平均气温明显高于前十年,前十年气温上升0.23摄氏度。
"The impact of global warming on India is unmistakable," IMD head Mrityunjay Mohapatra said.
印度气象部门负责人Mrityunjay Mohapatra表示:"全球变暖对印度的影响是毋庸置疑的。"
It is also leading to weather extremes, which were quite in evidence in 2019," said Mrityunjay Mohapatra, head of IMD. The warmest year in India on record was 2016, when the mean temperature in the country was 0.71°C higher than average, with the first half of the year affected by El Niño conditions. The warming of 0.36°C in 2019 was significantly lower than that, partly because of record cold conditions in north India in December, but it was yet another exceptionally warm year as compared to historical annual mean temperatures in India.
Mrityunjay Mohapatra表示,这带来了极端天气,在2019年就很明显。印度有记录以来最热的一年是2016年,前半年受到厄尔尼诺现象的影响,气温比平均温度高出0.71°C,上。2019年升温0.36°C明显低于这一水平,部分原因是去年12月印度北部出现了创纪录的低温,但与印度历史年平均气温相比,这又是一个异常热的年份。
"The past year had extreme weather during all seasons. There were strong heat waves in Bihar, Jharkhand and Maharashtra, the highest monsoon rainfall across India in 25 years, record number of cyclones over the Arabian Sea, followed by record daytime chill in north India in December. India had a high number of deaths due to lightning and thunderstorms as well," Mohapatra said.
Mohapatra称:"去年全年都出现极端天气。比哈尔邦、恰尔肯德邦和马哈拉施特拉邦都出现了强烈的热浪,季风降雨量是印度25年来最高的,阿拉伯海上空的气旋数量创下了纪录,12月印度北部的白天低温也创下了纪录。此外,印度也有很多人死于闪电和雷暴。"
The global mean temperature during the first 10 months of 2019 was 1.1°C above pre-industrial levels, according to the World Meteorological Organisation. It said that the past year is likely to be the second or third warmest year on record.
根据世界气象组织的数据,2019年前10个月的全球平均气温比工业化前水平高出1.1摄氏度。过去的一年可能是有记录以来第二或第三热的一年。
印度时报读者的评论:
译文来源:三泰虎 http://www.santaihu.com/49117.html 译者:Jessica.Wu
Top Comment
yes it is getting hotter year by year
是的,一年比一年热
Save Andhra From • 8 hours ago
There is no winter in Hyderabad this year. I havent seen anything like this in my whole life.
今年海得拉巴没有冬天,我这辈子从没见过这么热的冬天。
R Srinivasa • Hyderabad • 5 hours ago
It is global warming. Further hotness will be there in coming days
这就是全球变暖。以后会更热
Subba Iyer • 7 hours ago
Very true; with the BJP honchos letting out hot air, this year and the next four years could only be hotter and with lots of foul smell.
人民党领袖们天天吹牛,今年和未来四年只会更热。
doshi jenisha • 52 mins ago
We are manhandling environemnt so we should also accept the return gift
我们对环境不友好,就得接受这种后果
rinkuu • 2 hours ago
climate change is the biggest issue temperature of the earth rises with each passing year
气候变化是最大的问题,地球温度逐年上升
Indra Prabha • 2 hours ago
What with ever increasing population and number of vehicles on the roads;would we expect?Thre is noting being done to control the crowd,in any way;and so the result.
路上的人和车越来越多,我们还能指望什么?
没有采取任何措施来控制人口,结果只能如此。
Ashok Gupta • BHOPAL • 3 hours ago
All countries of the world have to consider this matter seriously .
世界各国都应该认真看待气候变暖的问题。
Indra Prabha • faridabad • 3 hours ago
The temperatures are going up as we have no machinery to control the menace.Number of vehicles is going up;there is no population control
气温正在上升,我们缺乏应对气候变暖的机制,路上跑的车辆越来越多了,人口增长也失去控制。
Asok Datta • 4 hours ago
Don't worry - the next decade will be hotter as pollution will not be reduced by any body
别担心,下一个十年将会更热,没人会去减少污染的
One Line Challenger • 4 hours ago
Credit goes to Feku
都是莫迪的功劳
Sambappa Kalvala • 5 hours ago
Weather and climate records are not eternal and keep changing
气候不是永恒的,而是不断变化的
king • chennai • 5 hours ago
it is called global warming..any plans for it modi
这就是全球变暖…莫迪,有什么应对计划吗?
Rajan Komalassaril • Kottayam • 6 hours ago
REMOVE CORRUPTION FROM ADMINISTRATION OF INDIA,FOR THAT WE MUST REMOVE INCOMPETENT LEADERS LIKE MODI,&SONIA FROM RULING
从印度政府中清除附败分子,我们务必让莫迪和索尼娅这样不称职的领导人下台
Sanjoy Pandey • Kolkata • 6 hours ago
With the ecological imbalance increasing, north India will going to have colder and south India going to have warmer winter with global warming effect.
随着生态失衡的加剧,全球变暖的影响,印度北方会更冷,印度南方的冬天会更热。
iamtheindiaworld iamtheindiaworld • 6 hours ago
For all those who question the possible hidden agenda of the people campaigning against lobal warming -- here is the proof
对于那些质疑全球变暖的人来说,这就是证据
外文:https://timesofindia.indiatimes.com/india/2010-2019-was-indias-hottest-decade-past-year-7th-warmest/articleshow/73130326.cms