Giant Chinese paddlefish dubbed the 'Panda of the Yangtze River' is declared extinct due to overfishing and habitat loss
由于过度捕捞和栖息地的丧失,被称为"长江熊猫"的巨型白鲟被宣布灭绝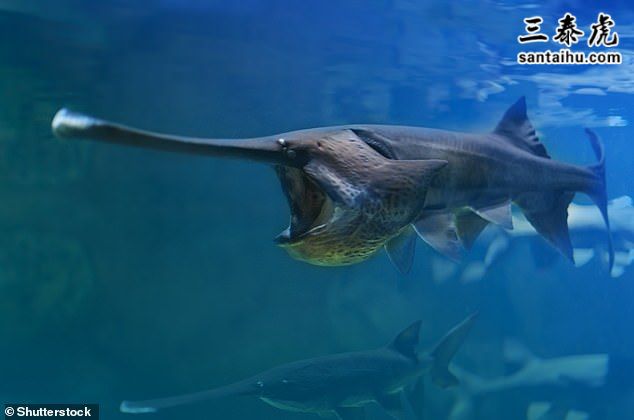 China has declared its giant paddlefish, dubbed 'the Panda of the Yangtze River' for its enormous size, extinct following decades of overfishing.
经过几十年的过度捕捞,因体型巨大而被称为"长江熊猫"的中国巨型白鲟被宣布灭绝。
According to scientists at the Yangtze River Fisheries Research Institute, Psephurus gladius, which can grow to 22 feet in length, went extinct between 2005 and 2010.
据长江水产研究所的科学家介绍,这种可以长到22英尺长的白鲟在2005年到2010年间灭绝了。
Extinction has been caused by overfishing since the 1970s and humans destroying their habitat. Pollution and urbanisation also played a role in their demise.
自20世纪70年代以来,由于过度捕捞和栖息地被人类破坏,导致了这一物种灭绝。污染和城市化也是导致其灭绝的原因。
There were only 210 sightings of 'the giant panda of the rivers' between 1981 and January 2003, when the last live specimen was found and released back into the river.
在1981年至2003年1月期间,仅210例白鲟目击事件。最后一次发现活体白鲟是在2003年1月。
'We estimated the timing of extinction to be by 2005, and no later than by 2010,' the researchers say in Science of the Total Environment.
研究人员在《总体环境科学》杂志上称:"我们估计该物种灭绝的时间是在2005年,最迟在2010年。"
The fish, which was around 10 feet long on average, was native to the Yangtze River, the longest river in Asia, along with a diverse selection of megafauna – large or giant animals.
这种鱼平均约10英尺长,原产于亚洲最长的河流——长江,长江还繁衍着种类繁多的巨型动物。
These include the Chinese Alligator, the Finless Porpoise and the Yangtze Sturgeon – two of which are classified as critically endangered on the IUCN Red List, while the porpoise is described as vulnerable.
其中包括扬子鳄、江豚和长江鲟——其中两种已被列入世界自然保护联盟(IUCN)红色名录的极度濒危物种,而江豚则被列为脆弱物种。
The team conducted a basin-wide survey between 2017 and 2018 and of the 332 fish species found, did not find a single live specimen of Chinese paddlefish.
该团队在2017年至2018年期间进行了一项全流域调查,在发现的332种鱼类中,没有发现一只活体白鲟。
The team reported another 140 historically reported fish species that were not found, most of which considered highly endangered.
研究小组还报告了140种历史上报道过但未发现的鱼类,其中大多数被认为是高度濒危的。
The ecosystem has been affected by human activity resulting in a loss of biodiversity, the result of which may also be the extinction of the Yangtze River Dolphin – which was declared extinct but later reportedly sighted in 2016.
生态系统受到人类活动的影响,导致了生物多样性的丧失,这也可能导致了长江白鲟的灭绝——长江白鲟已被宣布灭绝,但据报道在2016年曾有人目击过白鲟。
英国每日邮报读者的评论:
译文来源:三泰虎 http://www.santaihu.com/49107.html 译者:Jessica.Wu
Me_no_scribbles, Worksop, United Kingdom
The Yangtze River was the most polluted in the world back in 2002. All down to raw sewage and untreated industrial chemical waste being dumped by the tonne daily. China is also the largest carbon dioxide emitter and they still dump CFCs into the atmosphere....
2002年,长江是世界上污染最严重的河流。每天都有一吨未经处理的污水和未经处理的工业化学废物倒入长江。中国也是最大的二氧化碳排放国,仍然向大气中排放氯氟烃…
Global Ambassador, Norwich, United Kingdom
China are a disgrace
中国真丢人
,Basseterre, Saint Kitts And Nevis
Congratulations China. Another step closer to destruction of the Earth.
恭喜中国。离毁灭地球又近了一步。
syb, Anywhere and everywhere, United Kingdom, 2 days ago
Well done china......
干得好,中国……
Albany, London, 2 days ago
Unforgivable, wicked & scandalous, that beautiful creatures, evolved over millions of years, should be wiped out by the incompetence & stupidity of mankind.
不可原谅啊,这么美的生物,经过数百万年的进化,却被愚蠢的人类消灭了。
HoldThePickles, Kansas City, United States, 2 days ago
It's China. Is anyone surprised?
这是中国,有人感到惊讶吗?
Robert.Hunter, London, United Kingdom, 2 days ago
china seems desperate to kill all animals on this planet
中国似乎想要让地球上所有的动物灭绝
mr bean 1, oswestry, United Kingdom, 2 days ago
All due to world population growth..... shame on the human race
都怪人口增长太快…人类真可耻
Why.Is, North Of The Isle Of Wight , United Kingdom, 2 days ago
Next..... Rhino horn.......
下一个轮到犀牛角......
edddieg, Torquay, 2 days ago
In China being on an endangered species list just means that people will pay more for the rarity
在中国,人们愿意为被列入濒危物种名单的稀有物种出更高的价格
Buccaneer IV, Wales, United Kingdom, 2 days ago
Undoubtedly ended up as some weird ingredient in Chinese medicine! Same as the Rhino, Bear, Pangolin and hundreds of other species!
毫无疑问,它们最终成了中药里的一种奇怪成分!
就像犀牛、熊、穿山甲和其他数百种动物一样!
Northenmonkey, Newcastle, 2 days ago
Didn't even have the sense to put some in an aquarium?
都没想过要把一些白鲟放在水族馆里养吗?
Facts and Logic, Dublin, Ireland, 2 days ago
well done China great environmentalism !!
中国干得好,伟大的环保主义者!!
Kinggoji, Detroit, United States, 2 days ago
China, and Asia in general have zero regard for native wildlife.
中国和大多数亚洲国家对本土野生动物毫不关心。
Completely Average, Somewhere, United States, 1 day ago
Think anyone in China cares?
你以为有中国人会在乎吗?
Stallywaggy, London, United Kingdom, 2 days ago
Humans doing what humans do best. Destruction.
人类最擅长做的就是-破坏。
Friend of fre m, North Shields, United Kingdom, 2 days ago
What a disgrace I hate humans
真丢人,我讨厌人类
XERIOUS, Destra, United Kingdom, 2 days ago
I dare say the fish was a component in some hokey quack medicine.
我敢说这条鱼成了某种假药的成分
Avi69, Liverpool, United Kingdom, 2 days ago
China casts a dark shadow over the whole world
中国给全世界留下了阴影
skybinder1, Birmingham, United Kingdom, 1 day ago
China. They will eat anything.
中国人什么都吃啊。
外文:https://www.dailymail.co.uk/sciencetech/article-7848271/Giant-Chinese-paddlefish-dubbed-Panda-Yangtze-River-declared-extinct.html