Third case in month: Woman's body found without head and legs in Mumbai
孟买发现一具无头无腿女尸,本月第三起类似案件
MUMBAI: In the third such case in a month, Ghatkopar police on Monday morning found the headless body of a woman near Naval Gate in Vidyavihar. The body, with the legs below the knees missing too, had been wrapped in a bedsheet and was spotted by passersby, who alerted the police. The woman is believed to be in her late 30s.
孟买:周一早上,加特科帕尔警方在维迪亚维哈尔的海军门附近发现一具无头女尸,这是本月发生的第三起此类案件。尸体裹在床单里,膝盖以下腿部也缺失,路人发现后报了警。这名女子估计在30多岁。
Police said they were scanning CCTV cameras to establish who dumped the body. According to them, the woman could have been killed at another place and the body dumped at Vidyavihar. "The most important thing is to establish her identity, which will give us the direction for a speedy probe. We are also checking the records of missing persons," an officer said.Akhilesh Singh, zonal DCP, said, "We have sent the body of the woman, who was in a nightie, to Rajawadi Hospital for post-mortem." Ghatkopar police have registered a case of murder and destruction of evidence against unidentified killers.
警方表示,他们正在查看监控摄像头,以确定抛尸者。据警方表示,这名女子可能是在其他地方被杀的,尸体被扔在维迪亚维尔。"最重要的是确定女子的身份,这将为我们的调查提供方向。我们也在检查失踪人员记录。辛格称:"我们已经将这名女子的尸体送到Rajawadi医院进行尸检,女尸身着睡衣。"加特科帕尔警方已按谋杀和销毁证据罪进行立案。
The passersby noticed blood stains on a bedsheet near a nullah on Vidyavihar Road and immediately informed police. "The autopsy report will help us to know the time of her death," an officer said.
路人在维迪亚维哈尔路的一条下水道附近发现有血迹的床单,并立即通知了警方。"尸检报告将帮助我们了解死亡时间。"一名官说到。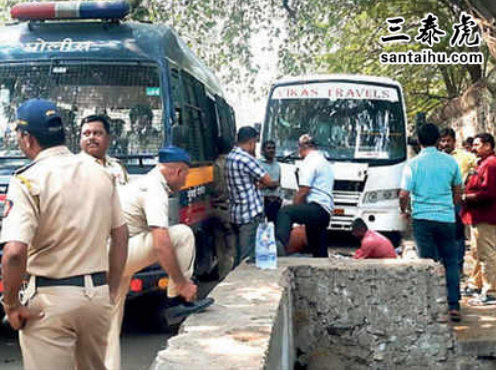 This is the third unidentified body to be found in the city this month. On December 2, a suitcase was discovered in the Arabian Sea near Mahim Dargah containing a shirt, a sweater, trousers, one hand, one leg and the genitals of a man. In a week, police the city crime branch identified the deceased as Bennett Rebello (59), a Vakola resident, and arrested his adopted daughter who turned out to be a minor. Her 16-year-old boyfriend and a 19-year-old friend were arrested with her. Rebello was reportedly killed as he disapproved of their relationship. The girl told police that Rebello would sexually assault her. Both the girl and her boyfriend have been lodged in a children's correction home, while her friend is in Arthur Road jail.
这是本月在该市发现的第三具身份不明的尸体。12月2日,在阿拉伯海马希姆达加附近发现了一个手提箱,里面有一件衬衫、一件毛衣、一条裤子、一只手、一条腿和一个男性生殖器。一周后,警方确认死者是Vakola的居民雷贝洛(59岁),并逮捕了其养女,一名未成年人。她16岁的男友和19岁的朋友也一起被捕。据报道,因为雷贝洛不赞成他们的恋爱关系而被杀。女孩告诉警方养父会对她进行性侵犯。女孩和其男友都被关在未成年劳教所,而她19岁的朋友则被关在亚瑟路简狱。
In the second such incident, a man's body bundled into a gunny bag was found floating in a drain in Chembur. RCF police said the corpse was in a highly decomposed condition and the limbs were trussed. After the autopsy, the man was identified as Devendra Akhade (32), an alcoholic, who would harass his family.Akhade's Reshma Avhad alias Sonu (29) and brother-in-law Sumit Patankar (32) were arrested in the case.
第二起类似事件,一名男子的尸体被捆在一个麻袋里,漂浮在Chembur的下水道里。警方表示,尸体已经高度腐烂,四肢被捆绑在一起。尸检后,这名男子被确认为德文德拉·阿哈德(32岁),是一名酗酒者,生前会骚扰家人。警方已逮捕嫌犯。
印度时报读者的评论:
译文来源:三泰虎 http://www.santaihu.com/49092.html 译者:Jessica.Wu
Vivek DevMumbai3 days ago
At one time Mumbai was very safe for women. But at the time Mumbai belonged to Marathi manus. Population of Marathi people was very high. Now outsiders are taking over and crimes have also gone up. Naturally, their values are different, their culture is different, their attitude is different.
对女性来说孟买曾经非常安全。现在孟买的马拉地人非常多,外来人口多了,犯罪率也上升了。当然,他们的价值观不同,文化不同,态度也不同。
Rational3 days ago
Time to adopt modern technology to trace and solve the crime. there is rise in unfortunate events.
犯罪增加了,是时候采用现代技术来破案了。
Saswati3 days ago
Third case of murder and with more or less same cruilty. Fortunately in previous cases the copse has been identified.
这是第三起凶杀案,残忍啊。幸运的是,前两起案件,确认了受害人的身份。
Ajit2 days ago
why is mumbai police not able to solve this and protect mumbai citizens
为什么孟买警方不能保护孟买市民?
Leon FernandesMumbai2 days ago
the police have to investigate the murder and bring the culprits to task. strict punishment should be given to the culprits.
警察必须调查这起谋杀案并严惩罪犯。
Pinaki Mitra2 days ago
Few days ago chared body of a girl found in Malda of Bengal but media is not informing the latest status of the investigation
This is surprising.
几天前在孟加拉的马尔达发现了一具烧焦的女孩尸体,但是媒体没有报道最新的调查情况,令人震惊。
Malaya15 hours ago
What a moronic statement by police that they believe murder has been committed somewhere else and body is dumped here. What else u believe, was the killer killed her here and he mutilated here on the road while no one saw it.
警方推断凶手是在别的地方作案的,抛尸在这里。肯定的啊,难道凶手在这里杀人,在路上分尸,却没人看见。
himwant prasadSouth Asia2 days ago
Do not politicize everything. We must be vigilant. The state of impunity should be removed. A speedy and articulated investigation by police is expected. Vidyavihar is a very good residential area, someone has committed crime with a aim to disturb tranquility.
不要把一切都政治化。我们必须保持警惕,警方将展开迅速而缜密的调查。维迪亚维哈尔是一个宜居的居民区,有人犯罪,破坏当地的宁静。
DuttaPune2 days ago
they deserve it. justice served
警方应该伸张正义
Aam Aadmi2 days ago
How any person be so cruel... .?
怎么会有如此残忍的人?
Srinivas DhangarPune, Maharashtra2 days ago
All this are hate crimes ,,nothing to do with marathi manus,,there is not tradition or value throughout indi which promotes this barbarism
都是仇杀啊,太野蛮了,印度没有这种传统
Meshak2 days ago
These things were happening in Congress re gie and it's more happening in when 56 inch chested PM, I would say BJP cannot even come closer to Congress, we need somebody who can safety for the woman
国大党时期也发生此类案件,到了莫迪时期,这种案子更频发了。人民党还不如国大党,我们应该保护女性的安全
Balachandramenon VengasserryAlappuzha2 days ago
Police shall find out killers with the help of expert detectives.
警察应在专业侦探的帮助下找出凶手。
War2 days ago
Indian police only act after a crime happens, they cannot stop a crime from happening. Why do we even need police force? to beat our own city?
印度警察只在犯罪发生后才采取行动,警察阻止不了犯罪的发生,要来干嘛?
Sharique2 days ago
what else we can expect from this BJP govt?
我们还能对人民党政府有什么指望?
govind pershadfaridabad2 days ago
strange?Waht is happenning?Why this brutality towards a helpless woman?
太奇怪了,发生了什么事情?为什么对一个无助的女人如此残忍?
Vishwa Kumar2 days ago
Unfortunate incident however the way how killing has happened seems to be weird hope the cops are able to crack through the case. whether all the case are linked or independent of each other
不幸啊,杀人的方式似乎很奇怪,希望警察能破案。这几个案子有关联吗?还是独立的?
DineshNashik3 days ago
Gruesome, more vigilance required on the streets
太可怕了,上街要更警惕了
Chandrika3 days ago
Lot of cases happen in last month same kind killing then cut in parts only few cases solves need to find out the person to stop this.
上个月发生了很多类似的杀人分尸案,要破案找到凶手,阻止类似案件的发生。
Sunny3 days ago
Yes need to find out wo and why because of serial murder and case is hard to solve let's find out to not see more this kind
是的,应该找出凶手,查明作案动机,连环谋杀案很难破。要抓到凶手,不然还会接连发生命案。
外文:https://timesofindia.indiatimes.com/city/mumbai/third-in-a-month-now-a-womans-torso-found/articleshow/73038393.cms