Urban India has 1.8 lakh unsold housing units worth Rs 1.4 lakh crore
印度城市有18万套房子库存,市值1.4万亿卢比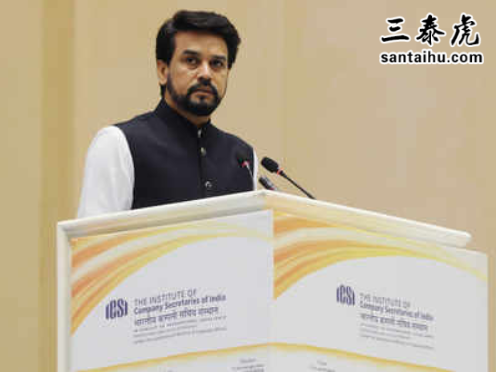 NEW DELHI: There are about 1.83 lakh unsold housing units in urban areas worth Rs 1.39 lakh crore and nearly 55% of them are in the National Capital Region (NCR) and Mumbai Metropolitan Region (MMR), go nment data showed.
新德里:印度政府数据显示,印度城市地区约有18.3万套未售出住房,价值1.39万亿卢比,其中近55%位于首都辖区(NCR)和孟买大都会地区(MMR)。
The finance ministry had recently told Lok Sabha that the total unsold built-up area across major cities was close to 225 million sq feet and the value was pegged at nearly Rs 1.39 lakh crore. The MMR had the mamum unsold inventory of 51,721 units followed by the NCR, which had 49,027 unsold houses. Go nment data submitted to Lok Sabha also showed that the value of unsold units in Mumbai was substantially higher at Rs 61,451 crore as compared to the total value of unsold properties in the NCR pegged at Rs 33,990 crore.
印度财政部最近告诉人民院,主要城市的未售建筑面积接近2.25亿平方英尺,价值接近1.39万亿卢比。孟买大都会地区的未售库存为51721套,其次是首都辖区,有49027套房屋未售出。提交给人民院的政府数据还显示,孟买未售出房屋的市值为6145.1亿卢比,远远高于首都辖区,后者未售出房屋的总市值为3399亿卢比。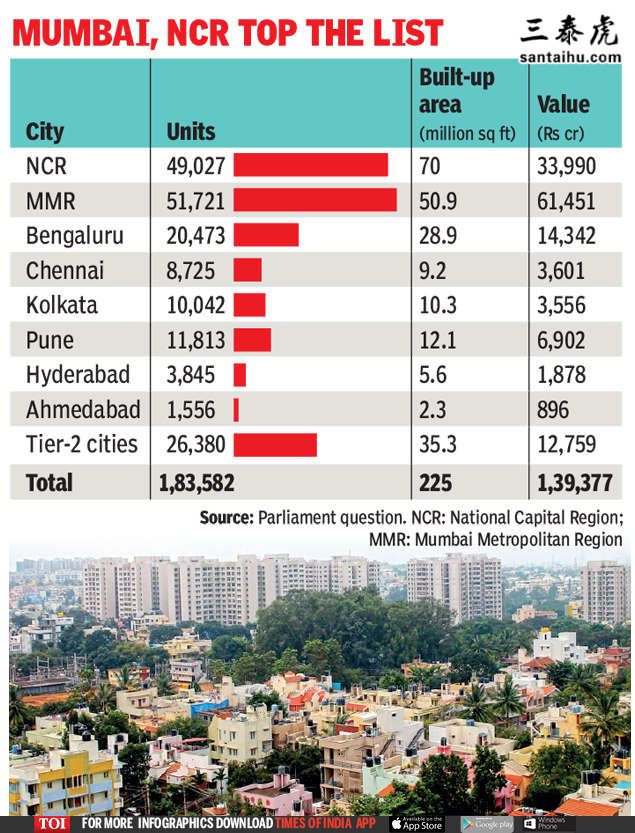 The SBICAP study had estimated that nearly 4.58 lakh housing units were stalled.
SBICAP的研究估计,将近45.8万套住房施工停滞。
Some of the reasons behind projects getting stalled have been the liquidity crunch and reports of developers diverting homebuyers' payments to other projects. Some homebuyers have even stopped making payment since several projects have been stalled for years and some builders have gone bankrupt.
一些项目陷入停滞的原因是资金紧缩,还有报道称开发商将购房者的还款转移到其他项目。一些购房者甚至已经停止还款,因为几个项目已经停滞多年,一些建筑商已经破产。
印度时报读者的评论:
译文来源:三泰虎 http://www.santaihu.com/49037.html 译者:Jessica.Wu
Dreet• 5 hours ago
Thanks to Demonetization.
都怪"废钞令"
Dr Vidyadhar Yellutla • 2 hours ago
This shows, demonetization blocked black money and a grand success.
由此可见,"废钞令"阻止了黑钱的泛滥,取得了巨大成功。
Nuclear MaGa• 4 hours ago
has 60 Million Unsold Houses.. That is 60 times more !!! What is doing is Taking Loans from Banks, Go nment is buying these Houses and taking more Loans,, Repeat. This is what is called 's economic Bubble. We were on our way doing this with Black money, Glad we did not. Because when Bubble bursts, It hits so hard, It can never be recovered !!!
有6000万套房子库存,是印度的60倍!!
所做的就是从银行获取贷款,政府购买这些房子,然后获取更多的贷款。这就是所谓的经济泡沫。很高兴我们没有这样做。当泡沫破裂时,冲击非常大,永远无法恢复!!
Parag Donarkar• 2 hours ago
Increase the interest rate on fixed deposit. There is no reason why bank should earn so much profits. They should distribute their profits in form of interests on fixed deposits.
提高定期存款利率。没有理由让银行赚这么多利润。他们应该以定期存款利息的形式把利润分给储户。
Parag Donarkar • 2 hours ago
Increase the interest rate on fixed deposit
提高定期存款利率
sam mm • 3 hours ago
In this economy are richer not getting richer and poorwr.remaining in same place??
在印度,富人越来越富,穷人越来越穷
Dreet• 5 hours ago
Not affordable.Simple
原因很简单,买不起啊
Shapoor Bomanjee • 3 hours ago
Sky rocketing prices makes the common man run away from buying flats. These contractors want 200% or more as profit. Who will buy except the corrupt.
飞涨的物价使老百姓买不起房。房地产开发商想要200%或更多的利润。除了分子,谁会买呢?
Bhavesh Gandhi• 42 mins ago
Unsold inventory because many are benami properties owned by po iticians and revenue department officers. With demonitization and Aadhar they cannot sell the properties and stay invisible, so they are stuck with this benami properties. Go nment should take steps to find out who owns these properties..
很多未售出房产是政客和税收部门的隐匿房产。随着"废钞令"出台,他们无法出售这些房产。政府应该采取措施查明这些房产是谁名下的。
Abcd • 53 mins ago
House bubbles are not new. It gets created in every economy during economic boom. It happened in Japan, USA, South East Asia etc.
房产泡沫并不是什么新鲜事。在经济繁荣时期,每个经济体都会出现房产泡沫。日本、美国、东南亚等地都曾出现。
Sarma V S • 1 hour ago
This guy is either ignorant or deliberately misleading the nation. There are 10 lakh unsold houses worth around 8 lakhs crores in 8 major cities in india.
NPAs are building up in banks and NBFC for the advances given to the real estate sector. We are staring at our own sub prime crisis in India
在印度的8个主要城市有100万套房子库存,市值8万亿卢比。银行和非银行金融机构的不良贷款率也在上升。我们正在关注印度的次贷危机
Rob Sellars• 42 mins ago
Yep he should que sources but BJP gt does not release any credible data through worry that people will come to know true picture. Your figures sound more credible but where do they come from?
人民党政府不会发布任何可信数据,担心人们知道真相。你的数据听起来更可信
Amit Bharti • 2 hours ago
Slow down in real estate is due to 3 factors. One, black money financing the initial capital requirement of builder has gone away. Two, those having black money to buy are not buying, due to fear of being caught. Three, those who were genuine buyers are not investing, as higher than average returns on these investments are not available. There is just the scope for affordable housing. Demonitization has done its job.
房地产市场放缓有三个原因。一是满足建筑商资金需求的黑钱已经消失。二、有黑钱的人不敢买房,怕被抓。第三,真正的买家没有出手,因为投资回报率并不高于平均水平。经济适用房的空间还是有的。"废钞令"已经发挥了作用。
HonestAnt App• 2 hours ago
Neither they are going to sold as they are overpriced.
定价过高,卖不出去
Rob Sellars• 39 mins ago
Yes they are most expensive real estate in the world and yet sit in the worst infra structure in the world! Price adjustment will have to happen before common man can expected to afford his own property
是的,全球最昂贵的房产,基础设施却是全球最糟糕的!
想让普通老百姓买得起房,就必须先进行价格调整
Arun • 2 hours ago
Why are they launching new housing schemes?
为什么要推出新的住房计划?
Jagdip Vaishnav • Mumbai • 3 hours ago
This is because Economy id down, Purchasing power of common man is crippled ,& restrictions on cash transactions
这都怪印度经济衰退,老百姓购买力下降,现金交易受到限制
sam mm• 3 hours ago
3 biggest scam of Modi Gt - 1) Demonetization 2) Electoral BONDS , 3) Mudra Loans , u might say we are not affected by all.this but the truth is u r affected by it in such a way that u cannot even realise , the housing sector is affected by Demonetization
莫迪政府的3个最大骗局:
1)废钞
2)债券
3)Mudra贷款,
你可能会说我们并没有受到影响。事实上,受到了影响,这种影响你甚至无法意识到:房地产行业受到了"废钞令"的影响
Chinmay Bedarkar • 3 hours ago
Rates are so exorbitant that people don't find worth investing in purchasing new houses.
利率太高了,人们觉得不值得投资买新房。
Keerthi Vardhan • 3 hours ago
Yeah sure especially when they are not affordable.
是的,尤其是当他们买不起的时候。
Sambappa Kalv • 3 hours ago
ACHE DIn
"好日子"
外文:https://timesofindia.indiatimes.com/india/urban-india-has-1-8-lakh-unsold-housing-units-worth-rs-1-4-lakh-crore/articleshow/72972529.cms