Isro's PSLV turns money-sner: Forex earnings rise by Rs 90 crore in '18-19
Isro的PSLV火箭成摇钱树:2018-19年外汇收入增加9亿卢比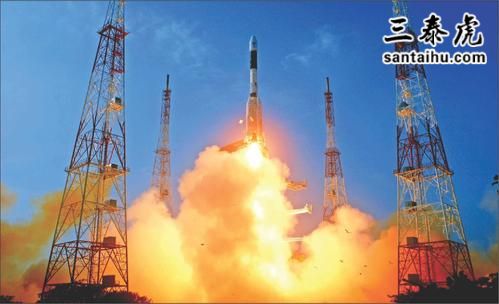 NEW DELHI: Indian Space Research Organisation's PSLV has turned into a money-sner for the space agency as forex brought by the country's mainstay rocket increased by Rs 90 crore from Rs 232.56 crore in 2017-18 to Rs 324 crore in 2018-19 fiscal year.
新德里:印度空间研究组织的PSLV火箭已成摇钱树,该主力火箭的外汇创收增加了9亿卢比,从2017-18年的23.256亿卢比增加到2018-19财年的32.4亿卢比。
Isro has earned Rs 1,245 crore during the last five years by launching foreign satellites from 26 countries. Key contracts with 10 countries — the US, the UK, Germany, Canada, Singapore, The Netherlands, Japan, Mysia, Algeria and France — were signed in the last five years under commercial arrangements.
在过去五年里,印度空间研究组织帮助26个国家发射卫星,创收124.5亿卢比。过去5年,印度与10个国家——美国、英国、德国、加拿大、新加坡、荷兰、日本、马来西亚、阿尔及利亚和法国——签署了商业卫星发射合同。
Since May 26, 1999, when the first foreign satellite was launched by India, PSLV has till now launched 319 foreign satellites. Of the 319 satellites, which did not weigh more than 445kg, around 279 were launched in the last five years.
自1999年5月26日印度发射第一颗外国卫星以来,PSLV已经发射了319颗外国卫星。在319颗重量不超过445公斤的卫星中,约有279颗是在过去5年发射的。
印度时报读者的评论:
译文来源:三泰虎 http://www.santaihu.com/48978.html 译者:Jessica.Wu
外文:https://timesofindia.indiatimes.com/india/isros-pslv-turns-money-sner-forex-earnings-rise-by-rs-90-crore-in-18-19/articleshow/72716075.cms
K Mohan • Hyderabad • 7 hours ago
This proves that under Modi Gt such things become a reality and going
这证明了,只有在莫迪的英明领导下,这些才能实现。
Dr. Rishav sinha • 3 hours ago
Slap on face of fake intellectuals who cried on television that india is wasting money on space missions despite poverty....this is just the begng...space launches can earn billions.
伪知识分子在电视上叫嚣印度很穷,却浪费钱探索太空,这是给他们的一记耳光啊……这仅仅是个开始,发射卫星可以创收数十亿美元呢。
Varun Sharma • 6 hours ago
Thanks to NEHRU'S vision for modern India.
多亏了尼赫鲁一心建设现代印度的远见。
Mohan M• 4 hours ago
Space research was ridiculed as waste of money, but ISRO now has started earning for the country
有些人嘲笑探索太空是浪费钱,但ISRO现在已经开始为国家创收了
Sld Consultancy• 4 hours ago
Thanks to Modi
多亏了莫迪
vipul arya• 30 mins ago
pandit Nehru baastaardo was a disaster for India
尼赫鲁是印度的灾星
Anand Kumar • Bengaluru • 3 hours ago
If an Organization is EMPOWERED TO ACT INDEPENDENTLY without the curse of RESERVATION and where TALENT is the only criterion,such things are bound to take place.Hats off to TEAM ISRO. @narendramodi
如果一个机构不实行预留制,而是任人唯贤,[email protected]
Ram Mishra • 4 hours ago
Isro credit should be given for hard work scientist at isro . It credit nether should go to BJP nor Congress. Ask Congress or Bjp , who want credit of other loss making company such as Air india, BSNL etc.
功劳归Isro辛勤工作的科学家,而不是人民党和国大党。问问国大党或人民党,他们愿意为印度航空、BSNL公司等公司的亏损负责吗?。
Vyshnavi M B • 2 hours ago
Work for reusable rocket...
研发可重复使用的火箭吧
Pradeep • 3 hours ago
Look at the customers' list of ISRO! Every India has a good reason to be proud with the achievements of ISRO.
看看ISRO的客户名单!
每一个印度人都有理由为ISRO的成就感到自豪。
Sid • Mosquito Nation • 2 hours ago
90 crore earnings vs 1000 crore spending for moon landing mission
赚了9亿卢比,登月花了100亿卢比。
Vijay Raghavan• 1 hour ago
This is what happens when you don't read the news completely. It increased the earnings by 90 crores. It has more than 1000 Crs in the last 5 years. Read the complete news.
看清楚再说,是收入增加了9亿卢比。在过去的5年里,ISRO赚了100多亿卢比。
Pankaj Patel • 3 hours ago
MOdi hai to mumkin hai. Keep going ISRO.
ISRO再接再厉!
Surendra • 3 hours ago
Kudos! Our Scientists are capable to invent anything.
致敬!
我们的科学家发明得出任何东西。
Asok Datta • 4 hours ago
In this time of generalised gloom the only silver lining is our ISRO set up by Nehru
在这个普遍惨淡的时代,唯一的希望是尼赫鲁建立的ISRO
Db Huf • 6 hours ago
ISRO is a shining star among PSU's. Wish DRDO and other def units turn profitable too and earn foreign exchange
ISRO是国有机构中一颗闪亮的星星。希望印度国防研究与发展组织和其他国防单位也能创收,帮助国家赚取外汇
Ashok Gupta • BHOPAL • 3 hours ago
Great achievement of Modi Gt. era .
这是莫迪时代的伟大成就。
Sanjoy Pandey • Chennai • 6 hours ago
ISRO must remain essentially a research organisation rather than a business proposal for earning foreign exchange.
ISRO本质上仍是一个研究机构,而不是一个赚取外汇的商业机构。