Uttar Pradesh: 18-year-old girl allegedly raped by her uncle, set ablaze
北方邦:18岁女孩疑似被叔叔强奸后放火焚烧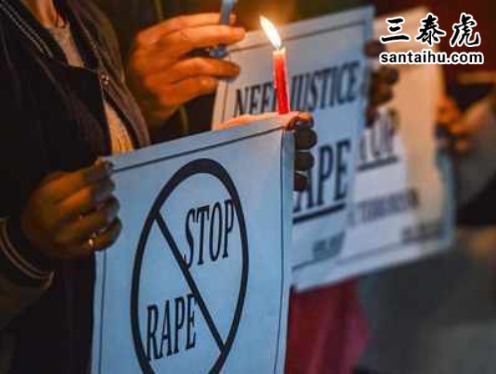 ALLAHABAD: Close to the heels of Unnao rape case, an 18-year-old girl was allegedly raped by her relative at Ubhipur village of district Fatehpur, on Saturday. The girl was allegedly set ablaze by the relative after being raped.
阿拉哈巴德:继乌纳奥强奸案后不久,星期六一名18岁的女孩遭其亲属强奸。据称,这名女孩被强奸后遭放火焚烧。
According to SP Fetehpur, Prasant Verma, "The girl, in her statement, said that while she was alone in her home on Saturday noon, her 22-year-old uncle came and raped her". When she started screaming, her uncle allegedly sprinkled kerosene on her and set her on fire.
据警方称:"女孩在陈述中表示,星期六中午独自在家时,22岁的叔叔来到家中强奸了她。听到她尖叫,叔叔往她身上洒了煤油并点燃"
"The girl has been referred to Hallet hospital in Kanpur and is undergoing treatment," he added.
"女孩已经被转到坎普尔的Hallet医院,目前正在接受治疗。"警方补充说。
Police added that 3 teams have been formed to nab the absconding relative of the girl and the teams are raiding several places for his look out.
警方说,已经成立了3个小组,追捕女孩的潜逃亲属,目前各小组正在多个地方搜捕。
(The victim's identity has not been revealed to prect her privacy as per Supreme Court directives on cases related to sexual assault)
(根据最高法院关于性侵犯案件的指令,为了保护隐私,未披露受害者的身份)
印度时报读者的评论:
译文来源:三泰虎 http://www.santaihu.com/48974.html 译者:Jessica.Wu
外文:https://timesofindia.indiatimes.com/city/allahabad/uttar-pradesh-18-year-old-girl-allegedly-raped-by-her-uncle-set-ablaze/articleshow/72609811.cms
Manyam • Chennai • 15 hours ago
The way Country is going there is nothing wrong in Rahul calling Rapei-in - India.
拉胡尔称印度是强奸之都,这没什么不对。
Anantha Prasanna • 16 hours ago
What is wrong with UP? is it becoming rape state? Yes administration is slack as they are preventing ra of cows.
北方邦怎么了?
这是要成为印度的强奸大邦吗?
治理太松懈了。奶牛被强奸这种事,他们倒是不遗余力地去阻止
srini• 13 hours ago
It is in BJP rule.
北方邦是人民党执政的。
Shakti • 14 hours ago
Women's safety is if no concern to Yogiji and the go nment.
北方邦政府不关注女性安全啊。
A G R India • chennai • 15 hours ago
sick people among the family members. they deserve death. no legal support should be provided to the accused by any one.
这家人出了变态啊,应该判死刑。任何人都不应向被告提供法律援助。
Remo Remo • 14 hours ago
Expn this now Bhakts. Rahul gandhi is . Rapes are happening more everyday. And PM is busy about cleaning Ganga.
人民党出来解释一下吧。拉胡尔·甘地说得对,印度是强奸之都。强奸案每天都在发生。而总理正忙着清理恒河。
Prem S Gupta• 13 hours ago
Mr. Modi ji needs to address on national TV and speak ag inst ra of women. No bill is more important than passing a strictest law ag inst ra girls and women irrespective of their re gion, caste and socio-economic status.
莫迪应该在电视上向全国民众发表讲话,反对强奸妇女。最重要的是出台最严厉的法律,禁止强奸妇女,无论、种姓和社会经济地位如何。
Ru Acharya• 6 hours ago
@Prem, that is a pipe dream. Modi has never responded to rape in dents like he does for his celebrity and other social events.
那是白日梦。莫迪从不管强奸事件的。
intellectual khyatriya• 12 hours ago
Laws are very strict. We cant make more stricter laws.We have to implement it.We need reforms in judiciary and have to educate people .
法律已经非常严厉了,已经不能更严厉了。法律必须得到执行,司法改革势在必行。
Murugan • 14 hours ago
BJP ls implementing "Rape in India".
人民党这是在落实"印度是强奸之都"这一纲领啊
vipul arya• 12 hours ago
your baap rapist ? There are about 24K rapes per year in India. The number was slightly more before 2014 during UPA time. In 98% cases the rapist is someone known to victim. Thus rape is more a social issue, rape is NOT a po itical issue.
印度每年大约发生24000起强奸案。在2014年之前国大党执政期间略有增加。98%的案件,是熟人作案。因此,强奸更多是社会问题,而不是问题。
Prasanta Mishra • MP • 15 hours ago
Bahaktini,what is wrong in rahul statement?
拉胡尔哪里说了啊?印度就是强奸之都
intellectual khyatriya• 12 hours ago
Raul didn't made this statement after father of the church raped nun and still roaming freely
神父强奸修女后,拉胡尔怎么不站出来说
Razor Henry• 12 hours ago
Burning has become a norm for these rapist. Best punishment is to give them the taste of their wrong doing, by setting them on fire.
纵火灭口是强奸犯的惯用伎俩。最好的惩罚是以其人之道还治其人之身,烧死他们。让他们尝尝被烧死的滋味。
amey kapoor • 13 hours ago
These UP Bhaiyas are worse than animals.
北方邦人连畜生都不如啊。
isaacbenjaminraj• 11 hours ago
no value of human life in UP..... CM busy on Ganga boat ride & Serving cows .....shame
在北方邦,人命如草贱…首席部长忙着伺候牛…真丢人
Jose Varghese • Location • 12 hours ago
and BJP is saying RG is wrong?
人民党好意思说拉胡尔说错了?
Malta • 10 hours ago
Modi and Yogi are still busy getting ver ID card for cows in UP.
莫迪和北方邦首席部长还在忙着给北方邦的奶牛弄张选民身份证呢。
Indian Hardcore • Mumbai • 11 hours ago
Rape is not the handiwork of Gt but the mentality of an Indian individual, the individual mentality/character of the person needs to be inculcated by parents/teachers & the society. Ours is a sick society with perverted mentality.
强奸不是政府指使人干的,而是印度人的心态使然。我们的社会是病态的,精神变态
Eland Kumar • 12 hours ago
Time to raze UP to the ground and restart.. Send all UP men to a hard labor camp for 20 years.
是时候把北方邦夷为平地,然后重建。把所有人都送去劳改20年。
intellectual khyatriya• 11 hours ago
It seems nobody ever raped in ur state.
说得好像在你们邦就没人被强奸一样
Ankit Patel • 12 hours ago
why modi gt is slee?
为什么莫迪政府不管不问?
Sk Kapoor• 11 hours ago
What do you want Modi or UP CM or police to do? People are irresponsible. A lot of time and money is spent on these.
你想让莫迪怎么做,想让北方邦首席部长或警察怎么做?
政府在这些方面已经花费了大量的时间和金钱。
Ashokkumar • 12 hours ago
North part of indian become more dangerous to women and their raising attitude toward hindtuva movements.
女性在印度北部地区越来越危险了。

Passionate Reformer • 14 hours ago
When will the publicity conscious gt wake up to such continuous violations ??? Blame blame blame the congress and get away with EVM magic and get re-ed only to spoil the country more
印度政府什么时候才能意识到这种持续不断发生的犯罪?
一味责怪国大党,只会让这个国家变得更糟
Dilip • 14 hours ago
The Rapist have exceeded their limits because law is kee them alive and feeding them in jails
强奸犯已经无法无天了,是法律在保护他们,让他们可以在里苟延残喘地度日
Prabhat • 12 hours ago
Mostly all rape and murder are happening in UP.
几乎所有的强奸和谋杀案都发生在北方邦。
Natarajan D • 14 hours ago
Beast, kill him in encounter, no court cases
畜生,碰到他就直接击毙,不用上法庭