Isro seeks 75 crore more from Centre for Chandrayaan-3
Isro再向中央申请7.5亿卢比,用于"月船3号"任务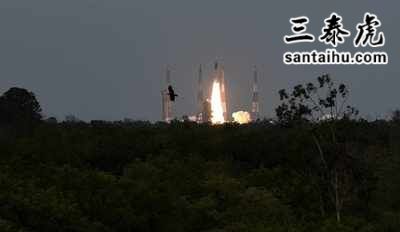 BENGALURU: Chandrayaan-3 is now official. Indicating the Indian Space Research Organisation's (Isro) urgency in implementing the project, it has sought Rs 75 crore from the Centre specifically for the mission as an addition to its exsting budget.
班加罗尔:"月船3号"现已正式启动。鉴于印度空间研究组织(Isro)实施该项目的紧迫性,该组织已经申请7.5亿卢比的经费,作为其现有预算的补充。
TOI, first to report that Isro is looking to launch another Moon landing mission as early as next November, got confirmation from the department of economic affairs that the agency has sought the money for Chandrayaan-3.
印度空间研究组织计划最早于明年11月再进行一次登月任务。印度经济事务部证实,印度空间研究组织已为"月船3号"筹集资金。
Sources said Isro has been assured that it will get the funds but the process is yet to be completed.
消息人士称,Isro已得到保证,将获得这笔资金,但手续尚未完成。
The Rs 75 crore sought specifically for Chandrayaan-3 makes up more than 11% of the Rs 666 crore the agency has demanded over and above funds granted as part of the original 2019-2020 budget.
这7.5亿卢比占了"月船3号"总需资金66.6亿卢比的11%以上,这笔资金作为2019-2020年预算的一部分发放。
印度时报读者的评论:
译文来源:三泰虎 http://www.santaihu.com/48928.html 译者:Jessica.Wu
外文:https://timesofindia.indiatimes.com
kumar • 6 hours ago
actually we should invest in this programmes rather than making more and more a statues and then the convention centre for the waste of money
实际上,我们就应该登月,不该建那么多雕像和会议中心,完全是浪费钱
murthy krishna • 6 hours ago
Automatic fund transfer should be there for ISRO....Every year Govt should allot minimum 100 crores to ISRO for the development and research works...Scientists and Engineers should not waste their time in begging funds from Govt...
印度每年应该至少主动拨10亿卢比给ISRO,用于研发工作。不该等着科学家和工程师申请经费。
Bonny Moraes• 4 hours ago
Our government would rather prefer to built another statues.
我们的印度政府宁愿再建一座雕像
Lakshmi Narayanan• 5 hours ago
Still better than the money going into politicians pockets. This money is peanuts compared to the corruption money.
这比把钱放进政客的口袋要好得多。和被贪污的钱比起来,这笔钱微不足道。
Lakshmi Narayanan• 2 hours ago
Govt is giving everyone possible. If we don't invest in these activities we will become like Pak and the world will go ahead. India is getting respect on world stage because of isro
如果我们不登月,我们就会沦为巴基斯坦一样。印度因Isro而在世界舞台上获得尊重
Sanjoy Pandey • Kolkata • 7 hours ago
Well, this time no hard landing please.
这次请不要在月球上硬着陆啊。
Shinto James • Location • 8 hours ago
No MONEY in RESERVE bank...all MONEY given to CORPORATE COMPANIES
印度央行没有钱了…所有钱都给企业了
Modi ISRO • modi land • 6 hours ago
Humble ISRO only requested 75 crore. Modij should award ISRO 98 crore for its fantastic 98 percent success on last Moon landing.
谦卑的ISRO只要求再拨7.5亿。莫迪应该拨 9.8亿卢比给ISRO,ISRO在上次登月中取得了98%的巨大成功。
Ramesh T M • Bangalore • 8 hours ago
By way of more & more satellite launches & other revenue generating work ISRO should become self reliant.
印度空间研究组织应自力更生,多为外国发射卫星来创收
Raj Malhotra• 6 hours ago
ISRO is one of very few govt companies which use money very wisely. I believe govt should provide them all the support they need.
ISRO是极少数合理使用资金的政府机构之一。我认为政府应该为其提供所有支持。
Mallikarjun • 5 hours ago
Give them 750 CR not just 75 CR.
7.5亿太少了,给ISRO拨75亿卢比吧
Estate • Chennai • 5 hours ago
It is worth spending.
这笔钱值得花
Stentorian • 6 hours ago
Govt. should provide substantial amount of budget to ISRO just by their track record. GOI and ISRO should also make sure that in future ISRO becomes fully or partially self reliant.
根据ISRO以往的表现,政府应该为ISRO提供充足预算。ISRO也应该确保在未来能够完全或部分自给自足。
nisarg purohit • 56 mins ago
Isro please don't waste money. There are many people in India who are poor.
ISRO,请不要浪费这些钱。印度有很多穷人,他们需要求助。
TheIndian • India • 1 hour ago
apart from 75 give them 25 more so they can do more research...
除了这7.5亿,再给他们拨2.5亿,这样他们可以加大研究……
Anoop • 2 hours ago
ISRO should be fully funded. They are pride of India.
ISRO应获得充分的资金。他们是印度的骄傲。
Krishan Kumar Totlani • Jaipur • 3 hours ago
Why ISRO should demand from Centre? It is duty of our govt to allocate minimum of 500 crores for research work at ISRO apart from their establishment expenses.
为什么要等ISRO向中央申请经费?
印度政府有责任拨出至少50亿卢比用于ISRO的研究工作。
Aditya • 4 hours ago
75 carores is coins for NASA budget.
相比NASA的预算,这7.5亿微不足道啊。
Anjan Kesh • 4 hours ago
ISRO should focus only on satellite launches to make us an international launchpad for other country's space missions.
ISRO应该专注于卫星发射,让我们成为其他国家发射卫星的平台。
Amit Awasthi • 1 hour ago
Please share ISRO account number and all Indians including critics of everything would also like to directly contribute..
请把ISRO的账号贴出来,所有印度人都愿意捐款的。
Samit • 3 hours ago
give them as. much money as they want. better than wasting on illiterate farmers and statues
他们想要多少就给拨多少。总比浪费在没文化的农民和用来修雕像上要好
Jagdish Madan • Vancouver BC • 4 hours ago
ISRO is the pride of India and all its requirements must be met.
ISRO是印度的骄傲,它的所有要求都务必得到满足。
A Singh • 33 mins ago
75 crore is peanuts for Govt
对印度政府而言,7.5亿卢比那可是小菜一碟