Sundar Pichai will run Google & parent, A to Z
桑达尔·皮查伊将同时执掌谷歌及其母公司Alphabet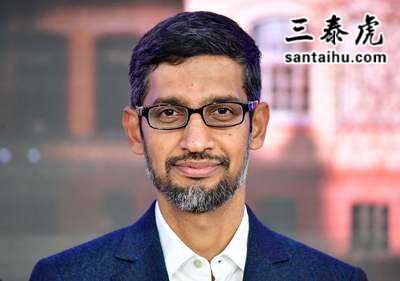 NEW DELHI: Sundar Pichai — who grew up in a two-room apartment in Chennai's middle-class neighborhood, Ashok Nagar, in the 1970s and 1980s — is taking over as the CEO of one of the world's most cash-rich companies, Alphabet, the parent company of search engine giant Google.
新德里:上世纪七八十年代,桑达尔·皮查伊在金奈中产阶级社区阿肖克·纳加尔的一套两居室公寓中长大。现在他即将接任全球现金最充裕的公司之一"Alphabet"的CEO一职,Alphabet是搜索引擎巨头谷歌的母公司。
In a move that marks the end of an era, Larry Page and Sergey Brin, who co-founded Google in 1998, are step down from their executive roles at Alphabet. Page and Brin, both Stanford graduates, have been two of the technology industry's most influential figures, considered on a par with Microsoft founder Bill Gates and Apple founder Steve Jobs.
谷歌联合创始人拉里•佩奇和谢尔盖•布林将辞去在Alphabet的高管职务,此举标志着一个时代的结束,两人在1998年创立了谷歌。佩奇和布林都毕业于斯坦福大学,是科技行业最具影响力的两位人物,与微软创始人比尔•盖茨和苹果创始人史蒂夫•乔布斯不相上下。
Pichai, 47, has been the face of the tech giant as CEO of the main business since 2015. He takes charge of Alphabet + at a challenging time, as it faces increased regulatory scrutiny of large digital companies and internal employee unrest, while battling to stay at the forefront of technological change. Pichai's elevation was announced after market hours on Tuesday in the US, with Page giving up his role as Alphabet CEO and Brin quitting as presi nt.
现年47岁的皮查伊自2015年起担任谷歌CEO。他在一个充满挑战的时期执掌Alphabet ,公司面临着对大型数字公司越来越多的监管审查和内部员工的不满,同时还要努力保持在技术变革的前沿。皮查伊的升职消息是在周二美国股市收盘后宣布的,佩奇辞去了Alphabet首席执行官一职,布林辞去了总裁一职。
Google sits on a cash pile of $128 billion, second only to Microsoft's $137 billion, as per Factset. But Brin and Page, who are each worth over $50 billion, have stayed away from most of the day-today management and public appearances, including internal all-hands meetings, for the last few years.
根据Factset的数据,谷歌坐拥1280亿美元的现金储备,仅次于微软的1370亿美元。布林和佩奇们的身价都超过了500亿美元,在过去的几年里,他们一直远离日常管理,很少公开露面,包括内部全体会议。
Pichai tweeted that he was "excited about his new role". He also wre to employees, "In my 15+ years with Google, the only constant I've seen is change….. I first met Larry and Sergey back in 2004 and have been benefiting from their guidance and insights ever since. The good news is I'll continue to work with them — although in different roles for them and me."
皮查伊在推特上表示,他"对自己的新角色感到兴奋"。他还写信给员工,"在我使用谷歌的15年里,我看到的唯一不变的是变化……我第一次见到拉里和谢尔盖是在2004年,从那以后我一直受益于他们的指导。好消息是,我将继续与他们合作——尽管我和他们将扮演不同的角色。"
Since Pichai became Google CEO, the share price of the company has doubled, giving it a market capitalisation of $894 billion at the close of trade on Tuesday. Besides leading revenue growth and product development, Pichai has also faced a regulatory backlash ag inst tech on issues like privacy and po itical bias in the US including testimony to the US Congress in December 2018.
自从皮查伊出任谷歌CEO以来,该公司的股价已经翻了一番,周二收盘时市值达到了8940亿美元。
Even as Page and Brin leave management roles at Alphabet, they will continue to hold voting shares of over 50% in the company giving them a say in any major decisions.
即使佩奇和布林离开Alphabet的管理层,他们仍将持有超过50%的表决权,在重大决策中具有发言权。
印度时报读者的评论:
译文来源:三泰虎 http://www.santaihu.com/48914.html 译者:Jessica.Wu
外文:https://timesofindia.indiatimes.com
murthy krishna • 1 day ago
God is great ....Luckily Sunder went to USA and making India proud ...If he would have continued in India he might have been crushed under quota sy em...
幸运的是,桑达尔去了美国,成为了印度的骄傲…如果留在印度,他可能会被配额制度淘汰……
Tran Le Minh Duc • Vietnam • 1 day ago
I'm from Vietnam. And this news just spreading entire the world and top headline in Vietnam. Congrats! Indians are extremely intelligent
我来自越南。这条消息传遍了全世界,在越南成了头条新闻。祝贺祝贺!
印度人非常聪明
Logical • 1 day ago
Hi Pichai , can you tie up with Indian Go nment for creating facility of online voting in ions ?
嗨,皮查伊,你能和印度政府合作建立在线投票系统吗?
Anilk Khan• 16 hours ago
If we had voting on line the criminal Neta/Babu ruling class that has kept India a cesspool would find it easier to steal ions.
如果在网上投票,那更容易作假。
Sanjoy Pandey • Kolkata • 1 day ago
Good God that the brilliance of Sundar Pichai has not been crushed under the reservation sy em of India.
谢天谢地,桑达尔·皮查伊的才能没有被埋没在印度的预留制度下。
GSK • Hyderabad • 1 day ago
Hearty congratulations Mr. Pichai, proud moment for Indians.
衷心祝贺皮查伊先生,这是值得印度人骄傲的时刻。
Naresh Goyle• 22 hours ago
As if he cares for Indians.
好像他关心印度人似的。
Partha Banerjee • 1 day ago
All Indians should be proud of Mr. Sundar Pichai and it has been proved multiple times that what talent and hard working can do. But in India we are really unlucky as we are all trapped under reservation - which is only for the sake of ve bank of all the po itical parties of India.
所有印度人都应该为桑达尔·皮查伊先生感到骄傲。
在印度,我们真的很不幸,受困于预留制。
Madan Mohan Siddhanthi • Mumbai • 1 day ago
Great man -good you left India and contributing to Industry and the people across the world . I would like people to stop calling Indian origin -it is no more a feather incap
你离开了印度,为这个行业和世界人民做出了贡献。我希望人们不要再把他称为印度人了。
Manoj Dubey • 23 hours ago
US takes the deserved ones and india is happy with the reserved ones.
美国选贤任能,而印度把机会留给有预留名额的人。
Narendra • HINDUstan • 1 day ago
Good for him Good for Google.
Its not at all achievement for India at all , so just don't be in a false aura of patriotism on seeing this message.
对他而言,对谷歌而言,都是好事。
不过,这根本不是印度的成就,不要蹭热度了。
Rchandran Krishnan • 1 day ago
As A Compllcated Reservation Policy Most Of Our Talented People Moving Away From India & Inspite Of These Problems Our Digital India Moving Ahead In All Sphears , Competing With Other Western Nation In All Aspects Esp Since 2014 Jai Bharath Mhan / Jai Hind
因为预留制度,很多人才离开了印度。即便如此,我们的"数字印度"项目正在取得进展,特别是自2014年以来,在方方面面都可以和其他西方国家竞争。
Ajit Nair • Ahmedabad • 22 hours ago
Reservation based on caste should be removed. Hope Modi sarkar 2.0 does some thing.
应该取消基于种姓的预留制度。希望莫迪政府能有所作为。
Mokkapati Prabhakara Rao • India • 23 hours ago
Sad that India is losing many merit candidates, as merit is not given the importance. Many still forcing the Govt for reservations in promotions also. The quota sy em must be reduced gradually ,like fuel subsidies.
可悲的是,印度正在失去许多优秀的人才,人才没有得到重视。应该逐步取消预留制度。
Aravinda Upadhya• 1 day ago
Had he joined any similar Indian tech giants, whether his recognition could be so??
如果他进入了印度科技巨头任职,他能否获得这样的认可?
Navratan Agrawal • Jaipur • 1 day ago
India have the proud over Sundar Pichai become Head of Google 7 its parent company,However the Country brain is crashed by reservation po itical & social tool.
桑达尔·皮查伊成了谷歌母公司的CEO,这是印度的骄傲。然而印度的人才却被预留制埋没了。
Sufal Mehrotra • 1 day ago
Proud moments for all of us Indeed. we INDIANS will rock the world.
这是值得我们所有人骄傲的时刻。我们印度人将震撼全世界。
Dilbag Rai• 1 day ago
Nice to see Indian born and educated Sundar Pichai to be the overall Guardian of Google
很高兴看到在印度出生并在印度接受教育的桑达尔·皮查伊成为谷歌的CEO。
Truth Is Bitter• 1 day ago
Congrats ... Why Indians with Brain leaving India ????
恭喜……为什么有才能的印度人会离开印度?
Rahul Kemani• 1 day ago
due to reservation
因为预留制
Casey Ram• 1 day ago
Proud of you Sundar!
为你骄傲,桑达尔!
Spaceman • Earth • 23 hours ago
Man earns Rs 5 cr A DAY! Unbelievable
他一天赚5000万卢比,难以置信
Mowgli• 1 day ago
Sundar Pichai should run BJP in future.
将来应该让桑达尔·皮查伊执掌印度人民党。