Delhi: Man takes his wife on long ride, shoots her in Panipat
德里:男子长途驱车将妻子带到帕尼帕特,开枪将其打死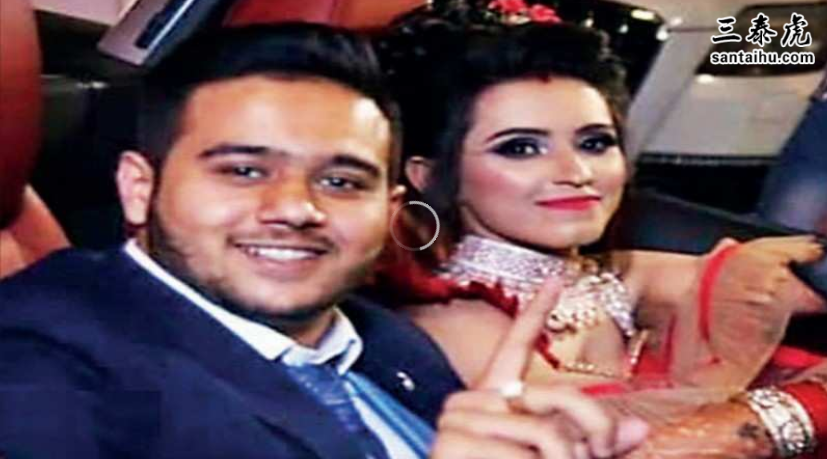 NEW DELHI: A 20-year-old woman, who had vanished from her house in west Delhi's Janakpuri on November 10, was allegedly murdered by her husband and two accomplices. Apparently, fed up with their daily quarrels, the man took the woman to Panipat and shot her, police cmed on Wednesday after arresting the three accused.
新德里:11月10日,一名20岁的女子从她位于西德里贾纳克普里的家中消失,据称被其丈夫和两名同伙谋杀。星期三,警方在逮捕了三名被告后称,这名男子显然是受够了每天和妻子争吵,于是把她带到帕尼帕特,并开枪打死她。
Nancy Sharma, 20, and Sahil Chopra, 21, got married in March, but soon after the couple started having frequent fights over Nancy's predilection for late-night parties. Chopra also suspected her of having an extrrital affair. Chopra cmed to police that he had asked his wife for a divorce but was told that it was not possible within a year of marriage. Nancy had also threatened him if he insisted on termination of their marriage.
20岁的南茜·夏尔马和21岁的萨希尔·乔普拉于今年3月结婚,但不久之后,这对夫妇就因为南茜喜欢深夜派对而频繁争吵。乔普拉还怀疑妻子有婚外情。乔普拉向警方声称,他曾向妻子提出离婚,但他被告知不能在结婚一年内离婚。南希还威胁,如果他坚持要离婚,她就要拿回嫁妆。
This was why Chopra is believed to have decided to get rid of her. After the couple fought through the night of November 9, Chopra roped in his cousin, Shubham, and his driver, Badal, to murder her. They arranged for an illegal pistol and cartridges and arrived at Chopra's home around 9am on November 10.
这就是乔普拉决定杀妻的原因。11月9日晚上,这对夫妻吵架后,乔普拉伙同他的堂兄舒布哈姆和他的司机巴达尔,准备杀妻。他们准备了非法购买的手枪和子弹,于11月10日上午9点左右到达乔普拉家中。
Chopra apologised to Nancy and asked her to accompany him on a long drive to lighten the mood. The four of them got in a Chevrolet Cruze sedan and drove towards Panipat in Haryana.
乔普拉向南茜道歉,并让她陪他去长途旅行,以缓和关系。他们四人上了一辆雪佛兰科鲁兹轿车,驶向哈里亚纳邦的帕尼帕特。
Around noon, they reached a refinery near Panipat, where Nancy asked Chopra to pull over as she needed to relieve herself. He stopped near a public toilet and thought the isolated spot suitable for his heinous plot. As she walked ahead, Chopra approached her from behind and shot her in the head from close range. He also beat her as she lay dying. The men then dumped the body in the bushes and returned home.
中午时分,他们到达了帕尼帕特附近的一座炼油厂,南希让乔普拉靠边停车,因为她需要解手。他在一个公厕附近停了下来,认为这个偏僻的地方适合下手。当她走在前面时,乔普拉从后面靠近她,近距离朝她的头部开了一枪。在她弥留之际,他还殴打了她。他们把尸体扔进灌木丛,然后回家。
Nancy's father, Sanjay Sharma, called her several times, but each time the call was disconnected. He then phoned Chopra to be told that she hadn't been taking the latter's calls either. The Sharmas launched a search for the missing woman. When she remained untraceable, the family went to police. Chopra floated the theory that she might have eloped with somebody or had been abducted from home.
南希的父亲桑杰·夏尔马给她打了几次电话,但每次都没有接。然后他给乔普拉打电话,乔普拉告知他南希也没有接他的电话。夏尔马一家开始寻找失踪的女儿,并报了警。乔普拉提出了她可能与别人私奔或被人从家里绑架了。
Police initially treated the case as that of a missing person and only started investigations after Sanjay Sharma accused Chopra of demanding dowry and torturing her when the demands weren't met. Chopra refuted the allegation before the cops, cming he was a car dealer and financially well-placed.
警方最初认为这是一个失踪案,直到桑杰·夏尔马指控乔普拉索要嫁妆,并在没有得到满足的情况下折磨南希,警方才开始调查。乔普拉在警察面前反驳了这一指控,称他是一名汽车经销商,经济状况良好。
On November 26, police filed an FIR for the woman's abduction. They reviewed the mobile locations of Chopra and his call details for the day she went missing. When questioned, he gave conflicting answers. He eventually broke down and confessed to the murder and led the cops to his wife's body.
11月26日,警方以绑架案立案。他们查看了失踪当天乔普拉的手机位置和他的通话细节。当被询问时,他的回答自相矛盾。他最终了,承认了谋杀,并带警察找到了他妻子的尸体。
"The trio were presented in court and given police remand for two days," said Shalini Singh, joint commissioner (Western Range). "We still have to recover the murder won and collect evidence."
警官沙里尼·辛格称:"三人已被送上法庭,并被移交给警方拘留两天。我们还须找到凶器,收集证据。"
印度时报读者的评论:
译文来源:三泰虎 http://www.santaihu.com/48885.html 译者:Jessica.Wu
外文:https://timesofindia.indiatimes.com
Electro • 3 days ago
Seems like childrens' quarrel and jealousy. 20 year old woman and 21 year old man after marriage should stay under parents' watch. Doodh ke daant nahi nikle shaadi karenge.
像小孩子一样争吵。20岁的女性和21岁的男性婚后应在父母的监护下生活。
Anup Sharma• 3 days ago
Should not marry at the age of 21. Should wait till 30.
21岁不该结婚,应该等到30岁。
abir• 2 days ago
There is nothing wrong with their age for getting married. 20 and 21 years of age is fine enough as today''s world the average life expectancy of human , especially in India is around 60. But it''s a problem with the typical Delhiite mindset. Materialistic, greedy, aggressive and to much of show-off.
他们的结婚年龄没有什么问题。20岁和21岁足够了,因为当今世界人类的平均预期寿命是60岁左右,特别是在印度。
这是典型的德里人思维方式的问题。物质主义,贪婪,好斗,爱炫耀。
Raise • 3 days ago
Killing a person will never solve the matter, no one can escape from law... But women nowadays have become a nuisance, they have become uncontrollable,
杀人永远解决不了问题,没有人可以逃避法律的制裁……
不过,现在的女性越来越无理取闹,她们变得无法管束
Sanjay Sehgal• 22 hours ago
Women are smarter than men as they watch serials and know every-way to torture their husbands..Besides she seems to be attractive women. Tough I cant say the man is a saint, nor even in this one. He could be lying and actually be the one having the affair.
女人比男人聪明,她们看连续剧,深谙折磨丈夫的各种方法。这个女人似乎很有魅力。男的可能在撒谎,实际上他可能是那个有外遇的人。
mrinesh lal• 3 days ago
Though he should be punished as per law. Women seems to have forced the condition. She did not stop ing late nights and threatened him with dowry act if asked for divorce.
男的是应该依法受到惩罚。但他似乎是被女方逼的。她还是继续参加深夜聚会,并威胁说如果他要求离婚,她就要拿回嫁妆。
Manish R Sinha• 2 days ago
Wait for 1 year. Give divorce.. this is a legal option
He killed her to satisfy his Male ego and now he will be in jail for next 15-20 years.. all his money will be of no use
等一年过后再离婚. .这是一个合法的选择
他杀了她来满足男人的自尊心,现在他将在里呆上15-20年,有钱也用不了。
Tukamsvdhs • 3 days ago
This is what happens when grave decisions like that of a marriage are taken by teenagers.
小小年纪就结婚,必然会发生这种事情
mondal nirjhar• 3 days ago
Triple Tk is the solution.
Why come in each other''s way.
何苦互相折磨呢,"三声离婚"可以解决这个问题。
Chullu • 3 days ago
Killing a person you hate is not a solution. He could have either divorced or deserted her.
杀死一个你讨厌的人不是解决办法。他要么离婚,要么抛弃妻子。
Shanky Jaan• 3 days ago
Woman's fault
女方有错
Amrik Singh• 3 days ago
Law itself is the Criminal. Why should it take years to get Divorce ? If both parties are not compatible, immediate divorce should be granted.
法律本身就有问题。为什么要规定过了1年才能离婚?
如果双方不能和睦相处,应立即离婚。
Deepak Tripathi• 3 days ago
this is what happens when you are young, have money and lots of time
年轻、有钱、时间多,就会发生这样的事情
Matam Nahusharaj• 3 days ago
All three must be s t dead without further waste of time.
三个都必须被,不要再拖了。
John Lynn • Delhi • 3 days ago
This only shows Delhi NCR culture of the rich. Kill if you don''t like or are threatened.
这显示了德里富人的文化。如果不喜欢或者受到威胁,就杀了对方。
Achou Shamjetshabam • 3 days ago
Better maybe he approach a lawyer for separation or sent her to her home . He should have collected evidence of her doing extra marital affairs and get divorce . He could have started a new life without her .
他最好找个律师办离婚,或者把妻子送回娘家。他应该收集她出轨的证据,然后离婚。离了婚,他也可以开始新生活。
Vijay Banga • new delhi • 3 days ago
Very immature, silly and brainless action, he committed murder & suicide plus dest yed two other mens lives.Why no marriage counsellor was consulted, or separated until divorce was possible
非常不成熟、愚蠢、无脑,他犯了谋杀罪,还毁了另外两个男人的生活。为什么不咨询婚姻顾问,或者等时间到了再离婚
vinod pandita• 3 days ago
Money will buy this man a bail.
有钱就能保释