Nirm Sitharn s ms 'regressive' dividend distribution tax, says no recession
尼尔马拉·西塔拉曼抨击"递减"股息分配税,称经济并未衰退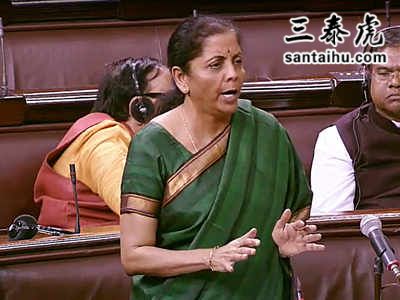 NEW DELHI: Finance minister Nirm Sitharn mounted a strong defence of the state of the economy on Wednesday and assured that the go nment is taking steps in the interest of the country
新德里:印度财政部长尼尔马拉•西塔拉曼周三为印度经济状况进行了强有力的辩护,并保证政府正采取符合印度利益的措施
"Every step being taken is in the interest of the country. Looking at the economy, you see that growth may have come down but it is not recession yet, it won't be recession ever," Sitharn said.
西塔拉曼称:"采取的措施都符合国家的利益。看看经济形势,你会发现增长可能下降了,但经济并未衰退,也永远不会衰退。"
32 steps unveiled since Budget to revive growth: FM
自预算公布以来,印度推出了20项恢复增长的措施
Sitharn, in her reply to the short duration discussion on the state of the economy in Rajya Sabha, said, "We are coming out with a lot of reforms and we want to assure the members of the response of the go nment. The PM himself is giving personal attention with all the time to understand the details to take decisions so that the economy can be better and move to a higher growth trajectory."
西塔拉曼在上议院对有关经济状况的短暂讨论的回复中表示:"我们提出了许多改革措施。总理本人也一直在关注细节,以便做出决定,使经济能够改善,并走向更快速的增长轨道。"
The FM said the go nment has unveiled 32 measures to revive growth since her July budget and those steps were yielding results. A combative Sitharn compared the economic report card of the UPA and the Narendra Modi-led BJP go nment since 2014 saying inflation was below the targeted range and economic growth and other macroeconomic indicators under the present go nment was much better.
西塔拉曼表示,自7月公布预算以来,政府已经公布了32项恢复经济增长的措施,这些措施正在起效。斗志昂扬的西塔拉曼比较了国大党和莫迪领导的人民党政府自2014年以来的经济报告,称通胀低于目标区间,当前经济增长和宏观经济指标要好得多。
印度时报读者的评论:
译文来源:三泰虎http://www.santaihu.com/48864.html 译者:Jessica.Wu
外文:https://timesofindia.indiatimes.com
Yashodhan • Mumbai • 6 hours ago
madam in last 6 years why you have not abolished MAT and dividend distribution tax. who stopped you.
女士,在过去的6年里,为什么您没有废除最低公司税和股息分配税?是谁阻止了您?。
Chandramouli Chandrasekaran • 5 hours ago
Bangladesh per capita same as India now and GDP higher than India at 8.1% and getting faster. Vietnam another winner in trade war , gdp exports all increasing. Modi is wasting his time doing Howdy nonsense
孟加拉国的人均GDP现在和印度一样,GDP增速比印度快8.1%。越南是贸易战的另一个赢家,GDP和出口都在增长。莫迪是在浪费时间做傻事
Sandeep Mandal• Mumbai • 1 hour ago
But our competition is with Pakistan. Watch farZEE News to get elated
我们的对手是巴基斯坦。
Pranjaye • Chandramouli Chandrasekaran • Mumbai • 3 hours ago
He''s a marketing product. An image created by hype and division. An uneducated nincompoop and buffoon. What did you expect??
莫迪是一个没受过教育的笨蛋和小丑,只会炒作,搞分裂。你还指望什么?
hi Fashion • 5 hours ago
There is a limit to be shameless! BJP can perform an head transplant with just words can you beat that!
无耻是有限度的!
人民党动动嘴就能完成头部移植手术,你行吗?
selvarajc • 6 hours ago
UPA and NDA blame each other and made indians fools. Country behind pakistan, nepal and bangladesh. See co ption index, hunger index, hapess index etc.
国大党和人民党互相指责,把印度人当傻瓜。现在印度比巴基斯坦、尼泊尔和孟加拉国都落后,参见腐败指数、饥饿指数、幸福指数等。
Jai Thomas • 4 hours ago
Come on pappu 1 billion let's celebrate Howdy Sitharn and sell tea and pakoras. Chai chai chai pakora pakora pakora. Tough times can be understood and yes not admitting recession is also understandable but keep repeating jumlas about congress is laughable
形势艰难是可以理解的,不承认经济衰退也是可以理解的,但是不断拿国大党说事是可笑的
Nasir • 4 hours ago
pls agree on current situation in India n not fake
承认印度的现状吧,不要弄虚作假了
Ahmed Ali • Lethbridge, Alberta • 3 hours ago
This Minister and her colleagues including the PM ate living in delusion. They have dest yed the economy in addition to social harmony. India will suffer for long time to come because of these ignorant and foolish po itical .
这位部长和她的同僚,包括总理,都生活在妄想中。他们破坏了社会和谐,也破坏了经济。这些无知、愚蠢的政党,在未来很长一段时间里会造成印度饱受煎熬。
Somnath • 4 hours ago
Why blame her, the king of economic destruction is Modi, not Nirm, she is just a stooge of the man.
为什么要责怪西塔拉曼,破坏经济的关键人物是莫迪,不是她,她只是莫迪的走狗。
Siddharth• 4 hours ago
True, the current economic downturn is a consequence of over 5 years of economic mismanagement and reckless policies camoflauged as virtuous on moral grounds.
诚然,目前的经济低迷是5年多来经济管理不善和不计后果的政策所造成的。
Only • Mumbai • 3 hours ago
She think that she is still in opposition and Congress in power. If she knows problem, why not address it instead of blaming past go nments. The fact is she does not know what to do, that's why blaming is the easiest way to divert attention.
她认为自己仍是在野党,而国大党仍在。如果她知道问题所在,为什么不解决,为什么还在责备往届政府。事实是她不知道该怎么做,转移注意力最简单的方法就是责备他人。
Siddharth • 4 hours ago
What kind of whiners !! It is over six years since they took over and still blaming the Congress for economic misfortune which is self-made and a deleterious outcome of foolhardy adventuristic policies being recklessly implemented without pondering about theirs ramifications. This Govt., is busy contriving any kind of excuses to camoflauge its own incompetence and inefficiency at all levels.
还在发牢骚!!
他们上台已经六年多了,仍然把经济上的问题归咎于国大党,这是自作自受,不顾后果地实施鲁莽冒险政策,这就是后果。印度这届政府,正使出浑身解数,用各种各样的借口来掩饰自己的无能、低效。
Aishvaraya • 3 hours ago
this go nment has been a complete failure in managing the economy in fact such
这届政府在管理经济方面完全失败了
Siddharth • 3 hours ago
Growth rates are tumbling; in hunger index, the Nation climbs into an ignominable 102nd position behind even Pakistan and Nepal; India also tops ignominiouly in malnutrition, child stunting and child wasting; the income disparities are widening precariously reaching unprecedented levels
印度增长率正在下降。在饥饿指数方面,印度甚至排在巴基斯坦和尼泊尔之后,位列第102位。在营养不良、儿童发育不良方面,印度也名列第一;
收入差距正在扩大,达到前所未有的水平
V For Vendetta • Bombay • 2 hours ago
Nirm Sitharn is an Uneducated foul mouth Minister.
西塔拉曼是一个没文化只会说脏话的部长
Anirban Saha • 2 hours ago
India deserves this as foolish people have ed them...so no arguement, just tolerate till public becomes sensible in voting
印度这是活该,愚蠢的人民投票选择了他们…那就忍着吧,以后公众在投票中会变得理智的
Anthony • goa • 3 hours ago
This useless bi t ch is still blaming upa for all this even after 8 years of her rule, what a pathetic looser she is
这个一无是处的贱人,8年了,还在把这一切归罪于国大党,她真是个可悲的失败者
Jagdip Vaishnav • Mumbai • 3 hours ago
I repeat there is no demand since purchasing power of common man is crippled..Ch Bank credit shall not give push to economy since there is no demand
我再说一遍,既然老百姓的购买力削弱了,就没有需求了。银行信贷不能推动经济,因为没有需求
Sajid Bagdadi • 3 hours ago
Whenever she says something opposites happen.now she says no recession INDIANS be careful it''s coming soon.
每当她说反话的时候,印度人就要小心,现在她说经济没有衰退,那经济很快就会衰退。
Imtiyaz • 3 hours ago
"Economy - no no I'm not dead. I hv just stopped breathing."
"经济——不,不,我没死。我只是停止了呼吸。"
Anurag Lodha • 2 hours ago
She is the lady RaGa or also called Lady Pappu.
她是女版拉胡尔
Bob • 2 hours ago
Every step has taken to cover the wrong economic policies of the go nment. Good on you SITHARAMAN
每一步都是为了掩盖政府错误的经济政策。干得好,西塔拉曼
Gaana • 3 hours ago
don't blam her, it's Mr modi and team who spend money uselessly.. instead of country reform Mr modi do world tour and spend lots of money.
别怪她,是莫迪及其团队在浪费钱。莫迪没有进行国家改革,而是周游世界,花了很多钱
Bharat • 4 hours ago
Modi please replace this brainless lady immediately.
莫迪,请马上换掉这个没脑子的女人。
ne lle pereira • 2 hours ago
Mpdi should be replaced him self
莫迪自己应该下台