What surprised you most when you first came to China, as a foreigner?
作为一个外国人,你第一次来到中国时最让你感到惊讶的是什么?
以下是Quora读者的评论:
Joseph W. Hatch, My wife and "In-Laws" are from Mainland China. I travel there frequently.
It seems that every single time I get off the plane and pass customs I am in for a brand new adventure.
Noise, enormity, smells, pollution, construction and general chaos are all valid answers.
What surprised me the most was how genuine and hospitable the Chinese people are. The two most asked questions I was asked on my first trip were "are you lost?' the second was "are you hungry?" The backstory is that I travel "boots on the ground" without an itinerary and without a tour group. I am not a backpacker nor do I care for that lifestyle. Hotels and freestyle exploration is more my speed.
Now being a foreigner I could feel the eyes on me. What broke the ice around this situation was as follows. I was approached by an older woman that had never seen a white man in person. She asked me if I was lost. She was surprised by the fact that I replied to her in Chinese "no" . She was even more astonished that I explained to her I was visiting her city and was impressed by the offerings of the market. She wanted to take a picture with me and invited me to meet her family and have lunch. I accepted the offer and it turned out to be one of the best experiences I had ever had in China. We walk to her and her husband's house, I was met with Brothers, Sisters, Cousins, and Neighbors. It was literally like I had returned home to a family I had not met. I had found a market along the way and bought baiju and beer to compliment what was offered. Old School= don't show up empty handed, you will look bad. As we got deeper in the hutong I could feel that eyes are on me once again. Mostly out of curiosity. I did not mind it too much. For me, this was the most delightful afternoon ever! We cooked, we ate, we drank as if I was the missing cousin in the Family reunited after many years of separation. After 4 hours and the most jovial of times, I needed to take my leave. I was offered to stay there as a guest, I politely declined. I explained that I had paid my hotel room already and I needed to return to the hotel. One of the cousins came around with his car and drove me to the hotel. To this day I keep in contact. I feel that on that day we met I was adopted by that Family. I still to this day visit at least 1 time every 18 months.
似乎每一次我下飞机过海关的时候,都在进行一次全新的冒险。
噪音、巨大、气味、污染、建筑和混乱....都是正确答案。
最让我惊讶的是中国人的真诚和好客。我第一次旅行时被问到最多的两个问题是"你迷路了吗?"第二个是"你饿吗?"。我四处旅行,没有事先安排行程,也没有参加旅行团。我不是背包客,也不喜欢那种生活方式。酒店和自游探索更适合我。
作为一个外国人,我能感觉到人们的目光集中在我身上。一位从未见过白人男性的年长女性走近我。她问我是不是迷路了。她对我用中文回答"没有"感到惊讶。更令她惊讶的是,我向她解释说,我是来参观她所在的城市的,市场上的商品给她留下了深刻的印象。她想和我合影,还邀请我去她家吃午饭。我接受了这份美意,结果这是我在中国最好的经历之一。我们走向她和她丈夫的家,见过了她的兄弟、姐妹、表亲和邻居。这简直就像我在回一个素未谋面的家。我在路上发现了一个市场,买了白酒和啤酒来赞美那里的美食。当我们在胡同里越走越深的时候,我感觉又有目光盯着我。主要是出于好奇。我并不太介意。对我来说,这是最愉快的一个下午!我们一起做饭,一起吃,一起喝,就好像我是这个家庭失散多年的一员。我在这里呆了4个小时,度过了最快乐的时光,我得告辞了。他们邀请我在那里作客,我婉言谢绝了。我解释说,我已经支付了我的酒店房间,我要回酒店去了。一个堂兄弟开着他的车来送我去到酒店。直到今天我们还保持着联系。我觉得在我们相遇的那一天,我就被那个家庭收养了。我至今仍然每18个月就至少去探望他们一天。
Angela Nguyen, Business Owner
The thing that surprised me the most was just how massive it is! There are so many cities I've never heard of that have a population of over 10 million people!! For example, I was in Suzhou for work - a city I would not have known about if my supplier were not there. It is a well-developed, beautiful city that has recently qualified as a first-tier city.
Here is a view from my hotel:
最让我惊讶的是中国有这么大!我从来都不知道中国有这么多城市的人口超过1000万!!例如,我在苏州工作—如果我的供应商不在那里,我就不会知道这个城市。这是一个发达、美丽的城市,最近被评为一线城市。
从我住的酒店往外看: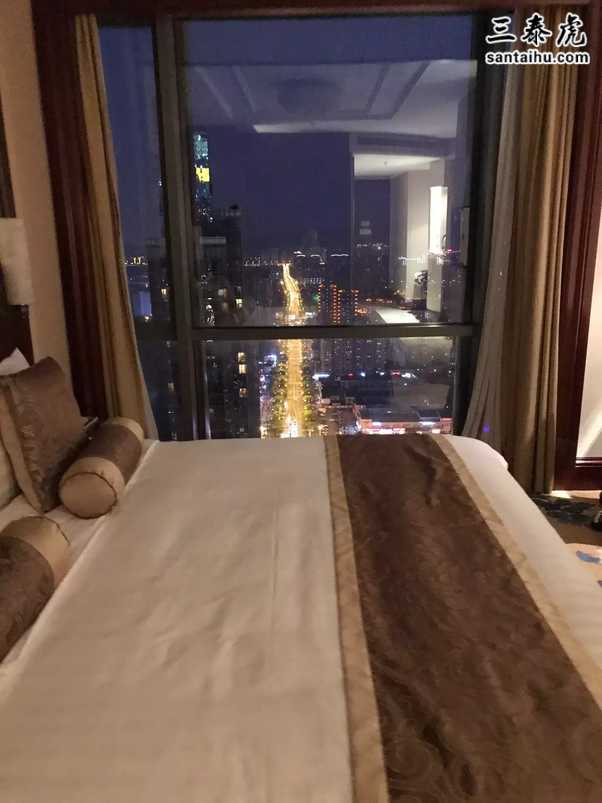 Bonus: The next thing that surprised me the most was the local people checking PPM levels everyday to see if pollution levels were okay for them to spend time outside. As an Australian, I have always gone outside freely so this was a real eye-opener. I knew China had a pollution problem but had no idea it was that bad - I guess you don't know until you see it!
另一件最让我惊讶的事是当地人每天都要检查PPM浓度,看看污染水平是否允许他们在户外活动。作为一个澳大利亚人,我总是随心所欲地出门活动,所以这真的让我大开眼界。我知道中国有污染问题,但不知道有这么严重——我猜你们得亲眼看看才知道!
Geraldine Lorente, Global Transition Specialist (2017-present)
That Chinese people are actually kind.
I always had this idea that they were very straight, disrespectful, and hard to deal with. When I came to China to work on a project, I was not looking forward to it since I know that this is the toughest country which I will handle in my role. I went to Hong Kong before and I find most people to be rude (compared to where I came from). Vendors would actually get mad if you ask for the price of their products, they would bump into you while walking, stomp on my feet so that they can have a better view of the parade, etc.
But during our meetings, I got to deal with people from Taiwan, HK, and yes even Mainland China and they were lovely! Some of them would even go out of their way just to accompany me for dinner, do a lot of translations (since you need to write everything in chinese characters or else most peope will not understand you, say if you are riding a cab or having some items delivered.) What I admire about them is their passion at work, seems like working long hours and even on weekdays is normal so that they can get the job done!
Xie xie!
(Typing this answer as I lay in my bed in Beijing)
中国人其实很善良。
我之前总觉得他们很直率,不尊重人,很难相处。当我来中国做某个项目的时候,我并不期待,因为我知道这会是我遇到过的最棘手的国家。我以前去过香港,我发现大多数人都很粗鲁(与我的家乡相比)。如果你问卖主某个产品的价格,他们会很生气,他们会在走路的时候撞你,还会踩我的脚等等。
但是在我们的会议中,我要和来自**、香港、甚至中国大陆的人打交道,他们都很可爱!他们中的一些人甚至会特意陪我吃晚饭,做很多翻译的工作(因为你需要用中文写下所有的东西,否则大多数人都听不懂你说的话,不管你是乘坐出租车还是送东西)。我钦佩他们的是他们对工作的热情,长时间工作,甚至周末工作都是正常的,所以他们可以把工作做好!
谢谢!
(我是躺在北京的床上写下的这个答案)
Miriam Frank, Chinese Teacher (2019-present)
Hello everyone! This is my first time using Quora and I love it already! I'd first like to let everyone know a little bit about my background. I received my bachelors from Beijing Language and Culture University in Chinese language. I am fluent in Mandarin and have a very good understanding of the culture having lived in Beijing for four years. I am now back in the United States, having graduated with a master's from Indiana University Bloomington in Chinese pedagogy.
What surprised me most when I first arrived to China was how everyone stared at me. My impression was that they had never seen foreigners before and they had a stern look on their face…as if they hated me! After living in the city sometime I came to know that they did not hate me, but were curious and interested in the way foreigners looked. Now Beijing and Shanghai being more international cities there are less people staring, but something to keep in mind throughout other parts of China.
Chinese people are loud. I found it very obnoxious at first and understood them as mad at each other all the time. I remember once in my dorm I overheard the 阿姨 (cleaning maid) talking with her friend and could hear them from inside my room. I thought they were fighting with each, but really they were excited after having not seen each other for quite a while. You will also notice in restaurants that this is also present. Chinese people are very energetic at the dinner table, ordering lots of dishes and ever maybe hard liquor depending on the occasion. They use their loud voice to indicate here their enjoyment with the guests and friends.
大家好!这是我第一次使用Quora,我已经喜欢上这里了!大家可以先了解一下我的背景。我获得了北京语言大学汉语言文学的学士学位。我能说流利的普通话,并因为在北京生活了四年,对中国文化有了很深的了解。我现在回到了美国,在印第安纳大学布卢明顿分校获得了中国教育学硕士学位。
当我第一次来到中国时,最让我惊讶的是每个人都会盯着我看。我还以为他们以前从未见过外国人……他们的神情很严肃,就好像恨我似的!在城市生活了一段时间后,我才知道他们并不恨我,而是对外国人的长相感到好奇和兴趣。现在北京和上海更加国际化了,很少会有人盯着外国人看了,但在中国的其他地方要记住这一点。
中国人很吵。一开始我觉得这很令人讨厌,以为他们一直在生对方的气。我记得有一次我在宿舍听到阿姨(女清洁工)与她朋友的交谈。我还以为她们是在打架呢,其实她们只是很长时间没有见面了,很兴奋。有时候在餐馆里也会看到这种情况。中国人在餐桌上很有活力,会点很多菜,有时还会点烈性酒。他们用响亮的声音表达他们与亲朋好友相处的快乐。
译文来源:三泰虎 http://www.santaihu.com/48841.html 译者:Joyceliu
Diego Wells, Athletic Director, enjoying the challenges of living overseas
China shocked me for its uniqueness. I came to China 1 year ago, after having lived and worked in 10 different countries over the past 2 decades. This mega country is unlike any other place on Earth in several ways (some subtle, others, not-so subtle).
I will briefly describe its surprises in a way that follows the title of my favourite Clint Eastwood movie.
THE GOOD: Incredible infrastructure with regards to transportation within a city. Subways, buses, taxi, motorcycle taxis, bicycles, are all cheap, efficient and easy to find, use and negotiate your way around the new environment. I continue to be impressed by Guangzhou's bridges, and highways, but its relatively new Metro (Subway) system is incredible. For the equivalent of $1 I can go from the airport to the suburb I live in (Foshan), a journey of 1.5 hours and a distance of over 50kms in a clean, air conditioned, safe subw ay car.
THE BAD: This is the first foreign country I have been to where people initially ignore you. Almost all locals avoid eye contact on the street, in a bus or on a subway. In such a crowded place, often I have felt completely alone, as the people often walk past you without even a glance. Language is definitely a huge barrier, but still, it seems that most locals are indifferent to foreigners living in their town.
THE UGLY: The smog that roles in and hovers over the city I live in (Guangzhou), more days than not is an ugly surprise for sure. It seems that factory smoke and stain filled clouds block sunlight for days on end, and it can get depressing if you let it.
THE BEAUTIFUL: Can't leave on a low-note. Once you meet and be-friend a Chinese person, you realize just how wonderful this country is. A Chinese friend is a friend for life! Honest, caring, compassionate and sincere is how I would describe the locals I have gotten to know. As harsh as living in China can be on the exterior, getting to know a few local people while you are here softens it all and makes this place a truly unique and magical place to live!
中国的独特性让我震惊。一年前,我来到中国,在过去的20年里,我在10个不同的国家生活和工作过。这个超级大国与地球上其他国家都有着不同之处。
我将以我最喜欢的克林特·伊斯特伍德电影的名字来简要描述它的惊喜。
优点:城市内的交通基础设施令人难以置信。地铁、公共汽车、出租车、摩托车出租车、自行车,都很便宜快速。我到现在还对广州的桥梁和高速公路印象深刻,但广州较新的地铁系统也令人不可思议。花1美元,我就可以搭乘干净、有空调、安全的地铁,从机场到我居住的(佛山)郊区,行程1.5小时,距离超过50公里。
缺点:在我去过的国家中,这里是第一个当地人一开始会忽视你的地方。几乎所有的当地人在街上、公共汽车上或地铁上都避免眼神交流。在这样一个拥挤的地方,我常常感到无边的孤独,因为人们常从你身边走过,看都不看你一眼。语言无疑是一个巨大的障碍,但似乎大多数当地人对住在他们镇上的外国人都很冷漠。
丑陋的一面:在我居住的城市(广州)上空盘旋的雾霾,天数之多,无疑是丑陋的一面。似乎工厂的烟雾和污迹弥漫的云层会连续几天阻挡阳光,如果你们放任不管,会变得令人沮丧。
美好的一面:一旦你遇到一个中国人并和他成为朋友,你就会意识到这个国家有多么美好。中国朋友是一辈子的朋友!诚实、有爱心、有同情心、真诚,这些都是我对认识的当地人的评价。虽然在中国生活表面上很艰苦,但在这里认识的一些当地人会让生活变得更温暖,让这个地方成为一个真正独特和神奇的地方!
Grant Lian, Living and working in China
Ooh ooh, pick me!
I first visited China in summer of 2002. I was born in the U.S. to Chinese parents of native Taiwanese descent (I say it this way to specifically differentiate us from the Pan Green Taiwanese that seem to be everywhere today). Even so, I was brought up to know that mainland China was poor, backwards, and dangerous.
This was literally the first thing I saw after getting off of the first cab from the airport:
Even back then, the Bund was a pretty stunning skyline, and it has since exploded with new and fabulous buildings that completely betrayed the backwards podunk expectations I brought with me from the US.
Shanghai shocked and awed me with its characteristic opulence, and even though I spent the rest of the summer in much poorer Xi'an, it set the tone for how I would continue to monitor China in the decades to come.
Today, looking back, I still think of China circa 2002 as the Golden Age for modern China, even though people were making just a fraction of what typical incomes are today. Back then, it seemed like the country beamed of hope and progressive thinking. Since then, optimism has dropped way down and it seems like nationalism is moving up while national policy is evolving more slowly, and sometimes backwards. Hard to say what the next 15 years will look like!
All I can say is, I'm keeping the tuner on this channel!
哦哦,选我吧!
我第一次去中国是在2002年的夏天。我出生在美国,父母都是**本地人。我从小就听说中国大陆贫穷、落后又危险。
这是我从机场的第一辆出租车上看到的第一件事:
即便是在那个时候,外滩的天际线也是相当漂亮的,从那以后,外滩出现了大量崭新的、令人难以置信的建筑,完全颠覆了我从美国获得的落后、乏味的印象。
上海以其特有的富裕让我震惊和敬畏,尽管我在贫穷得多的西安度过了这个夏天的其余时间,但它为我今后几十年如何看待中国奠定了基调。
今天,回顾过去,我仍然认为2002年前后的中国是现代中国的黄金时代,尽管那时人们的收入远远不及现在的收入。当时,这个国家似乎充满了希望和进步思想。从那时起,乐观情绪开始下降,民族主义似乎在抬头,而国家政策的演变则更加缓慢,有时甚至倒退。很难说未来15年会是什么样子!
我只能说,我要把调谐器留在这个频道!