Did you have any unpleasant experiences while being in China?
你在中国有过什么不愉快的经历吗?
以下是Quora读者的评论:
Kevin D. Aslan, Entrepreneur, Author, Podcaster
I've been in China for eight years, so it's safe to say I enjoy it, although I'll admit it sometimes feels more like a love-hate relationship.
That being said, the first time I arrived in China was in September of 2009, and our university announced that just three weeks later, we would have a week off for the National holiday known colloquially as the Golden Week.
I decided I would take the opportunity to travel, and made my way to the train station to buy a ticket to somewhere.
我在中国已经八年了,所以可以说我很享受这种生活,尽管我承认有时这种感觉更像是一种爱恨交加的关系。
话虽如此,我第一次来中国是在2009年9月,我们学校通知说三周后,我们有一周的国庆假期,俗称黄金周。
我决定利用这个机会去旅行,于是我前往火车站,想买张票。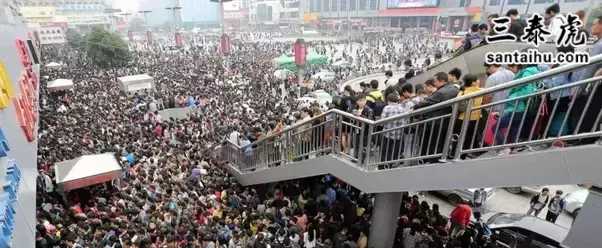 Mistake. This is what greeted me.
After queuing for only four hours, I finally managed to get to a window and ask how much the tickets would cost to the handful of destinations I had picked out. Not that the price ended up mattering that much - everything was sold out. Everything.
Except for one ticket, that was a 24 hour ride from Shanghai to Guilin on what the Chinese call 'hard seats'. Now, being young and foolish, I thought it was a good idea (and for only a few bucks, quite the steal) and I jumped on it.
When I finally got on the train, it was PACKED. The hard seats are meant for two to three people:
这绝对是个错误。迎接我的就是眼前的光景。
在排了四个小时的队之后,我终于挤到一个窗口前,询问去往我选的那几个目的地的票价是多少。那个时候价格已经不那么重要了—所有票都卖光了,所有的。
除了一张从上海到桂林的单程24小时的"硬座"票。我太傻太天真,还以为这挺不错的(只需几块钱,相当便宜),所以我欣然付款。
等我费劲千辛万苦挤上火车,车上早已挤满了人。硬座是为两到三个人准备的: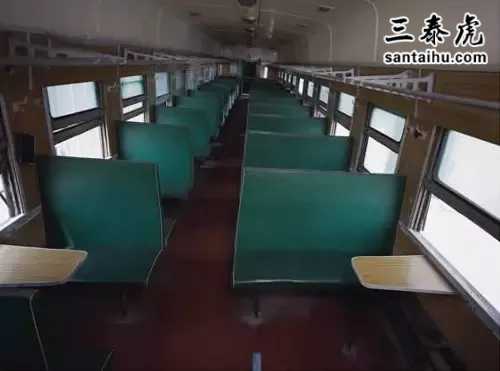 译文来源:三泰虎 http://www.santaihu.com/48818.html 译者:Joyceliu
I had the three people version, but we were five people crammed onto it. For 24 hours. The alley was filled with people standing, carrying gigantic bags and eating what at the time, I considered to be the weirdest of snacks.
The floor quickly became a carpet of discarded wrappings, chicken feet bones and sunflower husks, that would be pushed under the seats every hour by a train attendant armed with a giant broom the size of the aisle.
I got on that train around 4 p.m., and finally managed to semi-doze off around midnight. I wasn't even halfway through the trip.
Now most of the passengers were returning to see their family, and they had of course brought tons of gifts. A lot of these gifts were Shanghai-specialties. One guy in particular had decided to go for a basket of hairy-crabs.
Yup, they're hairy.
And since he wanted them to stay fresh, well, they were still alive. I'd noticed it out of the corner of my eye, about three rows down, but hadn't paid much attention to the netting covered basket.
When the crabs broke loose around 2 a.m. however, it was a different story.
Through sleep-muddled eyes, in the dim-light of the corridor, I suddenly saw the floor covered with giant, black and spiky spiders scampering around at full speed. I think I woke up half the passengers in my car with my scream.
In retrospect, it probably woke up the crab's owner, which was a good thing because the carriage suddenly erupted in movement as every passenger tried to catch the crabs. He eventually got most of them back.
I did however, have to put up with a non-stop stream of That silly foreignercomments for the remaining 14 hours…
我的位置在三人座,但有五个人挤在上面。要熬24小时。过道上站满了人,提着巨大的袋子,吃着在当时的我看来最奇怪的零食。
地板很快就堆满了丢弃的包装纸、鸡爪骨和向日葵壳。每隔一小时,就会有一名拿着过道那么宽的巨型扫帚的列车员把这些东西推到座位下面。
我下午4点左右上了那趟火车。终于在午夜时分打起了瞌睡。当时路程甚至还没走到一半。
大多数乘客都是回家看望家人的,所以他们都带着大包小包的礼物,大多是上海特产。还有人带了一篮毛蟹。
是的,它们毛茸茸的。
因为他想办法保持了毛蟹的新鲜,所以这些毛蟹都还活着。我从眼角的余光里注意到了这一点,大约在三排远的地方,但没怎么注意那只盖着网的篮子。
然而,当螃蟹在凌晨2点左右上演越狱剧情时,情况就不同了。
透过睡意朦胧的眼睛,在走廊昏暗的灯光下,我突然看到地板上满是巨大的、黑色的、长着尖刺的蜘蛛,它们正全速地四处乱窜。我想我的尖叫吵醒了车里一半的乘客。
现在回想起来,我的尖叫可能把螃蟹的主人吵醒了,这是件好事,因为车厢里的每个乘客都想抓住螃蟹。他最终把大部分螃蟹都找了回来。
然而,在剩下的14个小时里,我不得不忍受那无休无止的关于我这个外国蠢货的评论……
Mehmet Oney, lives in China (2015-present)
Actually, for the past 2.5 years, the only issues I had like an unpleasant experience was at work.. And most of them are not definitely been done by a bad intention, generally because of cultural differences.. Chinese people don't feel relaxed when they need to say something negative to your face, instead, they tend to say nothing, or just smile.. At first I didn't get it, and I didn't able to understand what they think..
They feel shamed when they need to say something like, "please revise this report, it is not good enough". I generally blamed them like they were lying instead of being honest, till I able to understand their intention. But by time, you get it, and you start to push them to say the things they wanted.. It is an endless challenge anyway.. Cause language barrier is not the only thing that effects the communication issues, also cultural behavior takes a lot of presence at communication.
Other than that, for sure there has been a few really unpleasant issues, which I can't address them with being Chinese or cultural issues. Those were the things that you may able to experience at any corporate company all around the world..
And for the issues like you mention, being scammed by the people at shopping, foreigners are not being targeted just because they are foreigners. They are targeted because they are easy catches comparing to local people.. So no worries, you will be able to learn negotiating and able to communicate more sincerely by time.. Don't expect to have the best justified responds at negotiation. Cause for Chinese people, you are a foreigner, coming to their country, trying to make more money and have a better life from them.. Be more sincere, be more close, let them know you, let them know you respect them and let them understand you .. Then you will be treated differently. Goodwill always rewarded by goodwill.
And never forget, we are guests here at their country. We also have to behave accordingly. What would you think, if a tourist was behaving like he/she is better than your people? Not every foreigner is like that, but this is a general image among most of the local people.. So you need to prove you are not like that..
For me, I can't say I am a super kind person, but I always try to make it better about whatever respond I got.. If I have been treated kindly, I try to be kinder. If I have been treated harsh, I may be harsher.. I mean I don't make any discrimination among locals and others. I am just being me and super sincere.
So no worries as I said, other than a few exceptional issues, China is one of the safest and nicest countries I have been.
事实上,在过去的两年半里,我唯一不愉快的经历就是工作。大多数都无关恶意,常常源于文化差异。当中国人必须当面拒绝你或否定你时,他们往往什么也不说,或者只是微笑。起初我不明白,也不明白他们在想什么。
当他们需要说一些诸如"请修改这个报告,它不够好"之类的话时,他们会感到不好意思。但随着时间的推移,你明白了,你开始鼓励他们说出想说的话。无论如何,这都是一个无止境的挑战。因为语言障碍并不是影响交际问题的唯一因素,文化行为在交际中也很重要。
除此之外,肯定有一些非常不愉快的问题,但这些都是你在世界上任何一家公司都可能经历的事情。
至于你提到的问题,比如购物时上当受骗,外国人不会仅仅因为他们是外国人就成为目标。而是因为与当地人相比,外国人更容易上钩。所以不用担心,随着时间的推移,你会学到讨价还价,能够更真诚地沟通。不要期望在讨价还价时得到最合理的回应。因为对于中国人来说,你是一个外国人,来到他们的国家,试图从他们那里赚更多的钱,过上更好的生活。要更真诚,更亲近,让他们了解你,让他们知道你尊重他们,让他们理解你。那样你就会被区别对待。善意总会得到善意的回报。
永远不要忘记,我们在他们的国家是客人。我们也必须采取相应的行动。如果一个游客表现得比你的同胞好,你会怎么想?不是每个外国人都是这样,但这是大多数当地人的普遍印象。所以你需要证明你不是那样的人。
对我来说,我不能说我是一个超级善良的人,但无论我得到什么回应,我总是努力让它变得更好。如果我被善待,我会试着变得更友善。如果我受到了粗暴的对待,我可能会更加严厉。我的意思是我不歧视当地人和其他人。我只是做我自己,超级真诚。
所以不用担心,除去一些特殊问题,中国是我去过的最安全、最友好的国家之一。
Anonymous
I've had some of the most disgusting experiences dealing with other foreigners. The kind of people that come to China surprises me sometimes.
1.English teachers with no qualifications to teach.
2.Non-native speakers who are not even fluent teaching English.
3.English teachers who sell/smoke pot.
4.English teachers who teach drunk.
5.Foreigners making openly racis comments without anyone saying anything.
6.An old man on his sixties hitting on my Chinese friend in her twenties. Then gave her his contact card and told her to call him "at any time". (The man lives with his wife in China)
7.A guy inviting me to go for a massage (yes, THAT kind of massage) after meeting his wife and daughters.
8.A drunk PhD professor fighting students at a bar.
9.Foreigners bashing Chinese people for every excuse.
10.Foreigners who complain no one speaks English (but of course, they never bother to learn Chinese).
11.White saviors who think they know what's better for China (a vegan making disgusting comments about Chinese because of the Yulin festival).
And I could go on and on…
我和其他外国人打交道时有过一些最恶心的经历。有些来中国的外国人有时真让我惊吓。
1.没有教学资格的英语教师。
2.非英语母语者,英语教学不流利。
3.卖/抽大麻的英语老师。
4.醉醺醺地教英语的老师。
5.外国人公开发表种族主义言论,却无人发声。
6.一个六十多岁的老男人冲我二十多岁的中国朋友调情。然后给了她一张名片,告诉她"随时"给他打电话。(这个男人和他的妻子住在中国)
7.一个男人在跟他的妻子和女儿见面后邀请我去按摩(是的,那种按摩)。
8.一个喝醉的博士教授在酒吧里和学生打架。
9.外国人以各种借口抨击中国人。
10.抱怨没人会说英语的外国人(当然,他们也从不花心思学中文)。
11.自以为知道什么对中国更好的白人救世主(一个素食主义者因为玉林节而对中国人做出令人厌恶的评论)。
这样的事还有许多,许多......
Rodrigo Nieves Avendaño, lives in China
I got in a fight with a local guy. Or since there was no exchange of blows, I should say I got dragged by a local.
I was on my electric bike on the bike lane. There was this car blocking the way. I beeped at the driver to let him know that I was behind him. He got off the car and walked away, leaving it blocking the lane.
I thought the guy was just going to leave the car there, so I tried to pass through a small space between his car and a parked car. In that moment the car starts moving. Turns out the copilot switched to the pilot seat and was going to park it. He almost hit me, so I banged the window of the with my open hand to let him know I was there. And in that moment the guy just snapped.
A 80kg guy got of the car and started yelling at me. He didn't give me any chance to do or say anything, because the next thing he did was grab me by the neck and choke me. He lifted me from the bike and threw me to the ground. All the time I was wearing sunglasses, and when I hit the floor they fell off. After seeing that I was a foreigner he got in the car to leave the place.
I was shaking and didn't know what to do, so I took my bike and drove away. Then I stopped when I thought I was safe and called some friends. They adviced me to go to the police station and file a report. A friend offered her help to translate.
I don't think the police is going to find the guy. I didn't remember the whole plate number nor the brand of his care, and it was white (I just noticed then that a lot of people like white). But I was very well treated at the station.
All in all, it was a bad experience but the only one that I've had in China in almost three years I've been here.
我和一个当地人打了一架。或者鉴于不是互打,我应该说是被一个当地人拖走了。
我骑着我的电动自行车走在自行车道上。有辆车挡住了路。我对司机响了喇叭,提醒他后面有人。他下车走开了,把车停在车道上挡路。
我以为那家伙想在那儿停车,所以我就想从这辆车和另外一辆停好的车之间的一个小空间中间穿过去。就在那时,汽车开动了。原来副驾驶换到了驾驶员的座位,打算停车。他差点撞到我,所以我用手猛敲窗户提醒他有人。突然,那个家伙突然发飙了。
这个体重得有80公斤的家伙下了车,冲我大喊大叫。他没有给我做任何事或说任何话的机会,因为他下一步动作就是抓住我的脖子掐我。他把我从自行车上拽下来,把我摔倒在地。我一直戴着太阳镜,当我摔倒在地板上时,太阳镜脱落了。他看清我是个外国人后,立刻上车离开了那个地方。
我浑身发抖,不知道该怎么办,于是骑上自行车离开那里。等我认为我已经安全的时候,我停车给一些朋友打了电话。他们建议我去警察局报案。一个朋友主动提出她可以做我的翻译。
我觉得警察找不到那个人。我不记得完整的车牌号码,也没留意汽车的牌子,只知道是辆白车(我注意到很多人喜欢白车)。但是我在警局受到了很好的接待。
总的来说,这是个糟糕的经历,但这也是我在中国近三年来遇到的唯一一次意外。
David Levy, Living and working in China since 1986
The situation you describe certainly does happen and similar stuff has certainly happened to me. But it not only happens to foreigners in China==locals can get cheated in markets and other areas, too. (By the way, the American shouldn't need to carry his own scale because many markets have public scales, manned by an official of some sort, so that buyers can verify the weight of their purchases on the spot, and disputes about weight can be quickly mediated.)
As in the markets, so it is in other aspects of daily life. Some people will try to cheat others. Some won't.
Short answer: sure, stuff like that has happened to me in the past 30 years. Probably more than I realize, but probably not as much as many assume. All over the world, cheaters gonna cheat.
你描述的情况确实发生过,类似的事情也确实发生在我身上。但这种事不仅发生在外国人身上,当地人在市场和其他地方也会受骗。(顺便说一句,美国人无需自己带秤,因为很多市场都有公共秤,买家可以当场核实购买商品的重量,有关重量的争议可以很快得到调解。)
跟菜市场一样,日常生活的其他方面也是如此。有些人会试图欺骗别人。有些人则不会。
简而言之:当然,在过去的30年里,类似的事情在我身上发生过。可能比我意识到的要多,但可能没有很多人想象的那么多。全世界的骗子都会骗人。
Mohammad Shah, studied GCE O Levels at Beaconhouse School System (2018)
I don't know if I am supposed to be answering this since I haven't been to China myself but I do know someone who has been to China and had an unpleasant experience.
So let me give you a little bit of intro. So that person (including me) is a Muslim and Muslims are very strict when it comes to eating because Muslims can only eat Halal food .
Now many people have the wrong meaning of Halal. Some feel like it's the method of cutting the animal while others feel like it's the animal itself (if the animal is Halal or not). Well it's both.
So, when that person went to China on a business trip, he couldn't find any Halal food !!
So here's the unpleasant part … he had to survive on apples and water for 3 days and 3 nights !
It seems quite healthy but if you actually do it , it'll turn out horrible !
Imagine eating 2 apples thrice a day for 3 consecutive days !
That was quite an unpleasant experience !
我不知道我是否应该回答这个问题,因为我自己没有去过中国,但我知道有人去过中国,有过不愉快的经历。
我来给大家介绍一下。那个人(包括我)是,在饮食方面非常严格,他们只能吃清真食品。
现在许多人对清真有了错误的理解。一些人觉得清真指的是切割动物的方法,而另一些人觉得清真指的是动物本身(动物本身是否符合清真)。其实两者兼而有之。
所以,当那个人去中国出差时,他找不到任何清真食品!!
这是最不愉快的部分……他只能靠苹果和水撑了三天三夜!
这看起来很健康,但如果你真这么做了,会发现结果很糟糕!
想象一下连续3天每天吃2个苹果的情形!
那真是一次不愉快的经历!