View: India has people. It needs consumers
观点:印度有人口,印度需要消费者
A long-held belief of analysts in India is that the economy is supply-constrained. Demand isn't even worth a footne, while a temporary squeeze in the onion market deserves obsession because it could be inflationary.
It's increasingly obvious that this view is outdated. In October, inflation quickened more than expected to 4.62% because of, yes, an onion shortage. Yet core inflation, which strips out volatile commodity prices, slumped to 3.4%, the lowest since the current price series began in 2012.
One explanation is that people have less money to spend on other things after buying vegetables. Yet, as Mark Williams, chief Asia economist at Capital Economics puts it, a 1.1 percentage point drop in core inflation over three months is rare. "This weakness isn't solely due to spending being diverted," he says in a research ne.
It's a demand funk. Until about 2012, temporary supply shocks dominated. The starting point of production and transport is hydrocarbons, and India needs to import most of its crude oil. The go nment also has to pay farmers to feed 1.3 billion people. Because of the outsize dominance of food and fuel in consumption, price stability is ephemeral: A few months of high inflation could drastically impact consumers' expectations.
印度分析人士长期以来的一个观点是,印度经济受到供应限制。需求甚至不值一提,而洋葱市场的暂时吃紧值得关注,因为它可能引发通货膨胀。
越来越明显的是,这种观点已经过时了。10月份,由于洋葱短缺,通货膨胀率比预期的要高,达到了4.62%。但剔除大宗商品价格波动因素后的核心通胀率跌至3.4%,是2012年开始实施当前价格序列以来的最低水平。
一种解释是,人们在买了蔬菜后,花在其他东西上的钱变少了。然而,正如凯投宏观首席亚洲经济学家马克•威廉姆斯所指出的那样,核心通胀率在3个月内下降1.1个百分点是罕见的。他在一份研究报告中表示:"这种疲软并不完全是因为支出被转移。"
这是一种需求恐慌。在2012年之前,暂时的供应冲击一直占据主导地位。生产和运输的起点是碳氢化合物,而印度需要进口大部分的原油。政府还必须付钱给农民来养活13亿人。由于食品和燃料在消费中的巨大主导地位,价格稳定是短暂的:几个月的高通胀可能会极大地影响消费者的预期。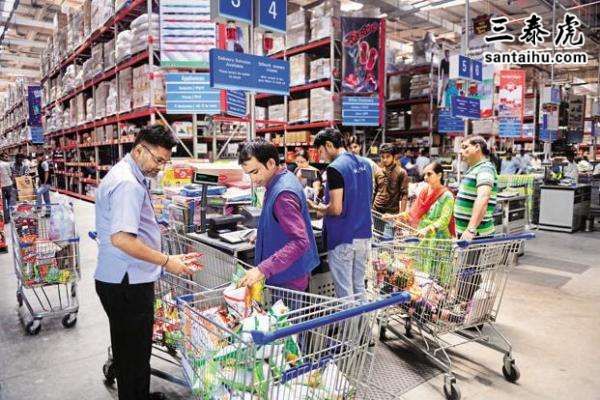 Any gap between (runaway) headline and (soft) core inflation would typically close with the core moving toward the main indicator. But something has changed. The supply-dominated headline number is now more likely to shift toward the demand-led core figure, JPMorgan Chase & Co. research has shown. Slack in the economy — of which there's plenty — has become much more important than a transient disruption in commodity supplies.
Therefore, despite consumer prices rising more than the central bank's 4% target for the first time since mid-2018, the new consensus is that the economy is deflation-bound. That's the reason most observers are shrugging off the October inflation rate as any kind of a speed limit on the central bank's rate cuts.
Whether the five rate reductions this year will lift demand is a different story. Banks aren't passing lower borrowing costs down the line. As of August, their weighted average lending charge was almost double the Reserve Bank of India's repurchase rate. This record spread is a crisis-like situation, Credit Suisse AG strategist Neelkanth Mishra says.
总体通胀率(失控)和核心通胀率(疲软)之间的差距,通常都会随着核心通胀率向主要指标靠拢而缩小。但有些事情已经改变了。摩根大通的研究显示,以供应为主导的整体数据现在更有可能转向以需求为主导的核心数据。经济中的萧条—其中有很多—已经变得比商品供应的短暂中断重要得多。
因此,尽管消费者价格指数自2018年年中以来首次超过了央行设定的4%的目标,但人们的新共识是,经济受到通缩的束缚。这就是为什么大多数观察人士不把10月份的通胀率当作央行减息的限速。
今年的五次降息能否提振需求则是另外一回事。银行并没有降低借贷成本。截至8月份,它们的加权平均贷款费用几乎是印度央行回购利率的两倍。瑞士信贷策略师米斯拉说,这种创纪录的息差是一种类似危机的情况。
How fast an economy can grow is measured from the supply side — by slap together labor and capital inputs as well as productivity growth. But it's here that demand is emerging as a constraint. Consumer spending fell in real terms in 2017-18, its first decline in four decades, the Business Standard reported Friday, citing an unreleased offi al survey. As Rathin Roy of the New Delhi-based National Institute of Public Finance and Policy has been arguing, the economy grows by producing what 150 million of the top income earners consume. When it comes to an inexpensive shirt that India's workers can make for their billion-plus fellow citizens, Bangladesh does a better job.
India balked at the last minute from joining the 16-nation Regional Comprehensive Economic Partnership trade agreement because it can't compete ag inst in making everyday things. Roy's call for a meaningful minimum wage for workers in all Indian states rich and poor shows a sensible way to create sustainable demand. Make things well enough for a swelling home market, and eventually India will supply them to the world.
一个经济体能够以多快的速度增长是由供给面来衡量的—通过将劳动力和资本投入以及生产率增长叠加在一起来衡量。但正是在这里,需求正成为一种约束。《商业标准报》周五援引一份未发布的官方调查报告称,2017年至2018年,消费者支出实际下降,为40年来首次下降。正如总部位于新德里的印度国家公共财政与政策研究所的拉辛•罗伊所主张的那样,印度经济增长靠的是1.5亿高收入者的消费。当谈到印度工人可以为他们十亿多同胞生产的廉价衬衫时,孟加拉国做得更好。
印度在最后一刻拒绝加入由16个国家组成的《区域全面经济伙伴关系协定》(简称RCEP),因为它在日常生产方面无法与竞争。罗伊呼吁为印度所有邦的富人和穷人制定有意义的最低工资,这是创造可持续需求的明智方式。生产出足够的产品来满足日益膨胀的国内市场,最终印度将向世界提供这些产品。
以下是《印度经济时报》网站读者评论:
译文来源:三泰虎 http://www.santaihu.com/48806.html 译者:Joyceliu
外文链接:https://economictimes.indiatimes.com
Sanujit Roy
Consumer need to have money
消费者需要钱。
Shekhar
Yes India has People but the Consumers will come from Mars and Jupiter
是的,印度有人口,但消费者都远在火星和木星。
Harish
Govt should ban populist schemes & Personal Income tax to lift the economy and there by employment.
政府应该禁止民粹主义计划和个人所得税,以提振经济和就业。
Harish
After Govt taking 35 % income tax and every other paid services will there be anything left to spend????
在政府征收了35%的所得税和其他所有的付费服务之后,人们手中还有什么可花的钱吗?
Girish Sahasrabudhe
India has knowledgeable masses of people. It needs recognition of that knowledge as one on par with modern knowledge ... and it''s recognition in terms of comparable remuneration to all their knowledge-based productive, service and cultural activities!
印度有大量知识渊博的人。印度需要将这些知识视为与现代知识同等重要的知识。
这是对他们所有以知识为基础的生产、服务和文化活动的认可!
Dehradun
Level of remuneration is relative to productivity in market economies. It takes scores of Indians to do the job of one American.
在市场经济中,报酬水平与生产率有关。要完成一个美国人的工作量,需要几十个印度人。
H K Doshi
The article is ending with demand slow down but is not correct fully. Indian consumers has its limitations in respect of per capita income. Most of the companies except mobiles are treating Indian market like developed country market and floating various products very costly rather of economically priced , with long life and repairable. India is overall poor country with limited purchasing power. Only companies understand this will survive otherwise it will be finished.
这篇文章的结尾是需求放缓,但这并不完全正确。印度消费者在人均收入方面有其局限性。除了手机以外,大多数公司都把印度市场当作发达国家市场来对待,他们推出的各种产品都非常昂贵,一点也不经济实惠,使用寿命长,可维修。印度总体上是一个贫穷的国家,购买力有限。只是企业明白,如果不这样做,企业就无法生存下去。
Goswami Boy
We need producers and sellers too. Instead of acquiring these skills, we nurture the negativists and self haters in JNU. The policy went for toss due to this breed. Even in Modi govt Amitabh Kant and Nirm Sitharn are JNU products. We know how it is going.What we need is wisdom and pragmatic policy guided by people. Everything will come after that.
我们也需要生产商和销售商。我们培养的不是这些技能,而是消极主义者和自我厌恶者。就连莫迪政府里的阿米塔布•康德和尼玛拉•西塔拉曼也是尼赫鲁大学的产品。我们知道事情是怎样的。我们需要的是正确的人的领导智慧和务实的政策。
Yash Pal
It is not the policies of people like Amitabh Kant and Nirm Sitharn who have brought about this mess; rather it is SJM and fellow travellers who have dominated the economic scene from behind the curtains. RSS and affiliates hate JNU because it encourages free thinking.
并不是阿米塔布•康德和尼玛拉•西塔拉曼等人的政策造成了这种混乱;相反,幕后主导经济舞台的是SJM及其跟班。RSS和附属机关讨厌尼赫鲁大学,因为它鼓励自由思考。
Harekrishnar
one of the best ways to make consumers spend- is to stop tang them personally- no personal income tax- let them pay tax on every item they spend on - gst--- but the gst on essential items should be low and high on luxuries- --- this will unleash the animal spirit - and reduce black money because even the small traders and professionals like doctors/consultants etc who rarely pay taxes - will be more open- almost 40 % of the economy which is in the grey and black zone will become more transparent- and all that money will enter the banks and offi al statistics- think dear modiji- put money in the hands of the consumers and they will spend, spend and spend- and make india grow at 10% per annum- your dream of $5 trillions will become $10 trillions shortly -
让消费者花钱的最好方法之一,是不再向他们个人征税—不征收个人所得税—让他们可以用缴税的钱来消费——征收销售税——但生活必需品的消费税要低,奢侈品的消费税要高—这能刺激动物本能—甚至减少黑钱,因为小商人和医生/顾问等专业人士很少缴税—这将带来更开放的局面,几乎40%的经济的灰色和黑色的区域将会变得更加透明—所有的钱都会进入银行和官方统计—亲爱的莫迪想想吧—把钱放在消费者手里,他们就会买买买呃—让印度以每年10%的速度增长—你5万亿美元的梦想很快就会变成10万亿美元。
Sk Kapoor
... and, India cannot find consumers in the world due to high cost of manufacturing....
…而且,由于制造业成本高,印度在世界上吸引不来消费者……
Prithvi Chauhan
1)Stop distributing Loans to corrupt businessmen, 2)Start tang Po iticians, Wealthy farmers,3)Reduce personal income tax, we are double - triple taxed
1)停止向腐败的商人发放贷款;2)开始向政客、富裕的农民征税;3)减少个人所得税,我们被征了两遍甚至三遍的税。
Ashok Amin
Our Planners never consider mentality of our buyers.More than any country Indian consumer is very conservative and believe safety of future. become victim very easily of reumers.
我们的规划者从不考虑消费者的心理。印度消费者比任何国家都要保守,他们相信未来的安全。很容易成为骗子的牺牲品。
Raj Tillan
It has consumers also it needs platform.
印度有消费者,但也需要平台。
Raj Tillan
work cultures has been coroded by excessive legislation u cannot do any thing without breaching one or other law,rule , regulation, policy guideline
工作文化已经被过度的立法所束缚,你做任何事都会违反法律、法规、规章、政策方针。
Mangipudi Vasudev Rao
Let the Govts both at Centre and the states be sensible and free themselves from the constraints of ideologies and appoint eminent economists and planners, irrespective of their ideological moorings. Listening to and respecting the learned would be beneficial to both the Govts and the people. So I ve the eminent economists ,seek their counsel and act,shedding illusory notions.
让处于中心地位的政府和邦政府理智一些,把自己从意识形态的束缚中解放出来,任命杰出的经济学家和规划者,不管他们的意识形态如何。倾听和尊重有学问的人对政府和人民都是有好处的。因此,我投票给著名的经济学家,征求他们的建议并采取行动,抛弃虚幻的观念。
Vidyaranya Vijaypura
Goi should seriously investigate drop in petrol and diesel consumption, 31% is a very high number.Ground reality tells not so much fall is correct, there might be some foul play by private players bypassing state run oil corporations and taxes to sell their fuel at much discounted rates to retail petrol pumps! Or is goi hand in glove! why goi does not investigate such a steep fall. Shows co ption at very high place in collusion with govt. So much fall does not tally with our low growth rate!
印度政府应该认真调查汽油和柴油消费的下降,31%是一个非常高的数字。现实告诉我们,下降幅度不大是正确的,可能会有一些私人公司绕过国有石油公司和税收,以折扣价把燃料卖给零售加油站!或者是相互勾结!为什么印度政府没有对如此暴跌展开调查。这说明严重的腐败跟政府相互勾连。这么明显的下降跟我们的低增长率不相称!
Ramesh Shah
Very correctly conclusion.....mighty consumer population without spending powers...... the key is Import as much as you can N let people get cher goods..... our FOREX kitty very strong......
非常正确的结论.....有强大的消费群体,但却没有消费能力...关键是尽可能多地进口,让人们买到更便宜的商品……我们的外汇储备非常强劲
Radheyshyam Khandelwal
no one can consume anything as all blood being sucked by go nment, to spend on so called welfare schemes for their po itical vested interest
民众没有消费能力,因为所有的血汗都被政府吸干了,政府为了他们的政治既得利益而把钱花在所谓的福利计划上。
Udayan Pil
Sir, why did you left the caption incomplete? India has people. It needs consumers. Consumers need money.
先生,你为什么不肯完整的说明一下呢?印度有人。印度需要的是消费者。消费者需要的是钱。
Quhesobi
All in all, India lacks leadership. India had everything it needed to be the best before Feku came to power. But, as we all know, Feku has dest yed the economy, the middle class, the consumers.
总之,印度缺乏领导力。在莫迪之前,印度拥有成为最一流国家所需要的一切。但是,我们都知道,莫迪摧毁了经济、中产阶级和消费者。
Raj S
What happened to the Mudra loans, for small enterprises? Aren''t they making inexpensive shirts that Bangladesh is making? Go nment has to prome rural industries and enterprises. Rural areas is still dependent on farming.
为小企业提供的Mudra贷款怎么了?他们不是在生产孟加拉国正在生产的便宜衬衫吗?政府必须促进农村工业和企业的发展。农村地区仍然依赖农业生产。
Padamnoor Pradeep
In India those earning Rupees one lac per month and having property wealth of Rupees one crore (family wealth) may be in the Top one percent. How much can be bought by the 99%? Just basics and we will be broke by the end of the first week!!
在印度,那些每月收入10万卢比,拥有1万亿卢比财产(家庭财富)的人可能是最富有的1%。余下的99%的人能消费多少?只有基本的生活所需用品,我们第一周结束时就会破产!!
Anand Deshpande
If govt is sucking 20% from people with income 5-10 lakh, highest tax on petrol and diesel, 18%tax on services----- ---how people spend money, there is no money left with them. Hence people are not becoming consumers
如果政府从收入在5- 100万卢比的人群中征收20%税收,对汽油和柴油征收最高的税,对服务征收18%的税——人们能怎么消费,他们早就没钱了。因此,人们无法成为消费者。
Shrinivasa Kth
Successive reduction in interest rate has not revived the economy, neither it will. Purchasing power of those who depend on interest income has come down drastically. More will be added to the growing number of poor.
连续降低利率并没有使经济复苏,以后也做不到。那些依靠利息收入的人的购买力大大下降了。贫困人口将会大大增加。
Sunil Sahota
I just wonder why not go nment brings a drastic rise in the income levels of all strata of employees particularly those of blue collar jobs. Let cost of living rise, but at the same with a sudden rise in income of lower rung of workers, will boost the economic activity exponentially and will create more and more jobs...
我只是想知道为什么政府不让所有阶层的雇员,尤其是蓝领工人的收入水平大幅提高。让生活成本上升,但与此同时,底层工人收入的突然增加,将以指数方式推动经济活动,并将创造越来越多的就业机会……