In a first, Meco deports 311 Indians trying to sneak into US
墨西哥首次驱逐311名试图偷渡美国的印度人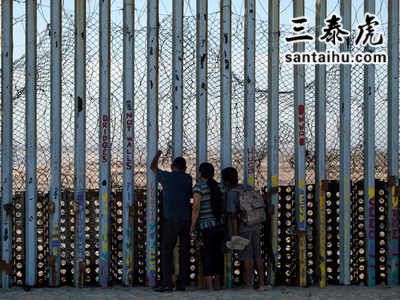 In a transatlantic deportation without precedent, Meco has put 311 Indians - caught illegally entering the country and trying to cross over to the US - on a Boeing 747-400 charter scheduled to touch down at Delhi airport early on Friday.
墨西哥已将311名非法入境并试图越境前往美国的印度人送上一架波音747-400包机,该包机计划于周五早间在德里机场降落。如此跨大西洋空中遣返是一个先例。
Meco's National Migration Institute (INM) said in a release that the deportees, who are being escorted back home by 60 federal migration agents, had been found to have entered the country without valid documents for "regular stay" over the past few months.
墨西哥国家移民研究所(INM)在一份新闻稿中表示,被驱逐者在60名联邦移民人员的护送下回国,他们未持"正常居留"证件进入墨西哥。
The mass deportation revived memories of the tragedy that befell a family from Punjab in June, when a six-year-old girl died of a heat stroke in the Arizona desert on the US-Meco border after her mother went in search of water during their illegal border crossing. The body of Gurpreet Kaur was found after two Indian women apprehended by US border patrol revealed that a mother and her two children had been with them until a few hours earlier.
大规模的驱逐行动让人们回想起今年6月发生在一个旁遮普省家庭身上的悲剧。在美国和墨西哥边境的亚利桑那州沙漠,一名6岁女孩在非法越境时中暑身亡,她的母亲当时去找水喝了。女孩的尸体是在两名印度妇女被美国边境巡逻队逮捕后发现的,她们透露一位母亲和她的两个孩子几个小时前还和她们在一起。

Sources said each member of the group possibly paid Rs 25-30 lakh to the agents who arranged their travel to Meco and promised to help them illegally cross over to the United States.
消息人士称,每个遣返人员可能已向安排他们前往墨西哥旅行的中介支付了250万至300万卢比,并承诺帮助他们非法越境前往美国。
The cost apparently included airfare, accommodation in Meco and meals. The agents had purportedly cited a week to a month's time to arrange their entry into the US, the sources said. According to the Meco's National Migration Institute release, they were caught in Meco without "papers for regular stay" and produced before immigration authorities in the states of Oaxaca, Baja California, Veracruz, Chiapas, Sonora, Meco City, Durango and Tabasco.
费用包含机票、在墨西哥的食宿。消息人士称,这些中介据说用一周到一个月的时间来安排他们进入美国。根据墨西哥国家移民研究所发布的信息,他们在墨西哥被逮捕时没有"正常居留证件"
US Presi nt Donald Trump's threat to impose tariffs on all Mecan imports if the country did not put a check on people illegally entering US through the porous borders forced its hand, sources said. A source said the Boeing 747-400 that took off from Meco's Toluca City International Airport with 311 deportees was expected to land in Delhi at 5.45am on Friday.
消息称,美国总统唐纳德•特朗普威胁称,如果墨西哥不打击非法越境美国者,他将对所有墨西哥进口商品征收关税,这迫使墨西哥采取行动。一名消息人士称,这架载有311名被驱逐者的波音747-400从墨西哥托卢卡市国际机场起飞,预计将于周五早上5点45分抵达德里。
印度时报读者的评论:
译文来源:三泰虎 http://www.santaihu.com/48632.html 译者:Jessica.Wu
外文:https://timesofindia.indiatimes.com
Anantha Prasanna2 days ago
Being a first class citizen in a third class country is better than a third class citizen in a first class country. The craze for living in America by hook or crook is not vanished from Indians. Families pay sky high amount to migrate in any possible way.
在三等国家做一等公民比在一等国家做三等公民好。想方设法去美国生活的狂热并没有从印度人身上褪去。很多家庭不惜一切,付出了极高的代价。
Aam AadmiIndia2 days ago
Good lesson for jugaadu Indians.
给了印度人一个教训。
Typsygypsy GypsytypsyGods Green Earth2 days ago
with Rs 25-30 lakhs these desi bhais could have had a decent life in mera Bharat Mahaaan ... or is not worth the good times in mera Bharart Mahaaan ... for Rs 30 lakhs !!! something must be radically wrong !!!
有250万-300万卢比,这些印度人本可以在印度过上体面的生活……这些人都怎么了!!
Sanjoy PandeyKolkata2 days ago
India should also deport illegal immigrants in crores on an urgent basis.
印度也应该驱逐大量非法移民。
Simon Rogerearth2 days ago
All driven by greed. Why would anybody waste 30 lakh rupees per head ?
都是被贪婪驱使的。为什么要浪费300万卢比去偷渡美国?
Himmat Sandhu2 days ago
How many Punjabis and Gujjus in this group ????
这群人中有多少旁遮普人和古吉拉特人?
Srinivas2 days ago
Dear fellow Indians, please don't leave India. we are self sustained country and we are the people who knows family values. there is more prospective is our home land. please don't kill our next generations just for your greedy.
亲爱的印度同胞们,请不要离开印度。我们是一个自给自足的国家,我们是有家庭价值观的人。待在印度更有前途的,请不要因为你的贪婪而害了我们的下一代。
Roshan2 days ago
Bhakts have to think why India people don't want to be India.
为什么印度人不想待在印度?
sankepally rajainder reddy2 days ago
when those trying to crossover to US can spend 30 lakhs why should they want to migrate to US, with that kind money they can do some business in India ad live happily
有300万卢比,为什么要非法越境移民到美国,有了这些钱,他们可以在印度做生意,幸福地生活
Bhaktwaas LogicRajendra Nagar2 days ago
And Indians talk about illegal Bangladeshis. Lol.
印度人还在谈论非法偷渡进来的孟加拉移民,哈哈
Janardhan2 days ago
By paying 25-30 lakhs these crazy people are buying their own death. One could easily live happily in India with such kind of money.
这些人太疯狂了,白白浪费了250万到300万卢比。有这么多钱,在印度随便都能过上幸福的生活。
ArunNew Jersey2 days ago
When we are deporting Bangladeshi?
我们什么时候驱逐孟加拉人?
BijayNoida2 days ago
Most of them are Sardars obsessed to stay in USA.
他们中大多数是萨达尔人,他们一心想去美国。
RaviChennai2 days ago
Under Modi, people are fleeing India. Better luck next time.
在莫迪的领导下,人们正在逃离印度。祝你们下次好运。
True2 days ago
25-30 lakh...Why can't they start their own business here only. Why to be in constant fear of deportation in other country.
有250 - 300万卢比……为什么不在印度创业呢?为什么要去其他国家,整天提心吊胆担心被驱逐出境。
Sam2 days ago
Good job Meco. Dhu karke bhejna tha. Shameless people. They should be grilled and put behind bars in India upon arrival.
墨西哥,做得好。这些人真丢人,一到印度就把他们关进监狱。
Vijay2 days ago
These ppl must be jailed for hurting country's reputation!
把这些人关进监狱,他们损害了国家的声誉!
Bllog SuriNA2 days ago
No jobs and future in india.
在印度,没有工作,没有未来。
Binugeorge2 days ago
what's wrong with theses people's. paying 25 to 30 lakhs to enter United States illegally. It's just stupid.
这些人怎么了?花250-300万卢比非法进入美国,太蠢了。
Anjan KeshHumara India2 days ago
Its USA''s loss. Those Indians were going to US as they wanted to share the viraat knowledge that Indians have after Modiji made us into a superpower.
这是美国的损失。那些印度人本来想去美国分享莫迪把我们建设成超级大国的经验。
Reddy2 days ago
India should send packing ILLEGAL BANGLADESHIS, aliens in train loads immediately.......
印度应该马上把非法滞留的孟加拉人、非法外国移民送上火车,驱逐出境
Chandrashekar2 days ago
India should control its population.
印度应该控制人口。
Chinivar2 days ago
I'm a 100% sure, out of the 310 are telugus and the 311th one is a telugu guy pretending to be other state guy to avoid suspicion
我敢肯定,这里面有310个是泰卢固人,第311个泰卢固人为了避免嫌疑,乔装打扮成其他国家的人
A Bmuruganbangalore2 days ago
Welcome back home, you shameless people..
欢迎回来,你们这些无耻之徒。
VsgrBangalore2 days ago
Shame on these illegal migrants.
这些非法移民真丢脸。