Indian economy on a shaky ground: Nobel awardee Abhijit Banerjee
诺贝尔奖获得者阿比吉特·班纳吉:印度经济摇摇欲坠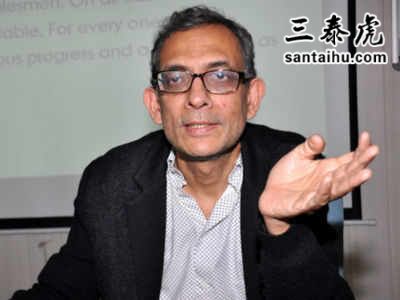 KOLKATA: Indian-American Abhijit Banerjee, who on Monday won the 2019 Nobel Economics Prize, said Indian economy is on a shaky ground.
加尔各答:周一,获得2019年诺贝尔经济学奖的印度裔美国人班纳吉称,印度经济摇摇欲坠。
The data currently available do not hold any assurance for the country's economic revival anytime soon, he stated.
班纳吉表示,目前的数据并不能保证印度经济很快就能复苏。
"The condition of Indian economy is on a shaky ground. After witnessing the present (growth) data, just can't be sure about it (revival of economy in near future).
印度的经济状况不稳定。从当前的数据来看,不能确定印度经济能在不久的将来复苏。
Abhijit Banerjee, Esther Duflo and Michael Kremer win 2019 Nobel Economics Prize
据报道,阿比吉特·班纳吉、埃斯特•迪弗洛和迈克尔•克雷默一起获得2019年诺贝尔经济学奖
The 58-year-old economist, who bagged the coveted prize jointly with his wife Esther Duflo and another economist Michael Kremer for his "experimental approach to alleviating global poverty", said he never thought he would get a Nobel so early in his career.
这位现年58岁的经济学家与妻子埃斯特•迪弗洛和另一位经济学家迈克尔•克雷共同获得了这一令人垂涎的大奖
"I have been doing this research for the last twenty years. We have tried offering solutions towards alleviation of poverty," Banerjee, who is currently the Ford Foundation International Professor of Economics at the Massachusetts Institute of Technology (MIT), said.
班纳吉目前是麻省理工学院福特基金会国际经济学教授,他表示:"我从事这项研究已经有20年了。我们尝试提供减贫的解决方案。"
印度时报读者的评论:
译文来源:三泰虎 http://www.santaihu.com/48604.html 译者:Jessica.Wu
外文:https://timesofindia.indiatimes.com
Biju Varriar - 16 hours ago
Just because he got a Nobel prize does not mean he knows Economics... after all he is a friend of Mr. Amritya Sen... who has enough inflence to give NOBEL to a friend... Joke is for whatever this man has been given NOBEL that model has not worked anywhere in the World..for 20 years what has he been develo and on what grounds has the NOBEL prize been given to him..
仅仅因为他获得了诺贝尔奖并不意味着他懂经济学……毕竟他是阿马蒂亚·森(诺贝尔经济学奖得主)先生的朋友……后者有足够的影响力让评委把诺贝尔奖颁给他的朋友…20年来他都在研究什么?诺贝尔奖是基于什么理由授予他奖项?
Gaana User - 16 hours ago -Follow
Looks like another Amarthya Sen in the making....enough of such foreign sponsored oion givers.....leave the country to the po itically ed leaders ...they will lead India to a better tomorrow ...
看来又是一个阿马蒂亚…他们受外国资助,受够了他们提的意见……
Gaana User - 16 hours ago -Follow
Those who won't dont know, this is the same guy who gave suggestion to NYAY scheme to Rahul Gandhi. Ring the bell?
有些人不知道,这位就是那个拉胡尔·甘地的"最低收入保障计划"的提议人。
Indian Abroad - 15 hours ago -Follow
Here comes one more Amratya Sen!
又来了一个阿马蒂亚·森!
Bharat - 15 hours ago -Follow
Mr. Abhijit, are you not aware of the box office collection on Indian film industry?
阿比吉特先生,你不知道印度电影业的票房收入吗?
Krishan Kumar Totlani - Jaipur - 15 hours ago -Follow
So this Nobel laureate has started barking about indian economy, was he waiting for Nobel Prize? He was the person who justified NYAY scheme of Rahul & said NYAY will be funded by High Taxes & High inflation.
这位诺贝尔奖得主开始对印度经济指手画脚,他一直在等诺贝尔奖吗?他是为拉胡尔"最低收入保障计划"出谋划策的的人
Vinay - 16 hours ago -Follow
Don't be next Amartya .
不要成为下一个阿马蒂亚
Ramesh - Bangalore - 15 hours ago -Follow
On a shaky ground. Yes, everyone knows. Give solution to come over it. Wng Nobel alone is not enough. Being an Indian origin, take some responsibility and suggest something to improve Indian economy. Meanwhile, Congratulations for wng the Nobel.
每个人都知道印度经济摇摇欲坠。仅仅获得诺贝尔奖是不够的,作为一个印度裔,你要承担一些责任,提出一些改善印度经济的建议。祝贺你获得诺贝尔奖。
Premkumar - 15 hours ago -Follow
Nobel prize winners from West Bengal have this tendency of speaking ag inst Indian economy. I think Nobel prize on economics are always awarded on shaky grounds.
来自西孟加拉邦的诺贝尔奖获得者有这种反印度经济的倾向。我认为诺贝尔经济学奖是胡乱颁发的

Nayyar Arvind - YAMUNA NAGAR - 15 hours ago -Follow
Now everyone will listen to you with noble prize in hand.But diagnosing a problem is easier than treating where is that treatment?
手握诺贝尔奖,现在每个人都会听你的了。诊断一个问题比治疗容易,有解决方案吗?
Doraiswamy - 15 hours ago -Follow
He was one of the advisor to the Congress , along with Raghuram Rajan.
Do you expect him to say good things about Modi, and his policies.
Modi is our PM and we as Indians should support him in his efforts to revive the economy.
他和拉古拉姆·拉詹都是国大党的顾问。
你能指望他说莫迪的好话吗?
莫迪是我们的总理,我们印度人应该支持他重振经济的努力。
Ulhas - Navi Mumbai - 15 hours ago -Follow
First Amartya Send and now this guy! They give up India for their own personal prosperity. Yet continue to get mileage by researching Indian poverty TELESCOPICALLY. Shun them!
先有阿马蒂亚,现在又来了这个家伙!
为了个人名利,他们抛弃了印度。然而,通过对印度贫困问题的研究,他们仍然取得了成果。
Shashi Patil - 15 hours ago -Follow
Paid by Congii''s, Abhijit Banerjee starts singing..
班纳吉收了国大党的钱,开始帮他们说话了
Karthik S - 15 hours ago -Follow
He got nobel prize for alleviating proverty. OK. Indian economy is in shaky ground and lot needs to be done on poverty.
他凭借减贫的研发而获得诺贝尔奖。
现在,印度经济状况不稳定,贫困问题亟待解决,那他对印度扶贫的建议是什么?
only facts - 15 hours ago -Follow
His knowledge on economy is worse than Historian who heads the RBI.Simply put u dont need a economist a Historian is good enough.Anyway things have slowed down but services sector and IT Sector in particular will revive demand.Just help the farmer out and we should grow
他的经济学知识比领导印度央行的历史学家还差。简单地说,印度不需要经济学家,历史学家就足够了。无论如何,经济增长已经放缓,但服务业,尤其是IT行业将会提振需求。只要帮助农民,我们的经济就能增长
Manjunathan - 15 hours ago -Follow
This great educacted people's don't give any solutions, they simply bark
不提供解决方案,只会乱喷
Muralidharamk11 - 14 hours ago -Follow
now I know why he was given Nobel prize
现在我知道他为什么被授予诺贝尔奖了
Drsiddharth - Bhopal - 14 hours ago -Follow
Ford foundation employee ....what else to expect ....
福特基金会的雇员…还能指望他说什么好话…
Rop Hod - 15 hours ago -Follow
Most World economies, including those of Europe, North and South America, and Japan have been on shaky ground for the last 3 years and remain so. Indian economy has been doing much better and much more money is spent on people at the lowest rung.
世界上大多数经济体,包括欧洲、北美、南美和日本,在过去3年里都处于不稳定的状态,现在依然如此。印度经济的状况一直更好,花在最底层人民身上的钱更多。
Virendra - 14 hours ago -Follow
He is a stooge of Pappu
他是拉胡尔的走狗
Santosh Avadhani - 10 hours ago -Follow
Now BJP will say Banerjee is Congress man!
现在人民党会说班纳吉是国大党的人!