Uttar Pradesh: At least 13 killed as cylinder blast triggers building col pse in Mau, several trapped
北方邦:煤气罐爆炸导致楼房倒塌,造成至少13人死亡,数人被困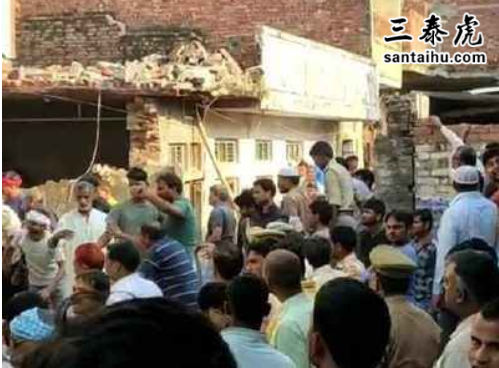 VARANASI: At least 13 people were killed while six others suffered injuries when two buildings col psed in Validpur area in Mau district in Uttar Pradesh following a blast in an LPG cylinder early on Monday. Offi als said the building belonged to one Chhotu Badhai.
瓦拉纳西: 星期一早些时候,印度北方邦Mau区瓦利德普尔地区发生液化石油气罐爆炸,导致楼房倒塌,造成至少13人死亡,6人受伤。
District magistrate Mau, Gyan Prakash Tripathi, who was present at the spot where the in dent took place said that 12 bodies had reached the mortuary and six injured had been admitted to a hospital.
赶赴事发现场的Mau区行政长官Gyan Prakash Tripathi表示,已将12具尸体运达停尸房,6名伤者已被送往医院
Later in the day, the toll rose to 13.
当天晚些时候,死亡人数上升到13人。
The in dent occurred when a woman tried to ignite an LPG stove in one of the kitchens in the building leading to a fire in the gas cylinder.
一名女子在点煤气灶时,导致煤气罐着火。
On seeing the fire spreading rapidly, some people present at a tea kiosk in the neighbourhood rushed into the building to douse the flames.
看到火势迅速蔓延,附近饮茶亭的人冲进大楼去灭火。
Before they could succeed in their bit, the cylinder exploded and the three-storey building col psed. Apart from six women and girls of Badhai's family, all the persons who entered the building got trapped under the debris.
他们还没来得及灭完火,煤气罐就爆炸了,导致这栋三层楼的大楼倒塌。除了房主家的六名妇女和女孩外,所有进入大楼的人都被困在废墟下。
Upon hearing the sound of explosion, hundreds of locals started rescue operation even before the police arrived.
一听到爆炸声,数百名当地人在警察到来之前就开始了救援行动
印度时报读者的评论:
译文来源:三泰虎 http://www.santaihu.com/48598.html 译者:Jessica.Wu
外文:https://timesofindia.indiatimes.com
shivprakash gupta3 hours ago
LPG has reached many house hold,, but training on safely using the LPG stove & cylinder is not...every LPG user should be given proper safety and precaution trainig before handing over the connection to avoid such tragedy...May the lost lives rest in peace...
很多家庭已经在用液化石油气了,关于安全使用液化灶和煤气罐的培训还没做到位…每一个用户在使用之前都应该接受适当的安全培训,以避免悲剧发生。愿逝去的生命安息……
Devinder SoniGurugram3 hours ago
Is it for a CM to offer lip sympthy on every mishap ?
每次发生事故,首席部长都口头表示同情,这合适吗?
Om OneBharat3 hours ago
RIP this highlights are old problem Safety compliance of the Building as Well as cylinder. When there is earthquake at Scale of around 4.3 still We will find our buildings going down.
安息吧。问题在于大楼的安全是否合规以及煤气罐是否符合安全标准。发生4.3级地震时,有些大楼照样会倒塌。
NLocation3 hours ago
shocking in dent . R I P for victims and condolences to bereaved families .
the way delivery men and other labours handle cylinders will stop hearts . horror of horrors . companies must conduct random checks
令人震惊。向遇难者致哀,向遇难者家属表示慰问。

送气员和其他用煤气的人会吓到停止心跳。太了。煤气公司务必进行随机检查。
SeshadrinathanBengaluru3 hours ago
donot have knowledge about preliminary usages.
操作不当才导致爆炸的吧
Proud Indian2 hours ago
How ch is life of people in our country there is nothing called safety and security of people
在印度,没有所谓的安全,生命太廉价了
Subhendu Panda2 hours ago
proper and regular training and checking by the LPG supplier is to be mandatory. Sometime casual approach by people invite such type of tragedies.
强制液化石油气供应商进行适当和定期的培训和检查。有时人们不经意的操作不当,导致这样的悲剧。
TaraNew Delhi3 hours ago
People are careless in habdling LPG gas. Loose connection, wornout tube faulty stove and crumbliing space make it dangerous.
有些人在使用液化石油气时很粗心,气阀不关紧,管子老化等等,这些都是潜在危险。
HappyTimes Userkolkata3 hours ago
Shocking
震惊
Manish Gupta4 hours ago
Very sad in dent, RIP
非常不幸,安息吧
Hindu yodhaNG1 hours ago
every one must know, if you use cylider, keep window open at least partially.
使用煤气灶,必须要开窗通风。
PS Kumar2 hours ago
In India, the cooking gas coming inside a cylinder which is like a bomb. People are not trained to handle any immediate situation. The cylinder if caught fire, there is a way to immediately douse it, but no one knows, and with fear people just run away.
在印度,人们没有接受过应急训练。如果钢瓶着火了,有一种方法可以立即熄灭它,但是没有人知道,人们只会仓皇逃跑。
HappyTimes User3 hours ago
So sad
太不幸了
Ali3 hours ago
All were BJP supporters
他们都是人民党的支持者
Evans SumitraNew York, USA.3 hours ago
A very sad in dent. May the souls of the deceased RIP. May those trapped in the col psed building are rescued as soon as possible.
非常不幸。愿逝者的灵魂安息。希望那些被困在倒塌大楼里的人能尽快获救。
Subhankar Bose4 hours ago
Death is inevitable. May they go to ...
死亡是不可避免的。
Nilendu SarkarDurgapur19 minutes ago
The services of India is need to training people''s how to use case and how to do the time of emergency. Because of gas cylinder blast it takes many lives in year in with having pertaining the people understand and they will be there to get rid of it so please bring people how much you can.
培训人们如何使用液化气以及如何处理紧急情况。气瓶爆炸每年都会夺去很多人的生命
Bchandramenon VengasserryAlappuzha1 hours ago
Gt shall strictly direct gas agencies to impart proper training on safety measures for users of LPG related equipments.
政府应严格要求煤气代理商,让他们为用户提供适当的安全培训。
Ash D2 hours ago
Very unfortunate in dent but Yogi will for sure blame the Congress for it since the house was built in those era
不幸的事件。首席部长约吉肯定会把责任推到国大党身上,因为这栋楼是在国大党执政时代建造的
Subhendu Panda2 hours ago
RIP for the departed souls.
愿逝者安息。
DravidianToronto2 hours ago
all strange things happen only in north india
所有怪事都发生在北印度
Roushan S2 hours ago
I hope the PM condoles the deaths in the same way he did for the deaths in Japan!
我希望总理能表示哀悼!
PriBangalore3 hours ago
People will get killed to bce the ecology. Simply issue standard norms to pay 5 LAKHS per death and 20K for injured.
为了保持平衡生态,总会有人死。公布赔偿标准吧,死者赔偿50万卢比,伤员赔偿2万卢比。