World Bank cuts growth forecast to 6% from 7.5%
世界银行将印度增长预期从7.5%下调至6%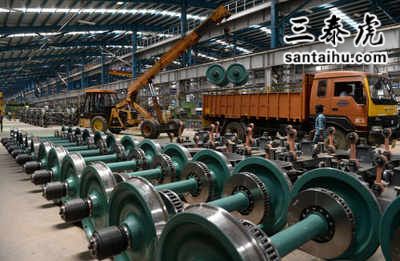 NEW DELHI: The World Bank on Sunday sharply lowered India's economic growth projection for the financial year to 6%, against the original estimate of 7.5%, joining a host of agencies that have downgraded the forecast since the RBI pared its estimate at the start of the month.
新德里:周日,世界银行将印度本财年的经济增长预期从最初的7.5%大幅下调至6%,自印度央行(RBI)本月初下调经济增长预期以来,已有多家机构下调了这一预期。
India's growth rate, which was faster than 's until a few quarters ago, is now expected to be slower than Bangladesh and Nepal, the World Bank said in its report on South Asia, while linking the slowdown in the region to global factors.
世界银行在一份有关南亚的报告中表示,印度的经济增速目前预计将低于孟加拉国和尼泊尔,同时将该地区的经济放缓与全球因素联系起来。就在几个季度前,印度的经济增速还高于。
印度时报读者的评论:
译文来源:三泰虎 http://www.santaihu.com/48597.html 译者:Jessica.Wu
外文:https://timesofindia.indiatimes.com/
Anjan Kesh - Humara India - 8 hours ago -Follow
We have only gone below Bangladesh and Nepal but Modiji''s vision is always on Pak, he will bring us to Pak''s GDP levels.
我们只落后于孟加拉国和尼泊尔而已,莫迪的目标是达到巴基斯坦的水平,他会把印度GDP拉到巴基斯坦GDP的水平。
Anjan Kesh - Humara India - 8 hours ago -Follow
Blind bhakts should remember India achieved a record 10.2% growth rate under Manmohan Singh in 2010, and we have never reached even 9% in any of the 11 years that BJP has ruled India since independence.
在曼莫汉·辛格的领导下,印度经济在2010年实现了创纪录的10.2%的增长率,而自从独立以来,在人民党统治印度的11年里,我们从未达到过9%的增长率。
Deepak - Karnataka - 7 hours ago -Follow
Wow! Our growth rate now slower than Bangladesh and Nepal!!!. Congratulations to Modiji!. You could achieve in 5 years what congress couldn''t achieve in 60 years!!!. Next target should be to overtake Zimbabwe!!!.
哇!我们的经济增速现在比孟加拉国和尼泊尔还慢!!
祝贺莫迪!你可以在5年内完成国大党60年内也办不到的事情!!
下一个目标应该是输给津巴布韦!!
Patriot - Bharata Mata - 8 hours ago -Follow
While India is facing severe economy slowdown, low life Feku and Shah are busy diverting people
印度经济严重放缓时,莫迪和沙阿正忙着转移人们的注意力。
Vasaikars M - Vasai - 6 hours ago -Follow
Dont worry it will increase after one more poem with photo and kachara saf safai with photos.
不用担心,印度经济会恢复增长的
santosh - 6 hours ago -Follow
Modiji started to following Imran khan. From 7.5 % to 6 % great achievement.
从7.5%降到6%,这个成就不得了,莫迪开始步伊姆兰·汗的后尘了
SNAAATION - 6 hours ago -Follow
India to sell cow dung, pakoda, watch bollywood movies, GDP will achieve 8%
印度人卖牛粪,卖炸丸子,看宝莱坞电影,GDP增速就能达到8%
truth hurts - up - 7 hours ago -Follow
World Bank is anti national. It should be booked for sedition. Anyway these numbers have only academic significance and no real effect on ground. Have belief in modiji who is greatest leader of India. We are now vishwa guru.
世界银行这是在发表煽动性言论。无论如何,这些数字只有学术意义,没有实际影响。相信莫迪,他是印度最伟大的领导人。
Quhesobi - 7 hours ago -Follow
Feku and his stooges are still in denial mode on the economy. What he has done in Feku 1.0 period finally pays its dividends in Feku 2.0 period. Unfortunately,, the worst is yet to come because the damages done by Feku are far from being repaired. Moreover, IMF should have done so before GE19. It turns out that India is going to waste another 5 years of development because of this..
莫迪和他的跟班们仍然对经济放缓持否定态度。莫迪在第一个任期所做的一切终于在第二个任期得到了回报。不幸的是,最糟糕的事情还在后头,因为莫迪造成的破坏还远远没有得到修复。事实证明,印度将又要浪费5年的时间。
Strategic Speaking - 7 hours ago -Follow
With and FM and an RBI governor like we got, what else can be expected? My primary teacher was better economic expert than these stooges..
印度财政部长和央行行长都不称职,我们还能期待什么?
小学老师还比这些人更精通经济
Guest - Noida - 7 hours ago -Follow
By my continuous talking it will go to 9 percent by end 2019
我坚信到2019年底,印度经济增速将升至9%。
Ulhas - Navi Mumbai - 5 hours ago -Follow
DEVELOPED countries like US, , Japan grow at a slower pace than PERPETUALLY DEVELOG countries like India. Anything below 10% is poor performance for India even in bad times.
像美国、、日本这样的发达国家的增长速度比印度这样的发展家要慢。即使在经济不景气的时候,低于10%对印度来说也是糟糕的表现。
Sanjoy Pandey - Kolkata - 8 hours ago -Follow
Government should initiate suitable corrective measures to reverse the down turn in the economy.
印度政府应该采取适当的措施,扭转经济的下滑趋势。
Jagdip Vaishnav - Mumbai - 7 hours ago -Follow
Economy slow down prevails, it shall become intense gradually
经济增长放缓是普遍现象,会逐步回升的
Arun Choudhary - 8 hours ago -Follow
World economy has detoriated effects on Indian must be visible ,,,,,
世界经济对印度的负面影响是显而易见的。
Alok Gupta - 3 hours ago -Follow
BJP should take strong action for revival of the economy growth. Something is very wrong with the present scenario. Nirmal Sitharaman is not capable to lead her present position as the finance minister.
人民党应该采取强有力的行动来恢复经济增长。目前的情况非常糟糕。西塔拉曼没有能力胜任财政部长一职。
Millan - Guangzhou - 4 hours ago -Follow
it is 2% in reality
实际增速只有2%
JASPREET SINGH OBEROI - 5 hours ago -Follow
Why worry ? This must be some foreign institution out to weaken the government. Our movies are doing well and hence the economy as well. We do not need to take any corrective action
为什么要担心?这一定是外国机构在弱化印度。我们的电影很不错,经济形势也一片大好。保持现状即可,无需采取任何措施
Anand Mirle - BLR - 6 hours ago -Follow
There is softness in the economy all over the world and India is no exception. Look at Germany and other European economies - They are at zero growth...We are far better and we will recover from this "slowdown"...
世界各地经济表现疲软,印度也不例外。看看德国和其他欧洲经济体,他们的增长为零……我们的情况要好得多,我们将从这种"放缓"中复苏……
Ivo Sequeira - 4 hours ago -Follow
Stop blaming our PM. It is like scolding a KG kid for not being able to solve a Class 10 question. The PM doesn''t have an inkling of what''s happening on the economic front in the country.
不要责怪我们的总理了。这就像好比一个幼儿园孩子解答不出10年级的问题而责骂他。总理对国家的经济形势一点也不了解。
Ulhas - Navi Mumbai - 5 hours ago -Follow
WHAT is growing FASTER? Population or GDP?
人口和GDP,哪个增长更快?
Silicon Valley homes - KL - 6 hours ago
slow down in US. San Francisco bay area silicon valley home prices are falling and will be down 70 % - 75 % in 2020 just like 1929 Great Depression with unprecedented Foreclosures and Under water.
美国经济也在放缓。旧金山湾区、硅谷的房价正在下跌,到2020年将暴跌70% - 75%,就像1929年的大萧条一样
Ulhas - Navi Mumbai - 6 hours ago -Follow
If damage wrought by the floods is taken into account, NET growth would be negative.
如果把洪水造成的损失考虑在内,净增长将是负数
Balachandramenon Vengasserry - Alappuzha - 2 hours ago -Follow
These are purely cyclical changes.
经济的周期性变化。