Indian Culture: What is wrong with the current Indian mindset?
印度文化:当前印度人的思维模式出了什么问题?
以下是Quora读者的评论:
M Jawahar Reddy, EEE from Vellore Institute of Technology, Vellore
India is the land of resources. That is the reason we don't find any Indian king who invaded another country but we find Kings like M.Ghazni who retedly tried to conquer our part of land.
Ancient India has a special place for itself in the fields of science, food, culture e.t.c. But the people of modern India i.e. we are never bothered about it. We always try to follow the Western culture.
In olden days, people of India used coal, neem stems and salt to clean mouth, who were gradually changed to use toothpaste and now, again, we are asked whether our toothpaste has salt or not…
In India, we have great monuments of sculpture. We have temple entrances called Gopurams of about 300 feet high which stood stiff, constructed in those days but we never care about those monuments and go on reading about the leaning tower of Pisa.
India once has the people who used to cure any type of disease with medicinal plants. As we are attracted towards the Western culture, no one knows about it these days. The first anesthesia was used by an Indian, father of surgery, Susrutha.
印度是一个资源丰富的国家。这就是为什么我们找不到任何入侵过其他国家的印度国王,但我们找到了像M.Ghazni这样曾试图征服我们这片土地的国王。
古代印度在科学、食品、文化等领域占有特殊的地位,但现代印度人,也就是我们从不为之烦恼。我们总喜欢学西方文化。
古时候,印度人用木炭、印楝茎和盐来清洁口腔,后来人们逐渐改用牙膏,现在,我们又开始关心牙膏是否含盐……
在印度,我们有伟大的雕塑纪念碑。我们有大约有300英尺高的叫做Gopurams的寺庙入口,但我们从不关心那些纪念碑,而是研究比萨斜塔的书。
曾经有印度人用药用植物来治疗所有疾病。由于我们迷恋西方文化,现在没有人知道,第一次麻醉就是印度人手术之父Susrutha实施的。
Yoga and meditation were first practiced in India. Taking deep breaths can stop us from getting 70% of diseases. Air is for free but we don't make it productive instead we buy and breath the smoke of cigarettes.
The greatest epics like Ryana and Mahabharata happened in India. There are many powers in India which we know them as something different but don't know the reason behind. If the reasons were passed on from generation to generation, India would be the country with mamum number of scientific patent s.
Even today, Inspite of our negligence towards our history, science and culture, Indians stand top globally. CEOs of many big companies are Indians and the reason behind many scientific success are Indian people.
瑜伽和冥想最早源于印度。深呼吸可以预防70%的疾病。空气是免费的,但相反的是,我们购买和呼吸香烟的烟雾。
最伟大的史诗如《罗摩衍那》和《摩诃婆罗多》也源自印度。印度出现过很多大国,我们知道它们是不同的,但不知道背后的原因。如果这些原因代代相传,印度将成为拥有最多科学专利权的国家。
即使在今天,尽管我们忽视了我们的历史、科学和文化,印度人仍然跻身全球前列。许多大公司的首席执行官都是印度人,许多科学成就背后都有印度人的身影。
Omkar Khair, lives in India
India lacks organization. We have a jugaad mindset.
I am born and brought up in India. As a kid we are used to following a few things in India, that we would have been frowned upon for in a developed country. Relieving ourselves on a street side, littering around public properties is a common sight. As an adolescent I started to notice the wrongs, and have been correcting myself since.
Here's one of the many things I see going wrong with our mindset.
When I'm out with friends, I'm subject to mockery because I hold back from throwing a wrapper or a paper plate on the street. I come home with my pockets filled with waste, in case I don't find a good place to dispose it off. At one point I started picking up stuff that my friends threw. Instead of this compelling them to reflect, and stop doing it; it encouraged them to do it and have the sight of me picking it up. I'm no saint. I stopped. Since then I manage my own waste, and avoid imposing my thoughts on others.
印度缺乏组织纪律性。我们有一种随机应变的心态。
我在印度出生长大。孩童时代,我们惯在印度做的一些事情,在发达国家是不被允许的。比如在街边小便,在公共场所乱丢垃圾等,都屡见不鲜。青少年时期,我开始意识到错误并纠正自己。
这是我发现我们的思维方式问题很多的时刻之一。
当我和朋友出去的时候,我会因为不愿意把包装纸或纸盘扔到街上而被人嘲笑。我回家的时候口袋里装满了垃圾。后来,我把朋友们扔掉的东西捡起来。我的行为并没有让他们反思,不再乱扔垃圾;相反,我的行为让他们更起劲乱扔,看着我捡。我并非圣人,我放弃了。从那时起,我只管自己的垃圾,不再把自己的想法强加于人。
译文来源:三泰虎 http://www.santaihu.com/48596.html 译者:Joyceliu
Not littering around public/private areas and kee clean is a very basic and essential understanding. We just love to bluntly ignore it. What our mindset teaches us is - "When others don't do it, why should I?", "Me not littering around isn't going to affect the tons of garbage already there". What we easily miss out on is -
You are not supposed to do it because it is a written rule, but because it is the thing to do. What others do or don't should not affect your decisions.
We are the kind of people who only follow traffic rules when there is a cop around. We have created a society where the only thief is the one who gets caught!
We lack moral, ethical and social organization to great extents. In a 1.2 billion population country struck with scarcity of resources we only live for ourselves and not for the society we live in.
不乱丢垃圾和保持清洁是一个非常基本和必要的常识。我们却总是直接忽略。我们的心态教会我们的是—"别人不做,我为什么要做?","我不乱扔垃圾,也不会影响已经存在的成吨的垃圾"。我们很容易错过的是:
你不应该这样做,因为这是一个书面规则,因为这是正确的事情。别人做什么或不做什么不应该影响你的决定。
我们是那种只有在有警察在场时才遵守交通规则的人。我们创造了一个社会,唯一的小偷就是被抓住的那个!
我们在很大程度上缺乏道德、伦理和社会组织。在这个12亿人口的国家,资源匮乏,我们只为自己而活,而不是为我们所生活的社会而活。
Anonymous
There is nothing wrong with the current Indian mindset.
Mindset is not something that is designed, it is something that evolves and adapts. Asking this question is similar to asking: what is wrong with evo tion? Nothing; evo tion does not care whether it is or wrong. The path taken by a community/nation's mindset is strongly dependent on its condition. Outside of dic ships, individuals (and thereby, communities) always take the path of least resistance and mamum payback.
India is a young nation of scarcity where people thrive on individual-scale competitiveness, not cooperation. Everything is and has been in short supply, if not in quantity, then in distribution. The poverty we see today was much worse at any time more than a hundred years ago. Why would a person, be it a po itician, a farmer, or a merchant, not look out for themselves and their families alone? When the re gie changed every 10-20 years bringing about draconian laws, and the go nment ested only to charge ridiculous taxes (the British charged taxes in excess of 30%), hell, I'd easily believe my home is my nation. My family is my only responsibility. I have to look out for them. Why should I care about how the road outside my house looks? Why should I care what tax-payers paid for the 2G infrastructure? Indians use the sy em to their advantage because they know that it is difficult to be successful without doing so, at least not in a predictable way.
当前印度人的心态没有错。
心态不是被设计出来的,而是进化和适应。提问这个问题和提问进化有问题吗一样;没有。进化过程无所谓对错。一个社区/国家的心态很大程度上取决于它的环境。除了统治,个人(及社区)总是选择阻力最小、回报最大的道路。
印度是一个资源稀缺的年轻国家,人们依靠个人的竞争力而不是合作来发展。现在和过去都很稀缺,要么数量不足,要么分布不合理。我们今天看到的贫困比一百多年前任何时候都严重得多。为什么一个人,不管是家、农民还是商人,不单单关心自己和家人呢?*每隔10-20年就改变一次,带来严酷的法律,政府的存在只是为了征收荒谬的税(英国征收的税超过30%),该死,我很容易相信我的家就是我的国家。我的家庭是我唯一的责任。我得小心照料他们。我为什么要关心房子外面的道路是什么样子?我为什么要关心纳税人为2G基础设施支付了多少钱?印度人利用这一制为自己谋利,因为他们知道,不这样做是很难成功的,至少在可预见的方式上是如此。
Attributing the backwardness of India to the mindset of the people is philosophical solace to help turn away from the much more complicated problem of a people chronically stifled by limited resources and limited energy.
Change the conditions: reduce scarcity, improve law enforcement, make people outside a few philosophers see the real advantage in being law-abiding citizens, control population, and change will happen. Look, the people who ask questions like what's wrong with the mindset aren't owed anything by other people. Nobody really cares about the deeper implications of the Indian mindset. Personal satisfaction comes first. This is true in India, Europe, the US, Japan, , virtually anywhere in the world.
It is not like change the mindset, and India will change. Change India, and the mindset will change.
将印度的落后归因于人们的心态,是一种哲学上的安慰,有助于人们避开一个更为复杂的问题,即一个长期被有限的资源和有限的能源所窒息的民族。
改变条件:解决稀缺性,改善执法,让少数哲学家以外的人看到守法公民的真正优势,控制人口,改变就会发生。听着,那些问思维模式出了什么问题的人并不欠别人什么。没有人真正关心印度心态的深层含义。个人满足是第一位的。在印度、欧洲、美国、日本、,几乎世界上任何地方都是如此。
不是说改变思维方式,印度就会改变。但改变印度,心态就会改变。
Aseem Bansal, lives in India
There is a big misunderstanding regarding
A large section of Indian people's mindset is that India has lost to in every way. They think is better and India can never hope to compete with it. may have gone further in many aspects but to think that India cannot be competitive? I cannot agree with that.
Collection of Certificates
Many people instead of trying to get knowledge want to collect as many certificates as possible. Go nment also has its focus on quantity of people that it can educate rather than the quality of education that should be delivered.
The movie 3 Idiots really made this point.
Most don't want to take risk
Most of the people don't want to take risk. I am talking about entrepreneurship. Graduates want to find a job. Most don't want to think about self-employment or entrepreneurship.
关于有一个很大的误解
很大一部分印度人认为印度在各个方面都输给了。他们认为更好,印度永远不可能与竞争。可能在很多方面走得更远,但对于印度没有竞争力的说法?我不同意。
收藏证书
许多人想要收集尽可能多的证书,而不是试图获得知识。政府关注能够教育的人口数量,而不是应该提供的教育质量。
电影《三傻大闹宝莱坞》就说明了这一点。
大多数人不想冒险
大多数人不想冒险。我说的是企业家精神。毕业生想找一份工作。大多数人不愿考虑个体经营或自主创业。
Aditya Pandey, Learning from experiences.
I was out for a ride with my younger brother somewhere in the city outskirts.
My brother was playing with my phone when he took the picture.
Later I told him that it wasn't to shoot someone's private moments without seeking their permission.
He was sorry, so I avoided scolding him for a mistake he did unknowingly.
The picture is of a park, and while we were walking we saw something strange happening, there were some boys covered with Orange scarf's and mufflers shouting on someone, when I went closer I found that they were the same couple.
A lot of people gathered and mobbed the couple, both of them were being bashed by some Idiots.
Soon they grabbed the guy's collar, but thankfully thing's didn't escte much as the public interfered and the matter was sorted after some time[1].
The boys were from a local college,and worked as a moral police in the city.
Some of them said, that It's all because of the western culture, and they won't let their culture to be spoiled by couples like them.
The group also has a good po itical support, but I don't want to mention the name of the group and the people who support it.(as I don't want this answer to get po itical)[2]
There have been instances when couples have been brutually beaten for holding hands in public, and moreover you can't kiss your girl in India.
While anthropological evidence suggest that India may have been the real birthname of the pentially misnamed 'French kiss'
What an Irony is that, The land of 'Ksutra'[3] which taught the world more and better ways to screw, does not allows its own citizens to display simple gestures.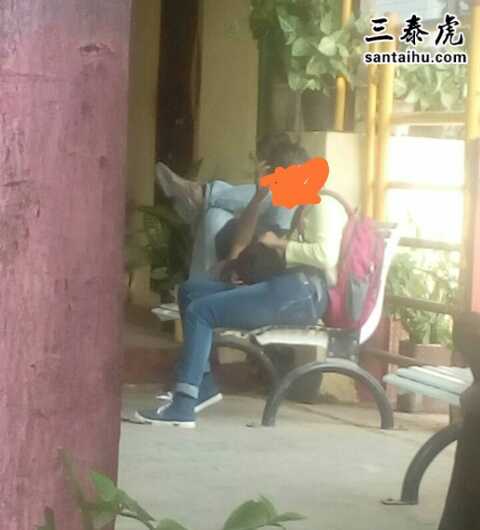 我和弟弟到郊外某处兜风。
我弟弟玩我的手机时拍了这张照片。
后来我告诉他,未经允许就拍摄别人的隐私是不对的。
他很抱歉,所以我没有因为他无意中犯的错误而责骂他。
这是一个公园,我们走着走着,看到奇怪的事情发生了,有一些男孩戴着橙色的围巾和围巾对着一个人大喊大叫,当我走近时,我发现他们就是照片里的夫妇。
许多人聚集起来围攻这对夫妇,两人都被一些白痴殴打着。
很快他们抓住了那个男人的衣领,但谢天谢地事态没有升级,因为公众的干预,事情很快解决了。
这些男孩来自当地的一所大学,在该市担任道德警察。
他们中的一些人说,都是因为西方文化,他们不会让他们的文化被这样的夫妇破坏。
该组织也得到了充分的支持,但我不想提及该组织的名称和支持它的人。(因为我不想让这个答案变得化)
有些情侣因为在公共场合牵手而被殴打,而且在印度你不能亲吻你的女孩。
而人类学证据表明,印度可能是"法式热吻"的本名。
具有讽刺意味的是,这片创作出了"爱经"的土地教会了这个世界更多更好的性爱方式,却不允许自己的公民享受简单的碰触。
Falling in love is wonderful and when the feeling is mutual ,it feels like heaven on earth, and when it happens we want to show this love to whoever cares.
We care least about others, though I believe that things should not exceed be a limit, I certainly argue that there is no Constitution approved 'criteria' for this.
There needs to be a parameter about 'How much is too much?'
Different people have different perspectives about PDA , and noone gives you a to harass a couple just because you are too ugly to have a girlfriend.
Isn't it the greatest irony in India..that
1.It's socially acceptable to beat a women but you can not kiss her.
2.It's socially acceptable to ask for dowry but things are frowned upon when you ask her out for a date.
3.It's socially acceptable to slap a man in public but you dare not hug him.
We need to be more open, India needs to be more open, with not just financial barriers but social barriers too.
坠入爱河是美妙的,当这种感觉是相互的,它就像人间天堂,当它发生时,我们想要把这种爱展示给关心我们的人。
我们对别人冷漠,虽然我相信事情不应该超过一个限度,我当然认为宪法并没有规定的"标准"。
我们需要有"多少才算太多?"的详细参数。
不同的人对公开秀恩爱有不同的看法,没有人会仅仅因为你长得太丑没有女朋友就给你骚扰情侣的权利。
这难道不是印度最大的讽刺吗
1.当众打女人是可以接受的行为,但你不能吻她。
2.索要嫁妆是可以接受的的行为,但当你约她出门约会时,事情就不太好办了。
3.在公共场合打男人耳光可以接受的,但你绝对不敢当众拥抱他。
我们需要更加开放,印度需要更加开放,不仅要设置金融壁垒,还要设置社会壁垒。
Abhinav Jain, works at Accenture
Indians mind-set, particularly among students is more of getting ready for jobs, although it is currently changing. Even among teachers and professors there is no urge for innovation to inspire students beyond, facts, figures, formulas and beyond jobs. Professors must encouraged to continue the research of their interest. This is best time for them all as the world is in transition mode from jobs to entrepreneur ships, dogma to experience, knowledge to skills, classical to quantum, big to small, large to specifics, larger groups to smaller communities, singular to plural and then progress to.Your surrounding,culture and environment play a major role in creating a particular mindset.India is a Land of Jugaad not sure if that is appreciated in the IITs & IIMs of today.But we are so much dependent on Jugaad and jobs oriented mindset. This is the major problem of current Indian mindsets as it has started following a trend of earning name and fame without taking care of the overall development of the country into consideration.
印度人的心态,尤其是学生的心态,更倾向于为就业做好准备,尽管这种心态目前正在改变。即使在教师和教授中间,也没有创新的冲动来激励学生超越事实、数据、公式和工作。必须鼓励教授们继续他们感兴趣的研究。这对他们所有人来说都是最佳时机,因为世界正处于从工作到创业、从教条到经验、从知识到技能、从经典到量子、从大到小、从大到具体、从大到小的群体到小的社区、从单一到多元然后再到进步的模式的转变中。你星期围的环境、文化在形成一种特定的心态方面起着重要的作用。我们太依赖于随机应变和以工作为导向的心态。这是当前印度心态的主要问题。
Swathi Shankar, M.B.A from Indian Institute of Management, Ahmedabad
Following is a common scenario prevalent in Indian families..
When a girl child is born, she receives equal education just like her brother (Maybe, of late?).
She is expected to stand first in her school.
She is expected to top in her college too.
She is expected to get a well-paying job.
And now, when she is 23…
She is expected to quit her aspirations of further schooling.
Yes, she is expected to get married.
I am not questioning the option of settling down. Rather, I wish there really ests an option.
It is a general mindset that career and married life don't go hand in hand. And this rule applies only for women.
It is always conceived to be a this-or-that question, which may necessarily not be the case.
以下是在印度家庭中普遍存在的情况。
当一个女孩出生时,她就像她的哥哥一样接受平等的教育。
人们期望她在学校里名列前茅。
她在大学里也有望名列前茅。
她有望得到一份报酬优厚的工作。
现在,当她23岁的时候……
人们希望她放弃继续深造。
是的,她该结婚了。
我没有质疑成家的想法。相反,我希望真的女孩们能有选择的权利。
人们普遍认为事业和婚姻生活无法相辅相成。这条规则只适用于女性。
人们总认为这是一个"非此即彼"的问题,而事实未必如此。