What do British people think about India and Indian people?
英国人怎么看待印度和印度人?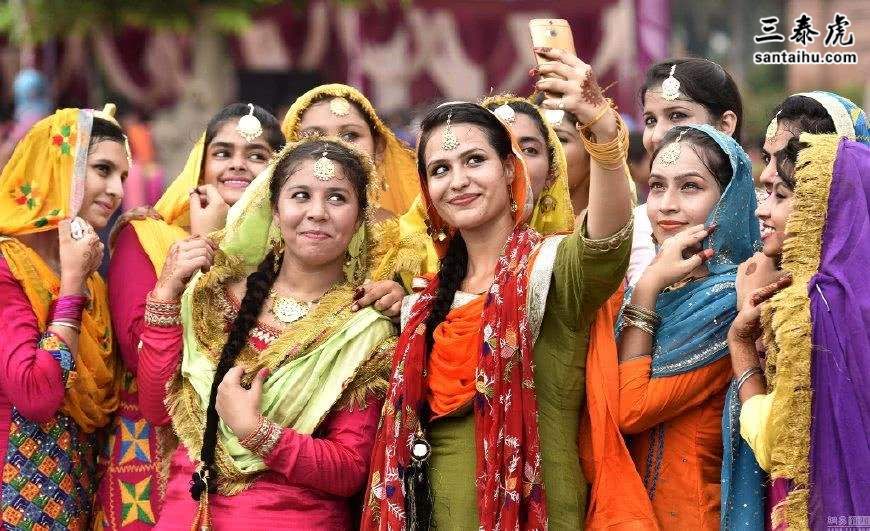 以下是Quora读者的评论:
Graeme Shimmin, I am British.
The average Briton's view of India:
英国人对印度的看法:
1.India is a great place to go on holiday but it's a bit too far away. Could you move it a bit closer please?
2.India has monsoons and elephants. Elephants are good. Monsoons aren't good as the rain is even worse than it is here.
3.India is very, very hot - even hotter than Spain.
4.There are a lot of people in India. Maybe like a billion or something.
5.Most of them work in call centres - probably about three quarters of a billion.
6.The ones who don't work in call centres are beggars or computer programmers or Bollywood dancers.
7.There are no proper roads, just massive traffic jams, and everyone bee their horns like mad as they sit in the jam.
8.Everyone sits on the roof of the trains too.
9.There are weird looking cows everywhere. Indians worship them or something.
10.They make films in a place called Bollywood. They're all musicals. The music is OK but the acting is dreadful and there's no story.
1.印度是一个度假的好地方,但有点太远了。能把它稍微挪近一点吗?
2.印度有季风和大象。大象蛮好。季风不行,雨比英国还讨厌。
3.印度非常非常热,甚至比西班牙还热。
4.印度有很多人。也许有十亿了吧。
5.他们中的大多数在呼叫中心工作——大概有7.5亿人。
6.没在呼叫中心工作的都是乞丐、电脑程序员或宝莱坞舞者。
7.印度没有像样的道路,只有严重的交通堵塞,每个人都像疯了一样按喇叭,因为他们都被堵得死死的。
8.每个人都坐在火车顶上。
9.到处都是外形怪状的奶牛。印度人崇拜它们。
10.他们在一个叫宝莱坞的地方拍电影。拍的都是音乐剧。音乐还不错,但是表演很糟糕,没有故事性。
11.Some Indians write books and they usually win the Booker Prize.
12.Indians are good at cricket, but terrible at football. They have another weird game where the teams hold hands and chant or something.
13.Indians have Who Wants to be a Millionaire too.
14.Gandhi was from India. We aren't really sure what he did but it was good and involved lots of wise sayings and him being shot at the end.
15.Indians have arranged marriages which is a bit odd. Indian girls are all hot though, and Indians wre the K Sutra, so it probably works out ok.
16.Curry is from India. Mmmmmm... curry :-)
11.有些印度人写书,常常能赢得布克奖。
12.印度人擅长板球,却不擅长足球。他们还有另一种奇怪的比赛,队员们手牵着手,唱着圣歌什么的。
13.印度也有"谁想成为百万富翁"。
14.甘地来自印度。我们不清楚他究竟做了什么,但他做得很好,说过很多明智的言论,可他被枪杀了。
15.印度人搞包办婚姻,这有点奇怪。印度女孩都很性感,而且印度人写过一本《爱经》,所以效果可能还不错。
16.咖喱来自印度。呣……咖喱
译文来源:三泰虎 http://www.santaihu.com/48594.html 译者:Joyceliu
Please read this section before commenting
1.There are hundreds of comments on this answer, many making the exact same point: these views are inaccurate stereotypes. Please read the esting comments before berating me once again about how wrong I am. I realise these oions are not in any way accurate.
2.If like dozens of other commenters you think British people should know more about India 'because of the Empire': it's three quarters of a century since Britain left India. Todays teenagers think the 9/11 attacks are irrelevant ancient history - the British Empire is about as real to them as the Roman Empire.
3.Before telling me once again how 'dumb' British people are, ask yourself how much you know about Switzerland or Brazil. If you're anything like the hundreds of other people who have commented, you know even less about Brazil than the average British person knows about India.
4.That's the whole point: all over the world people know little about foreign countries and the few things they do know mostly come from movies. Britain and India are no exception.
请在评论之前先读读这一部分
1.关于这个答案有成百上千的评论,许多人都提出了同样的观点:这些观点是不准确的刻板印象。请阅读现有的评论,然后再指责我错得多离谱。我知道这些观点在任何方面都不准确。
2.如果像其他许多评论者一样,你认为英国人应该"因为大英帝国"更多地了解印度:英国离开印度已经70多年了。今天的青少年认为9/11袭击是跟他们毫无关系的陈年旧事了—大英帝国对他们来说就像罗马帝国一样遥远。
3.在再次告诉我英国人有多"愚蠢"之前,问问你自己对瑞士或巴西了解多少。如果你和其他几百个评论过的网友一样,你对巴西的了解可能比普通英国人对印度的了解还要少。
4.这就是问题的关键:全世界的人都不太了解别的国家,他们知道的为数不多的东西大部分都来自电影。英国和印度也不例外。
Dawn Rutherford Marchant, Born American. Married British. Citizen of UK since 1997.
I am American married into a British family and living in England.
My oion is that their feelings are mixed. They know they have done wrong during the time of Empire, but it is so long ago that it does not burden them personally. I think the reality of the Empire for most Brits is in their day-to-day dealings with Indian people living in their country.
Older Brits are more racist and I think they hanker after the days when their country was more powerful so still retain a respect for Empire. They look upon dark skinned people with a good deal of negativity. Younger Brits are open minded (at least the educated ones who are all I know). They see the tremendous work ethic and intelligence of Indians and respect it. Saying that, there is still prejudice. Within the NHS that are many, many Indian doctors and it bothers people. This is especially true if they have an accent.
I don't feel that the British feel any particular responsibility towards India as a result of their behaviour there. In fact, many (most?) feel what they did was a contribution --- that the good administration in India is a result of the British Empire (I've heard this many times). At the same time, I do think the Brits favour Indians over other foreign nationals. They feel an affinity for India in the same way that Americans feel an affinity for Britain.
我是一个美国人,嫁到一个英国家庭,住在英国。
我觉得他们的感情是复杂的。他们知道自己在帝国时代做过错事,但那是很久以前的事了,不会成为他们个人的负担。我认为对大多数英国人来说,大英帝国的现实是他们每天与生活在英国的印度人打交道。
年长的英国人更有主义倾向,我认为他们更怀念自己国家的强盛时期,所以仍然对帝国保持尊重。他们对黑皮肤的人的看法更为负面。年轻的英国人思想开放(至少我所认识的受过教育的人是这样的)。他们看到了印度人的职业道德和智慧,并给予尊重。话虽如此,英国人还是带有偏见的。英国国民健康保险制中有很多很多印度医生,这让人们心烦。如果他们带有口音,这个问题就更加突出了。
我不认为英国人会因英国历史上在印度的所作所为而对印度抱有特别的责任感。事实上,许多人(大多数人?)认为他们但是做出了贡献—印度的良好治理是大英帝国带去的(我听说过很多次了)。与此同时,我认为相较于其他外国人,英国人更喜欢印度人。他们对印度的感情就像美国人对英国的感情一样。
Jack Gowan, studied Psychology at University of Sheffield
I have travelled through India for several months a few years ago. My observations:
The good:
几年前,我在印度旅行了几个月。以下是我的观察:
优点:
1.Amazing nature. Himyas are spectacular and one of the most (maybe the most) beautiful place in the world. Rajasthan (zing deserts) Assam, Ker are also stunning etc.
2.Outstanding temples and pces.
3.Indians have a unique culture and are mostly warm friendly people who are keen to meet with westerners and discuss all manner of things (often intellectual).
4.The 1000s of places to practice yoga and take part in spiritual conversations.
5.Indian music. I loved listening to all the songs while I was travelling around India. I have a great memory of being on a jeep listening to this mesmerising Indian music while looking at the Himyas (I think it was a Bhajan). I liked it everywhere.
6.Mango lassi. Super sweet Chai.
7.The food! All the varied Indian street food. The curries. The desserts.
8.The spirituality of the place. There is something in the air. Amazing experiences staying at an ashram. Amazing spiritual people.
9.The exciting hustle and bustle of being in an Indian city. Cows and other animals walking around the city centres.
1.神奇的大自然。喜马拉雅山非常壮观,是世界上最美丽的地方之一。拉贾斯坦邦(令人惊叹的沙漠)、阿萨姆邦、喀拉拉邦也令人惊叹。
2.杰出的庙宇和宫殿。
3.印度人有独特的文化,他们大多热情友好,喜欢接触西方人,讨论各种事情(通常是智力方面的)。
4.练瑜伽,参加精神对话的地方数以千计。
5.印度音乐。我喜欢在印度旅行时听印度歌曲。我有很美好的记忆,在吉普车上听着迷人的印度音乐,看着喜马拉雅山(应该是祈祷歌)。
6.芒果酸奶奶昔。超甜的印度奶茶。
7.印度美食!各种各样的印度街头小吃。咖喱。甜点。
8.灵性。空气中藏有玄机。道场里能体会到奇妙经历。神奇的充满灵性的人。
9.印度城市里令人兴奋的熙熙攘攘的场景。牛和其他动物在市中心散步。
The bad:
Indians tend to be very nationalistic and it can make discussing/critiquing India problematic. I held my tongue often when discussing often with Indians when I saw the passion they had for their country. This could be seen as a good point too (depending on your perspective).
Street harassment will happen to you everywhere in India for westerners. People will come up to you everywhere - good people, insistent shop keepers, scammers, beggers. And a lot of westerners become rude because of this treatment.
The scale of people and poverty is on another level. A not uncommon sight is beggers near death, with limbs missing asking for money. Brazil favelas seem middle class in comparison to poverty in India. And people are just everywhere. Of course, there is a lot of middle class and super rich too.
A surprising absence of women. They are not very noticeable and seemed to be less of them around the city (are they stuck in offices/homes?). For example, I was never served food once by an Indian woman in all the time I was there. It seemed that men did practically all customer service jobs.
Indian people stare at you. In restaurants, on trains, in temples, everywhere you go Indians are staring at you. This goes for double if you are a woman. And they often don't look away if you look at them. It can be annoying. Many single female travellers go to India, but as in most countries they have to be careful, at night in particular.
Deli belly. India has a lot of germs and some bad hygiene practices and a lot of westerners get sick visiting India.
Guru scammers. They are a lot of dodgy gurus that have set up spiritual groups to scam money out of vulnerable westerners who are looking for answers to their lives.
The chaotic infrastructure. However India is doing some impressive things recently (e.g. solar technology).
Ne: In general I think India is an zing country, and well worth visiting. But like every country it has flaws.
缺点:
印度人通常非常具有民族主义,这可能使得针对印度的讨论/批评成为问题。当我看到印度人对他们国家的热情时,我常常保持沉默。这也可以被看作是一个好观点(取决于你的观点)。
对西方人来说,在印度的任何地方,街头骚扰都会发生在你身上。人们会找上你—好人、固执的店主、骗子、乞丐。很多西方人因此变得粗鲁。
人口和贫困的规模很高。常常能看到四肢残缺、垂死的乞丐。与印度的贫困相比,巴西的贫民窟似乎是中产阶级。到处都是人。当然,印度也有很多中产阶级和超级富豪。
令人惊讶的是女性的缺席。她们在城市里也很少见(被困在办公室/家里吗?)例如,我在印度期间,从来没有一个印度妇女给我提供过食物。几乎所有的服务工作都是男人做的。
印度人会盯着你看。在餐馆里,火车上,寺庙里,无论你走到哪里,印度人都盯着你看。如果你看着他们,他们通常也不会移开视线。这可能很烦人。许多单身女性旅行者去印度,但她们必须小心,尤其在晚上。
印度有很多不好的卫生惯,很多西方人在访问印度时都会生病。
专家骗子。他们是狡猾的大师,建立了精神团体,从脆弱的西方人手里骗取钱财,而这些人正在寻找生命的答案。
基础设施脏乱差。不过印度最近做了一些吸人眼球的事情(比如太阳能技术)。
注:总的来说,我认为印度是一个了不起的国家,值得一游。但就像每个国家一样,它也有缺陷。
Sudhir Suvarna, The Never Give Up Man
I am an Indian who lived in Britain for more than 10 years and this is what my manager who was English thought about India:
我是一个在英国生活了10多年的印度人,这是我的英国经理对印度的看法:
1.Wondered why Indians visit Britain for holiday when India is the most beautiful place in the world.
2.Thanks India for U.K.'s national food - Chicken Tikka Mass
3.Felt Slumdog Millionaire shouldn't have been made.
4.Did not understand why Bollywood has a lot of western style of music when we have such a rich traditional Indian music.
1.印度是世界上最美丽的地方,为什么印度人要到英国度假呢?
2.感谢印度,给英国提供了一道国菜——马萨拉烤鸡
3.觉得不应该拍摄《贫民窟的百万富翁》。
4.不明白印度的传统音乐那么丰富,宝莱坞却创作了那么多西方风格的音乐。
Maulik Desai, studied Electrical Engineering
I am from India and I am in UK since last july for my company's project work. I have came across some weird idea in Britisher's mind about India.Like:
我来自印度,从去年7月开始在英国为我们公司的项目工作。我在英国人的脑海里发现了一些关于印度的奇怪想法。
1.Transportation: We still travel on camel or elephant.But fact is that it was before 70-80 years.Now we have metro , high speed train,air connectivity, luxurious bus facility etc. For example, Indian railway network is about 71,000 km long.
2.Food: They think that we eat only spicy food. Here, people think that spicy means more chili powder, but it is not like that. We use different type of spices like Cumin, Cloves, Coriander, Turmeric,Mustard seed, Chili powder to enhance taste of food not only chili powder.
3.Weather: They think India is hot country. In some aspect, they are but entire India is not hot. If we consider northern part of India near Himya, it is too cold.
4.Most of the people believe in God. That's True.
5.Intelligent: I have experienced that whenever i tell that i am Indian and i am an engineer then reply is same"You Indian people are so intelligent and hard working". Reason behind this is that here in NHS (National Health Service) most doctors are Indian. Particularly in Newcastle Upon Tyne(name of city where i live) most ta drivers are Pakistani or Bangladeshi, you will not find any Indian ta driver.
6.Area:When i told my colleague that india is almost 13 to 14 times bigger than UK, he couldn't believe that. In fact four states of India are larger than entire UK.
7.Language: They think we all speak HINDI. But fact is that as per WIKI India has 122 major languages and 1,599 other languages.
1.交通:我们仍然骑骆驼或大象旅行。但事实是,那已经是70-80年之前的事了。现在我们有地铁、高速列车、空中交通、豪华巴士等设施。例如,印度铁路网大约有71000公里长。
2.食物:他们认为我们只吃辛辣的食物。人们认为"辣"的意思是多放辣椒粉,但事实并非如此。我们会用不同类型的香料,如孜然,丁香,香菜,姜黄,芥子,辣椒粉来给食物增加风味,不单单是辣椒粉。
3.天气:他们认为印度是个炎热的国家。在某些方面,他们是对的,但印度整体并不热。喜马拉雅附近的印度北部可冷了。
4.大多数人神。这是真的。
5.聪明:我有过这样的经历,每当我说我是印度人,我是工程师时,他们的回答都是一样的"你们印度人很聪明,工作很努力"。这背后的原因是,在英国国民健康服务体系中有许多印度医生。特别是在泰恩河畔的纽卡斯尔(我居住的城市的名字),大多数出租车司机是巴基斯坦或孟加拉国人,你找不到印度出租车司机。
6.国土面积:当我告诉我的同事印度比英国大13到14倍时,他简直不敢相信。事实上,印度有四个邦的面积超过整个英国。
7.语言:他们认为我们都说印地语。但事实是,根据维基百科,印度有122种主要语言和1599种其他语言。
In UK , Britisher's like Indian food so they go to Indian restaurant frequently but for there record, most of them are owned by Pakistani or Bangladeshi because it would not attract customer if it is named as Pakistani or Bangladeshi restaurant.
在英国,英国人喜欢印度菜,所以他们经常去印度餐厅,但这些餐厅大多数都是巴基斯坦人或孟加拉国人开的,如果叫巴基斯坦或孟加拉国餐厅吸引不到顾客。
George Mitton, British, frequent visitor to India
Since my youth, I have had a fascination with India. After six visits and a total of about six months in the country, my interest has only intensified. I think India is a marvellously colourful, endlessly surprising country that is almost embarrassingly rich in culture and history. I have the pleasure of calling many Indian folk (mostly, as it happens, non-resi nt) my friends.
In short, I am an indophile.
However, as a white Englishman, I am aware that my love of India ests in a problematic cultural context. Would this country have captured my imagination had I not read the tales of Rudyard Kipling as a child? The British Empire created stories and myths to glorify itself - to convince British citizens to take pride in and affirm ownership of their imperial "possessions".
Even Indian place names carry a historical weight in the English language, redolent of colonial crimes or retributions - Amritsar, Lucknow, the black hole of Calcutta.
India is relatively easy for me to explore because English is widely spoken. Why? A legacy of the Raj.
The diplomatic way in which the UK's foreign office chooses to expn Britain's relationship with India is that we have "a shared history". Alas, this relationship was never one of equality.
我从小就对印度很着迷。去过印度6次,在这个国家呆了6个月,我的兴趣只增不减。我认为印度是一个非常丰富多彩的国家,拥有丰富的文化和历史。我很高兴地把许多印度人称为我的朋友。
简而言之,我是个印度迷。
然而,作为一个英国白人,我意识到我对印度的爱存在于一个有疑问的文化背景中。如果我小时候没有读过鲁德亚德·吉卜林的故事,这个国家会激发我的想象力吗?大英帝国创造故事和神话来美化自己—说服英国公民为自己的帝国"财产"感到自豪,并确认其所有权。
甚至印度地名在英语中也有历史意义,让人联想到殖民罪行或报应—阿姆利则、勒克瑙、加尔各答。
对我来说,来印度游历相对容易,因为英语被广泛使用。为什么?是因为英国统治的遗产。
英国外交部解释英印关系的外交方式是,我们拥有"共同的历史"。唉,这种关系从来就不是平等的。
Derek Day
As a Brit who lived in Delhi for 6 months - I love India, and think highly of most of the people I met or encountered when going about my business there.
After I returned to the UK I did some domestic plumbing work. Most of my customers were 'typical' English ranging from those who would frequent spit-and-sawdust pubs (particular good for their weekend brawls), to very wealthy people who drove cars more expensive than my house. Mostly arrogant, condescending assholes with bad-mannered kids.
The Indian (or Indian descent) customers were invariably polite, and their kids well-mannered and genuinely interested in what I was doing. I particularly remember one young lad (about 6) who insisted on handing me tools - the ones at the time.
Got a lot of time for the Indian community, and would choose to live in India again if the opportunity arose.
BTW:- Real Indian food is much better than British Indian food. A trip to India would be worthwhile just to explore the cuisine, let alone the history, geography and culture.
作为一个在德里生活了6个月的英国人,我爱印度,我在那里做生意时遇到的大多数人我都给予了很高的评价。
回到英国后,我从事家庭管道工作。我的大多数顾客都是"典型的"英国人,从经常光顾酒吧的人(星期末经常吵架)到开着比我房子还贵的豪车的有钱人。大多是傲慢自大的混球和没有教养的孩子。
印度(或印度后裔)顾客总是彬彬有礼,他们的孩子彬彬有礼,对我所做的事情由衷地感兴趣。我特别记得一个小男孩(大约6岁)坚持要给我递工具—总在对的时间拿给我对的工具。
我为印度社区服务了很长时间,如果有机会,我会选择再次去印度生活。
顺便说一句:真正的印度食物比英国的印度食物要好得多。为了探索印度美食而去印度旅行都十分值得,更不用说还能探索历史、地理和文化了。