No Tata Nano production in first 9 months of 2019, just 1 unit sold
2019年前9个月,塔塔未生产Nano,仅售出一辆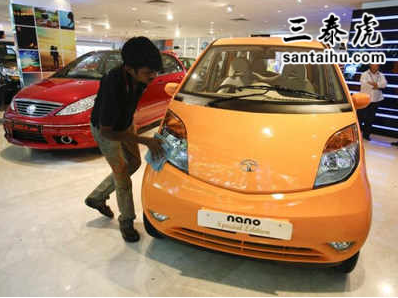 NEW DELHI: Tata Motors has not produced a single unit of its entry-level car Nano in the first nine months of 2019 but sold just one unit in February in the domestic market although it is yet to offi ally announce that the model has been discontinued.
新德里:在2019年前9个月,塔塔汽车未生产一辆入门级汽车Nano,在国内市场仅在今年2月售出一辆Nano,该公司尚未正式宣布该车型已停产。
The company has so far been maintaining that no decision has been made yet on the future of the Nano saying production planning of a car is a "conscious management of demand, sy em inventory and planned efficiencies".
迄今为止,该公司一直坚称,尚未就Nano的未来做出决定,称汽车的生产规划是"对需求、系统库存和计划效率的有意识管理"。
It has, however, admitted that in its current form, the Nano will not meet the new safety regulations and BS-VI emission norms.
然而,该公司承认,以目前的形势,Nano不符合新的安全规定和BS-VI排放标准。
Nano, which was unveiled in January 2008 at the Auto Expo with much expectations of being the people's car, could not live up to the billing. Its sales have been dwindling over the years.
Nano是在2008年1月的汽车博览会上发布的,人们当时对它寄予厚望,认为它将成为全民汽车。这些年来,其销量一直在下降。
In the January-September period 2018, Tata Motors had produced a total of 297 units and sold 299 units of the Nano in the domestic market, according to the filings.
文件显示,在2018年1月至9月期间,塔塔汽车总共生产了297辆Nano,在国内市场卖出了299辆。
The Nano was launched in the market in March 2009 with an initial price of close to Rs 1 lakh for the basic model despite cost esctions, with Tata insisting that "a promise is a promise".
Nano于2009年3月上市,尽管成本不断攀升,但基本款的初始价格只要10万卢比
Tata had admitted that the company made the mistake of promoting the Nano as 'the chest car'.
塔塔承认公司犯了一个错误,把Nano宣传成"最便宜的车"。
印度时报读者的评论:
译文来源:三泰虎 http://www.santaihu.com/48567.html 译者:Jessica.Wu
外文:https://timesofindia.indiatimes.com
NITIN KALE - 21 hours ago -Follow
Unfortunately, 90% of people who curse nano haven''t even once tried it.It is the best car for city driving.
诅咒Nano的人,90%没试驾过。其实Nano是最适合在市区开的车。
Nikhil Benhur - Hyderabad - 1 day ago -Follow
Tata has made an effort no automobile company has done.
塔塔集团所做的努力是其他汽车公司所没有做过的。
RCH - 22 hours ago -Follow
Nano is not a bad car at all and I can vouch from personal exp. It is super in 1st gear hill climbs,, super on rough roads...low maintenance and excellent for Desi conditions. It is a pity that it flopped commercially
Nano还不赖,从我个人的使用经历来看,1档可爬坡,在崎岖的道路上开也是超级棒的,保养成本低。遗憾的是,商业运作失败了
Indian - 1 day ago -Follow
The Tata Nano today is over priced by 2 times. This the cause of its failure.
如今,塔塔Nano的定价高出两倍。这就是它失败的原因。
Rohit - Mumbai - 19 hours ago
WHAT THE NEED OF THIS NEWS ARTICLE?? I Fail to understand, SIMPLY DEFAMING TATA Motors and its stock price as WE ALL TATA NANO WAS Ambitious project but failed, nothing new. So stop writing such unnecessary articles or cook up news.
贬低塔塔有什么意义。众所星期知,塔塔NANO是一个雄心勃勃的项目,但失败了
leladhar44 - Kuwait - 21 hours ago -Follow
MODIFY THIS CAR WITH ELECTRIC VERSION, SURE THIS WILL WORK.
造Nano电动汽车,肯定能扭转局面。
Dr - 15 hours ago -Follow
Converting Nano to ric model is good idea. It would surely hit the markets as we are moving towards e-vehicles. Mr. Ratan Tata should think about it...
造Nano电动汽车,是个好主意。随着我们向电动汽车迈进,Nano肯定能打入电动汽车市场。拉丹·塔塔先生应该考虑一下……
Anand Rao - 1 day ago -Follow
This is the perfect example of foolish Modi is. He can only market things but has zero understanding of economy and markets.
Now Tata lost money, those who bought the car are suffering and he farmers lost their fertile land!!!!
这充分说了了莫迪有多蠢。他只会推销东西,却对经济和市场一窍不通。
现在塔塔亏了钱,买车的人遭殃了,农民也失去了肥沃的土地!
Megainfrastructure - 14 hours ago -Follow
Build ric nano
生产电动版Nano吧
Padmanaban - Hyderabad - 15 hours ago -Follow
Convert the Nano to Electric Vehicle, it will be less loss and sale will increase, with the ch car label.
生产Nano电动汽车,损失会减少,销量会增加,廉价汽车的标签也将褪去。
Ayub Ali Khan - N R MOHALLA MYSORE - 17 hours ago -Follow
Please make some more advance in Nano, its wonderful vehicle we love it.
请改进Nano,它是好车,我们喜欢
Guest - 19 hours ago -Follow
people rejected Nano because it was looking like a Toy Car at a price of Rs.2 lakhs compared to Maruti WagonR looking sturdy at rs 3 lakhs. in the begng it was to compete with two wheelers but the price was 4times of it. The go nment should have encouraged Nano by reducing Excise duty and other taxes.
人们不买Nano,是因为它看起来像玩具车,价格却要20万卢比,而马鲁蒂WagonR看起来很稳,价格只要30万卢比。起初,Nano想要和两轮车竞争,但价格是两轮车的4倍。政府应该通过降低税费来推动Nano的销售。
Godfather Senior - Mumbai - 22 hours ago -Follow
The dream price of 1 Lakh rupees is certainly a non profitable one and also causing losses to the makers. The product was stopped even before the recession started. Now all all eagerly waiting for still more economically running Electric cars than going for any fossil fuel engines.
只卖10万卢比,肯定是不盈利的,会给制造商造成损失。这种车早该停产了。现在,所有人都期盼电动汽车,比燃油车更经济
Rich Tech - 22 hours ago -Follow
In India we should ban any cars below 12 lakh price.... double the property tax, income tax and parking tax if no patking space at home or office alled... the mindset of providing cars to all citizens should be stopped. Invest heavily in public transportation... you will see significant traffic change and pollution control.....
印度应该禁售价格低于120万卢比的汽车。要放弃为全民造车的想法,大力发展公共交通…
到时候,交通拥堵现象会明显改善,污染也会得到有效控制……
rinkuu - 1 day ago -Follow
no one wants to purchase the tata nano car already tata motors are suffering from huge losses
没有人想买塔塔的Nano,塔塔汽车已经遭受了巨大损失
Shiju - 20 hours ago -Follow
This was the perfect car for metro cities. very easy to drive as well as to park. TATA should think of making Electric Namo if meeting BS VI norms is tough.
Nano是最适合在大都市开的车。开车和停车都很方便。如果很难达到BS VI标准,塔塔应该考虑生产电动版Namo。
Shahazadh - 21 hours ago -Follow
Nano can be made into a full ric car. Safety was the main issue with nano considering its size. Ratan Tata s honest attempt to make a ch car did not bear fruit.
把Nano造成电动汽车。考虑到Nano的尺寸,安全性是其主要问题。拉丹·塔塔想努力造出一辆廉价汽车,然而没有取得预期效果
Chetan - Mumbai - 4 hours ago -Follow
Car is good. However, repeated increases in price and promoting it as a "ch" car went ag inst besides spares of most Tata vehicals are difficult to find.
这款汽车还是不错的。然而,价格一再上涨,却将其作为"廉价"汽车来宣传,这是自相矛盾的,而且塔塔汽车的备件也很难买到。
Kero Mal - 1 day ago -Follow
Nano is not a Car, it actually alternate to 3 wheeler... No one will able to drive it on Highway...people opt for 4-5 years second hand another proper car then to go with brand new Nano.
Nano不是汽车,它实际上是三轮车的替代品,不能在高速公路上驾驶…人们宁愿选择用了4-5年的二手车,也不买全新Nano。
Strategic Speaking - 5 hours ago -Follow
Perfect. If TATA is not producing enough Nano cars and not providing jobs for the people, the land they acquired need to be taken back.
如果塔塔不能量产Nano,不能为人民提供就业岗位,那么就应收回他们征的土地。
Amit - Phnom Penh - 17 hours ago -Follow
I would feel ashamed to drive a Nano.. it signifies poor and desperate wants a car.
开Nano我都觉得不好意思…这是穷人开的车,特想买车的穷人开的车