Is the Indian Army overrated?
印度军队被高估了吗?
以下是Quora读者的评论:
Anjit, Seen the men in Olive green.
Man, you've got balls. But I'll try to convince you to change your oion.
By over rated, I think you meant all of these.
1.Well paid.
2.CSD services
3.Medical service to family .
4.blah blah and blah
and you also might have meant this below.
This my friend, if you don't know is Captain Saurabh Kalia at his Passing Out Parade. Proud parents, proud relatives and friends and a lot of happy faces ?
伙计,你真有胆量。但我会试着说服你改变你的观点。
我想你说的被高估,指的是下面这些吧:
1.收入丰厚。
2.CSD服务
3.家庭医疗服务。
4.诸如此类
你可能也有下面这个意思。
我的朋友,你也许不知道,这是索拉博卡利亚上尉在他的结业会操上拍的照片。自豪的父母,自豪的亲戚和朋友,还有许多快乐的面孔,对吗?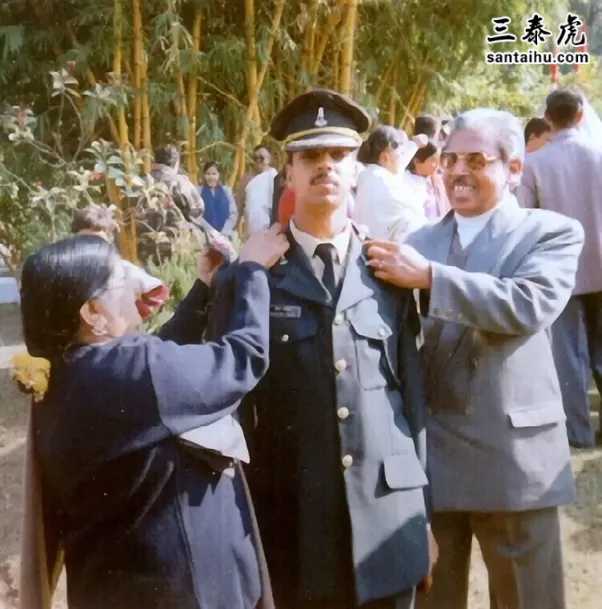 Wrong …!
Now I'll tell you, what happened to our great Captain Saurabh Kalia 6-months into the service.
错…!
现在我要告诉你,伟大的索拉博卡利亚上尉服役6个月后发生了什么。
On 15 May 1999 Lt Saurabh Kalia and five other soldiers of the 4 Jat Regiment had gone for a routine patrol of the Bajrang Post in the Kaksar sector in the rugged, treeless Ladakh mountains. They were captured alive by the Pakistani rangers and brutally tortured to death .
Post-mortem examinations revealed that the Pakistanis had tortured their prisoners by: burning their bodies with cigarettes, piercing the ear-drums with hot rods, puncturing eyes before removing them, breaking most of their teeth and bones, fracturing their skulls, cutting the lips, chip of nose, chop off limbs and private organs of the soldiers, and finally sh ting them dead, as evidenced by bullet wounds to the temple. The post-mortem also confirmed the injuries were inflicted ante-mortem (before death).
Our brother was so horrendously and brutally murdered .
Still not convinced enough ?
1999年5月15日,索拉博卡利亚和其他五名贾特团的士兵在崎岖、没有树木的拉达克山脉的Kaksar区的Bajrang哨所进行例行巡逻。他们被巴基斯坦突击队活捉,并被残忍地折磨致死。
验尸检查显示,巴基斯坦对囚犯进行了残忍的折磨:用香烟烫伤他们的身体,刺穿他们的耳骨膜,挖掉他们的眼睛前刺穿了眼球,敲断了他们的大部分牙齿和骨骼,头骨被砸,嘴唇被割,鼻子被削,四肢和私密部位被砍,最后被射杀致死。尸检也证实了这些伤害是死前造成的。
我们的兄弟被如此残忍地杀害了。
还是不够信服?
See that. That is the mother of Lt Ummer fayaz crying over her 22 years old son's dead body. 22 years GOD DAMN IT !!! JUST 22 YEARS OLD .
看到了吗。Ummer fayaz中尉的母亲为她22岁儿子的尸体而哭泣。22岁,该死的!!才22岁呀。
Britain: We are seeking from the Indian Army a full report of the postmortem, unfortunately without any success so far.
Israel: Israel does not have diplomatic relations with Pakistan.
Germany: They had contacted the ministry of external affairs and had not received a reply.
Pakistan denied the torture of the six soldiers and rejected India's demand to punish the guilty.
Wanna ask the father of Captain Saurabh Kalia what he thinks.
"I am ashamed of being an Indian. The country has seless leaders,"
Now do you think its over rated?
(silence)
yes silence it is .
Jai Hind .
英国:我们正向印度军方索要一份完整的尸检报告,不幸的是迄今为止尚未成功。
以色列:以色列与巴基斯坦没有外交关系。
德国:他们已经联系了外交部,但是没有得到答复。
巴基斯坦否认虐待六名士兵,并拒绝了印度惩罚罪犯的要求。
想问问索拉博卡利亚船长的父亲他是怎么想的。
"我为自己是印度人而感到羞耻。这个国家的领导人太懦弱了"
你认为印度军队被高估了吗?
(沉默)
是的,是沉默。
印度必胜。
Akshay Gupta, Loves every thing about Indian Army
Have you ever heard of a 19 year old who was hit by 15 bullets and still went on fighting and killed enemy with bare hands? No is the word I assume you just uttered.
It was way past midnight and a unit was tasked to attack Tiger Hill. They had to follow a tactic which would fully be called most difficult ever employed in an open battlefield. 3 bunkers of Pakistan Army were located at top of that hill and they had seemingly impossible task of climbing up the hill and taking down 3 enemy bunkers.
你听说过吗,一个19岁的人身中15发子弹仍然坚持战斗,赤手空拳杀死敌人?我猜你会说"没有"。
当时已经过了午夜,一支部队奉命攻击老虎山。他们必须遵照开放战场上最困难的战术。巴基斯坦军队的3个掩体位于那座山的顶部,他们似乎不可能爬上山顶,拿下敌人的3个掩体。
The climb was steep, slippery and rocky and someone had to climb to the top, fix a rope, so that others can climb. Yogender Singh Yadav, of Granadiers battalion volunteered for this. While he was halfway, the enemy opened fire, he was hit in his crotch and shoulders while his Platoon commander and two other soldiers were martyred. Wounded and bleeding heavily, perhaps no other person could have dared to walk into enemy installations but you are talking about super soldiers from Indian Army. Yadav continued his climb and crawled for 60 feet.
When he reached the top, one of the bunker opened fire at him and what Yadav did will blow your mind. He threw a grenade which killed the enemy soldier in the bunker. If that was not enough, he and his fellow soldiers killed four Pakistani soldiers with bare hands and captured 3rd bunker as well.
攀爬之路又陡又滑,岩石又多,必须有人先行爬到山顶,固定好绳子,让其他人爬上去。格拉纳达营的约杰斯特·辛格·亚达夫自愿担此重任。当他爬到一半的时候,敌人开火了,他的胯部和肩膀被击中,他的排长和另外两名士兵牺牲了。深受重伤,流血严重,可能其他人是不敢走进敌人的设施的,但这是位来自印度军队的超级士兵。亚达夫继续往上爬,爬了60英尺。
当他到达山顶时,其中一个碉堡向他开火,亚达夫的所作所为让你大吃一惊。他投掷了一枚手榴弹,炸死了掩体里的敌军士兵。他和他的战友们还徒手杀死了四名巴基斯坦士兵,并占领了第三个掩体。
Subedar Singh had a broken leg, shattered arm and multiple bullet injuries and was rushed to hospital. It was assumed that he wont survive this and Param Vir Chakra was announced for Yadav posthumously. But, no, death had not been able to defeat this super soldier. He received Param Vir Chakra at the age of 19.
I want you to remember this hero and remember that underrated might just be the word but, without a single iota of doubt, definitely not overrated.
Subedar Singh腿部骨折,手臂骨折,身上多处中弹,被送往医院。人们认为他活不过这一关。但是,不,死神也不无法打败这个超级战士。他在19岁时被授予Param Vir Chakra勋章。
我希望你们记住这位英雄,毫无疑问,印度军队绝对不会被高估。
Nn Chakraborty, Regular Indian
Let's find it out through a slightly different route brother.
The total budget outlay of Pakistan is about: USD 44 Billion[1]
The total direct tax receipts in Pakistan are: USD 12.8 Billion[2]
The total amount of loans Pakistan took last year: USD 7.83 Billion[3]
The total value of all Pakistani exports last year: USD 1.8 Billion[4]
Money Pakistan spends on the health of its citizens - USD 109.8 Million[5]
Money Pakistan spends on the education of its citizens - USD 715.4 Million[6]
Pakistan's Defence Budget - USD 8.77 Billion[7]
兄弟,让我们从其他思路来看待这个问题。
巴基斯坦的总预算支出约为440亿美元
巴基斯坦的直接税收收入总额为:128亿美元
巴基斯坦去年获得的贷款总额为78.3亿美元
巴基斯坦去年的出口总额为18亿美元
巴基斯坦花在公民健康上的钱为1.098亿美元
巴基斯坦用于公民教育的资金为7.154亿美元
巴基斯坦的国防预算为87.7亿美元
Had Pakistan been a family with a monthly income of Rs 100 - it would be spending less than Rs. 2 on the health and education of its children and Rs. 20 on employing a jealous guard, who throws stones at the neighbor's house, every time a family member speaks to them.
如果巴基斯坦是一个月收入约100卢比的家庭——它将为孩子的健康和教育花费不到2 卢比,却会花20卢比雇佣一个向邻居的房子扔石头的十分戒备的保安。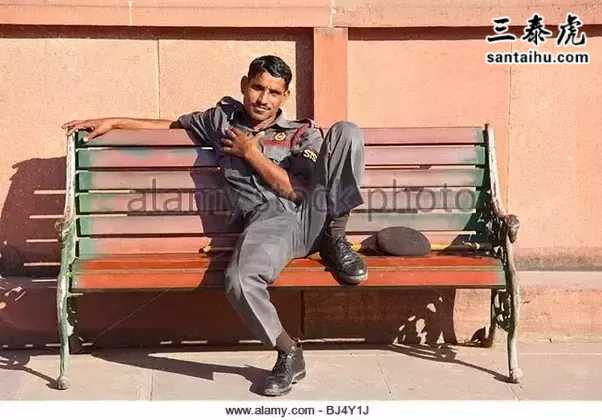 This guard regularly abuses the kids [8]- sells them heroin[9]- runs a bakery[10]on the sides - has never won a fight with anyone above the age of 5[11]- and still gets to sleep in the master bedroom[12]at night.
Whenever someone in the family tries to question the hegemony of this rowdy character - the guard quickly takes out a picture from his pocket, and everyone just shuts up and endures.
这个保安经常虐待孩子们——向他们出售海洛因——在路边开一家面包房——从来没有打赢过5岁以上的人——晚上仍然在主卧室睡觉。
每当家里有人试图质疑这个粗暴角色的霸权地位时,保安就会迅速从口袋里掏出一张照片,所有人都立刻闭嘴,继续忍受。
Here's that picture Brother:
这就是那张照片: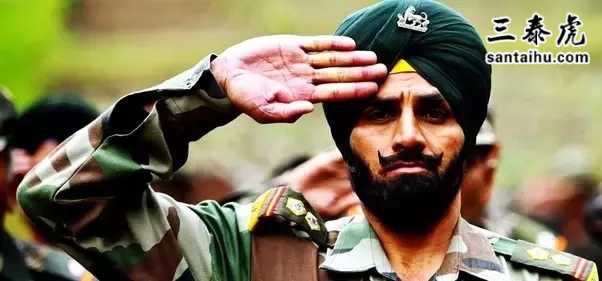 Is the Indian Army over rated? -
That overpaid guard, currently lounging in the master bedroom of his employer, busy watching TV, munching on someone else's lunch - reme in hand - does not think so.
Citizens of Bangladesh, who would be celebrating the 46th anniversary of their Independence this December - do not think so.
The deploying more troops[13]on the India border - do not think so.
Thousands of thankful citizens of the world[14] saved in the recent peacekee operations undertaken by the Indian Army - do not think so.
How about you…
印度军队被高估了吗
那个拿着高薪的保安,正懒洋洋地躺在老板的主卧室里,看着电视,手里握着遥控器,大快朵颐地吃着别人的午餐——并不这么认为。
今年12月,孟加拉国将迎来独立46周年纪念日——并不这么认为。
在印度边境部署了更多的军队——并不这么认为。
在印度军队最近的维和行动中获救的成千上万心怀感激的世界公民——并不这么认为。
你呢……
Roland Bartetzko, former German Army Paratrooper, Croatian Defense Council, Kosovo Liberation Army
People tend to overrate their own military forces while, at the same time, they underrate those of their enemies. This is often the result of the enthusiasm of the youth, nationalism, and sometimes propaganda.
As there are many more internet (and Quora) users from India than from Pakistan (which is the only foreign nation that cares about the Indian Army), there will always be more articles and posts around that praise and overrate the Indian Army than the opposite.
Military experts, on the other hand, do not rate, overrate, or underrate a country's military; they do assessments. All the rankings you can see on YouTube about which country has the toughest/hardest/best/... military are done by teurs that haven't done more than five minutes internet research on the subject. As many of these bloggers come from India, the Indian Army ranks higher than it maybe deserves.
人们往往高估自己国家的军事力量,同时低估敌人的军事力量。这往往是青年们满腔热情、民族主义、有时也是政治宣传的结果。
由于印度的互联网(和Quora)用户远多于巴基斯坦(巴基斯坦是唯一关心印度军队的国家),因此总是会有更多的文章和帖子赞美和高估印度军队。
另一方面,军事专家并不会评价、高估或低估一个国家的军事实力;他们只会评估。所有你在YouTube上看到的关于哪个国家的军事实力最牛/最好/…的视频,往往是业余爱好者做的。由于许多博客作者来自印度,印度军队的排名可能比它应得的要高。
译文来源:三泰虎 http://www.santaihu.com/48538.html 译者:Joyceliu
The few military experts that are dealing with the Indian army agree on the fact that the Indian Army isn't at the same level with most Western military forces. Although they are modernizing, most units still have old and inadequate equipment.
Regarding the fighting capability of the Indian army, there isn't really that much to analyse. The only enemy they have been fighting ag inst in recent years were insurgents and the Pakistani Army. It might be hard to swallow for the proud and patriotic Indian internet community, but a Pakistani infantry unit has about the same level of performance as their Indian counterparts.
Otherwise, military experts would have looked up and taken a keener interest in the matter. When the Is mic State overrun the city of Mosul in 2014, there wasn't a serious military publication in the world that didn't publish an analysis on the issue. How was it possible that a less than one hundred men strong insurgent force had outclassed a much stronger US equipped and trained defender?
与印度军队打交道的少数军事专家一致认为,印度军队不及大多数西方军队的水平。虽然他们正在进行现代化改造,但大多数部队的装备依然陈旧不足。
关于印度军队的作战能力,并没有太多可以分析的。近年来,他们唯一的敌人是叛乱分子和巴基斯坦军队。对于自豪而爱国的印度互联网社区来说,这可能是难以接受的,但巴基斯坦步兵部队的表现与印度步兵部队大致相当。
否则,军事专家们会对这个问题产生更多的关注。2014年,当ysl国占领摩苏尔市时,世界上没有哪份严肃的军事出版物没有发表过关于这个问题的分析。一支不足一百人的强大叛军部队怎么可能打败装备和训练都比他们强得多的美国防御军呢?
Many military historians are still fascinated by the German military of World War II. There is still something to learn from the excellent military organisation and performance of the Wehrmacht.
That the world isn't more interested in the Indian military shows that it's rather average. Of course, they have a lot of excellent infantry units and special forces (I had myself the privilege to jump with an Indian paratrooper), but we shouldn't forget that the Indian Army is very big, and you cannot properly assess a military organisation by looking only at the elite units.
许多军事历史学家仍然对二战时期的德国军队很感兴趣。德国国防军出色的军事组织和表现仍有值得学习的地方。
世界对印度军队不感兴趣,这说明印度军队很普通。当然,他们有很多优秀的步兵部队和特种部队(我曾有幸与一名印度伞兵一起跳伞),但我们不应该忘记,印度军队非常庞大,你不能通过观察某支精英部队来客观评估一个军事组织。
Kaushal Kumar, Officer at Ministry of Defence, India
I do not understand why people got emotional when this question was asked by someone. It is good that you want to know it. Let me tell you something about it:
我不明白为什么当有人提出这个问题时,人们会变得情绪化。你想知道,这没问题。我也来说一点事实吧:
1.I give you my example: During recent Ker floods relief operation, I was in-charge of one of the armed forces wing of the a district. My phone used to get bombarded with calls and Watsapp messages (since our number was broadcasted). I used to get more than 1000 calls/messages every day. Since we were busy in operation, it was impossible for me to attend calls (it was heavily raining all the time) but still i used to attend some of them and gave them assurance that we will come to pick them up. My men were working heavily under stress, day and night. Many got injuries which grew with time because of being wet all the time. We used to have food just once in a day. They never compned for getting less rest (around 4 hours for 4 days). I am sure that we were not able to get every men out, in spite of putting all my efforts. But, surprisingly, we got equally large number of messages after the operation, thanking us for all the support. Do you feel people overrated us? In reality we were not able to reach all of them. But i knew i gave in my best. And i think people gave equal love in return.
1.举个例子:在最近的喀拉拉邦洪水救援行动中,我负责某区武装部队的一个部门。我的手机曾经被电话和Whats app的信息轰炸(因为我们的号码被广播出去了)。我每天都会接到1000多个电话/短信。因为我们工作很忙,所以我没时间接电话(一直下着大雨),但我还是接听了一些,并向他们保证我们会来接他们。我的部下日夜都在紧张地工作。随着时间的推移,因为大家的身上一直都是湿的,许多人受伤了。我们一天只吃一次饭。他们从不抱怨休息时间少(4天才休息了4小时左右)。尽管我们尽了最大的努力,但还是没能把每个人都救出来。但是,令人惊讶的是,我们在行动后收到了同样多的信息,感谢我们的救援。你觉得人们高估我们了吗?事实上,我们不可能解救所有人。但我知道我已经尽力了。人们也回报了我们同样的爱作为回报。
2.Indian army soldiers are not busy in wasting their time thinking whether they are overrated or not. Soldiers and officers are directed to stay away from such debates. Debate is fine, but a stupid debate is NOT FINE. Even if we are overrated, it is because of the love from the country's citizens. Nobody from the army goes and advertises to overrate themselves.
2.印度士兵不会浪费时间思考自己是否被高估了。士兵和军官被下令避开这种讨论。辩论是好的,但愚蠢的辩论则不然。即使我们被高估了,那也是因为国家公民的爱。军队里没有人去打广告夸大自己。
3.A survey done by an independent international agency of high credentials put Indian army service as one of the "most stressful" service.
4.They are operating in some of the world's toughest living places of the world. Those places have witnessed more casualties in peace time (because of weather) than in war.
5.Indian army have lost more number of men than any other country in UN Peacekee expeditions.
3.某独立的国际机构做过一项调查显示,印度军役是"压力最大的"服役之一。
4.他们在世界上最艰苦的地方工作。这些地区在和平时期(由于天气原因)的人员伤亡比在战争时期要多。
5.在联合国维和行动中,印度军队的伤亡人数比其他任何国家都多。
6.If you feel, a soldier is free in peacetime, read my detailed answer on it.
7.Because of our countries economic difficulties, our budgets are one of the lowest when it comes to per soldier expenditure.
8.While other countries get to see long duration's of peace, unfortunately, we are at war with our own people (half the te rorts in J & K are from Kashmir and than WE ALSO HAVE YOU). The picture below has become a everyday scheme. Now, imagine your daughter here and let me know if WE ARE STILL OVERRATED.
6.如果你觉得,一个士兵在和平时期是自由的,请详细阅读我的回答。
7.由于我们国家的经济困难,我们每个士兵的开支预算是最低的。
8.当其他国家享受着长期和平时,很不幸,我们与自己的人民还处于战争中(在J & K的分子有一半来自克什米尔)。下面的图片已成日常。现在,想象一下你的女儿在这里,如果你觉得我们还是被高估了,请告诉我。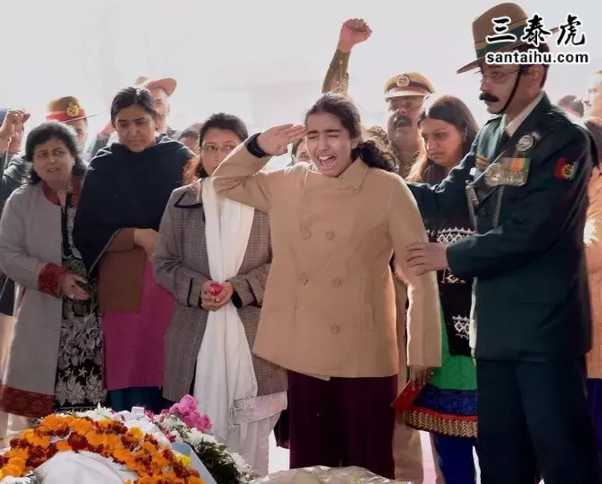 Alcatraz Dey, Human, Endurance Biker & Author (2018-present)
Oh, yes it is too overrated!
And hence lakhs of young men and women every year write NDA, CDSE and similar exams.
Candidates stretch their limits and attempt SSB as far fetched as 16–18 times.
That is why people such as Manoj Pandey and Sam Manekshaw are admired and treated as heroes.
That is why an entire nation paid tributes when one MR. Unnikrishnan fought bravely and became a martyr.
That is why many people dream of wearing that uniform.
That is why civilians give up their seats for soldiers in the bus and the train.
哦,是的,它被高估了!
因此,每年都有成千上万的年轻男女参加NDA、CDSE和类似的考试。
候选人突破了自己的极限,为SSB尝试上16-18次。
这就是为什么像马诺·潘迪和山姆·马纳克肖这样的人被当作英雄来崇拜和对待。
这就是为什么当Unnikrishnan先生英勇战斗并成为烈士时,整个国家都向他致敬。
这就是为什么许多人梦想着穿上制服。
这就是为什么平民在公共汽车和火车上为士兵让座。
And that is exactly why we all are still safe despite hostile neighbours.
Indian Army is too overrated because it lets us be free so that we can go and molest women, pay bribes, break traffic rules and ask such questions.
It is overrated because still there are parents who will not let their child to join forces and expect the country to be safe.
Damn, so much hype!
这就是为什么尽管有敌对的邻国,我们仍然安全。
印度军队被高估了,因为它让我们自由,我们可以去骚扰女人,行贿,违反交通规则,提出这样的问题。
它被高估了,因为仍然有父母不愿自己的孩子入伍的同时,还期望国家安全无虞。
该死,这么多炒作!
Shubham K.P
Of course yes! Indian army is way too much overrated.
Let's take an example.
当然是的!印度军队被高估太多了。
举个例子。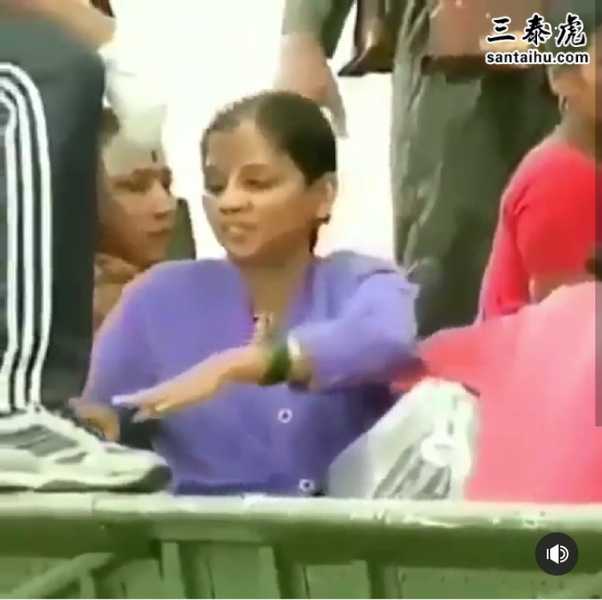 A recent video that has been going viral, shows a woman from Sangli, Maharashtra touching an Army man's feet to show her gratitude.
A woman in India isn't allowed to touch anyone's feet. Still, the video is catching a lot of positive eyes.
When we pray to God to save us, he never appears. INDIAN ARMY does.
最近一段广为流传的视频显示,来自马哈拉施特拉邦桑格里的一名女子抚摸一名军人的脚,以表达她的感激之情。
在印度,妇女不许触摸任何人的脚。尽管如此,这段视频还是吸引了许多正能量的目光。
当我们祈求神拯救我们时,他从未出现。但印度军队有求必应,使命必达。
There may be a million people in India who doesn't believe in God. But you can't point a single person in India who don't believe in the Indian Army.
And did I forget the youth of India? Ask any youth who's their hero, they will definitely answer 'The Indian Army'.
Now coming to the question;
Is Indian Army overrated?
Yes. Of course yes. Because they deserve to be overrated.
在印度可能有一百万人不信神。但在印度,你找不到一个不信仰印度军队的人。
我是否忘了印度的青年?问问年轻人,看谁是他们的英雄,他们肯定会回答"印度军队"。
现在问题来了;
印度军队被高估了吗?
是的。当然是的。因为他们理应被高估。